International journal of endocrinology Том 15, №8, 2019
Features of the relationship between thyroid-stimulating hormone values and some markers of cardiovascular risk in subclinical hypothyroidism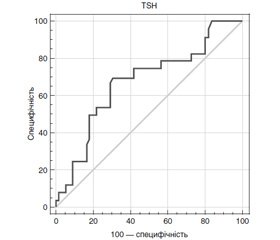 Authors:

Пасєчко Н.В. (1), Євстратьєва Ю.В. (1, 2)
1 - Тернопільський національний медичний університет імені І.Я. Горбачевського, м. Тернопіль, Україна
2 - КП «Хмельницький міський лікувально-діагностичний центр», м. Хмельницький, Україна



Categories:

Endocrinology



Sections:

Clinical researches
Summary
Вступ. Гіпотиреоз, у тому числі субклінічний, асоціюється з підвищенням ризику розвитку хронічної серцевої недостатності. Згідно з даними дослідження Cardiovascular Health Study, підвищений рівень тиреотропного гормона (ТТГ) можна розглядати як фактор ризику розвитку серцевої недостатності. Мета дослідження — вивчення взаємозв'язків між рівнем ТТГ і наявністю серцево-судинних порушень у пацієнток із субклінічним гіпотиреозом. Матеріали та методи. В одномоментне поперечне дослідження були включені 26 жінок репродуктивного віку (від 32 до 47 років) із субклінічним гіпотиреозом (група 1) і 25 жінок без порушення функціонального стану щитоподібної залози (ЩЗ) і кардіальної патології в анамнезі (група 2). У всіх жінок оцінювали наявність факторів і маркерів серцево-судинного ризику, ранніх ознак ураження міокарда. Для порівняння груп пацієнток із нормальною функцією ЩЗ та із субклінічним гіпотиреозом (групи 1 і 2) був застосований ROC-аналіз для ідентифікації рівнів ТТГ, асоційованих із найбільшою ймовірністю виявлення досліджуваних порушень. Результати. За даними ROC-аналізу, рівень ТТГ ≥ 4,67 мМО/л прогнозував розвиток діастолічної дисфункції лівого та/або правого шлуночків із чутливістю 70,6 (49,8; 89,1) % і специфічністю 69,3 (53,2; 80,6) % (AUC 0,672 (0,561; 0,787), p = 0,032). Аналогічно значення ТТГ ≥ 4,8 мМО/л вказувало на можливість виявлення сегментарних порушень релаксації з чутливістю 61,9 (46,2; 77,7) % і специфічністю 73,1 (42,9; 91,0) % (AUC 0,680 (0,543; 0,831), p = 0,042). Висновки. Початкові прояви серцево-судинних порушень частіше виникають при значеннях ТТГ у діапазоні 4,6–5,9 мМО/л. Рівень ТТГ понад 5,45 мМО/л може розглядатися як предиктор розвитку асоційованих із субклінічним гіпотиреозом кардіоваскулярних розладів.
Введение. Гипотиреоз, в том числе субклинический, ассоциируется с повышением риска развития хронической сердечной недостаточности. Согласно данным исследования Cardiovascular Health Study, повышенный уровень тиреотропного гормона (ТТГ) можно рассматривать как фактор риска развития сердечной недостаточности. Цель исследования — изучение взаимосвязей между уровнем ТТГ и наличием сердечно-сосудистых нарушений у пациенток с субклиническим гипотиреозом. Материалы и методы. В одномоментное поперечное исследование были включены 26 женщин репродуктивного возраста (от 32 до 47 лет) с субклиническим гипотиреозом (группа 1) и 25 женщин без нарушения функционального состояния щитовидной железы (ЩЖ) и кардиальной патологии в анамнезе (группа 2). У всех женщин оценивали наличие факторов и маркеров сердечно-сосудистого риска, ранних признаков поражения миокарда. Для сравнения групп пациенток с нормальной функцией ЩЖ и с субклиническим гипотиреозом (группы 1 и 2) был применен ROC-анализ для идентификации уровней ТТГ, ассоциированных с наибольшей вероятностью обнаружения исследуемых нарушений. Результаты. По данным ROC-анализа, уровень ТТГ ≥ 4,67 мМЕ/л прогнозировал развитие диастолической дисфункции левого и/или правого желудочков с чувствительностью 70,6 (49,8; 89,1) % и специфичностью 69,3 (53,2; 80,6) % (AUC 0,672 (0,561; 0,787), p = 0,032). Аналогично значение ТТГ ≥ 4,8 мМЕ/л указывало на возможность выявления сегментарных нарушений релаксации с чувствительностью 61,9 (46,2; 77,7) % и специфичностью 73,1 (42,9; 91,0) % (AUC 0,680 (0,543; 0,831), p = 0,042). Выводы. Начальные проявления сердечно-сосудистых нарушений чаще возникают при значениях ТТГ в диапазоне 4,6–5,9 мМЕ/л. Уровень ТТГ более 5,45 мМЕ/л может рассматриваться как предиктор развития ассоциированных с субклиническим гипотиреозом кардиоваскулярных расстройств.
Background. Hypothyroidism, including subclinical one, is associated with an increased risk of chronic heart failure. According to the Cardiovascular Health Study, an increased level of thyroid-stimulating hormone (TSH) can be considered as a risk factor for heart failure. The purpose of the study was to investigate the relationship between TSH levels and the presence of cardiovascular disorders in female patients with subclinical hypothyroidism. Materials and me­thods. Twenty-six women of reproductive age (32 to 47 years old) with subclinical hypothyroidism (group 1) and 25 women without a history of thyroid dysfunction and cardiac pathology (group 2) were included in a cross-sectional study. In all patients, the presence of factors and markers of cardiovascular risk, early signs of myocardial damage were evaluated. To compare groups of patients with normal thyroid function and with subclinical hypothyroidism (groups 1 and 2), the receiver operating characteristic (ROC) analysis was used to identify the TSH levels associated with the highest likelihood of detecting abnormalities. Results. According to the ROC analysis, TSH level ≥ 4.67 mIU/l predicted the development of diastolic dysfunction of the left and/or right ventricle with sensitivity of 70.6 (49.8; 89.1) % and specificity of 69.3 (53.2; 80.6) % (area under the ROC curve (AUC) 0.672 (0.561; 0.787); p = 0.032). Similarly, TSH value of ≥ 4.8 mIU/l indicated the possibility of detecting segmental relaxation disorders with sensitivity of 61.9 (46.2; 77.7) % and specificity of 73.1 (42.9; 91.0) % (AUC 0.680 (0.543; 0.831); p = 0.042). Conclusions. Initial manifestations of cardiovascular disorders more often occur with TSH values in the range of 4.6–5.9 mIU/l. TSH level of more than 5.45 mIU/l can be considered as a predictor of the development of cardiovascular disorders associated with subclinical hypothyroidism.
Keywords
субклінічний гіпотиреоз; тиреотропний гормон; ROC-аналіз; серцево-судинні порушення
субклинический гипотиреоз; тиреотропный гормон; ROC-анализ; сердечно-сосудистые нарушения
subclinical hypothyroidism; thyroid-stimulating hormone; ROC analysis; cardiovascular disorders
For the full article you need to subscribe to the magazine.
Bibliography
Iacoviello M, Guida P, Guastamacchia E, et al. Prognostic role of sub-clinical hypothyroidism in chronic heart failure outpatients. Curr Pharm Des. 2008;14(26):2686-92. doi: 10.2174/138161208786264142.
Biondi B, Cappola AR, Cooper DS. Subclinical Hypothyroidism: A Review. JAMA. 2019 Jul 9;322(2):153-160. doi: 10.1001/jama.2019.9052.
Ozmen B, Ozmen D, Parildar Z, Mutaf I, Bayindir O. Serum N-terminal-pro-B-type natriuretic peptide (NT-pro-BNP) levels in hyperthyroidism and hypothyroidism. Endocr Res. 2007;32(1-2):1-8. doi: 10.1080/07435800701670047.
Biondi B. Natural history, diagnosis and management of subclinical thyroid dysfunction. Best Pract Res Clin Endocrinol Metab. 2012 Aug;26(4):431-46. doi: 10.1016/j.beem.2011.12.004.
Brenta G, Vaisman M, Sgarbi JA, et al. Clinical practice guidelines for the management of hypothyroidism. Arq Bras Endocrinol Metabol. 2013 Jun;57(4):265-91. doi: 10.1590/s0004-27302013000400003.
Cooper DS, Biondi B. Subclinical thyroid disease. Lancet. 2012 Mar 24;379(9821):1142-54. doi: 10.1016/S0140-6736(11)60276-6.
Duntas LH, Wartofsky L. Cardiovascular risk and subclinical hypothyroidism: focus on lipids and new emerging risk factors. What is the evidence? Thyroid. 2007 Nov;17(11):1075-84. doi: 10.1089/thy.2007.0116.
Rodondi N, den Elzen WP, Bauer DC, et al. Subclinical hypothyroidism and the risk of coronary heart disease and mortality. JAMA. 2010 Sep 22;304(12):1365-74. doi: 10.1001/jama.2010.1361.
Sviridonova MA, Fadeyev VV, Sych YP, Melnichenko GA. Clinical significance of TSH circadian variability in patients with hypothyroidism. Endocr Res. 2013;38(1):24-31. doi: 10.3109/07435800.2012.710696.
Garber JR, Cobin RH, Gharib H, et al. Clinical Practice Guidelines for Hypothyroidism in Adults: Co-sponsored by the American Association of Clinical Endocrinologists and the American Thyroid Association. Endocr Pract. 2012 Nov-Dec;18(6):988-1028. doi: 10.4158/EP12280.GL.
Mariotti S, Zoncu S, Pigliaru F, et al. Cardiac effects of L-thyroxine administration in borderline hypothyroidism. Int J Cardiol. 2008 May 23;126(2):190-5. doi: 10.1016/j.ijcard.2007.03.130.
Pearce SH, Brabant G, Duntas LH, et al. 2013 ETA Guideline: Management of Subclinical Hypothyroidism. Eur Thyroid J. 2013 Dec;2(4):215-28. doi: 10.1159/000356507.
Razvi S, Weaver JU, Butler TJ, Pearce SH. Levothyroxine treatment of subclinical hypothyroidism, fatal and nonfatal cardiovascular events, and mortality. Arch Intern Med. 2012 May 28;172(10):811-7. doi: 10.1001/archinternmed.2012.1159.
Hilgers RA. Distribution-free confidence bounds for ROC curves. Methods Inf Med. 1991 Apr;30(2):96-101.
Virgini V, Collet TH, Christ E, Aujesky D, Rodondi N. Should we screen and treat subclinical hypothyroidism? Rev Med Suisse. 2012 Mar 7;8(331):501-2, 504-6. (in French).
Weiss IA, Bloomgarden N, Frishman WH. Subclinical hypothyroidism and cardiovascular risk: recommendations for treatment. Cardiol Rev. 2011 Nov-Dec;19(6):291-9. doi: 10.1097/CRD.0b013e318227df87.