"Emergency medicine" №8(103), 2019
Sensitivity at heparin treatment in patients after LVAD implantation in early post operation period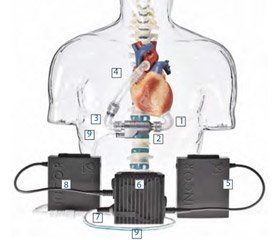 Authors:

Nadziakevich P.(1), Mazurenko O.(1, 2)
(1) — Silesian Centrum for Heart Diseases in Zabrze, department of cardiac anesthesiology SUM, Poland
(2) — Shupyk National Medical Academy of Postgraduate Education, Kyiv, Ukraine



Categories:

Medicine of emergency



Sections:

Medical forums
Introduction. Chronic heart failure (HF) is a major emerging healthcare problem, associated with a high morbidity and mortality. Left ventricular assist devices (LVADs) have emerged as a successful treatment option for patients with end-stage HF. Despite its great benefit, the use of LVAD is associated with a high risk of complications. Implantation of laminar non-pulse flow LVAD third generation is a difficult operation and in early post operation time need attentive care from anticoagulation system side. Patient, qualify on that operation need to corrects of anticoagulation treatment before and after implantation in depend of other answer of level of metabolism ...
For the full article you need to subscribe to the magazine.
Bibliography
1. Görlinger K., Jambor C., Hanke A.A. et al. Perioperative coagulation management and control of platelet transfusion by point-of-care platelet function analysis. Transfus. Med. Hemother. 2007. 34. 396-411.
2. Koster A., Weng Y., Böttcher W. et al. Successful use of bivalirudin as anticoagulant for ECMO in a patient with acute HIT. Ann. Thorac. Surg. 2007 May. 83(5). 1865-1867.
3. Meuris B., Arnout J., Vlasselaers D. et al. Long-term management of an implantable left ventricular assist device using low molecular weight heparin and antiplatelet therapy: a possible alternative to oral anticoagulants. Artif. Organs. 2007 May. 31(5). 402-419.
4. Tanaka K.A., Szlam F., Sun H.Y. et al. Thrombin generation assay and viscoelastic coagulation monitors demonstrate differences in the mode of thrombin inhibition between unfractionated heparin and bivalirudin. Anesth. Analg. 2007 Oct. 105(4). 933-939.
Similar articles

Authors:
O.P. Mazurenko Silesian Center for Heart Diseases, Department of Cardioanesthesiology, Zabrze, Poland Shupyk National Medical Academy of Postgraduate Education, Kyiv, Ukraine


"Emergency medicine" №6(101), 2019
Date: 2019.10.15
Categories: Medicine of emergency
Sections: Clinical researches


Authors: Мазуренко О.П.(1, 2), Надзякевич П.(2), Лоскутов О.А.(1), Згржебловська Л.В.(1)
(1) — Національна медична академія післядипломної освіти імені П.Л. Шупика, м. Київ, Україна
(2) — Silesian Center for Heart Diseases, Department of Cardioanesthesiology, Zabrze, Poland
"Emergency medicine" №4(99), 2019
Date: 2019.08.07
Categories: Medicine of emergency
Sections: Clinical researches


Authors: Мазуренко О.П.(1, 2), Надзякевич П.(2), Лоскутов О.А.(1), Згржебловська Л.В.(1)
(1) — Національна медична академія післядипломної освіти імені П.Л. Шупика, м. Київ, Україна
(2) — Silesian Centre Heart Diseases, Department Kardioanesthesiology SUM, ICU SCCS, Poland
"Emergency medicine" №2(97), 2019
Date: 2019.04.11
Categories: Medicine of emergency
Sections: Clinical researches

Authors: Мазуренко О.П., Надзякевич П., Лоскутов О.А., Згржебловська Л.В., Дмитрієв Д.В.
Національна медична академія післядипломної освіти імені П.Л. Шупика, м. Київ, Україна
Silesian Centre Heart Diseases, Department Cardioanesthesiology SUM, ICU SCCS, Poland
"Emergency medicine" №4(99), 2019
Date: 2019.08.07
Categories: Medicine of emergency
Sections: Medical forums