«Practical Oncology» Том 2, №4, 2019
Partial cystectomy with adjuvant chemotherapy or radiation therapy for muscle invasive bladder cancer (literature review)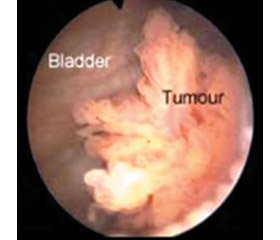 Authors:

Навроцький Б.М.
Національний медичний університет ім. О.О. Богомольця, м. Київ, Україна



Categories:

Oncology



Sections:

Specialist manual
Summary
Неоад'ювантна хіміотерапія на основі цисплатину з подальшою радикальною цистектомією вважається золотим стандартом терапії м'язово-інвазивного раку сечового міхура з огляду на дані значної кількості рандомізованих контрольованих досліджень. На всіх стадіях пухлини цей підхід асоціювався з найвищими показниками виживаності. Однак радикальна цистектомія є однією з найскладніших процедур, яку проводять хірурги-урологи, вона пов'язана зі значним ризиком виникнення ускладнень у післяопераційному періоді й навіть невеликим ризиком смерті, а в багатьох випадках — зі значним зниженням якості життя пацієнтів.
Неоадъювантная химиотерапия на основе цис­платина с последующей радикальной цистэктомией считается золотым стандартом терапии мышечно-инвазивного рака мочевого пузыря с учетом данных значительного количества рандомизированных контролируемых исследований. На всех стадиях опухоли этот подход ассоциировался с высокими показателями выживаемости. Однако радикальная цистэктомия является одной из самых сложных процедур, которую проводят хирурги-урологи, она связана со значительным риском возникновения осложнений в послеоперационном периоде и даже небольшим риском смерти, а во многих случаях — со значительным снижением качества жизни пациентов.
Cisplatin-based neoadjuvant chemotherapy followed by radical cystectomy is considered the gold standard for the treatment of muscle invasive bladder cancer, given the large number of randomized controlled trials. At all stages of the tumor, this approach has been associated with the highest survival rates. However, radical cystectomy is one of the most difficult procedures performed by urologists, it is associated with a significant risk of complications in the postoperative period and even with a low risk of death, and in many cases — with a significant decrease in the quality of life of patients.
Keywords
тримодальна терапія раку сечового міхура; м'язово-інвазивний рак сечового міхура; парціальна цистектомія; радикальна цистектомія
трехмодальная терапия рака мочевого пузыря; мышечно-инвазивный рак мочевого пузыря; парциальная цистэктомия; радикальная цистэктомия
trimodal bladder cancer therapy; muscle invasive bladder cancer; partial cystectomy; radical cystectomy
For the full article you need to subscribe to the magazine.
Bibliography
1. Smelser W.W., Austenfeld M.A. et al. Where are we with bladder preservation for muscle-invasive bladder cancer in 2017? Indian Journal of Urology. 2017. 33(2). 111-117.
2. I-Hung Shao, Ying Hsu Chang. Outcomes and prognostic factors of simple partial cystectomy for localized bladder urothelial cell carcinoma. Wiley Online Library. 2016. 32(4). 191-195.
3. Jasen Abel E. et al. Partial Cystectomy. MedScape Overview (Upd. 2019).
4. Knoedler J., Frank I. Organ-sparing surgery in urology: partial cystectomy. Curr. Opin. Urol. 2015. 25. 111-115.
5. Knoedler J. et al. Does partial cystectomy compromise oncologic outcomes for patients with bladder cancer compared to radical cystectomy? A matched case-control analysis. J. Urol. 2012. 188(4). 1115-1119
6. Tai H.C., Chung S.D., Wang S.M., Chueh S.C., Yu H.J. La–paroscopic partial cystectomy for various bladder pathologies. BJU Int. 2007. 100. 382-385.
7. Fedeli U., Fedewa S.A., Ward E.M. Treatment of muscle invasive bladder cancer: evidence from the National Cancer Database, 2003 to 2007. J. Urol. 2011. 185(1). 72-78.
8. Herr H.W. Bladder preservation in selected patients with muscle-invasive bladder cancer by complete transurethral resection of the bladder plus systemic chemotherapy: long-term follow-up of a phase 2 nonrandomized comparative trial with radical cystectomy. Eur. Urol. 2009. 55(4). 920-921.
9. Ploussard G. Critical Analysis of Bladder Sparing with Trimo–dal Therapy in Muscle-invasive Bladder Cancer: A Syste–matic Review. European Urology. 2014. 66. 120-137.
10. James N. et al. Radiotherapy with or without Chemotherapy in Muscle-Invasive Bladder Cancer. N. Engl. J. Med. 2012. 366.
1477-1.
11. Pos J.F. Adaptive radiotherapy for invasive bladder cancer. N. Engl. J. Med. 2010. 344. 1211-5.
Similar articles



Authors:
Думанский Ю.В., Мальцев А.В. - Донецкий национальный медицинский университет им. М. Горького


Ukrainian journal of surgery 4 (19) 2012
Date: 2013.01.24
Categories: Surgery
Sections: Clinical researches


Authors:
Garmish O.S., Fomchenko K.A., Zabashny S.I. - PI «Dnipropetrovsk Regional Clinical Hospital named after I.I. Mechnikov», Unit of Anaesthesiology and Ugernt Therapy № 3; Molchanov R.N. - SI «Dnipropetrovsk Medical Academy of MH of Ukraine», Department of Surgery № 1; Hospital «Harvis», Dnipropetrovsk, Ukraine; Kobelyatskyi Yu.Yu. - SI «Dnipropetrovsk Medical Academy of MH of Ukraine», Department of Anaesthesiology and Ugernt Therapy


"Emergency medicine" 2 (73) 2016
Date: 2016.05.16
Categories: Medicine of emergency
Sections: Clinical researches