«Practical Oncology» Том 2, №4, 2019
Current criteria for the diagnosis and treatment of multiple myeloma (literature review)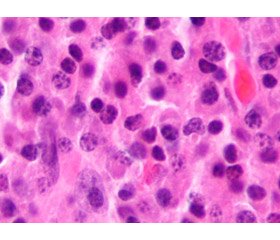 Authors:

Яменко О.О.
Національний медичний університет імені О.О. Богомольця, м. Київ, Україна



Categories:

Oncology



Sections:

Specialist manual
Summary
Множинна мієлома (ММ) становить близько 1 % від усіх злоякісних новоутворень та 10–15 % у структурі гемобластозів. У більшості пацієнтів ММ розвивається на основі моноклональної гаммапатії неясного генезу, що діагностується, зазвичай, випадково у 3–5 % людей віком понад 50 років. Середній ризик прогресування ММ дорівнює близько 1 % у рік. Завдяки сучасним методам діагностики діагноз ММ наразі встановлюють швидше, що дозволяє розпочати лікування в найкоротші терміни. Провідну роль в комплексному лікуванні ММ відіграє поліхіміотерапія. На сучасному етапі розроблені нові, зокрема таргетні, препарати, застосування яких є більш ефективним. Важливе місце в лікуванні ММ посідає високодозова хіміотерапія з подальшою трансплантацією стовбурових клітин. Окремі проблеми діагностики та лікування хворих із ММ залишаються не до кінця вирішеними, тому потребують детальнішого доопрацювання, подальшої розробки фармакологічних препаратів та схем лікування, проведення додаткових клінічних досліджень. Огляд літератури базується на даних клінічних досліджень, рекомендацій European Society for Medical Oncology, National Comprehensive Cancer Network, отриманих з використанням пошукового ресурсу PubMed.
Множественная миелома (ММ) составляет около 1 % всех злокачественных новообразований и 10–15 % в структуре гемобластозов. У большинства пациентов ММ развивается на основе моноклональной гаммапатии не­ясного генеза, которая диагностируется, как правило, случайно у 3–5 % людей в возрасте старше 50 лет. Средний риск прогрессирования ММ составляет около 1 % в год. Благодаря современным методам диагностики диагноз ММ на текущий момент устанавливается быстрее, что позволяет начать лечение в кратчайшие сроки. Ведущую роль в комплексном лечении ММ играет полихимиотерапия. На современном этапе разработаны новые, в том числе таргетные препараты, применение которых позволяет повысить эффективность лечения. Важное место в лечении ММ занимает высокодозная химиотерапия с последующей трансплантацией стволовых клеток. Отдельные проблемы диагностики и лечения больных с ММ остаются не до конца решенными, поэтому нуждаются в более детальном изу­чении, дальнейшей разработке фармакологических препаратов и схем лечения, проведении дополнительных клинических исследований. Настоящий обзор основан на данных клинических исследований, рекомендаций European Society for Medical Oncology, National Comprehensive Cancer Network, полученных с использованием поискового ресурса PubMed.
Multiple myeloma (MM) is about 1 % of all malignancies and 10–15 % in the structure of hemoblastoses. In most patients, MM develops as a result of monoclonal gammopathy of undetermined significance, which is usually diagnosed accidentally in 3–5 % of people over 50 years of age. The average risk of MM progression is about 1 % per year. Thanks to modern diagnostic methods, the diagnosis of MM is now being established faster, which allows the treatment to be started as soon as possible. Polychemotherapy plays a leading role in the comprehensive treatment of MM. At the present stage, novel, particularly targeted, drugs are being developed, the use of which is more effective. An important place in the treatment of MM belongs to high-dose chemotherapy followed by transplantation of stem cells. Some problems in the diagnosis and treatment of patients with MM remain unresolved, so they need more detailed revision, further development of pharmacological drugs and treatment regimens, additional clinical studies. The literature review is based on clinical research data, guidelines of the European Society for Medical Oncology, National Comprehensive Cancer Network, obtained using the PubMed search resource.
Keywords
множинна мієлома; білок Бенс-Джонса; М-протеїн; високодозова хіміотерапія; автологічна трансплантація стовбурових клітин; огляд
множественная миелома; белок Бенс-Джонса; М-протеин; высокодозная химиотерапия; аутологическая трансплантация стволовых клеток; обзор
multiple myeloma; Bence Jones protein; M protein; high-dose chemotherapy; autologous stem cell transplantation; review
For the full article you need to subscribe to the magazine.
Bibliography
1. Gerecke C., Fuhrmann S., Strifler S., Schmidt-Hieber M., Einsele H., Knop S. The Diagnosis and Treatment of Multiple Myeloma. Dtsch. Arztebl. Int. 2016 Jul 11. 113 (27-28). 470-6. doi: 10.3238/arztebl.2016.0470.
2. Бюлетень Національного канцер-реєстру № 20. Рак в Україні, 2017–2018. С. 68. Табл. 1.
3. Chavda S.J., Yong K. Multiple myeloma. Br. J. Hosp. Med. (Lond). 2017 Feb 2. 78(2). C21-C27. doi: 10.12968/hmed.2017.78.2.C21.
3. [Guideline] National Comprehensive Cancer Network; https://www.nccn.org/professionals/physician_gls/pdf/myeloma.pdf. Accessed September 6, 2019.
4. Rajkumar S.V., Dimopoulos M.A., Palumbo A. et al. International Myeloma Working Group updated criteria for the diagnosis of multiple myeloma. Lancet Oncol. 2014. 15. e538-e548.
5. Palumbo A., Avet-Loiseau H., Oliva S., Lokhorst H.M., Goldschmidt H., Rosinol L. et al. Revised international staging system for multiple myeloma: a report from international myeloma working group. J. Clin. Oncol. 2015. 33. 2863-2869.
6. Avet-Loiseau H., Durie B.G., Cavo M. et al. International Myeloma Working Group. Combining fluorescent in situ hybridization data with ISS staging improves risk assessment in myeloma: an International Myeloma Working Group collaborative project. Leukemia. 2013. 27(3). 711-717.
7. Costa L.J., Zhang M.J., Zhong X. et al. Trends in utilization and outcomes of autologous transplantation as early therapy for multiple myeloma. Biol. Blood Marrow. Transplant. 2013. 19(11). 1615-1624.
8. Scott K., Hayden P.J., Will A., Wheatley K., Coyne I. Bortezomib for the treatment of multiple myeloma. Cochrane Database Syst. Rev. 2016 Apr 20. 4. CD010816. doi: 10.1002/14651858.CD010816.pub2.
9. Moreau P., San Miguel J., Sonneveld P., Mateos M.V., Zamagni E. et al. ESMO Guidelines Committee. Multiple myeloma: ESMO Clinical Practice Guidelines for diagnosis, treatment and follow-up. Ann. Oncol. 2017 Jul 1. 28 (suppl. 4). iv52-iv61. doi: 10.1093/annonc/mdx096.