ПРОТОКОЛ «НАДАННЯ МЕДИЧНОЇ ДОПОМОГИ ДЛЯ ЛІКУВАННЯ КОРОНАВІРУСНОЇ ХВОРОБИ (COVID-19)»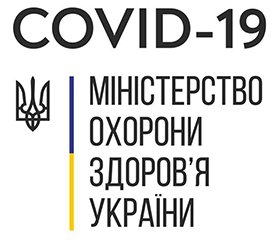 Вступ
Протокол розроблено відповідно до Закону України від 30 березня 2020 року № 539-ІХ «Про внесення змін до деяких законів України щодо забезпечення лікування коронавірусної хвороби (COVID-19)»
І. Паспортна частина
1. Діагноз. Коронавірусна хвороба (COVID-19).
2. Коди стану або захворювання (МКХ-10 та інших класифікацій) шифр за МКХ-10: U07.1 2019-nCoV гостра респіраторна хвороба [тимчасова назва].
3. Протокол, призначений для всіх медичних працівників, які надають медичну допомогу пацієнтам з коронавірусною хворобою (COVID-19).
4. Мета протоколу: реалізація порядку призначення та застосування лікарських засобів для лікування груп пацієнтів із підтвердженою коронавірусною хворобою (COVID-19) при середньотяжкому, тяжкому, критичному перебігу.
5. Дата складання протоколу: 01.04 ...
Bibliography
IV.Перелік літературних джерел, використаних при розробці клінічного протоколу медичної допомоги.
Interim clinical guidance for adults with suspected or confirmed COVID- 19 in Belgium https://epidemio.wiv-isp.be/ID/Documents/Covid19/COVID-19_InterimGuidelines_Treatment_ENG.pdf
Liu Y, Yan L-M, Wan L, Xiang T-X, Le A, Liu J-M, et al.Viral dynamics in mild and severe cases of COVID-19. The Lancet Infectious Diseases2020; 0. doi:10.1016/S1473- 3099(20)30232-2
Zhou F, Yu T, Du R, Fan G, Liu Y, Liu Z, et al.Clinical course and risk factors for mortality of adult inpatients with COVID-19 in Wuhan, China: a retrospective cohort study. Lancet Published Online First: 11 March 2020. doi:10.1016/S0140-6736(20)30566-3
Agostini ML, Andres EL, Sims AC, Graham RL, Sheahan TP, Lu X, et al.Coronavirus Susceptibility to the Antiviral Remdesivir (GS-5734) Is Mediated by the Viral Polymerase and the Proofreading Exoribonuclease. mBio 2018; 9. doi:10.1128/mBio.00221-184 Sheahan TP, Sims AC, Graham RL, Menachery VD, Gralinski LE, Case JB, et al.Broad-spectrum antiviral GS-5734 inhibits both epidemic and zoonotic coronaviruses. Sci Transl Med 2017; 9:eaal3653.
Sheahan TP, Sims AC, Leist SR, Schäfer A, Won J, Brown AJ, et al.Comparative therapeutic efficacy of remdesivir and combination lopinavir, ritonavir, and interferon beta against MERS-CoV. Nat Commun 2020; 11:222.
Gordon CJ, Tchesnokov EP, Feng JY, Porter DP, Gotte M. The antiviral compound remdesivir potently inhibits RNA-dependent RNA polymerase from Middle East respiratory syndrome coronavirus. J Biol Chem 2020; :jbc.AC120.013056.
Wang M, Cao R, Zhang L, Yang X, Liu J, Xu M, et al.Remdesivir and chloroquine effectively inhibit the recently emerged novel coronavirus (2019-nCoV) in vitro. Cell Research 2020; :1–3.
Brown AJ, Won JJ, Graham RL, Dinnon KH, Sims AC, Feng JY, et al.Broad spectrum antiviral remdesivir inhibits human endemic and zoonotic deltacoronaviruses with a highly divergent RNA dependent RNA polymerase. Antiviral Res 2019; 169:104541.
Vincent MJ, Bergeron E, Benjannet S, Erickson BR, Rollin PE, Ksiazek TG, et al.Chloroquine is a potent inhibitor of SARS coronavirus infection and spread. Virology Journal 2005; 2:69.
Keyaerts E, Vijgen L, Maes P, Neyts J, Van Ranst M. In vitro inhibition of severe acute respiratory syndrome coronavirus by chloroquine. Biochem Biophys Res Commun2004; 323:264–268.
De Wilde AH, Jochmans D, Posthuma CC, Zevenhoven-Dobbe JC, van Nieuwkoop S, Bestebroer TM, et al.Screening of an FDA-Approved Compound Library Identifies Four Small-Molecule Inhibitors of Middle East Respiratory Syndrome Coronavirus Replication in Cell Culture. Antimicrob Agents Chemother 2014; 58:4875–4884.
Barnard DL, Day CW, Bailey K, Heiner M, Montgomery R, Lauridsen L, et al.Evaluation of immunomodulators, interferons and known in vitro SARS-coV inhibitors for inhibition of SARS-coV replication in BALB/c mice. Antivir Chem Chemother 2006; 17:275–284.
Multicenter collaboration group of Department of Science and Technology of Guangdong Province and Health Commission of Guangdong Province for chloroquine in the treatment of novel coronavirus pneumonia. [Expert consensus on chloroquine phosphate for the treatment of novel coronavirus pneumonia]. Zhonghua Jie He He Hu Xi Za Zhi 2020; 43:E019.
Biot C, Daher W, Chavain N, Fandeur T, Khalife J, Dive D, et al.Design and Synthesis of Hydroxyferroquine Derivatives with Antimalarial and Antiviral Activities. J Med Chem 2006; 49:2845–2849.
Yao X, Ye F, Zhang M, Cui C, Huang B, Niu P, et al.In Vitro Antiviral Activity and Projection of Optimized Dosing Design of Hydroxychloroquine for the Treatment of Severe Acute Respiratory Syndrome Coronavirus 2 (SARS-CoV-2). Clin Infect Dis Published Online First: 9 March 2020. doi:10.1093/cid/ciaa237
Gautret P, Lagier J-C, Parola P, Hoang VT, Meddeb L, Mailhe M, et al.Hydroxychloroquine and azithromycin as a treatment of COVID-19: results of an open- label non-randomized clinical trial. International Journal of Antimicrobial Agents 2020; :105949.
Chen F, Chan KH, Jiang Y, Kao RYT, Lu HT, Fan KW, et al.In vitro susceptibility of 10 clinical isolates of SARS coronavirus to selected antiviral compounds. J Clin Virol2004; 31:69–75.
Yamamoto N, Yang R, Yoshinaka Y, Amari S, Nakano T, Cinatl J, et al.HIV protease inhibitor nelfinavir inhibits replication of SARS-associated coronavirus. Biochem Biophys Res Commun2004; 318:719–725.
Chu CM, Cheng VCC, Hung IFN, Wong MML, Chan KH, Chan KS, et al.Role of lopinavir/ritonavir in the treatment of SARS: initial virological and clinical findings. Thorax 2004; 59:252–256.
Chan JFW, Chan K-H, Kao RYT, To KKW, Zheng B-J, Li CPY, et al.Broad-spectrum antivirals for the emerging Middle East respiratory syndrome coronavirus. Journal of Infection2013; 67:606–616.
Chan JF-W, Yao Y, Yeung M-L, Deng W, Bao L, Jia L, et al.Treatment With Lopinavir/Ritonavir or Interferon-β1b Improves Outcome of MERS-CoV Infection in a Nonhuman Primate Model of Common Marmoset. J Infect Dis 2015; 212:1904–1913.
The Efficacy of Lopinavir Plus Ritonavir and Arbidol Against Novel Coronavirus Infection - Full Text View - ClinicalTrials.gov. https://clinicaltrials.gov/ct2/show/NCT04252885 (accessed 24 Mar2020).
Cao B, Wang Y, Wen D, Liu W, Wang J, Fan G, et al.A Trial of Lopinavir– Ritonavir in Adults Hospitalized with Severe Covid-19. N Engl J Med 2020; :NEJMoa2001282.
Dobson J, Whitley RJ, Pocock S, Monto AS. Oseltamivir treatment for influenza in adults: a meta-analysis of randomised controlled trials. The Lancet 2015; 385:1729–1737.
Kamal MA, Gieschke R, Lemenuel-Diot A, Beauchemin CAA, Smith PF, Rayner CR. A Drug-Disease Model Describing the Effect of Oseltamivir Neuraminidase Inhibition on Influenza Virus Progression. Antimicrobial Agents and Chemotherapy 2015; 59:5388–5395.
Organization WH. Clinical management of severe acute respiratory infection (SARI) when COVID-19 disease is suspected: interim guidance, 13 March 2020. Published Online First: 2020.https://apps.who.int/iris/handle/10665/331446 (accessed 16 Mar2020).
Russell CD, Millar JE, Baillie JK. Clinical evidence does not support corticosteroid treatment for 2019-nCoV lung injury. Lancet 2020; 395:473–475.
Schwartz DA. An Analysis of 38 Pregnant Women with COVID-19, Their Newborn Infants, and Maternal-Fetal Transmission of SARS-CoV-2: Maternal Coronavirus Infections and Pregnancy Outcomes. Arch Pathol Lab MedPublished Online First: 17 March 2020. doi:10.5858/arpa.2020-0901-SA
Chen H, Guo J, Wang C, Luo F, Yu X, Zhang W, et al.Clinical characteristics and intrauterine vertical transmission potential of COVID-19 infection in nine pregnant women: a retrospective review of medical records. The Lancet 2020; 395:809–815.
Qiao J. What are the risks of COVID-19 infection in pregnant women?The Lancet 2020; 395:760–762.
CDC. Coronavirus Disease 2019 (COVID-19). Centers for Disease Control and Prevention. 2020.https://www.cdc.gov/coronavirus/2019-ncov/prepare/children.html (accessed 24 Mar2020).
Dong Y, Mo X, Hu Y, Qi X, Jiang F, Jiang Z, et al.Epidemiological Characteristics of 2143 Pediatric Patients With 2019 Coronavirus Disease in China. Pediatrics 2020; :e20200702.
CDC. Coronavirus Disease (COVID-19) and Breastfeeding. Centers for Disease Control and Prevention. 2020.https://www.cdc.gov/breastfeeding/breastfeeding-special-circumstances/maternal-or - infant-illnesses/covid-19-and-breastfeeding.html (accessed 24 Mar2020)
Lu X, Zhang L, Du H, Zhang J. SARS-CoV-2 InfectioninChildren. N Engl J Med. 2020 Mar 18. doi: 10.1056/NEJMc2005073.
Zimmermann P, Nigel C. Coronavirus Infectionsin Children Including COVID-19 An Overview of the Epidemiology, Clinical Features, Diagnosis, Treatmentand Prevention Options in Children. The Pediatric Infectious Disease Journal: March 12, 2020, doi: 10.1097/INF.0000000000002660.
Similar articles

Authors:
Абатуров А.Е., Агафонова Е.А., Кривуша Е.Л., Никулина А.А. ГУ «Днепропетровская медицинская академия Министерства здравоохранения Украины», г. Днепр, Украина


"Child`s Health" Том 15, №2, 2020
Date: 2020.04.22
Categories: Pediatrics/Neonatology
Sections: Specialist manual


Authors:
Majid Fotuhi (a, b), Ali Mian (c), Somayeh Meysami (d), Cyrus A. Raji (c, e) a — NeuroGrow Brain Fitness Center, McLean, VA, USA b — Johns Hopkins Medicine, Baltimore, MD, USA c — Neuroradiology Section, Mallinckrodt Institute of Radiology at Washington University in St. Louis, St. Louis, MO, USA d — Department of Neurology, David Geffen School of Medicine at UCLA, Los Angeles, CA, USA e — Department of Neurology, Washington University in St. Louis, St. Louis, MO, USA


International neurological journal Том 16, №5, 2020
Date: 2020.11.11
Categories: Neurology
Sections: Specialist manual


Authors:
Мельник А.А., к.б.н. руководитель проекта специализированного медицинского центра «Оптима-фарм», г. Киев, Украина


"News of medicine and pharmacy" №5 (723), 2020
Date: 2020.05.30
Sections: Specialist manual