International journal of endocrinology Том 16, №1, 2020
Glycated hemoglobin: mechanisms of formation and clinical significance (literature review and own researches)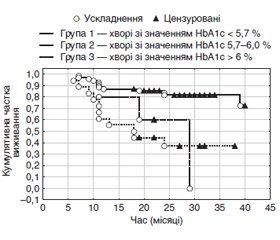 Authors:

Радченко О.М., Королюк О.Я. Львівський національний медичний університет ім. Данила Галицького, м. Львів, Україна



Categories:

Endocrinology



Sections:

Specialist manual
Summary
Рівень глікованого гемоглобіну (HbA1c) свідчить про вміст в організмі кінцевих продуктів посиленого глікозилювання (advanced glycation end products, AGE), однак на практиці потреба у його визначенні недооцінюється. З метою обговорення діагностичного та прогностичного значення HbA1c проведено огляд літератури, проаналізовано результати обстеження 116 хворих на ішемічну хворобу серця з детальним аналізом метаболізму вуглеводів, включаючи проспективне спостереження за ними впродовж 40 місяців. Встановлено, що рівень HbA1c свідчить про вміст AGE, які стимулюють продукцію вільних радикалів та окисну модифікацію протеїнів і ліпідів, зменшують клітинний транспорт, активують запальні цитокіни та хемокіни, викликають імунні реакції та мутації, підвищують активність молекул адгезії та порушують функцію рецепторів. Обговорюється їх роль у патогенезі багатьох захворювань — артеріальної гіпертензії, діабетичних судинних ускладнень, нефропатії, атеросклерозу, хвороби Альцгеймера, деменції, катаракти, передчасного старіння, втрати м'язової маси, поганого загоєння ран та злоякісних пухлин тощо. За власними даними, HbA1c є маркером незадовільного метаболічного контролю впродовж останніх трьох місяців, судинних ускладнень при цукровому діабеті (ЦД), коронарної патології, дисліпідемій, інсулінорезистентності, системного запалення та високої ймовірності виникнення ЦД у найближчі три роки. Цей показник дозволяє диференціювати гостру стресову та хронічну гіперглікемії. Вміст HbA1c слід контролювати не тільки у хворих на ЦД, але й в осіб похилого і старечого віку, курців, пацієнтів з атеросклеротичним ураженням судин та хелікобактерною інфекцією.
Уровень гликированного гемоглобина (HbA1c) свидетельствует о содержании в организме конечных продуктов усиленного гликозилирования (advanced glycation end products, AGE), однако на практике необходимость в его определении недооценивается. С целью обсуждения диагностического и прогностического значения HbA1c проведен обзор литературы, проанализованы результаты обследования 116 больных ишемической болезнью серца с детальным анализом метаболизма углеводов, включая проспективное наблюдение за ними на протяжении 40 месяцев. Установлено, что уровень HbA1c свидетельствует о содержании AGE, которые стимулируют продукцию свободных радикалов и окислительную модификацию белков и липидов, уменьшают клеточный транспорт, активируют воспалительные цитокины и хемокины, вызывают иммунные реакции и мутации, повышают активность молекул адгезии и нарушают функцию рецепторов. Обсуждается их роль в патогенезе многих заболеваний — артериальной гипертензии, диабетических сосудистых осложнений, нефропатии, атеросклероза, болезни Альцгеймера, деменции, катаракты, преждевременного старения, потери мышечной массы, плохого заживления ран и злокачественных опухолей и др. По собственным данным, HbA1c является маркером неудовлетворительного метаболического контроля в течение последних трех месяцев, сосудистых осложнений сахарного диабета, коронарной патологии, дислипидемий, инсулинорезистентности, системного воспаления и высокой вероятности возникновения сахарного диабета в ближайшие три года. Этот показатель позволяет дифференцировать острую стрессовою и хроническую гипергликемии. Содержание HbA1c следует контролировать не только у больных сахарным диабетом, но и у лиц пожилого и старческого возраста, курящих, пациентов с атеросклеротическим поражением сосудов и хеликобактерной инфекцией.
Although the level of glycated hemoglobin (HbA1c) indicates the body content of the advanced glycation end products, its value is underestimated in clinical practice. In order to discuss the diagnostic and prognostic value of HbA1c, we conducted a comprehensive literature review and analyzed the results of own investigation that included clinical examination and laboratory testing of 116 patients with coronary artery disease, with a detailed analysis of carbohydrate metabolism and subsequent follow-up period of up to 40 months. It was found that HbA1c level tends to represent the content of advanced glycation end products, which stimulate free radical production and oxidative modification of multiple proteins and lipids, reduce cellular transport, activate pro-inflammatory cytokines and chemokines, cause immune responses and mutations, increase the activity of adhesion molecules, and cause malfunction of receptors. Nowadays, the role of advanced glycation end products is discussed in the pathophysiology of different diseases, such as arterial hypertension, diabetic vascular complications, nephropathy, atherosclerosis, Alzheimer's disease, dementia, cataract, premature aging, loss of muscle mass, poor wound healing, malignant tumors, etc. According to our data, HbA1c not only indicates poor metabolic control within the preceding 3 months, but also is a sensitive marker of vascular diabetic complications, atherogenic dyslipidemia, insulin resistance, systemic inflammation, coronary events, and the risk of transformation to diabetes mellitus during the next 3 years. Besides, HbA1c is an effective tool for differentiation of stress hyperglycemia, which frequently occurs in patients with acute cardiovascular events, and chronic hyperglycemia caused by overt or latent glucose dysregulation. Blood HbA1c levels should be monitored not only in diabetic patients but also in elder people, smokers, patients with atherosclerotic arterial diseases, and Helicobacter pylori infection.
Keywords
глікований гемоглобін; цукровий діабет; ішемічна хвороба серця; кардіоваскулярний ризик
гликированный гемоглобин; сахарный диабет; ишемическая болезнь сердца; кардиоваскулярный риск
glycated hemoglobin; diabetes mellitus; coronary artery disease; cardiovascular risk
For the full article you need to subscribe to the magazine.
Bibliography
1. 2019 ESC Guidelines on diabetes, pre-diabetes, and cardiovascular diseases developed in collaboration with the EASD: The Task Force for diabetes, pre-diabetes, and cardiovascular diseases of the European Society of Cardiology (ESC) and the European Association for the Study of Diabetes (EASD) https:/doi.org/10.1093/eurheartj/ehz486.
2. Radchenko O.M. Glycosylated haemoglobin — metabolic marker of impairment. Problems of Endocrine Pathology. 2008. 1. 104-107. (in Ukrainian)
3. Radchenko O.M., Korolyuk O.Ja. Glucose homeostasis impairment: changes of views during 40 years. Mìžnarodnij endokrinologìčnij žurnal. 2015. 2. 95-8. Режим доступу: http://nbuv.gov.ua/UJRN/Mezh_2015_ 2_19. (in Ukrainian)
4. Kojić D.S., Đerić M., Eremić K.N. Glycated hemoglobin A1c as a modern biochemical marker of glucose regulation. Med. Pregl. 2014. 67(9-10). 339-44.
5. Korolyuk O.Ja., Radchenko O.M., Gorbach L.О., Gorbach М.О. Pathogenetic mechanisms of glucose-insulin regulation in patients with ischemic heart disease with carbohydrate metabolism impairment. Medical Hydrology and Rehabilitation. 2010. 1. 76-85.
6. Review criteria for assessment of glycohemoglobin (glycated or glycosylated) hemoglobin in vitro diagnostic devices. https://www.fda.gov/regulatory-information/search-fda-guidance-documents/review-criteria-assessment-glycohemoglobin-glycated-or-glycosylated-hemoglobin-vitro-diagnostic.
7. Alzahrani S.H., Baig M., Aashi M.M., Al-Shaibi F.K., Alqarni D.A., Bakhamees W.H. Association between glycated hemoglobin (HbA1c) and the lipid profile in patients with type 2 diabetes mellitus at a tertiary care hospital: a retrospective study. Diabetes Metab. Syndr. Obes. 2019. 12. 1639-44. doi: 10.2147/DMSO.S222271.
8. Bala M., Meenakshi, Aggarwal S. Correlation of body mass index and waist/hip ratio with glycated hemoglobin in prediabetes. EJIFCC. 2019. 30(3). 317-24. PMCID: PMC6803770. PMID: 31695588.
9. Urberg M., Shammas R., Rajdev K. The effects of cigarette smoking on glycosylated haemoglobin in nondiabetic individuals. J. Family Practice. 1989. 5. 1125-29. PMID: 2597247.
10. Van Putte L., De Schrijver S., Moortgat P. The effects of advanced glycation end products (AGEs) on dermal wound healing and scar formation: a systematic review. Scars, Burns & Healing. 2016. https://doi.org/10.1177/2059513116676828.
11. Bruno C.M., Meli S., Marcino M. et al. Plasma endotelin-1 levels and albumin excretion rate in nopmotensive, microalbuminuric type 2 diabetic patients. J. Biol. Regul. Homeost. Agents. 2002. 16(2). 114-17. PMID: 12144123.
12. Bhutto A.R., Abbasi A., Abro A.H. Correlation of Hemoglobin A1c with red cell width distribution and other parameters of red blood cells in type II diabetes mellitus. Cureus. 2019. 11(8). e5533. doi: 10.7759/cureus.5533.
13. Al-Kindi S.G., Refaat M., Jayyousi A., Asaad N., Al Suwaidi J., Abi Khalil C. Red cell distribution width is associated with all-cause and cardiovascular mortality in patients with diabetes. Biomed. Res. Int. 2017. 2017. 5843702. doi: 10.1155/2017/5843702.
14. Xanthopoulos A., Giamouzis G., Melidonis A., Kitai T., Paraskevopoulou E., Paraskevopoulou P., Patsilinakos S., Triposkiadis F., Skoularigis J. Red blood cell distribution width as a prognostic marker in patients with heart failure and diabetes mellitus. Cardiovasc. Diabetol. 2017. 16(1). 81. doi:10.1186/s12933-017-0563-1.
15. Thao M.T., Gaillard E.R. The glycation of fibronectin by glycolaldehyde and methylglyoxal as a model for aging in Bruch's membrane. Amino Acids. 2016. 48(7). 1631-9. doi: 10.1007/s00726-016-2222-3.
16. Berlanga-Acosta J., Schultz G.S., López-Mola E., Guillen-Nieto G., García-Siverio M., Herrera-Martínez L. Glucose toxic effects on granulation tissue productive cells: the diabetics' impaired healing. Biomed. Res. Int. 2013. 2013. 256043. doi:10.1155/2013/ 256043.
17. Jacobsen J.N., Steffensen B., Häkkinen L., Krogfelt K.A., Larjava H.S. Skin wound healing in diabetic β6 integrin-deficient mice. APMIS (Acta pathologica, microbiologica, et immunologica Scandinavica). 2010. 118(10). 753-64 DOI: 10.1111/j.1600-0463.2010.02654.x
18. Morey M., O'Gaora P., Pandit A., Hélary C. Hyperglycemia acts in synergy with hypoxia to maintain the pro-inflammatory phenotype of macrophages. PLoS One. 2019. 14(8). e0220577. doi: 10.1371/journal.pone.0220577.
19. Bucala R., Makita Z., Koschinsky T. et al. Lipid advanced glycosilation: pathway for lipid oxidation in vivo. Proc. Nation. Acad. Scien. USA. 1993. 90. 6434-38 doi: 10.1073/pnas.90.14.6434.
20. Kanaya A.M., Barret-Connor E., Gildengorin G., Yaffe K. Change in cognitive function by glucose tolerance status in older adults. A 4-year prospective study of the Rancho Bernardo Study Cogort. Arch. Int. Med. 2004. 174(12). 1327-33. PMID: 15226167.
21. Korolyuk O.Ja., Radchenko O.M., Gorbach L.О., Gorbach М.О. Peculiarities of diagnosis the first time appeared hyperglycemia in patients with ischemic heart disease. Circulation and haemostasis. 2011. 3–4. 23-8.
22. Radchenko O.M., Korolyuk O.Ja. Pecularities of ischemic heart disease course and treatment in patients with glucose metabolism impairment and diabetes mellitus. Mìžnarodnij endokrinologìčnij žurnal. 2015. 6(70). 11-5. (in Ukrainian)
23. Murray L., Jimenez-Navarrete A., Francisco M. Calidad del control glicemico segun la hemoglobina glicosidada vs la glicemia en ayunas; analisis en una poblacion urbana y otra rural de diabeticos costarricenses. Acta med. costarric. 2004. 46. 139-44.
24. Fong T.C.T. Indirect effects of body mass index growth on glucose dysregulation via inflammation: causal moderated mediation analysis. Obes. Facts. 2019. 12(3). 316-327. doi: 10.1159/000500422.
25. Itoh M., Kazikawa H., Itoh Y. et al. The relationship between glycemic control and plasma VEGF and ET-1 concentration in diabetic patients. 18th International Diabetes Federation Congress, France. 2003; Poster Display, № 2704.
26. Angulo J., Sanchez-Ferrer C.F., Peiro C. et al. Impairment of Endothelium-Dependent Relaxation by Increasing Percentages of Glycosylated Human Hemoglobin. Possible Mechanisms Involved. Hypertension. 1996. 28. 583-92.
27. James P.E., Lang D., Tufnell-Barret T. et al. Vasorelaxation by red blood cells and impairment in diabetes. reduced nitric oxide and oxygen delivery by glycated hemoglobin. Circulation Research. 2004. 94. 976-82. DOI: 10.1161/01.RES. 0000122044.21787.01.
28. Stagnaro-Neri M., Stagnaro S. Semeiotica Biofisica: la manovra di Ferrero-Marigo nella diagnosi clinica della hiperinsulinemia-insulinoresistenza. Acta Med. Medit. 1997. 13. 125-36.
29. Ugalde-Canitrot A., Bajo-Martinez A., Bernal E. et al. Evaluation of endothelial function and extracellular matrix turnover in type 2 diabetic patients with elevated ambulatory blood pressure. 18th International Diabetes Federation Congress, France. 2003; Poster Display: № 2703.
30. Strilchuk L.M. Calculated parameters of lipidogram: modern scientific positions and correlations with laboratory and instrumental parameters. Acta Medica Leopoliensia. 2017. XXIII(3). 72-8. (in Ukrainian)
31. Luethi N., Cioccari L., Tanaka A., Kar P., Giersch E., Deane A.M., Mårtensson J., Bellomo R. Glycated Hemoglobin A1c Levels Are Not Affected by Critical Illness. Crit. Care Med. 2016. 44(9). 1692-4. doi: 10.1097/CCM.0000000000001656.
32. Chen J., Xing Y., Zhao L., Ma H. The Association between Helicobacter pylori infection and glycated hemoglobin in diabetes: a meta-analysis. J. Diabetes Res. 2019. 3705264. doi: 10.1155/2019/3705264.