International neurological journal Том 16, №2, 2020
Characteristics of pain syndrome in motor neuron disease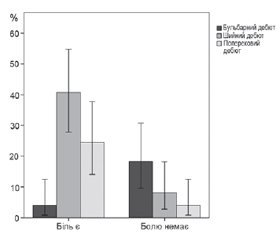 Authors:

Костенко В.В. Національна медична академія післядипломної освіти імені П.Л. Шупика, м. Київ, Україна



Categories:

Neurology



Sections:

Specialist manual
Summary
Актуальність. Хвороба рухового нейрона, або бічний аміотрофічний склероз (БАС), насамперед характеризується руховими порушеннями, а також супроводжується широким діапазоном немоторних симптомів. Серед немоторних симптомів слід виділити больовий синдром, що залишається недостатньо дослідженим. Метою нашого дослідження було визначення частоти виникнення больового синдрому на ранніх стадіях хвороби рухового нейрона, виявлення найбільш частої локалізації болю. Матеріали та методи. Обстежено 49 пацієнтів з БАС від 27 до 79 років, середній вік яких становив 57 років. Діагноз базувався на переглянутих Ель-Ескоріальських критеріях. Візуально-аналогова шкала (ВАШ) була використана для визначення інтенсивності болю, а розширена переглянута шкала оцінки БАС (ALSFRS-R) — для моніторингу прогресування хвороби. Результати. Больові відчуття були виявлені у 69 % пацієнтів, причому їх наявність не залежала від статі і віку обстежених. Найбільш частими дескрипторами больового синдрому були ниючі, тягнучі, смикаючі, а також пекучі відчуття. Хвороба статистично значуще прогресувала повільніше (р = 0,01) у пацієнтів без болю (40,4 ± 4,4 бала) порівняно з пацієнтами з наявністю больових відчуттів (36,5 ± 4,9 бала) за шкалою ALSFRS-R. Було відзначено, що біль в основному локалізувався в верхніх кінцівках (38 %), нижніх кінцівках (27 %) і попереково-крижовій ділянці (15 %). Наявність больового синдрому вірогідно залежала від дебюту захворювання. Ризик виникнення болю у пацієнтів із шийним дебютом був у 1,5 раза вищим. При бульбарному дебюті хворі вкрай рідко вказували на наявність больових відчуттів (4,0 ± 5,5 %). Висновки. Больовий синдром слід виявляти вже на ранніх стадіях хвороби мотонейрона. Оскільки наявність болю у пацієнтів корелює з більш швидким прогресуванням хвороби, лікувальні заходи слід коригувати з урахуванням даного симптому. Гетерогенність больових відчуттів вимагає додаткового вивчення і відповідного планування реабілітаційних процедур.
Актуальность. Болезнь двигательного нейрона, или боковой амиотрофический склероз (БАС), прежде всего характеризуется двигательными нарушениями, а также сопровождается широким диапазоном немоторных симптомов. Среди немоторных симптомов следует выделить болевой синдром, который остается недостаточно исследованным. Целью нашего исследования было определение частоты встречаемости болевого синдрома на ранних стадиях болезни двигательного нейрона, выявление наиболее частой локализации боли. Материалы и методы. Обследовано 49 пациентов с БАС от 27 до 79 лет, средний возраст которых составлял 57 лет. Диагноз базировался на пересмотренных Эль-Эскориальских критериях болезни двигательного нейрона. Визуально-аналоговая шкала (ВАШ) была использована для определения интенсивности боли, а расширенная пересмотренная шкала оценки БАС (ALSFRS-R) — для мониторинга прогрессирования болезни. Результаты. Болевые ощущения были выявлены у 69 % пациентов, причем их наличие не зависело от пола и возраста обследуемых. Наиболее частыми дескрипторами болевого синдрома были ноющие, тянущие, дергающие, а также пекущие ощущения. Болезнь статистически значимо прогрессировала значительно медленнее (р = 0,01) у пациентов без боли (40,4 ± 4,4) по сравнению с пациентами с наличием болевых ощущений (36,5 ± 4,9 балла) по шкале ALSFRS-R. Было отмечено, что боль в основном локализовалась в верхних конечностях (38 %), нижних конечностях (27 %) и пояснично-крестцовой области (15 %). Наличие болевого синдрома достоверно зависело от дебюта заболевания. Риск возникновения боли у пациентов с шейным дебютом был в 1,5 раза выше. При бульбарном дебюте больные крайне редко отмечали наличие болевых ощущений (4,0 ± 5,5 %). Выводы. Болевой синдром следует выявлять уже на ранних стадиях болезни двигательного нейрона. Поскольку наличие боли у пациентов коррелирует с более быстрым прогрессированием болезни, лечебные мероприятия следует корректировать с учетом этого симптома. Гетерогенность болевых ощущений требует дополнительного изучения и соответствующего планирования реабилитационных процедур.
Background. Motor neuron disease, or amyotrophic lateral sclerosis (ALS), is primarily characterized by progressive motor deficit and various non-motor symptoms. One of such symptoms is pain syndrome, which continues to be poorly understood and often not detected by clinicians. The purpose of our study was to determine the frequency of pain syndrome in the early stages of motor neuron disease and the anatomical localization of pain. Materials and methods. We examined 49 ALS patients aged 27 to 79 years (on average 56.7 years). The ALS diagnosis was based on the revised El Escorial criteria. The visual analog scale was used to determine the intensity of pain, and the ALS functional rating scale (ALSFRS-R) — to monitor disease progression. Results. In this study, 69 % of patients had experienced pain. The presence of pain reported by ALS patients was not sex and age dependent. The most frequent descriptors of pain syndrome reported by the patients were nagging, pulling, throbbing, and burning sensations. The disease progresses statistically slowly in patients without pain (40.4 ± 4.4 points) compared to those with pain sensations (36.5 ± 4.9 points, p = 0.01) according to ALSFRS-R. We found that pain was mainly localized in the upper extremities (38 %), lower extremities (27 %) and lower back (15 %). The presence of pain syndrome depended significantly on the onset of the disease. The risk of pain in patients with the onset in the neck was 1.5 times higher. Patients with bulbar onset rarely complained about pain (4.0 ± 5.5 %). Conclusions. Clinicians should detect pain syndrome in the early stages of motor neuron disease. Since the presence of pain in ALS patients correlates with a more rapid disease progression, therapeutic measures should be adjusted to the presence of such symptom. Pain heterogeneity requires additional study and appropriate planning of rehabilitation.
Keywords
хвороба рухового нейрона; бічний аміотрофічний склероз; больовий синдром
болезнь двигательного нейрона; боковой амиотрофический склероз; болевой синдром
motor neuron disease; amyotrophic lateral sclerosis; pain syndrome
For the full article you need to subscribe to the magazine.
Bibliography
1. Conradi S., Ronnevi L.O. Selective vulnerability of alpha motor neurons in ALS: relation to autoantibodies toward acetylcholinesterase (AChE) in ALS patients. Brain. Res. Bull. 1993. 30(3–4). Р. 369-71.
2. Aisha S., Hansen J., Kioumourtzoglou M.A. et al. Study of occupation and amyotrophic lateral sclerosis in a Danish cohort. Occup. Environ. Med. 2018 Sep. 75(9). Р. 630-638.
3. Malek A.M., Barchowsky A., Bowser R. et al. Environmental and Occupational Risk Factors for Amyotrophic Lateral Sclerosis: A Case-Control Study. Neurodegener. Dis. 2014. 14. Р. 31-38.
4. Chio A., Calvo A., Dossena M., Ghiglione P. et al. ALS in Ita-lian professional soccer players: the risk is still present and could be soccer-specifi. Amyotroph. Lateral. Scler. 2009 Aug. 10(4). Р. 205-9.
5. Majoor-Krakauer D., Willems P.J., Hofman A. Genetic epidemiology of amyotrophic lateral sclerosis. Clin. Genet. 2003. 63. Р. 83-101.
6. Wakabayashi K., Horikawa Y., Oyake M. et al. Sporadic motor neuron disease with severe sensory neuronopathy. Acta Neuropathol. 1998 Apr. 95(4). Р. 426-30.
7. Iglesias C., Sangari S., El Mendili M.M. et al. Electrophysiological and spinal imaging evidences for sensory dysfunction in amyotrophic lateral sclerosis. BMJ Open. 2015 Feb. 24. 5(2).
8. Chiò A., Moglia C., Canosa A. et al. A Cognitive impairment across ALS clinical stages in a population-based cohort. Neurology. 2019 Aug. 13. Pii. Р. 10.121.
9. Lo Coco D., Fatigue L.V. Sleep, and nocturnal complaints in patients with amyotrophic lateral sclerosis. Eur. J. Neurol. 2012 May. 19(5).
10. Prado L., Bicalho I.C., Vidigal-Lopes M. et al. Depression and anxiety in a case series of amyotrophic lateral sclerosis: frequency and association with clinical features. Einstein (Sao Paulo). 2017 Jan-Mar. 15(1). Р. 58-6.
11. Аkerblom Y., Jakobsson L.B., Zetterberg L. et al. The multiple faces of pain in motor neuron disease: a qualitative study to inform pain assessment and pain management. Disabil. Rehabil. 2019 Apr. 24. Р. 1-10.
12. Handy C.R., Krudy C., Boulis N. Pain in Amyotrophic La-teral Sclerosis: A Neglected Aspect of Disease. Neurol. Res. Int. 2011 May. 3.
13. Rivera I., Ajroud-Driss S., Casey P. et al. Prevalence and characteristics of pain in early and late stages of ALS. Amyotroph Lateral Scler Frontotemporal Degener. 2013 Sep. 14(5–6). Р. 369-72
14. Wallace V.C., Ellis C.M., Burman R. et al. The evaluation of pain in amyotrophic lateral sclerosis: a case controlled observational study. Amyotroph. Lateral Scler. Frontotemporal. Degener. 2014 Dec. 15(7–8). Р. 520-7.
15. Scott J., Huskisson E.C. Graphic representation of pain. Pain. 1976. 2(2). Р. 175-184.
16. Castrillo-Viguera C., Grasso D., Simpson E. et al. Clinical significance in the change of decline in ALSFRS-R. Amyotrophic Lateral Sclerosis. 2010. Volume 11. Issue 1–2.
Similar articles