International journal of endocrinology Том 16, №2, 2020
Carbohydrate metabolism disorders at Cushing disease onset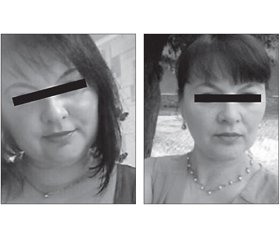 Authors:

Перцева Н.О., Чурсинова Т.В. ГУ «Днепропетровская медицинская академия МЗ Украины», г. Днепр, Украина



Categories:

Endocrinology



Sections:

Clinical researches
Summary
На сьогодні в клінічній практиці все частіше трапляються стерті форми ендогенного гіперкортицизму, що проявляються неспецифічними симптомами, а саме артеріальною гіпертензією, цукровим діабетом, ожирінням. З огляду на високі ризики кардіоваскулярної смертності у хворих на гіперкортицизм, важливою є своєчасність постановки правильного діагнозу. Представлений клінічний випадок хвороби Іценка — Кушинга, що проявилася розвитком цукрового діабету, артеріальною гіпертензією, швидким набором маси тіла, без характерних шкірних симптомів захворювання. Своєчасне хірургічне лікування призвело до повного регресу цукрового діабету, нормалізації артеріального тиску і маси тіла пацієнтки.
На сегодняшний день в клинической практике все чаще встречаются стертые формы эндогенного гиперкортицизма, которые проявляются неспецифическими симптомами, а именно артериальной гипертензией, сахарным диабетом, ожирением. С учетом высокого риска кардиоваскулярной смертности у больных с гиперкортицизмом важна своевременность постановки истинного диагноза. Представлен клинический случай болезни Иценко — Кушинга, которая проявилась развитием сахарного диабета, артериальной гипертензией, быстрым набором массы тела, без характерных кожных симптомов заболевания. Своевременное хирургическое лечение привело к полному регрессу сахарного диабета, нормализации артериального давления и массы тела пациентки.
Atypical forms of endogenous hypercorticism, which are manifested in non-specific symptoms such as arterial hypertension, diabetes mellitus, obesity, are increasingly common in clinical practice to date. Considering that patients with hypercorticism have high risk of cardiovascular mortality, timely diagnosis is important. The clinical case was presented when Cushing disease manifested itself in the development of diabetes mellitus, arterial hypertension, rapid weight gain and no skin symptoms. Timely surgical treatment led to a complete regression of diabetes mellitus, normalization of blood pressure and weight of the patient.
Keywords
хвороба Іценка — Кушинга; ендогенний гіперкортицизм; цукровий діабет
болезнь Иценко — Кушинга; эндогенный гиперкортицизм; сахарный диабет
Cushing disease; endogenous hypercorticism; diabetes mellitus
For the full article you need to subscribe to the magazine.
Bibliography
Hirsch D., Shimon I., Manisterski Y., Aviran-Barak N., Amitai O., Nadler V. et al. Cushing's syndrome. comparison between Cushing's disease and adrenal Cushing's. Endocrine. 2018. 62 (3). 712-720.
Bertagna X. Management of endocrine disease. Can we cure Cushing's disease? A personal view. Eur. J. Endocrinol. 2018. 178 (5). 183-200.
Pankiv V.I. Cushing's disease: diagnosis, clinic, treatment. Mìžnarodnij endokrinologìčnij žurnal. 2011. 5. 159-167. (in Ukrainian)
Catargi B., Rigalleau V., Poussin A. et al. Occult Cushing's syndrome in type 2 diabetes. J. Clin. Endocrinol. Metab. 2003. 88 (12). 5808-5813.
Clayton R.N., Jones P.W., Reulen R.C., Stewart P.M., Hassan-Smith Z.K., Ntali G. et al. Mortality in patients with Cushing's disease more than 10 years after remission. a multicentre, multinational, retrospective cohort study. Lancet Diabetes Endocrinol. 2016. 569-576.
Faggiano A., Pivonello R., Spiezia S. et al. Cardiovascular risk factors and common carotid artery caliber and stiffness in patients with Cushing's disease during active disease and 1 year after disease remission. J. Clin. Endocrinol. Metab. 2003. 88. 2527-2533.
Feelders R.A., Pulgar S.J., Kempel A., Pereira A.M. The burden of Cushing's disease: clinical and health-related quality of life aspects. Eur. J. Endocrinol. 2012. 167. 311-326.
Similar articles

Authors:
Кравчун Н.А., Полозова Л.Г., - Государственное учреждение «Институт проблем эндокринной патологии им. В.Я. Данилевского НАМН Украины», отделение фармакотерапии эндокринных заболеваний, г. Харьков; Попова С.С. - Харьковская медицинская академия последипломного образования, кафедра эндокринологии и детской эндокринологии; Дорош Е.Г. - Государственное учреждение «Институт проблем эндокринной патологии им. В.Я. Данилевского НАМН Украины», отделение фармакотерапии эндокринных заболеваний, г. Харьков


International journal of endocrinology 2 (58) 2014
Date: 2014.04.24
Categories: Family medicine/Therapy, Endocrinology
Sections: Specialist manual


Authors:
Марциник Е.Н., Чурсинова Т.В. - ГУ «Днепропетровская медицинская академия» МЗ Украины, г. Днепропетровск, Украина; Пастарус Л.Н. - КУ «Днепропетровская городская клиническая больница № 9 ДОС, г. Днепропетровск, Украина


International journal of endocrinology 3 (75) 2016
Date: 2016.07.07
Categories: Endocrinology
Sections: Specialist manual



Authors: Кирилюк М.Л., Дашук Т.И., Кирилюк Н.В.
Украинский научно-практический центр эндокринной хирургии, трансплантации эндокринных органов и тканей МЗ Украины, г. Киев, Украина
International journal of endocrinology Том 14, №2, 2018
Date: 2018.06.19
Categories: Endocrinology
Sections: Specialist manual