International journal of endocrinology Том 16, №2, 2020
Carney complex manifested itself in pituitary somatotropinoma and Cushing syndrome: a clinical case and current understanding of the problem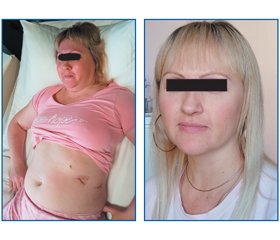 Authors:

Черенько С.М.(1), Черенько М.С.(1, 2), Марцинік Є.М.(3) (1) — Міжнародна клініка «СітіДоктор», центр ендокринної хірургії, м. Київ, Україна (2) — Консультативний центр «Ендокринологія від Черенько», м. Київ, Україна (3) — Український державний науково-дослідний інститут медико-соціальних проблем інвалідності МОЗ України, м. Дніпро, Україна



Categories:

Endocrinology



Sections:

Specialist manual
Summary
Актуальність. Комплекс Карні (КК) — рідкісне генетичне захворювання, що спричиняє розвиток численних неопластичних утворень ендокринних органів, шкіри, матки, серця та інших. Вперше в Україні детально описаний клінічний випадок КК та проаналізований сучасний стан розробки проблеми. Мета: на прикладі історії пролікованого пацієнта та з урахуванням аналізу сучасної світової літератури визначити особливості перебігу, діагностики та лікування КК. Матеріали та методи. Наведено яскравий випадок КК у молодої жінки, маніфестація захворювання у якої була пов'язана з розвитком соматотропіноми й акромегалії. Подальше спостереження виявило синдром Кушинга внаслідок первинної пігментної вузликової гіперплазії наднирників (PPNAD). Однобічна адреналектомія призвела до сталого позбавлення гіперкортизолемії та підтвердила клінічний діагноз. Розгляд даної клінічної історії став мотивом поглибленого вивчення сучасної літератури, наведеної в статті. Результати. Пацієнтка успішно пройшла хірургічне лікування соматотропіноми гіпофіза, а 2 роки по тому — PPNAD (протягом 10 місяців після однобічної адреналектомії зберігається помірна надниркова недостатність). Завдяки прискіпливому обстеженню виявлені міксома серця, вузловий зоб та фіброміома матки, які стануть предметом подальшого спостереження за пацієнткою. Висновки. Навіть за відсутності генетичної діагностики можливо клінічно запідозрити КК. Однобічна адреналектомія в разі PPNAD як компонента КК може забезпечити тривалу ремісію синдрому Кушинга.
Актуальность. Комплекс Карни (КК) – редкое генетическое заболевание, вызывающее развитие многочисленных неопластических образований эндокринных органов, кожи, матки, сердца и других. Впервые в Украине подробно описан клинический случай КК и проанализировано современное состояние разработки проблемы. Цель: на примере истории пролеченного пациента и с учетом анализа современной мировой литературы определить особенности течения, диагностики и лечения КК. Материал и методы. Приведен яркий случай КК у молодой женщины, манифестация заболевания у которой была связана с развитием соматотропиномы и акромегалии. Дальнейшее наблюдение выявило синдром Кушинга вследствие первичной пигментной узелковой гиперплазии надпочечников (PPNAD). Односторонняя адреналэктомия привела к устойчивому устранению гиперкортизолемии и подтвердила клинический диагноз. Рассмотрение данного клинического случая стало мотивом углубленного изучения современной литературы, приведенной в статье. Результаты. Пациентка успешно прошла хирургическое лечение соматотропиномы гипофиза, а 2 года спустя — PPNAD (в течение 10 месяцев после односторонней адреналэктомии сохраняется умеренная надпочечниковая недостаточность). Благодаря тщательному обследованию обнаружены миксома сердца, узловой зоб и фибромиома матки, которые станут предметом дальнейшего наблюдения за пациенткой. Выводы. Даже при отсутствии генетической диагностики возможно клинически заподозрить КК. Односторонняя адреналэктомия в случае PPNAD как компонента КК может обеспечить длительную ремиссию синдрома Кушинга.
Background. Carney complex (CC) is a rare genetic disorder, which causes numeral neoplastic lesions of endocrine organs, skin, uterus, heart, and others. It is the first in Ukraine detailed description of a clinical case of CC with analysis of modern literature. The purpose was to discuss the variety of CC appearance and relevant directions of diagnosis, treatment and follow-up within the framework of a clinical case and literature review. Materials and methods. Well investigated and illustrated case of CC in a young woman was studied. Results of surgical treatment of somatotropinoma and primary pigmented nodular adrenocortical disease (PPNAD) were presented. Unilateral adrenalectomy has led to the persistent elimination of hypercortisolemia and confirmed the clinical diagnosis. Authors supplement a clinical case with detailed study of modern literature. Results. Patient underwent successful surgical treatment of pituitary somatotropinoma and PPNAD. During the first 10 months after unilateral adrenalectomy, moderate adrenal insufficiency still persisted. Due to the correct diagnosis of CC (despite the absence of molecular confirmation of this genetic disease), cardiac myxoma, uterine fibroid and thyroid nodules have been revealed. It will be the points of further investigations at follow-up. Conclusions. Even if genetic testing is unavailable, clinical suspicion could induce the investigation of possible CC. Unilateral adrenalectomy for PPNAD as a component of CC may be sufficient initial treatment option for Cushing syndrome.
Keywords
комплекс Карні; соматотропінома; синдром Кушинга; PPNAD; діагностика; хірургія
комплекс Карни; соматотропинома; синдром Кушинга; PPNAD; диагностика; хирургия
Carney complex; somatotropinoma; Cushing syndrome; primary pigmented nodular adrenocortical disease; diagnosis; surgery
For the full article you need to subscribe to the magazine.
Bibliography
Carney J.A., Cordon H., Carpenter P.C. et al. The complex of myxomas, spotty pigmentation, and endocrine overactivity. Medicine. 1985. 64(4). Р. 270-283.
Correa R., Salpea P., Stratakis C. Carny complex: an update. Eur. J. Endocrinol. 2015. 173(1). Р. 85-97. doi: 10.1530/EJE-15-0209.
Wei K., Guo H.W., Fan S.Y. et al. Clinical features and surgical results of cardiac myxoma in Carney complex. J. Card. Surg. 2019. 34(1). Р. 14-19. doi: 10.1111/jocs.13980.
Stratakis C.A., Kirschner L.S., Carney J.A. Clinical and Molecular Features of the Carney Complex: Diagnostic Criteria and Recommendations for Patient Evaluation. J. Clin. Endocrinol. Metab. 2001. 86. Р. 4041-4046. doi: 10.1210/jcem.86.9.7903.
Cuny T., Mac T.T., Romanet P. et al. Acromegaly in Carney complex. Pituitary. doi: 10.1007/s11102-019-00974-8.
Zhang C.D., Pichurin P.N., Bobr A. et al. Cushing syndrome: uncovering Carney complex due to novel PRKAR1A mutation. EDM. 2019. doi: 10.1530/EDM-18-0150.
Memon S.S., Thakkar K., Patil V. et al. Primary pigmented nodular adrenocortical disease (PPNAD) single center experience. J. Pediatr. Endocrinol. Metab. 2019. 32(4). Р. 1-7. doi: 10.1515/jpem-2018-0413.
Stewart P.M., Krone N.P. Primary pigmented nodular adrenal hyperplasia and Carney's syndrome. The adrenal cortex in Williams textbook of endocrinology. 12th ed. 2011. Р. 502-503.