Archive Of Ukrainian Ophthalmology Том 8, №1, 2020
Features of morphological changes in the parameters of the optic disc depending on the degree of myopia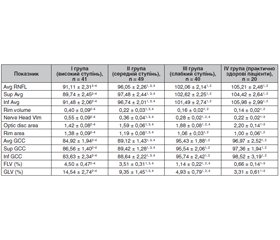 Authors:

Бездітко П.А., Гуліда А.О. Харківський національний медичний університет МОЗ України, м. Харків, Україна



Categories:

Ophthalmology



Sections:

Clinical researches
Summary
Актуальність. На сьогодні міопічна хвороба посідає провідне місце серед захворювань, що призводять до інвалідизації. За прогнозами, до 2050 року до 52 % населення світу буде короткозорим і 10 % із них — із прогресуючою міопією. Завдяки науково-технічному прогресу стало можливим діагностувати морфологічні зміни у хворих на міопію неінвазивним методом, таким як оптична когерентна томографія. Мета: проаналізувати морфологічні зміни диска зорового нерва у хворих на міопію слабкого, середнього та високого ступеня. Матеріали та методи. У дослідження увійшли 120 осіб (204 ока; групу контролю становили 20 практично здорових волонтерів (38 очей)). Усі пацієнти, які брали участь у дослідженні, були працездатного віку — від 18 до 45 років. Усім пацієнтам було проведено оптичну когерентну томографію диска зорового нерва. Були вивчені 12 показників. Результати. По мірі збільшення ступенів міопії (від слабкого до високого) у пацієнтів спостерігаються прогресуючі морфологічні зміни, які відображені в результатах оптичної когерентної томографії. Найсуттєвіші зміни порівняно з нормою відмічаються у хворих із міопією високого ступеня. Висновки. При міопії спостерігаються зміни в ділянці диска зорового нерва на морфологічному рівні, що доводить необхідність проведення оптичної когерентної томографії як методу своєчасного контролю морфологічних змін при профілактиці та лікуванні прогресування міопії.
Актуальность. На сегодняшний день миопическая болезнь занимает ведущее место среди болезней, приводящих к инвалидизации. По прогнозам, к 2050 году до 52 % населения мира будет близоруким и 10 % из них — с прогрессирующей миопией. Благодаря научно-техническому прогрессу стало возможным диагностировать морфологические изменения у больных миопией неинвазивным методом, таким как оптическая когерентная томография. Цель: проанализировать морфологические изменения в области диска зрительного нерва у пациентов с миопией разной степени. Материалы и методы. В исследование вошли 120 человек (204 глаза; группу контроля составили 20 практически здоровых добровольцев (38 глаз)). Все пациенты, участвовавшие в исследовании, были трудоспособного возраста — от 18 до 45 лет. Всем пациентам была проведена оптическая когерентная томография диска зрительного нерва. Были изучены 12 показателей. Результаты. По мере увеличения степени миопии (от слабой к высокой) у пациентов наблюдаются прогрессирующие морфологические изменения, которые отображены в результатах оптической когерентной томографии. Существенные изменения по сравнению с нормой наблюдаются у больных с миопией высокой степени. Выводы. При миопии наблюдаются изменения в области диска зрительного нерва на морфологическом уровне, что доказывает необходимость проведения оптической когерентной томографии как метода своевременного контроля морфологических изменений при профилактике и лечении прогрессирующей миопии.
Background. About 1.6 billion people worldwide suffer from refractive errors. Progressive myopia can lead to invalidization. Some scientists note that by 2020, 2.5 billion people will suffer from myopia. In this regard, the World Health Organization has chosen as a priority the correction of refractive errors to prevent blindness until 2020. Thus, due to the high prevalence of the disease, the study of the quality of life of patients with myopia is becoming increasingly important. Materials and methods. The study included 120 patients (204 eyes) aged 18–45 years: 64 women and 56 men. All of them underwent optical coherence tomography of the optic disc nerve on the apparatus RTVue-100 Fourier-Domain (Optovue, Inc.). The results are obtained using a standard computer program to calculate the parameters of the optic disc. Twelve indicators of optic disc were determined. Results. As myopia levels increases (from weak to high), changes in the region of the optic nerve disc are observed at the morphological level, which proves necessity of the optical coherence tomography as a method for monitoring morphological changes in the prevention and treatment of progressive myopia. There is an increase in global loss volume of the retinal ganglion cell complex compared to the control group by 4.4 and 2.8 times, respectively (I, II and III groups). All differences between indicators of groups I–IV are significant. Conclusions. The most significant changes compared with the norm are observed in patients with high myopia. There is an increase in focal loss volume and in the global loss volume of the ganglion cell complex compared to the indicators of the control group. When determining the indicators of the average ganglion cell thickness, including superior and inferior ones, a significant decrease was found compared with the controls.
Keywords
міопія; диск зорового нерва; оптична когерентна томографія
миопия; диск зрительного нерва; оптическая когерентная томография
myopia; optic nerve disc; optical coherence tomo­graphy
For the full article you need to subscribe to the magazine.
Bibliography
1. Fricke T.R., Jong M., Naidoo K.S. et al. Global prevalence of visual impairment associated with myopic macular degeneration and temporal trends from 2000 through 2050: systematic review, meta-analysis and modelling. Br. J. Ophthalmol. 2018. 102(7). Р. 855-862.
2. Ma Y., Qu X., Zhu X. et al. Age-specific prevalence of visual impairment and refractive error in children aged 3-10 years in Shanghai, China. Invest. Ophthalmol. Vis. Sci. 2016. 57(14). Р. 6188-6196.
3. Витовская О.П. Стратегия укрепления здоровья в офтальмологии. РМЖ. Клиническая офтальмология. 2013. № 3. С. 88-92.
4. Carr B.J., Stell W.K. The science behind myopia. In: Kolb H., Nelson R., Fernandez E., Jones B., eds. Webvision: The Organization of the Retina and Visual System. University of Utah Health Sciences Center. https://webvision.med.utah.edu/book/part-xvii-refractive-errors/the-science-behind-myopia-by-brittany-j-carr-and-william-k-stell. Accessed June 25, 2019.
5. Wong H.B., Machin D., Tan S.B., Wong T.Y., Saw S.M. Visual impairment and its impact on health-related quality of life in adolescents. Am. J. Ophthalmol. 2009. 147(3). Р. 505-511. e1.
6. Wong T.Y., Ferreira A., Hughes R., Carter G., Mitchell P. Epidemiology and disease burden of pathologic myopia and myopic choroidal neovascularization: an evidence-based systematic review. Am. J. Ophthalmol. 2014. 157(1). Р. 9-25. e12.
7. The impact of myopia and high myopia. Report of the Joint World Health OrganizationBrien Holden Vision Institute Global Scientific Meeting on Myopia. University of New South Wales, Sydney, Australia, March 16–18, 2015. Geneva: World Health Organization, 2017. License: CC BY-NC-SA 3.0 IGO. https://www.who.int/blindness/causes/MyopiaReportforWeb.pdf. Accessed June 25, 2019.
8. Ohno-Matsui K., Shimada N., Yasuzumi K. et al. Long-term development of significant visual field defects in highly myopic eyes. Am. J. Ophthalmol. 2011. 152(2). Р. 256-265. e1.
9. Ng D.S., Cheung C.Y., Luk F.O. et al. Advances of optical coherence tomography in myopia and pathologic myopia. Eye (Lond). 2016. 30(7). Р. 901-916. doi: 10.1038/eye.2016.47.
10. Ramesh Venkatesh, Bharathi Bavaharan and Naresh Kumar Yadav (May 11th 2019). OCT Findings in Myopic Traction Maculopathy, A Practical Guide to Clinical Application of OCT in Ophthalmology, Michele Lanza, IntechOpen. DOI: 10.5772/intechopen.83766.
Similar articles

Authors: Малачкова Н.В., Яценко Д.А., Людкевич Г.П., Шкарупа В.М.
Вінницький національний медичний університет ім. М.І. Пирогова, м. Вінниця, Україна
Archive Of Ukrainian Ophthalmology Том 7, №1, 2019
Date: 2019.04.24
Categories: Ophthalmology
Sections: Specialist manual


Authors: Цибульська Т.Є.(1, 3), Завгородня Т.С.(2, 3)
(1) — Запорізький державний медичний університет МОЗ України, м. Запоріжжя, Україна
(2) — Національна медична академія післядипломної освіти імені П.Л. Шупика МОЗ України, м. Київ, Україна
(3) — Медичний центр «ВІЗУС», м. Запоріжжя, Україна
Archive Of Ukrainian Ophthalmology Том 7, №1, 2019
Date: 2019.04.25
Categories: Ophthalmology
Sections: Specialist manual