International neurological journal Том 16, №3, 2020
The story of a statuette "A woman with Parkinson's disease"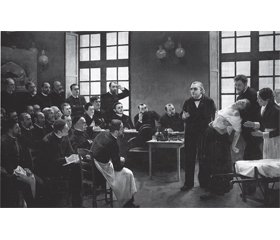 Authors:

Пономарев В.В. Белорусская медицинская академия последипломного образования, г. Минск, Республика Беларусь



Categories:

Neurology



Sections:

Specialist manual
Summary
Наведена історія створення гіпсової статуетки «Жінка з хворобою Паркінсона». Обговорюються неврологічні симптоми, що підтверджують цей діагноз. Наведено маловідомі факти про життя і творчість її автора — французького анатома, невролога XIX століття і одночасно художника і скульптора Поля Ріше. Пригадуються його вчителі й колеги по лікарні Сальпетрієр: Жан-Мартен Шарко, Жюль Дежерін, Жозеф Бабинський.
Представлена история создания гипсовой статуэтки «Женщина с болезнью Паркинсона». Обсуждаются неврологические симптомы, подтверждающие этот диагноз. Приведены малоизвестные факты о жизни и творчестве ее автора — французского анатома, невролога XIX века и одновременно художника и скульптора Поля Рише. Вспоминаются его учителя и коллеги по больнице Сальпетриер: Жан-Мартен Шарко, Жюль Дежерин, Жозеф Бабинский.
The paper deals with a story of the creation of a plaster statuette "A Woman with Parkinson's Disease". Neurological symptoms confirming this diagnosis are discussed. Little-known facts about the life and work of its author — the French anatomic, neurologist of the XIX century and at the same time the artist and sculptor Paul Richer are presented. His teachers and colleagues at Salpetriere Hospital are cited: Jean-Martin Charcot, Jules Deje-rine, Joseph Babinsky.
Keywords
гіпсова статуетка «Жінка з хворобою Паркінсона»; Поль Ріше
гипсовая статуэтка «Женщина с болезнью Паркинсона»; Поль Рише
plaster statuette "A woman with Parkinson's disease"; Paul Richer
For the full article you need to subscribe to the magazine.
Bibliography
1. Оппенгейм Н. Руководство по нервным болезням для врачей и студентов. Москва, 1896. 832 с.
2. Пономарев В.В. Необычная обычная неврология. Санкт-Петербург, 2018. 239 c.
3. Bordin G., D'Ambrosio L.P. Medicine in Art. 2010. P. 39, 253.
4. Mackowiak P. Patients as art. Oxford University Press. 2019. P. 211.
5. Walusinski O. Keeping the Fire Burning: Georges Gilles de la Tourette, Paul Richer, Charles Fere and Alfred Binet. Front. Neurosci. 2011. Vol. 29. P. 71-90.
Similar articles

Authors:
Сиделковский Алексей Леонович директор клиники современной неврологии «Аксимед», кандидат медицинских наук, врач-невролог высшей категории Догузов Василий Дмитриевич заведующий научно-методическим отделом Национального музея медицины Украины МЗ Украины, координатор EAMHMS по Центральной и Восточной Европе


"News of medicine and pharmacy" 14 (594) 2016
Date: 2016.12.28
Categories: Neurology
Sections: Нistory of medicine


Authors:
Сиделковский Алексей Леонович директор клиники современной неврологии «Аксимед», кандидат медицинских наук, врач-невролог высшей категории Догузов Василий Дмитриевич заведующий научно-методическим отделом Национального музея медицины Украины МЗ Украины, координатор EAMHMS по Центральной и Восточной Европе


"News of medicine and pharmacy" 15 (595) 2016
Date: 2017.01.16
Sections: Нistory of medicine



Authors:
Труфанов Е.А. - Государственное учреждение «Луганский государственный медицинский университет», кафедра неврологии и нейрохирургии


International neurological journal 8 (54) 2012
Date: 2013.02.13
Categories: Neurology
Sections: Specialist manual