International neurological journal Том 16, №3, 2020
Полезные продукты при судорогах в ногах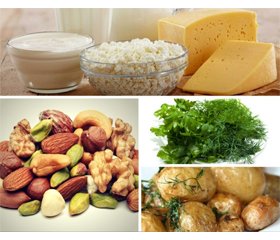 При судорогах в ногах полезны продукты с повышенным содержанием кальция, магния, калия и витамина D.
Продукты, содержащие кальций: кисломолочные продукты (сыр, творог, кефир, ряженка, йогурт), кунжут, капуста, орехи.
Продукты, содержащие магний: укроп, листья салата, зеленый лук, петрушка, морская капуста, отруби, гречневая крупа, овес, рожь, просо, бобовые, курага, чернослив, инжир, финики.
Продукты, богатые калием: мясо, рыба, картофель в мундире, бананы, авокадо.
Продукты, содержащие витамин D: рыба, яичные желтки, молочные продукты, сливочное масло.
For the full article you need to subscribe to the magazine.