"Emergency medicine" Том 16, №2, 2020
Low-opioid multimodal general anesthesia: components and mechanisms of formation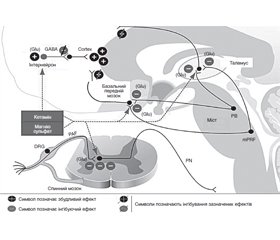 Authors:

Лоскутов О.А.(1), Бондар М.В.(1), Овсієнко Т.В.(1, 2) (1) — Національна медична академія післядипломної освіти імені П.Л. Шупика, м. Київ, Україна (2) — ДУ «Інститут урології НАМН України», м. Київ, Україна



Categories:

Medicine of emergency



Sections:

Specialist manual
Summary
В роботі висвітлені сучасні уявлення про компоненти мультимодальної малоопіоїдної загальної анестезії та їх механізми дії з урахуванням більпровідних трактів організму та механізмів формування антиноцицептивної дії препаратів, що використовуються для проведення анестезії. Подано досліджувану нами методику мультимодальної малоопіоїдної загальної анестезії при проведенні лапароскопічних оперативних втручань на нирках і препарати, що найбезпечніше використовувати у хворих з патологією нирок, щоб уникнути погіршення їх функцій.
В работе освещены современные представления о компонентах мультимодальной малоопиоидной общей анестезии и их механизмы действия с учетом больпроводящих трактов организма и механизмов формирования антиноцицептивного действия препаратов, используемых для проведения анестезии. Представлена исследуемая нами методика мультимодальной малоопиоидной общей анестезии при проведении лапароскопических оперативных вмешательств на почках и препараты, которые безопасно использовать у больных с патологией почек, чтобы избежать ухудшения их функций.
The article presents modern ideas about the components of multimodal low-opioid general anesthesia and their mechanisms of action, taking into account the pain-conducting pathways of the body and the mechanisms of formation of the anti-nociceptive action of the drugs used for anesthesia. We present a method of multimodal low-opioid general anesthesia that we are studying when performing laparoscopic surgical interventions on the kidneys and drugs that are safe to use in patients with kidney pathology in order to avoid deterioration of their functions.
Keywords
опіоїди; мультимодальна анестезія; малоопіоїдна анестезія; лапароскопічні оперативні втручання; анестезіологічне забезпечення; патологія нирок; огляд
опиоиды; мультимодальная анестезия; малоопиоидная анестезия; лапароскопические оперативные вмешательства; анестезиологическое обеспечение; патология почек; обзор
opioids; multimodal anesthesia; low-opioid anesthesia; laparoscopic surgery; anesthesia; kidney pathology; review
For the full article you need to subscribe to the magazine.
Bibliography
Lavand'homme P., Steyaert A. Opioid-free anesthesia opioid side effects: tolerance and hyperalgesia. Best Pract. Res. Clin. Anaesthesiol. 2017. 31. 487-98.
Brown Emery, Pavone Kara, Naranjo Marusa. Multimodal General Anesthesia: Theory and Practice. Anesthesia and analgesia. 2018. 127. doi: 10.1213/ANE.0000000000003668.
Flores F.J., Hartnack K.E., Fath A.B. et al. Thalamocortical synchronization during induction and emergence from propofol-induced unconsciousness. Proc. Natl. Acad. Sci. USA. 2017. 114. E6660-E6668.
Ngo D.H., Vo T.S. An Updated Review on Pharmaceutical Properties of Gamma-Aminobutyric Acid. Molecules. 2019. 24(15). 2678. Published 2019 Jul 24. doi: 10.3390/molecules24152678.
Steeds C.E. The anatomy and physiology of pain. Surgery (Oxford). 2013. 31. 49-53.
MacIver M.B. Anesthetic agent-specific effects on synaptic inhibition. Anesth. Analg. 2014. 119(3). 558-569. doi: 10.1213/ANE.0000000000000321.
https://www.pinterest.com/pin/55732114124449565/#.
Corder G., Castro D.C., Bruchas M.R., Scherrer G. Endo–genous and Exogenous Opioids in Pain. Annu. Rev. Neurosci. 2018. 41. 453-473. doi: 10.1146/annurev-neuro-080317-061522.
Pasternak G.W., Pan Y.X. Mu opioids and their receptors: evolution of a concept. Pharmacol. Rev. 2013. 65(4). 1257-1317. Published 2013 Sep 27. doi: 10.1124/pr.112.007138.
Waldhoer M., Bartlett S.E., Whistler J.L. Opioid receptors. Annu. Rev. Biochem. 2004. 73. 953-990.
Gendron L., Cahill C.M., von Zastrow M., Schiller P.W., Pineyro G. Molecular Pharmacology of δ-Opioid Receptors. Pharmacol. Rev. 2016. 68(3). 631-700. doi: 10.1124/pr.114.008979.
Анестезіологія та інтенсивна терапія: підручник для лікарів-інтернів та слухачів вищих медичних навчальних закладів ІІІ–ІV рівнів акредитації та закладів післядипломної освіти. Т. 1. За ред. проф. І.П. Шлапака. К.: Ніка Прінт, 2013. 289-303.
Fukuda K. Opioids. 2009. 7th ed. New York: Churchill Li–vingstone.
Ricciotti E., FitzGerald G.A. Prostaglandins and inflammation. Arterioscler. Thromb. Vasc. Biol. 2011. 31. 986-1000.
Arias J., Aller M.-A., Arias J.-I. Surgical Inflammation. 2013. Madrid, Spain: Bentham Science Publishers.
Roeckel L.A., Utard V., Reiss D. et al. Morphine-induced hyperalgesia involves mu opioid receptors and the metabolite morphine-3-glucuronide. Sci. Rep. 2017. 7(1). 10406. Published 2017 Sep 4. doi: 10.1038/s41598-017-11120-4.
Kirkpatrick D.R., McEntire D.M., Smith T.A. et al. Transmission pathways and mediators as the basis for clinical pharmacology of pain. Expert Rev. Clin. Pharmacol. 2016. 9(10). 1363-1387. doi: 10.1080/17512433.2016.1204231.
Brinck E.C., Tiippana E., Heesen M. et al. Perioperative intravenous ketamine for acute postoperative pain in adults. Cochrane Database Syst. Rev. 2018. 12(12). CD012033. Published 2018 Dec 20. doi: 10.1002/14651858.CD012033.pub4.
Mion G., Villevieille T. Ketamine pharmacology: an update (pharmacodynamics and molecular aspects, recent findings). CNS Neuroscience & Therapeutics. 2013. 19. 370-80. DOI: 10.1111/cns.12099. PMC free article. PubMed. CrossRef. Google Scholar.
Akeju O., Song A.H., Hamilos A.E. Electroencephalogram signatures of ketamine anesthesia-induced unconsciousness. Clin. Neurophysiol. 2016. 127. 2414-2422.
Do S.H. Magnesium: a versatile drug for anesthesiologists. Korean J. Anesthesiol. 2013. 65. 4-8.
Pairu J., Triveni G.S., Manohar A. The study of serum calcium and serum magnesium in pregnancy induced hypertension and normal pregnancy. Int. J. Reprod. Contracept. Obstet. Gynecol. 2015. 4. 30-34.
Weerink M.A.S., Struys M.M.R.F., Hannivoort L.N., Ba–rends C.R.M., Absalom A.R., Colin P. Clinical Pharmacokinetics and Pharmacodynamics of Dexmedetomidine. Clin. Pharmacokinet. 2017. 56(8). 893-913. doi: 10.1007/s40262-017-0507-7.
Akeju O., Kim S.E., Vazquez R. Spatiotemporal dynamics of dexmedetomidine-induced electroencephalogram oscillations. PLoS One. 2016. 11. e0163431.
Akeju O., Pavone K.J., Westover M.B. A comparison of propofol- and dexmedetomidine-induced electroencephalogram dynamics using spectral and coherence analysis. Anesthesiology. 2014. 121. 978-989.
Berde C., Strichartz G.R., Miller R., Eriksson L., Fleisher L., Wiener-Kronish J., Cohen N., Young W. Local Anesthetics. In: Miller's Anesthesia. 2015. 8th ed. Philadelphia, PA: Elsevier. 1028-1053.
Lauren K. Dunn, Marcel E. Durieux; Perioperative Use of Intravenous Lidocaine. Anesthesiology. 2017. 126(4). 729-737. doi: https://doi.org/10.1097/ALN.0000000000001527.
American Society of Anesthesiologists Task Force on Acute Pain Management, Practice guidelines for acute pain management in the perioperative setting: An updated report by the American Society of Anesthesiologists Task Force on Acute Pain Management. Anesthesiology. 2012. 116. 248-73.
Nayak-Rao S. Achieving effective pain relief in patients with chronic kidney disease: A review of analgesics in renal failure. J. Nephrol. 2011. 24. 35-40.
Sear J.W. Kidney dysfunction in the postoperative period. Br. J. Anaesth. 2005. 95. 20-32. PubMed.
Eilers H., Liu K.D., Gruber A., Niemann C.U. Chronic kidney disease: Implications for the perioperative period. Minerva Anestesiol. 2010. 76. 725-36. PubMed.
Mulier J. Opioid free general anesthesia: a paradigm shift? Rev. Esp. Anestesiol. Reanim. 2017. 64. 427-430.Cited Here. PubMed. CrossRef.
Batley S.E., Prasad V., Vasdev N., Mohan S.G. Post-Operative Pain Management in Patients Undergoing Robotic Urological Surgery. Curr. Urol. 2015. 9. 5-11. doi: 10.1159/000442843.
Tawfic Q.A., Bellingham G. Postoperative pain management in patients with chronic kidney disease. J. Anaesthesiol. Clin. Pharmacol. 2015. 31(1). 6-13. doi: 10.4103/0970-9185.150518.
Компендіум. Лікарські препарати. Cпеціалізоване медичне інтернет-видання для лікарів, провізорів, фармацевтів, студентів медичних і фармацевтичних вишів. MORION. 2020. https://compendium.com.ua/akt/75/3089/ketoprofenum/.
Анестезіологія та інтенсивна терапія: підручник для лікарів-інтернів та слухачів вищих медичних навчальних закладів ІІІ–ІV рівнів акредитації та закладів післядипломної освіти. Т. 1. За ред. проф. І.П. Шлапака. К.: Ніка Прінт, 2013. 253-256.
Компендіум. Лікарські препарати. Cпеціалізоване медичне інтернет-видання для лікарів, провізорів, фармацевтів, студентів медичних і фармацевтичних вишів. MORION. 2020. https://compendium.com.ua/info/1557/nefopam/.
Компендіум. Лікарські препарати. Cпеціалізоване медичне інтернет-видання для лікарів, провізорів, фармацевтів, студентів медичних і фармацевтичних вишів. MORION. 2020. https://compendium.com.ua/info/111213/propofol-frezenius/.
Компендіум. Лікарські препарати. Cпеціалізоване медичне інтернет-видання для лікарів, провізорів, фармацевтів, студентів медичних і фармацевтичних вишів. MORION. 2020. https://compendium.com.ua/dec/268973/.
De Martin S., Orlando R., Bertoli M., Pegoraro P., Palatini P. Differential effect of chronic renal failure on the pharmacokinetics of lidocaine in patients receiving and not receiving hemodialysis. Clin. Pharmacol. Ther. 2006. 80(6). 597-606.
Toms L., McQuay H.J., Derry S., Moore R.A. Single dose oral paracetamol (acetaminophen) for postoperative pain in adults. Cochrane Database Syst. Rev. 2008. 4. CD004602. PMC free articlе. PubMed.
Derry S., Moore R.A. Single dose oral celecoxib for acute postoperative pain in adults. Cochrane Database Syst. Rev. 2013. 10. CD004233. PubMed.
Maund E., McDaid C., Rice S., Wright K., Jenkins B., Woolacott N. Paracetamol and selective and non-selective non-steroidal anti-inflammatory drugs for the reduction in morphine-related side-effects after major surgery: A systematic review. Br. J. Anaesth. 2011. 106. 292-7. PubMed.
Lee A., Cooper M.G., Craig J.C., Knight J.F., Keneally J.P. Effects of nonsteroidal anti-inflammatory drugs on postoperative renal function in adults with normal renal function. Cochrane Database Syst. Rev. 2007. 2. CD002765. PubMed.
McCarthy G.C., Megalla S.A., Habib A.S. Impact of lidocaine infusion on postoperative analgesia and recovery from surgery: a systematic review of randomised controlled trials. Drugs. 2010. 70. 1149-1163.
De Oliveira G.S. Jr, Fitzgerald P., Streicher L.F., Marcus R.J., McCarthy R.J. Systemic lidocaine to improve postoperative quality of recovery after ambulatory laparoscopic surgery. Anesth. Analg. 2012. 115. 262-267.
Harisingani R., Saad M. How to Manage Pain in Patients with Renal Insufficiency or End-Stage Renal Disease on Dialysis? The Hospitalist. 2013 August. 2013(8).
Similar articles

Authors: Бондар М.В., Пилипенко М.М., Арєшніков Д.Б., Мельник В.М., Ващук Ф.С.
Національна медична академія післядипломної освіти імені П.Л. Шупика, м. Київ, Україна
"Emergency medicine" №5(92), 2018
Date: 2018.10.10
Categories: Medicine of emergency
Sections: Clinical researches


Authors:
Бондар М.В., Грушовський І.Т. - Національна медична академія післядипломної освіти імені П.Л. Шупика, кафедра анестезіології та інтенсивної терапії, м. Київ


"Emergency medicine" 6 (53) 2013
Date: 2013.11.13
Categories: Medicine of emergency, Neurology
Sections: Specialist manual