"Emergency medicine" Том 16, №2, 2020
Unilateral subarachnoid blockade for intraoperative anaesthesia of the plasty of the inguinal canal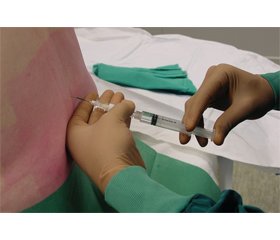 Summary
Основній групі (n = 20; 39,4 ± 4,1 року; 71,4 ± 4,3 кг, I–II за ASA) виконано однобічну субарахноїдальну блокаду (ОСБ) 10 мг гіпербаричного бупівакаїну у поєднанні з 0,06 мг бупренорфіну при пластиці пахового каналу. Контрольній групі (n = 20; 42,6 ± 0,9 року; 75,4 ± 3,6 кг, I–II за ASA) проведено двобічну субарахноїдальну блокаду (ДСБ) 15 мг ізобаричного бупівакаїну у поєднанні з 0,06 мг бупренорфіну при аналогічній операції. ОСБ і ДСБ ефективно забезпечували знеболювання операцій і тривалу післяопераційну аналгезію. При ОСБ гемодинаміка була стабільною внаслідок застосування однобічного, а не двобічного симпатичного блоку на відміну від ДСБ. Покращення якості аналгезії дозволяло проводити ранні активізацію та ентеральне харчування пацієнтів і скорочувало період реабілітації. Субарахноїдальне введення бупівакаїну з додаванням бупренорфіну характеризувалося значно меншою кількістю негативних побічних ефектів порівняно з відповідним уведенням інших опіоїдів.
Основной группе (n = 20; 39,4 ± 4,1 года; 71,4 ± 4,3 кг, I–II по ASA) была проведена односторонняя субарахноидальная блокада (ОСБ) 10 мг гипербарического бупивакаина в сочетании с 0,06 мг бупренорфина при пластике пахового канала. Контрольной группе (n = 20; 42,6 ± 0,9 года; 75,4 ± 3,6 кг, I–II по ASA) выполнили двустороннюю субарахноидальную блокаду (ДСБ) 15 мг изобарического бупивакаина в сочетании с 0,06 мг бупренорфина при аналогичной операции. ОСБ и ДСБ обеспечивали эффективное обезболивание операций с длительной послеоперационной аналгезией. При ОСБ гемодинамика была стабильной за счет одностороннего, а не двустороннего симпатического блока в отличие от ДСБ. Улучшение качества аналгезии позволяло проводить ранние активизацию и энтеральное питание пациентов, а также сокращало период реабилитации. Субарахноидальное применение бупивакаина с добавлением бупренорфина характеризовалось значительно меньшим количеством негативных побочных эффектов по сравнению с соответствующим введением других опиоидов.
The main group (n = 20; 39.4 ± 4.1 years; 71.4 ± 4.3 kg, I–II ASA) underwent unilateral subarachnoid blockade using 10 mg of hyperbaric bupivacaine in combination with 0.06 mg of buprenorphine for anaesthesia of the inguinal canal plasty. The control group (n = 20; 42.6 ± 0.9 years; 75.4 ± 3.6 kg, I–II ASA) underwent bilateral subarachnoid blockade using 15 mg of isobaric bupivacaine in combination with 0.06 mg of buprenorphine during similar operations. Unilateral and bilateral subarachnoid blockades provided effective analgesia of surgeries with prolonged postoperative analgesia. When suing unilateral subarachnoid blockade, hemodynamics was stable due to a one-sided rather than two-sided sympathetic block, unlike bilateral subarachnoid blockade. Improving the quality of analgesia allowed for early activation and enteral nutrition of patients, as well as reduced the rehabilitation period. Subarachnoid administration of bupivacaine with the addition of buprenorphine was characterized by a significantly lower number of side effects compared with the corresponding administration of other opioids.
Keywords
однобічна субарахноїдальна блокада; унілатеральна спінальна анестезія; інтратекальна анестезія; спінальна анестезія; пластика пахового каналу; пахова грижа; герніопластика
односторонняя субарахноидальная блокада; унилатеральная спинальная анестезия; интратекальная анестезия; спинальная анестезия; пластика пахового канала; паховая грыжа; герниопластика
unilateral subarachnoid blockade; unilateral spinal anaesthesia; intrathecal anaesthesia; spinal anaesthesia; plasty of the inguinal canal; inguinal hernia; hernia repair
For the full article you need to subscribe to the magazine.
Bibliography
Van Gils M. Procedures for evaluating the adequacy of anesthesia. Crit. Rev. Biomed. Eng. 2017. Vol. 45(1–6). P. 187-218.
Суслов В.В. Спинальная анестезия и аналгезия: руководство для врачей. Х.: СИМ, 2013. 544 с.
Hemmerling T.M. Pain management in abdominal surgery. Langenbecks Arch. Surg. 2018. Vol. 403(7). P. 791-803.
Büttner B. Unilateral spinal anesthesia: literature review and recommendations. Anaesthesist. 2016. Vol. 65(11). P. 847-865.
Meuret P. Hypobaric unilateral spinal anaesthesia versus general anaesthesia in elderly patients undergoing hip fracture surgical repair: a prospective randomised open trial. Turk. J. Anaesthesiol. Reanim. 2018. Vol. 46(2). P. 121-130.
Kiasari A.Z. Comparison of hemodynamic changes in unilateral spinal anesthesia versus epidural anesthesia below the T10 sensory level in unilateral surgeries: a double-blind randomized clinical trial. Med. Arch. 2017. Vol. 71(4). P. 274-279.
Бишовець С.М. Медикаментозна підготовка пацієнтів перед спінальною анестезією в абдомінальній хірургії. Медицина неотложных состояний. 2015. № 1(64). С. 49-56.
Kainzwaldner V. Quality of postoperative pain therapy: evaluation of an established anesthesiology acute pain service. Anaesthesist. 2013. Vol. 62(6). P. 453-459.
Chinachoti T. Nausea, vomiting and pruritus induced by intrathecal morphine. J. Med. Assoc. Thai. 2013. Vol. 96(5). 589ыыы-594.
Ladha K.S. A prospective study of post-cesarean delivery hypoxia after spinal anesthesia with intrathecal morphine 150 μg. Int. J. Obstet. Anesth. 2017. Vol. 32. P. 48-53.
Staikou C. The effects of intrathecal and systemic adjuvants on subarachnoid block. Minerva Anestesiol. 2014. Vol. 80(1). P. 96-112.
Similar articles

Authors: Бишовець С.М.
Національна медична академія післядипломної освіти імені П.Л. Шупика, м. Київ, Україна
"Emergency medicine" №2(97), 2019
Date: 2019.04.11
Categories: Medicine of emergency
Sections: Clinical researches



Authors:
Бишовець С.М. Національна медична академія післядипломної освіти імені П.Л. Шупика, м. Київ, Україна


"Emergency medicine" №2(89), 2018
Date: 2018.04.13
Categories: Medicine of emergency
Sections: Clinical researches

Authors:
Бишовець С.М., Щупачинський В.Б., Васильєв В.А. Національна медична академія післядипломної освіти імені П.Л. Шупика, м. Київ, Україна Київська міська клінічна лікарня № 8, м. Київ, Україна Медичний центр «Citi Doctor», м. Київ, Україна


"Emergency medicine" Том 16, №3, 2020
Date: 2020.06.08
Categories: Medicine of emergency
Sections: Medical forums