"Emergency medicine" Том 16, №2, 2020
Current approaches to the management of acute liver failure in adults (according to EASL Clinical Practical Guidelines for the Management of Acute (Fulminant) Liver Failure 2018–2019 in adult)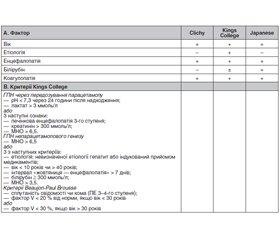 Authors:

Кучинська І.А.(1, 3), Дронов О.І.(2), Цимбалюк Р.С.(2), Уваров В.Ю.(2), Сотнік І.В.(3) (1) — Національна медична академія післядипломної освіти імені П.Л. Шупика, м. Київ, Україна (2) — Національний медичний університет імені О.О. Богомольця, м. Київ, Україна (3) — Київська міська клінічна лікарня № 10, м. Київ, Україна



Categories:

Medicine of emergency



Sections:

Specialist manual
Summary
У статті наведені дані щодо етіології, патогенезу, клініки, діагностики та лікування гострої печінкової недостатності як невідкладного стану в гепатології, з яким доводиться працювати лікарям-анестезіологам у відділенні інтенсивної терапії. Перераховані основні причини виникнення гострої печінкової недостатності, основні відмінності в постановці діагнозу, наведені критерії оцінки кандидатів на трансплантацію печінки, а також основні підходи до лікування гострої печінкової недостатності та печінкової енцефалопатії згідно із сучасними світовими рекомендаціями.
В статье приведены данные об этиологии, патогенезе, клинике, диагностике и лечении острой печеночной недостаточности как неотложного состояния в гепатологии, с которым приходится работать врачам-анестезиологам в отделении интенсивной терапии. Перечислены основные причины возникновения острой печеночной недостаточности, основные различия в постановке диагноза, приведены критерии оценки кандидатов на трансплантацию печени, а также основные подходы к лечению острой печеночной недостаточности и печеночной энцефалопатии согласно современным мировым рекомендациям.
The article presents data on the etiology, pathogenesis, clinical picture, diagnosis and treatment of acute liver failure as an emergency in hepatology, with which the anesthesiologists happen work in the intensive care unit. The article covers the main causes of acute liver failure, major differences in diagnosis, criteria for evaluation of candidates for liver transplantation, as well as the basic approaches to the treatment of acute liver failure and hepatic encephalopathy according to current world recommendations.
Keywords
гостра печінкова недостатність; печінкова енцефалопатія; показання до трансплантації печінки
острая печеночная недостаточность; печеночная энцефалопатия; показания к трансплантации печени
acute liver failure; hepatic encephalopathy; indications for liver transplantation
For the full article you need to subscribe to the magazine.
Bibliography
Trey C., Davidson C.S. The management of fulminant hepatic failure. Prog Liver Dis. 1970. 3. Р. 282-398.
O'Grady J.G., Schalm S.W., Williams R. Acute liver failure: redefining the syndromes. Lancet. 1993. 342. Р. 273-275.
Tandon B.N., Bernauau J., O'Grady J., Gupta S.D., Krisch R.E., Liaw Y.F. et al. Recommendations of the International Association for the Study of the Liver Subcommittee on nomenclature of acute and subacute liver failure. J. Gastroenterol. Hepatol. 1999. 14. Р. 403-404.
Bernal W., Auzinger G., Dhawan A., Wendon J. Acute liver failure. Lancet. 2010. 376. Р. 190-201.
Duarte-Rojo A., Estradas J., Hernandez-Ramos R., Ponce-de-Leon S., Cordoba J., Torre A. Validation of the psychometric hepatic encephalopathy score (PHES) for identifying patients with minimal hepatic encephalopathy. Dig. Dis. Sci. 2011. 56. Р. 3014-3023.
Bernal W., Hyyrylainen A., Gera A., Audimoolam V.K., McPhail M.J., Auzinger G. et al. Lessons from look-back in acute liver failure? A single centre experience of 3300 patients. J. Hepatol. 2013. 59. Р. 74-80.
Larson A.M., Polson J., Fontana R.J., Davern T.J., Lalani E., Hynan L.S. et al. Acetaminophen-induced acute liver failure: results of a United States multicenter, prospective study. Hepatology. 2005. 42. Р. 1364-1372.
Bernal W., Wendon J. Acute liver failure. Curr. Opin. Anaesthesiol. 2000. 13. Р. 113-118.
Bechmann L.P., Jochum C., Kocabayoglu P., Sowa J.P., Kassalik M., Gieseler R.K. et al. Cytokeratin 18-based modification of the MELD score improves prediction of spontaneous survival after acute liver injury. J. Hepatol. 2010. 53. Р. 639-647.
Carrascosa M.F., Salcines-Caviedes J.R., Lucena M.I., Andrade R.J. Acute liver failure following atorvastatin dose escalation: is there a threshold dose for idiosyncratic hepatotoxicity? J. Hepatol. 2015. 62. Р. 751-752.
Lucena M.I., Kaplowitz N., Hallal H., Castiella A., Garcia-Bengoechea M., Otazua P. et al. Recurrent drug-induced liver injury (DILI) with different drugs in the Spanish Registry: the dilemma of the relationship to autoimmune hepatitis. J. Hepatol. 2011. 55. Р. 820-827.
Reuben A., Koch D.G., Lee W.M. Drug-induced acute liver failure: results of a U.S. multicenter, prospective study. Hepatology. 2010. 52. Р. 2065-2076.
Wai C.T., Tan B.H., Chan C.L., Sutedja D.S., Lee Y.M., Khor C. et al. Drug-induced liver injury at an Asian center: a prospective study. Liver Int. 2007. 27. Р. 465-474.
Westbrook R.H., Yeoman A.D., Joshi D., Heaton N.D., Quaglia A., O'Grady J.G. et al. Outcomes of severe pregnancy-related liver disease: refining the role of transplantation. Am. J. Transplant. 2010. 10. Р. 2520-2526.
Lambert G., Brichant J.F., Hartstein G., Bonhomme V., Dewandre P.Y. Preeclampsia: an update. Acta Anaesthesiol. Belg. 2014. 65. Р. 137-149.
Paugam-Burtz C., Wendon J., Belghiti J., Mantz J. Case scenario: postoperative liver failure after liver resection in a cirrhotic patient. Anesthesiology. 2012. 116. Р. 705-711.
Borregaard L., Lyngsoe B.K., Fenger-Eriksen C., Gronbaek H., Brandsborg B. Acute liver failure following heat stroke after participating in a running event. Ugeskr. Laeger. 2014. 176. V01130075.
Germani G., Theocharidou E., Adam R., Karam V., Wendon J., O'Grady J. et al. Liver transplantation for acute liver failure in Europe: outcomes over 20 years from the ELTR database. J. Hepatol. 2012. 57. Р. 288-296.
Кучинська І.А., Бондар М.В., Арешніков Д.Б., Шаповал С.С., Добуш Р.Д. Застосування принципів бриджинг-терапії при супутній гострій печінковій недостатності. Медицина неотложных состояний. 2016. 3(74). Р. 112-116.
Дронов А.И., Ковальская И.А., Скомаровский А.И., Бакунец Ю.П. Профилактика печеночной недостаточности у больных после резекции печени. XXIV. Санкт-Петербург, 2017. С. 201.
Лоскутов О.А., Бондар М.В., Тодуров Б.М., Галушко О.А. Оцінка передопераційного статусу пацієнта і підготовка до хірургічного втручання: Навчально-методичний посібник. Київ, 2019. 228 с.
EASL Clinical Practical Guidelines on the management of acute (fulminant) liver failure. Journal of Hepatology. 2017. 66. Р. 1047-1081.
Similar articles

Authors: Недашківський С.М.
Національна медична академія післядипломної освіти імені П.Л. Шупика, м. Київ, Україна
"Emergency medicine" №2(97), 2019
Date: 2019.04.11
Categories: Medicine of emergency
Sections: Clinical researches


Authors:
Ягмур В.Б., Меланіч С.Л., Недзвецька Н.В. — ДУ «Інститут гастроентерології НАМН України», м. Дніпропетровськ


"Gastroenterology" 2 (56) 2015
Date: 2015.06.17
Categories: Gastroenterology
Sections: Clinical researches


Authors: Лісний І.І., Лазарєва О.А., Онищенко А.К., Закальська Х.А., Катриченко М.О., Бурлака А.А.
Національний інституту раку, м. Київ, Україна
"Emergency medicine" №2(89), 2018
Date: 2018.04.13
Categories: Medicine of emergency
Sections: Clinical researches


Authors: Саволюк С.І.(1), Томашевський Я.В.(2)
(1) — Національна медична академія післядипломної освіти імені П.Л. Шупика МОЗ України, м. Київ, Україна
(2) — Вінницький національний медичний університет імені М.І. Пирогова МОЗ України, Вінницький міський центр хірургії печінки, позапечінкових жовчних протоків та підшлункової залози, Вінницька міська клінічна лікарня швидкої медичної допомоги, м. Вінниця, Україна
International journal of endocrinology Том 13, №2, 2017
Date: 2017.05.18
Categories: Endocrinology
Sections: Clinical researches