"Emergency medicine" Том 16, №3, 2020
Antidote therapy in modern toxicological practice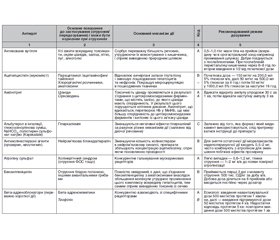 Authors:

Недашківський С.М.(1), Шейман Б.С.(1), Галушко О.А.(1), Богомол А.Г.(2) (1) — Національна медична академія післядипломної освіти імені П.Л. Шупика, м. Київ, Україна (2) — Київська міська клінічна лікарня швидкої медичної допомоги, м. Київ, Україна



Categories:

Medicine of emergency



Sections:

Specialist manual
Summary
У роботі наведені сучасні підходи до призначення антидотних засобів при гострих отруєннях. Зібрані дані щодо раціональної терапії антидотними засобами, розглянуті механізми дії цих препаратів, подані режими дозування, надана інформація щодо корисності призначення медикаментів не тільки тоді, коли вони розглядаються як протиотрути, але також і в інших ситуаціях, коли вони розглядаються як препарати першої лінії та можуть стати корисними.
В работе представлены современные подходы к назначению антидотных средств при острых отравлениях. Собраны данные по рациональной терапии антидотными средствами, рассмотрены механизмы действия данных препаратов, представлены режимы дозирования, приведена информация о полезности назначения медикаментов не только тогда, когда они рассматриваются в качестве противоядий, но и в других ситуациях, когда они рассматриваются как препараты первой линии и могут стать полезными.
The article presents modern approaches to the prescription of antidote agents for acute poisonings. Data on rational antidote therapy were collected, mechanisms of action of these drugs are considered, dosing regimens are provided, information was provided on the usefulness of prescribing drugs not only as antidotes, but also in other situations where they are considered first-line drugs and may be useful.
Keywords
антидоти; протиотрути; гострі отруєння; Міжнародна програма з хімічної безпеки
антидоты; противоядия; острые отравления; Международная программа по химической безопасности
antidotes; acute poisonings; the International Programme on Chemical Safety
For the full article you need to subscribe to the magazine.
Bibliography
Марков Ю.І., Недашківський С.М., Лоскутов О.А. Тлумачний словник з клінічної токсикології. Київ, 2018. 152 с.
Коновчук В.М., Власик Л.І., Акентьєв С.О., Акентьєва М.С. Гострі отруєння важкими металами: антидоти та інтенсивна терапія. Медицина неотложных состояний. 2014. № 2(57). С. 79-82.
Шейман Б.С., Борщов С.П., Недашківський С.М., Соколов М.М., Падалка В.М. НДР: Наукове обґрунтування організації медичної допомоги населенню при гострих отруєннях. Український науково-практичний центр екстреної медичної допомоги та медицини катастроф. Київ, 2008. 234 с.
Элленхорн М.Дж. Медицинская токсикология: диагностика и лечение отравлений у человека. Т. 1. Москва: Медицина, 2003. С. 91-108.
Illinois Poison Center. Antidote Stocking Chart. Uses and Suggested Minimum Stock Quantities for Poison Antidotes for Illinois Hospitals with Emergency Departments. [Інтернет]. [Лютий 2018]. Доступний у: https://www.illinoispoisoncenter.org/sites/default/files/Antidote%20Stocking%20List%20Final%202018.pdf
Lisa M. Nissen, Kai Hang Wong, Anthea Jones, Darren M. Roberts. The Australian Journal of Rural Health. Availability of antidotes for the treatment of acute poisoning in Queensland public hospitals. 2010. Р. 24.
Nicholas A. Buckley, Andrew H. Dawson, David N. Juurlink, Geoffrey K. Isbister, Fountain J.S., Sly B., MacDonell S. Availability of antidotes, antivenoms, and antitoxins in New Zealand hospital pharmacies. N Z Med. J. 2015. С. 128.
Persson H.E., Sjoberg G.K., Haines J.A., Pronczuk de Gabrino J. Poisoning severity score. Grading of acute poisoning. J. Toxicol. Clin. Toxicol. 1998. № 3. Р. 205-13.
Ruben H.K. Thanacoody, Gloria Aldridge, Willie Laing, Paul I. Dargan, Stephen Nash, John P. Thompson, Allister Vale et al. National audit of antidote stocking in acute hospitals in the UK. Emergency Medicine Journal. 2013. Vol. 30. Is. 5.
Similar articles

Authors: Іващенко О.В., Устінова Л.А., Курділь Н.В., Падалка В.М., Андрющенко В.В.
Національна медична академія післядипломної освіти імені П.Л. Шупика, м. Київ, Україна
Українська військово-медична академія, м. Київ, Україна
ДП «Науковий центр превентивної токсикології, харчової та хімічної безпеки імені академіка Л.І. Медведя Міністерства охорони здоров'я України», м. Київ, Україна
ДЗ «Український науково-практичний центр екстреної медичної допомоги та медицини катастроф Міністерства охорони здоров'я України», м. Київ, Україна
КЗ «Київська міська клінічна лікарня швидкої медичної допомоги», м. Київ, Україна
"Emergency medicine" 8 (87) 2017
Date: 2018.02.02
Categories: Medicine of emergency
Sections: Clinical researches


Authors: Курділь Н.В.
ДП «Науковий центр превентивної токсикології, харчової та хімічної безпеки імені академіка Л.І. Медведя Міністерства охорони здоров'я України», м. Київ, Україна
"Emergency medicine" №3(90), 2018
Date: 2018.05.03
Categories: Medicine of emergency
Sections: Specialist manual


Authors: Курділь Н.В.
ДП «Науковий центр превентивної токсикології, харчової та хімічної безпеки імені академіка Л.І. Медведя Міністерства охорони здоров'я України», м. Київ, Україна
"News of medicine and pharmacy" №8 (658), 2018
Date: 2018.08.14
Sections: Specialist manual


Authors: Недашківський С.М.
Національна медична академія післядипломної освіти імені П.Л. Шупика, м. Київ, Україна
"Emergency medicine" 1 (80) 2017
Date: 2017.03.16
Categories: Medicine of emergency
Sections: Specialist manual