International journal of endocrinology Том 16, №3, 2020
The blood level of endothelin-1 in diabetic patients depending on the characteristics of the disease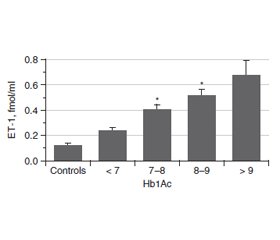 Authors:

L.K. Sokolova, Yu.B. Belchina, V.V. Pushkarev, S.A. Cherviakova, T.S. Vatseba, O.I. Kovzun, V.M. Pushkarev, M.D. Tronko SI "V.P. Komisarenko Institute of Endocrinology and Metabolism of the NAMS of Ukraine", Kyiv, Ukraine



Categories:

Endocrinology



Sections:

Clinical researches
Summary
Актуальність. Ендотелін (ЕТ-1) є одним із найбільш значущих регуляторів функціонального стану ендотелію судин. Це найпотужніший вазоконстриктор і маркер ендотеліальної дисфункції. Ендотелій відіграє важливу роль у регуляції тонусу судин. ЕТ-1 чинить як запальну, так і проліферативну дію і призводить до патогенних процесiв у серцево-судинній системі. При цукровому діабеті (ЦД) підвищені концентрації глюкози й глікованого гемоглобіну (HbA1c) впливають на утворення ET-1. Метою роботи було вивчення змісту ЕТ-1 у крові хворих на цукровий діабет із різними показниками індексу маси тіла (ІМТ), тривалістю захворювання й рівнем HbA1c. Матеріали та методи. Концентрацію ЕТ-1 оцінювали методом ІФА у 103 осіб: 17 здорових добровольців і 86 пацієнтів із ЦД. Для визначення ET-1 використовували набір Еndotelin (1-21) EIA kit (1-21) («Biomedica»). HbA1c визначали з використанням набору one HbA1c FS — DiaSys Diagnostic Systems. Результати. Середній рівень ендотеліну в крові хворих на ЦД становив 0,536 ± 0,047 фмоль/мл (конт­роль — 0,118 ± 0,017 фмоль/мл). У всіх пацієнтів із ЦД рівень ET-1 в крові був вищим, ніж у контрольній групі, і збільшувався пропорційно до показника HbA1c. Зі зростанням тривалості ЦД концентрація ET-1 збільшується, досягаючи найвищих значень при тривалості захворювання понад 11 років. Рівень ET-1 у пацієнтів з ожирінням (> 30 кг/м2) значно вищий, ніж у пацієнтів з ІМТ менше від 25 кг/м2 і в діапазоні 25–30 кг/м2. Висновки. Експресія і секреція ET-1 у пацієнтів із цукровим діабетом підвищуються зі збільшенням тривалості захворювання, ІМТ та вмісту HbA1c. Серцево-судинна патологія є основним ускладненням у пацієнтів із ЦД 2-го типу. Ендотеліальна дисфункція належить до ранніх ознак діабетичного судинного ураження. Зміна балансу ЕТ-1 ендотелію є ключовою подією при ініціації атеросклерозу через активацію адгезії лейкоцитів, яка пов'язана з наявністю судинного запалення.
Актуальность. Эндотелин (ЭТ-1) является одним из наиболее значимых регуляторов функционального состояния эндотелия сосудов. Это самый мощный вазоконстриктор и маркер эндотелиальной дисфункции. Эндотелий играет важную роль в регуляции тонуса сосудов. ЭТ-1 оказывает как воспалительное, так и пролиферативное действие и приводит к патогенным процессам в сердечно-сосудистой системе. При диабете повышенные концентрации глюкозы и гликированного гемоглобина (HbA1c) влияют на образование ЭT-1. Целью работы было изучение содержания ЭТ-1 в крови больных сахарным диабетом с различными показателями индекса массы тела (ИМТ), длительности заболевания и уровня HbA1c. Материалы и методы. Концентрация ЭТ-1 оценивалась методом ИФА у 103 человек: 17 здоровых добровольцев и 86 пациентов с сахарным диабетом. Для определения ЭT-1 использовали набор Еndotelin (1-21) EIA kit (1-21) («Biomedica»). Гликированный гемоглобин определяли с использованием набора one HbA1c FS — DiaSys Diagnostic Systems. Результаты. Средний уровень эндотелина в крови больных сахарным диабетом составил 0,536 ± 0,047 фмоль/мл (контроль — 0,118 ± 0,017 фмоль/мл). У всех пациентов с сахарным диабетом уровень ЭT-1 в крови был выше, чем в контрольной группе, и увеличивался пропорционально показателю HbA1c. С увеличением продолжительности сахарного диабета концентрация ЭT-1 возрастает, достигая самых высоких значений при длительности заболевания более 11 лет. Уровень ЭT-1 у пациентов с ожирением (> 30 кг/м2) значительно выше, чем у пациентов с ИМТ менее 25 кг/м2 и в диапазоне 25–30 кг/м2. Выводы. Экспрессия и секреция ЭТ-1 у пациентов с диабетом повышаются с увеличением продолжительности заболевания, ИМТ и содержания HbA1c. Сердечно-сосудистая патология является основным осложнением у пациентов с сахарным диабетом 2-го типа. Эндотелиальная дисфункция относится к ранним признакам диабетического сосудистого поражения. Изменение баланса ЭТ-1 эндотелия является ключевым событием при инициации атеросклероза из-за активации адгезии лейкоцитов, связанной с наличием сосудистого воспаления.
Background. Endothelin (ET-1) is one of the most significant regulators of the functional state of vascular endothelium. It is the most powerful vasoconstrictor and marker for endothelial dysfunction. The endothelium plays an important role in regulating vascular tone. ET-1 has both inflammatory and proliferative effects and contributes to pathogenic processes in the cardiovascular system. In diabetes mellitus (DM), the rise of glucose and glycated hemoglobin (HbA1c) concentration impact the formation of ET-1. The purpose of the work was to study the blood concentration of ET-1 in diabetic patients with various indicators of body mass index (BMI), the duration of the disease and the level of HbA1c. Materials and methods. The concentration of ET-1 was evaluated by ELISA in 103 individuals: 17 healthy volunteers and 86 patients with DM. To determine the ET-1, the endothelin (1-21) EIA kit (Biomedica) was used. Glycated hemoglobin was determined using one HbA1c FS kit — DiaSys Diagnostic Systems. Results. The average blood level of endothelin in patients with DM was 0.536 ± 0.047 fmol/ml (control — 0.118 ± 0.017 fmol/ml). All diabetic patients had blood ET-1 level higher than the control group and it increased in proportion to the amount of HbA1c. With increasing of the DM duration, the ET-1 concentration rises, reaching the highest values with a disease duration > 11 years. ET-1 level in patients with obesity (> 30 kg/m2) is significantly higher than in patients with BMI less than 25 kg/m2 and in the range of 25–30 kg/m2. Conclusions. Thus, the expression and secretion of ET-1 in patients with diabetes mellitus rise up with increasing of the disease duration, BMI and HbA1c content. Cardiovascular morbidity is a major burden in patients with type 2 DM with endothelial dysfunction as an early sign of diabetic vascular disease that is related to the presence of a vascular low-grade inflammation. Alteration in ET-1 balance of the endothelium is the key event in the initiation of arteriosclerosis via activation of leukocyte adhesion, which is linked to the presence of a vascular inflammation.
Keywords
цукровий діабет; ендотелін-1; глікований гемоглобін; ожиріння
сахарный диабет; эндотелин-1; гликированный гемоглобин; ожирение
diabetes mellitus; endothelin-1; glycated hemoglobin; obesity
For the full article you need to subscribe to the magazine.
Bibliography
Дороднева Е.Ф., Исакова Д.Н., Ефанов А.Ю. Роль эндотелина-1 в развитии кардиоваскулярных заболеваний у пациентов с сахарным диабетом. Медицинская наука и образование Урала. 2013. № 1. С. 172-176.
Дремина Н.Н., Шурыгин М.Г., Шурыгина И.А. Эндотелины в норме и патологии. Международный журнал прикладных и фундаментальных исследований. 2016. № 10–2. С. 210-214.
Tang S.T., Su H., Zhang Q., Tang H.Q., Wang C.J., Zhou Q. et al. Sitagliptin inhibits endothelin-1 expression in the aortic endothelium of rats with streptozotocin-induced diabetes by suppressing the nuclear factor-κB/IκBα system through the activation of AMP-activated protein kinase. Int. J. Mol. Med. 2016. Vol. 37, 6. P. 1558-1566. doi: 10.3892/ijmm.2016.2578.
Maamoun H., Benameur T., Pintus G., Munusamy S., Agouni A. Crosstalk between oxidative stress and endoplasmic reticulum (ER) stress in endothelial dysfunction and aberrant angiogenesis associated with diabetes: a focus on the protective roles of heme oxygenase (HO)-1. Front. Physiol. 2019. Vol. 10. P. 70. doi: 10.3389/fphys.2019.00070.
Тронько Н.Д., Пушкарев В.М., Соколова Л.К., Пушкарев В.В., Ковзун Е.И. Молекулярные механизмы патогенеза сахарного диабета и его осложнений. К.: Издательский дом «Медкнига», 2018. 264 с.
Sokolova L.K., Pushkarev V.M., Pushkarev V.V., Tronko N.D. Diabetes and atherosclerosis. Cellular mechanisms of pathogenesis. Literature review. Endokrynologia. 2017. Vol. 2. P. 127-138.
Stow L.R., Jacobs M.E., Wingo C.S., Cain B.D. Endothelin-1 gene regulation. FASEB J. 2011. Vol. 25. P. 16-28. doi: 10.1096/fj.10-161612.
Davenport A.P., Hyndman K.A., Dhaun N., Southan C., Kohan D.E., Pollock J.S. et al. Endothelin. Pharmacol. Rev. 2016. Vol. 68, № 2. P. 357-418. doi: 10.1124/pr.115.011833.
Young A., Wu W., Sun W., Benjamin Larman H., Wang N., Li Y.-S. et al. Flow activation of AMP-activated protein kinase in vascular endothelium leads to Krüppel-like factor 2 expression. Arterioscler. Thromb. Vasc. Biol. 2009. Vol. 29. P. 1902-1908. doi: 10.1161/ATVBAHA.109.193540.
Spinella F., Caprara V., Cianfrocca R., Rosanò L., Di Castro V., Garrafa E. et al. The interplay between hypoxia, endothelial and melanoma cells regulates vascularization and cell motility through endothelin-1 and vascular endothelial growth factor. Carcinogenesis. 2014. Vol. 35. P. 840-848. doi: 10.1093/carcin/bgu018.
Gupta S., Jain U., Chauhan N. Laboratory diagnosis of HbA1c: a review. J. Nanomed. Res. 2017. Vol. 5, 4. P. 00120. doi: 10.15406/jnmr.2017.05.00120.
Saleh J. Glycated hemoglobin and its spinoffs: Cardiovascular disease markers or risk factors? World J. Cardiol. 2015. Vol. 7, 8. P. 449-453. doi: 10.4330/wjc.v7.i8.449.
Chen S., Feng B., George B., Chakrabarti R., Chen M., Chakrabarti S. Transcriptional co-activator p300 regulates glucose induced gene expression in the endothelial cells. Am. J. Physiol. Endocrinol. Metab. 2010. Vol. 298. P. E127-E137. doi: 10.1152/ajpendo.00432.2009.
Wort S.J., Ito M., Chou P.C., McMaster S.K., Badiger R., Jazrawi E. et al. Synergistic induction of endothelin-1 by tumor necrosis factor alpha and interferon gamma is due to enhanced NF-κB binding and histone acetylation at specific κB sites. J. Biol. Chem. 2009. Vol. 284. P. 24297-24305. doi: 10.1074/jbc.M109.032524.
Boesen E.I., Sasser J.M., Saleh M.A., Potter W.A., Woods M., Warner T.D. et al. Interleukin-1β, but not interleukin-6, enhances renal and systemic endothelin production in vivo. Am. J. Physiol. Renal Physiol. 2008. Vol. 295. P. F446-F453. doi: 10.1152/ajprenal.00095.2008.
El-Mesallamy H., Suwailem S., Hamdy N. Evaluation of C-reactive protein, endothelin-1, adhesion molecule(s), and lipids as inflammatory markers in type 2 diabetes mellitus patients. Mediators Inflamm. 2007. Vol. 2007. P. 73635. doi: 10.1155/2007/73635.
Вацеба Т.С., Соколова Л.К., Пушкарьов В.М. Вплив ожиріння на формування онкологічного ризику у пацієнтів з цукровим діабетом 2-го типу. Міжнародний ендокринологічний журнал. 2020. Т. 16, № 2. С. 90-96. doi: 10.22141/2224-0721.16.2. 2020.201303.
Similar articles

Authors: Jiarui Liu (1), Shuangjie Bi (2), Shandong Ye (1)
1 - Anhui Provincial Hospital Affiliated to Anhui Medical University, Hefei, China
2 - The First Affiliated Hospital of USTC, Hefei, China
International journal of endocrinology Том 15, №8, 2019
Date: 2020.01.22
Categories: Endocrinology
Sections: Clinical researches




Authors:
Abaturov A.E., Gerasymenko O.N. - State Establishment «Dnipropetrovsk Medical Academy of the Ministry of Health of Ukraine», Dnipropetrovsk


"Child`s Health" 3 (54) 2014
Date: 2014.06.26
Categories: Pediatrics/Neonatology
Sections: Clinical researches