"Emergency medicine" Том 16, №5, 2020
A look from the past to the future: unmanned aerial vehicles as an element of evacuation of the wounded people in the medical service of the Armed Forces of Ukraine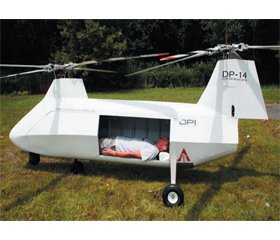 Authors:

Гуменюк К.В.(1), Горошко В.Р.(2) (1) — Командування медичних сил Збройних сил України, м. Київ, Україна (2) — Національний військово-медичний клінічний центр «Головний військовий клінічний центр», м. Київ, Україна



Categories:

Medicine of emergency



Sections:

Specialist manual
Summary
Добре та чітко організоване проведення евакуаційних заходів є фактором, що значною мірою визначає ефективність діяльності медичної служби. Застосування новітніх технологій, сучасних засобів та впровадження їх у реальність, що диктує нам сьогодення, є пріоритетом в управлінні лікувально-евакуаційного забезпечення медичної служби Збройних сил України. Такий підхід в окремих випадках може виявитись вирішальним та єдиним на шляху до збереження життя пораненого. Безпілотні літаючі засоби для забезпечення заходів медичної евакуації є перспективним напрямком подальшого вдосконалення системи лікувально-евакуаційного забезпечення Збройних сил України.
Хорошо и четко организованное проведение эвакуационных мероприятий является фактором, который в значительной степени определяет эффективность деятельности медицинской службы. Применение новейших технологий, современных средств и внедрение их в реальность, которую диктует нам сегодняшний день, является приоритетом в управлении лечебно-эвакуационного обеспечения медицинской службы Вооруженных сил Украины. Такой подход в отдельных случаях может оказаться решающим и единственным на пути к сохранению жизни раненого. Беспилотные летающие средства для обеспечения мероприятий медицинской эвакуации является перспективным направлением дальнейшего совершенствования системы лечебно-эвакуационного обеспечения Вооруженных сил Украины.
A well and clearly organized evacuation is a factor that largely determines the effectiveness of the medical service. The application of the latest technologies, modern facilities and their implementation into the reality dictated to us by today is a priority in the management of medical evacuation support of the medical service of the Armed Forces of Ukraine. In some cases, this approach may be decisive and the only way to save the life of the wounded people. Unmanned aerial vehicles for the provision of medical evacuation measures are a promising direction for further improvement of the medical evacuation system of the Armed Forces of Ukraine.
Keywords
дрон; безпілотні літаючі засоби; медична евакуація; огляд
дрон; беспилотные летающие средства; медицинская эвакуация; обзор
drone; unmanned aerial vehicles; medical evacuation; review
For the full article you need to subscribe to the magazine.
Bibliography
https://uk.wikipedia.org/wiki/Дрон
https://www.jnsm.com.ua/h/1121M/
https://www.jnsm.com.ua/h/0919M/
https://www.lvivair.com/istoriya-povitryanoi-kuli
https://uk.wikipedia.org/wiki/Брати_Монгольф%27є
https://ecotechnica.com.ua/stati/1330-patent-nikoly-tesly-1898-goda-voennye-bespilotniki-kotorye-prinesut-zemle-mir.html
https://habr.com/ru/post/446520/
https://www.sciencedebate2008.com/development-of-unmanned-aerial-vehicles/
https://uk.wikipedia.org/wiki/Безпілотний_літальний_апарат
https://www.rc-hobby.com.ua/infocenter/obzory-i-stati/istoriya-razvitiya-dronov_-ot-istokov-do-segodnyashnego-dnya/
http://veterano.com.ua/index.php?option=com_content&view=article&id=5395:ssha-rozroblyayut-medichni-evakuatori-na-osnovi-bpla&catid=18&Itemid=137
https://www.weaponews.com/uk//4440-ssha-rozroblyayut-medichn-evakuatori-na-osnov-bpla.html
http://zonwar.ru/news5/news_875_DP-14_Hawk.html
https://ecotechnica.com.ua/transport/4039-izrailskij-voennyj-dron-prevratili-v-selskokhozyajstvennyj.html
https://armyinform.com.ua/2019/11/yaki-ye-etapy-medychnoyi-evakuacziyi/
https://nv.ua/ukraine/events/ukroboronprom-predstavil-turchinovu-bespilotnyj-btr-fantom-i-bpla-gorlitsa-207489.html
https://www.slovoidilo.ua/2016/08/29/novyna/bezpeka/ukroboronprom-predstavyv-bezpilotnyj-btr-fantom-i-bpla-horlycya
https://m.facebook.com/sdelanoVukraine/posts/ 341632049505508
https://shvachko.net/?p=2295&lang=ua
Савицький В.Л. та ін. Медичне забезпечення Збройних Сил України в антитерористичній операції: досвід та напрями його удосконалення. Військова медицина України. 2015. № 1. С. 5-11.
Досвід організації медичного забезпечення Збройних Сил України та інших військових формувань у ході антитерористичної операції. Матеріали науково-практичної конференції, м. Київ, 18.12.2014 р. Київ: ВМА, 2014. 106 с.
Андронатій В.Б., Жаховський В.О., Булах О.Ю., Лівінський В.Г. Система медичного забезпечення Збройних Сил України: сучасний стан і напрями розвитку з огляду на тенденції змін у порядку застосування військ. Наука і оборона. 2014. № 3. С. 23-29.