International journal of endocrinology Том 16, №5, 2020
Parathyroid ultrasonography: methodology, clinical evaluation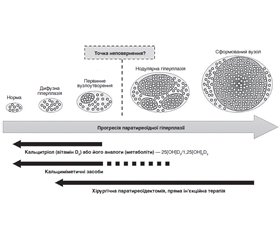 Authors:

Камінський О.В. Державна установа «Національний науковий центр радіаційної медицини Національної академії медичних наук України», м. Київ, Україна



Categories:

Endocrinology



Sections:

Clinical researches
Summary
Актуальність. Новим аспектом впливу іонізуючої радіації на організм людини є ураження прищитоподібних залоз в поєднанні з дисбалансом у системі вітаміну-гормона D, а також подальший розвиток вторинного гіперпаратиреозу у віддалені терміни опромінення (понад 20–30 років). Мета: дослідити стан прищитоподібних залоз в осіб, які зазнали опромінення внаслідок аварії на Чорнобильській атомній електростанції (АЕС), розробити методологію клінічної оцінки ультразвукового дослідження (УЗД) цих залоз з урахуванням клінічних особливостей. Матеріали та методи. Оригінальне проспективне та ретроспективне дослідження є результатом клінічного спостереження стану прищитоподібних залоз понад 6000 пацієнтів протягом шести років, опромінених внаслідок аварії на Чорнобильській АЕС. Результати. Через 27–32 роки після опромінення нами виявлена висока частота гіперплазій прищитоподібних залоз в осіб, опромінених внаслідок аварії на ЧАЕС, перш за все в евакуйованих з 30-кілометрової зони відчуження та мешканців радіоактивно забруднених територій. Не встановлено прямої залежності між структурними змінами прищитоподібних залоз та їх функціональним станом. Нормальні незмінені прищитоподібні залози не візуалізуються при проведенні УЗД, хоча є наявними у пацієнтів, за умов відсутності напруження у системі кальцій-фосфорного обміну та вітаміну-гормона D, за структурою та ехогенністю повністю співпадають з тканиною щитоподібної залози. Висновки. При будь-якому виявленні прищитоподібних залоз необхідно оцінювати їх як зміну та гіперплазію, незалежно від розміру/об'єму, ступеня зміни ехогенності або однорідності/неоднорідності з обов'язковим подальшим визначенням гормонально-метаболічних показників (паратгормон, кальцій загальний/кальцій іонізований, 25(OH)D) та клінічною оцінкою отриманих даних.
Актуальность. Новым аспектом влияния ионизирующей радиации на организм человека является поражение паращитовидных желез в сочетании с дисбалансом в системе витамина-гормона D, а также дальнейшее развитие вторичного гиперпаратиреоза в отдаленные сроки облучения (более 20–30 лет). Цель: исследовать состояние паращитовидных желез у лиц, подвергшихся облучению в результате аварии на Чернобыльской атомной электростанции (АЭС), разработать методологию клинической оценки ультразвукового исследования (УЗИ) этих желез с учетом клинических особенностей. Материалы и методы. Оригинальное проспективное и ретроспективное исследование является результатом клинического наблюдения состояния паращитовидных желез более 6000 пациентов в течение шести лет, облученных в результате аварии на Чернобыльской АЭС. Результаты. Через 27–32 года после облучения нами выявлена высокая частота гиперплазии паращитовидных желез у лиц, облученных в результате аварии на ЧАЭС, прежде всего у эвакуированных из 30-километровой зоны отчуждения и жителей радиоактивно загрязненных территорий. Не установлено прямой зависимости между структурными изменениями паращитовидных желез и их функциональным состоянием. Нормальные паращитовидные железы не визуализируются при проведении ультразвукового исследования, хотя в наличии у пациентов, при отсутствии напряжения в системе кальций-фосфорного обмена и витамина-гормона D, по структуре и эхогенности полностью совпадают с тканью щитовидной железы. Выводы. При любом обнаружении паращитовидных желез необходимо оценивать их как изменение и гиперплазию, независимо от размера/объема, степени изменения эхогенности или однородности/неоднородности с обязательным последующим определением гормонально-метаболических показателей (паратгормон, кальций общий/кальций ионизированный, 25(OH)D) и клинической оценкой полученных данных.
Background. Parathyroid glands are the principal pathophysiological regulators of calcium-phosphorus metabolism, regulating and affecting kidneys, bones, both with cardiovascular, nervous, and other systems. Impaired parathyroid glands in combination with an imbalance in vitamin D system followed by the development of secondary hyperparathyroidism in the long term (more than 20–30 years) are the new aspects of the impact of ionizing radiation on the human body. The purpose was the investigation of the condition of parathyroid glands in people exposed to ionizing radiation as a result of the Chornobyl NPP (ChNPP) accident, elaboration of a methodology for clinical evaluation of parathyroid ultrasound data, taking into account clinical features. Materials and methods. The original prospective and retrospective study was a result of clinical observation of parathyroid glands state over 6 years in more than 6,000 patients irradiated as a result of the ChNPP accident. Results. 27–32 years after irradiation, we detected a high frequency of hyperplasia of the parathyroid glands in people irradiated as a result of the Chernobyl accident, primarily in those evacuated from the 30-kilometer exclusion zone and residents of radioactively contaminated areas. There is no direct relationship between structural changes in the parathyroid glands and their functional state. Normal unchanged parathyroid glands are not visualized on diagnostic ultrasound although being present in patients in the absence of load in the system of calcium-phosphorus metabolism and vitamin D hormone. Parathyroid glands in their structure and echogenicity completely coincide with the thyroid tissue. Conclusions. In any case of parathyroid glands detection, they should be assessed as parathyroid glands lesion and hyperplasia, regardless of size and/or volume, degree of echogenicity, or homogeneity/heterogeneity. Subsequent testing of hormonal and metabolic parameters (assay of serum parathyroid hormone, total calcium and ionized calcium, 25(OH)D), and clinical evaluation of the data obtained are mandatory.
Keywords
прищитоподібні залози; ультразвукове дослідження
паращитовидные железы; ультразвуковое исследование
parathyroid glands; ultrasound examination
For the full article you need to subscribe to the magazine.
Bibliography
Hatch M., Cardis E. Somatic health effects of Chernobyl: 30 years on. Eur. J. Epidemiol. 2017. 32(12). 1047-1054. doi: 10.1007/s10654-017-0303-6.
Boehm B.O., Rosinger S., Belyi D., Dietrich J.W. The parathyroid as a target for radiation damage. N. Engl. J. Med. 2011. 365(7). 676-678. doi: 10.1056/NEJMc1104982.
Ferlin G., Conte N., Borsato N. et al. Parathyroid scintigraphy with 131Cs and 201Tl. J. Nucl. Med. Allied Sci. 1981. 25(3). 119-123.
Ferlin G., Borsato N., Perelli R. Positive 131Cesium scanning in parathyroid adenoma. Eur. J. Nucl. Med. 1977. 2(3). 153-154. doi: 10.1007/BF00257272.
Gomez D.L., Shulman D.I. Hyperparathyroidism two years after radioactive iodine therapy in an adolescent male. Case Rep. Pediatr. 2014. 2014. 163848. doi: 10.1155/2014/163848.
Rosen I.B., Strawbridge H.G., Bain J. A case of hyperparathyroidism associated with radiation to the head and neck area. Cancer. 1975. 36(3). 1111-1114. doi: 10.1002/1097-0142(197509) 36:3<1111::aid-cncr2820360341>3.0.co;2-9.
Tisell L.E., Carlsson S., Fjalling M. Hyperparathyroidism subsequent to neck irradiation. Cancer. 1985. 56(7). 1529-1533. doi: 10.1002/1097-0142(19851001)56:7<1529::aid-cncr2820560710 >3.0.co;2-d.
Fujiwara S., Sposto R., Ezaki H. et al. Hyperparathyroidism among atomic bomb survivors in Hiroshima. Radiat. Res. 1992. 130(3). 372-378.
Avinash S., Gupta R., Mohindroo N.K. et al. Effect of radiotherapy on thyroid and parathyroid gland functions. Sch. J. App. Med. Sci. 2017. 5(4). 1499-1503.
Vulpio C., Bossola M. Parathyroid ultrasonography in renal secondary hyperparathyroidism: an overlooked and useful procedure. Semin. Dial. 2016. 29(5). 347-349. doi: 10.1111/sdi.12521.
Sukan A., Reyhan M., Aydin M. et al. Preoperative evaluation of hyperparathyroidism: the role of dual-phase parathyroid scintigraphy and ultrasound imaging. 2008. 22(2). 123-131. doi: 10.1007/s12149-007-0086-z.
Kaminskyi O.V., Kopylova O.V., Afanasyev D.E., Loganovsky K.M., Talko V.V., Muraveva I.M. et al. Hyperparathyroidism and parathyroid lesions in the ChNPP accident survivors. Problems of Radiation Medicine and Radiobiology. 2019. 24. 380-394. doi: 10.33145/2304.8336.2019.24.380.394.
Shafiei B., Hoseinzadeh S., Fotouhi F. et al. Preoperative 99mTc-sestamibi scintigraphy in patients with primary hyperparathyroidism and concomitant nodular goiter: comparison of SPECT-CT, SPECT, and planar imaging. Nucl. Med. Commun. 2012. 33(10). 1070-1076. doi: 10.1097/MNM.0b013e32835710b6.
Goto S., Komaba H., Fukagawa M. Pathophysiology of parathyroid hyperplasia in chronic kidney disease: preclinical and clinical basis for parathyroid intervention. NDT Plus. 2008. 1(3). 2-8. doi: 10.1093/ndtplus/sfn079.
Similar articles

Authors:
Муравйова І.М., Чикалова І.Г., Афанасьєв Д.Є., Копилова О.В., Камінський О.В., Ульянченко І.В., Рожківська Л.В., Тепла Е.В., Самойлов О.О. ДУ «Національний науковий центр радіаційної медицини НАМН України», м. Київ, Україна


International journal of endocrinology Том 16, №2, 2020
Date: 2020.05.05
Categories: Endocrinology
Sections: Clinical researches


Authors: Ліщинський П.О. (1), Паламарчук В.О. (1), Нечай О.П. (1), Уріна М.О. (1), Товкай О.А. (1), Куц В.В. (2)
1 - Український науково-практичний центр ендокринної хірургії, трансплантації ендокринних органів і тканин МОЗ України, м. Київ, Україна
2 - ДУ «Національний інститут фтизіатрії і пульмонології ім. Ф.Г. Яновського НАМН України», м. Київ, Україна
International journal of endocrinology Том 15, №4, 2019
Date: 2019.08.14
Categories: Endocrinology
Sections: Clinical researches


Authors:
Паламарчук А.В.(1), Власенко М.В.(1), Прудиус П.Г.(2), Коломієць В.М.(2) (1) — Вінницький національний медичний університет ім. М.І. Пирогова, м. Вінниця, Україна (2) — Вінницький обласний клінічний високоспеціалізований ендокринологічний центр, м. Вінниця, Україна


International journal of endocrinology 7 (79) 2016
Date: 2016.12.20
Categories: Endocrinology
Sections: Clinical researches


Authors:
Тронько М.Д., Кваченюк А.М., Луценко Л.А., Супрун І.С., Охрімчук О.О. ДУ «Інститут ендокринології та обміну речовин ім. В.П. Комісаренка НАМН України», м. Київ, Україна


«Practical Oncology» Том 3, №2, 2020
Date: 2020.11.20
Categories: Oncology
Sections: Specialist manual