International journal of endocrinology Том 16, №5, 2020
Markers of aggressiveness of non-functional pituitary adenomas with invasive growth. Literature review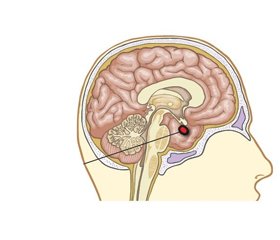 Authors:

Урманова Ю.М., Миртухтаева М.Б. Ташкентский педиатрический медицинский институт, Республиканский специализированный научно-практический медицинский центр эндокринологии МЗ РУз имени акад. Е.Х. Туракулова, г. Ташкент, Республика Узбекистан



Categories:

Endocrinology



Sections:

Specialist manual
Summary
Гормонально неактивні аденоми гіпофіза становлять морфологічно гетерогенну групу і поділяються на «німі» аденоми, які мають імунореактивність до тропних гормонів і подібні за будовою до типових аденоцитів, але не призводять до розвитку клінічних ознак гормональної гіперсекреції, і пухлини, що не мають специфічних маркерів і схожості з аденогіпофізарними клітинами (нуль-клітинні пухлини й онкоцитоми). Згідно з проведеними дослідженнями, всі типи «німих» аденом мають різні біологічну активність, секреторний потенціал і результати в післяопераційному періоді. Активне виявлення «німих» аденом гіпофіза при проведенні імуногістохімічного аналізу дозволяє не тільки виявити пацієнтів із групи високого ризику рецидиву захворювання, а й виробити оптимальну тактику лікування і подальшого спостереження, визначити показання та оцінити доцільність медикаментозної і променевої терапії після проведеного нейрохірургічного втручання. Оглядова стаття присвячена питанням пошуку прогностичних маркерів інвазивного росту неактивних аденом гіпофіза. Високий рівень Кі-67 може розглядатися як незалежний фактор і маркер несприятливого прогнозу при аденомах гіпофіза. У хворих, аденоми яких мають високий рівень проліферативної активності, частіше спостерігається інвазивний ріст аденоми, а також її злоякісне переродження — розвиток аденокарциноми. Цей маркер не залежить від інших негативних прогностичних ознак — віку і статі пацієнта, розміру аденоми. Крім того, підвищення рівня проліферації частіше спостерігається в соматотропіномах і пролактиномах. Останнім часом істотно змінилося уявлення про клітинну та молекулярну біологію пухлин гіпофіза. Відомо, що транскрипційні фактори регулюють трансформацію клітин-попередників пітуїцитів у зрілі секреторні клітини під час ембріогенезу. Тому триває пошук прогностичних критеріїв для аденом.
Гормонально неактивные аденомы гипофиза представляют собой морфологически гетерогенную группу и подразделяются на «немые» аденомы, которые обладают иммунореактивностью к тропным гормонам и похожи по строению на типичные аденоциты, но не приводят к развитию клинических признаков гормональной гиперсекреции, и опухоли, не имеющие специфических маркеров и сходства с аденогипофизарными клетками (ноль-клеточные опухоли и онкоцитомы). Согласно проводимым исследованиям, все типы «немых» аденом имеют различные биологическую активность, секреторный потенциал и исходы в после­операционном периоде. Активное выявление «немых» аденом гипофиза при проведении иммуногистохимического анализа позволяет не только выявить пациентов из группы высокого риска рецидива заболевания, но и выработать оптимальную тактику лечения и дальнейшего наблюдения, определить показания и оценить целесообразность медикаментозной и лучевой терапии после проведенного нейрохирургического вмешательства. Обзорная статья посвящена вопросам поиска прогностических маркеров инвазивного роста неактивных аденом гипофиза. Высокий уровень Кi-67 может рассматриваться как независимый фактор и маркер неблагоприятного прогноза при аденомах гипофиза. У больных, аденомы которых имеют высокий уровень пролиферативной активности, чаще наблюдается инвазивный рост аденомы, а также ее злокачественное перерождение — развитие аденокарциномы. Этот маркер не зависит от других негативных прогностических признаков — возраста и пола пациента, размера аденомы. Кроме того, повышение уровня пролиферации чаще наблюдается в соматотропиномах и пролактиномах. В последние годы существенно изменилось представление о клеточной и молекулярной биологии опухолей гипофиза. Известно, что транскрипционные факторы регулируют трансформацию клеток-предшественников питуицитов в зрелые секреторные клетки во время эмбриогенеза. Поэтому продолжается поиск прогностических критериев для аденом.
Non-functional pituitary adenomas are a morphologically heterogeneous group and are subdivided into silent adenomas that have immunoreactivity to tropic hormones and are similar in structure to typical adenocytes but do not lead to the development of clinical signs of hormonal hypersecretion (silent gonadal, cortical-, thyroid and mammotropinomas), and tumors that do not have specific markers and are similar to adenohypophyseal cells (zero-cell tumors and oncocytomas). According to the studies conduc­ted, all types of silent adenomas have different biological activity, secretory potential, and postoperative outcomes. Active detection of silent pituitary adenomas during immunohistochemical analysis not only allows identifying patients at high risk of disease recurrence but also developing optimal treatment and follow-up tactics, determining indications and evaluating the feasibility of drug and radiation therapy after a neurosurgical intervention. The review article is devoted to the search for prognostic markers of invasive growth of inactive pituitary adenomas. A high level of Ki-67 can be considered as an independent factor and a marker of poor prognosis in pituitary adenomas. The patients with adenomas with high proliferative activity were more often found to develop invasive growth of the adenoma, as well as its malignant transformation — the development of adenocarcinoma. This marker does not depend on other negative prognostic signs — the age and sex of a patient, the adenoma size. Besides, an increase in the proliferation level is more often observed in somatotropinomas and prolactinomas. In recent years, the concept of the cellular and molecular biology of pituitary tumors has changed significantly. It is known that transcription factors regulate the transformation of progenitor cells into mature secretory cells during embryogenesis. Therefore, the search for prognostic criteria for adenomas continues.
Keywords
неактивні аденоми гіпофіза; інвазивний ріст; маркери агресивності; огляд
неактивные аденомы гипофиза; инвазивный рост; маркеры агрессивности; обзор
non-functional pituitary adenomas; invasive growth; markers of aggressiveness; review
For the full article you need to subscribe to the magazine.
Bibliography
Sharif-Alhoseini M., Rahimi-Movaghar V. Pituitary adenomas: a review. J. Inj. Violence Res. 2012. 4(3 Suppl 1). Р. 56. PMCID: PMC3571582.
Melmed S. Pathogenesis of pituitary tumors. Nat. Rev. Endocrinol. 2011. 7(5). Р. 257-266. doi: 10.1038/nrendo.2011.40.
McDowell B.D., Wallace R.B., Carnahan R.M., Chrischilles E.A., Lynch C.F., Schlechte J.A. Demographic differences in incidence for pituitary adenoma. Pituitary. 2011. 14(1). Р. 23-30. https://doi.org/10.1007/s11102-010-0253-4.
Beylerli O.A., Shiguang Z., Gareev I.F., Xin C. Diagnosis and Treatment of Pituitary Adenomas. Creative surgery and oncology. 2019. 9(4). Р. 311-316. https://doi.org/10.24060/2076-3093-2019-9-4-311-316.
Gruppetta M., Vassallo J. Epidemiology and radiological geometric assessment of pituitary macroadenomas: population-based study. Clin. Endocrinol. (Oxf.). 2016. 85(2). Р. 223-31. doi: 10.1111/cen.13064.
Urmanova Yu.M., Alimova K.B. Giant pituitary adenomas: prevalence, features of diagnosis clinical course Mìžnarodnij endokrinologìčnij žurnal. 2018. 14(5). Р. 539-542. doi: 10.22141/ 2224-0721.14.5.2018.143018.
Joshi H., Vastrad B., Vastrad C. Identification of Important Invasion-Related Genes in Non-functional Pituitary Adenomas. 2019. 68(4). Р. 565-589. doi: 10.1007/s12031-019-01318-8.
Tjörnstrand A., Gunnarsson K., Evert M., Holmberg E., Ragnarsson O., Rosén T. et al. The incidence rate of pituitary adenomas in western Sweden for the period 2001–2011. Eur. J. Endocrinol. 2014. 171(4). Р. 519-526. https://doi.org/10.1530/EJE-14-0144
Buurman H., Saeger W. Subclinical adenomas in postmortem pituitaries: classification and correlations to clinical data. Eur. J. Endocrinol. 2006. 154(5). Р. 753-758. doi: 10.1530/eje.1.02107.
Askitis D., Tsitlakidis D., Müller N., Waschke A., Wolf G., Müller U.A. et al. Complete evaluation of pituitary tumours in a single tertiary care institution. Endocrine. 2018. 60(2). Р. 255-262. https://doi.org/10.1007/s12020-018-1570-z.
Helle K.B. Chromogranins A and B and secretogranin II as prohormones for regulatory peptides from the diffuse neuroendocrine system. In: Rehfeld J., Bundgaard J. (eds). Cellular Peptide Hormone Synthesis and Secretory Pathways. Results and Problems in Cell Differentiation. 2010. 50. Р. 21-44. doi: 10.1007/400_2009_26.
Hu H., Li B., Zhou C., Ying X., Chen M., Huang T. et al. Diagnostic value of WIF1 methylation for colorectal cancer: a meta-analysis. Oncotarget. 2018. 9(4). Р. 5378-5386. doi: 10.18632/oncotarget.23870.
Song W., Qian L., Jing G., Jie F., Xiaosong S., Chunhui L. et al. Aberrant Expression of the sFRP and WIF1 Genes in Invasive Non-Functioning Pituitary Adenomas. Mol. Cell. Endocrinol. 2018. 474. Р. 168-175. doi: 10.1016/j.mce.2018.03.005.
Chohan M.O., Levin A.M., Singh R. et al. Three-dimensional volumetric measurements in defining endoscope-guided giant adenoma surgery outcomes. Pituitary. 2016. 19(3). Р. 311-321. doi: 10.1007/s11102-016-0709-2.
Raverot G., Jouanneau E., Trouillas J. Management of Endocrine Disease: Clinicopathological Classification and Molecular Markers of Pituitary Tumours for Personalized Therapeutic Strategies. Eur. J. Endocrinol. 2014. 170(4). Р. 121-132. doi: 10.1530/EJE-13-1031.
Coli A., Asa S.L., Fadda G., Scannone D., Chiloiro S., De Marinis L. et al. Minichromosome Maintenance Protein 7 as Prognostic Marker of Tumor Aggressiveness in Pituitary Adenoma Patients. Eur. J. Endocrinol. 2016. 174(3). Р. 307-314. doi: 10.1530/EJE-15-0586.
Zhenye L., Chuzhong L., Youtu W., Xiaolei L., Lei C., Lichuan H. et al. The Expression of TGF-β1, Smad3, phospho-Smad3 and Smad7 Is Correlated With the Development and Invasion of Nonfunctioning Pituitary Adenomas. J. Transl. Med. 2014. 12. Р. 71. doi: 10.1186/1479-5876-12-71.
Chen Y., Chuan H.L., Yu S.Y., Li C.Z., Wu Z.B., Li G.L., Zhang Y.Z. A Novel Invasive-Related Biomarker in Three Subtypes of Nonfunctioning Pituitary Adenomas. World Neurosurg. 2017. 100. Р. 514-521. doi: 10.1016/j.wneu.2017.01.010.
Das B., Batool S., Khoja A., Islam N. Presentation, Management, and Outcomes of Nonfunctioning Pituitary Adenomas: An Experience from a Developing Country. Cureus. 2019. 11(9). e5759. doi: 10.7759/cureus.5759.
Kim Y.H., Kim J.H. Transcriptome Analysis Identifies an Attenuated Local Immune Response in Invasive Nonfunctioning Pituitary Adenomas Endocrinol Metab (Seoul). 2019. 34(3). Р. 314-322. doi: 10.3803/EnM.2019.34.3.314.
Zakir J.C., Casulari L.A., Rosa J.W. et al. Prognostic Value of Invasion, Markers of Proliferation, and Classification of Giant Pituitary Tumors, in a Georeferred Cohort in Brazil of 50 Patients, with a Long-Term Postoperative Follow-Up. Int. J. Endocrinol. 2016. 2016. 7964523. doi: 10.1155/2016/7964523.
Landeiro J.A., Fonseca E.O., Monnerat A.L. et al. Nonfunctioning giant pituitary adenomas: Invasiveness and recurrence. Surg. Neurol. Int. 2015. 6. Р. 179. doi: 10.4103/2152-7806.170536. eCollection 201.
Mercado M., Melgar V., Salame L., Cuenca D. Clinically Non-Functioning Pituitary Adenomas: Pathogenic, Diagnostic and Therapeutic Aspects. Endocrinol Diabetes Nutr. 2017. 64(7). Р. 384-395. doi: 10.1016/j.endinu.2017.05.009.
Nishioka H., Hara T., Nagata Y. et al. Inherent Tumor Characteristics That Limit Effective and Safe Resection of Giant Nonfunctioning Pituitary Adenomas. World Neurosurg. 2017. 106. Р. 645-652. doi: 10.1016/j.wneu.2017.07.043.
Iglesias P., Berrocal V.R., Díez J.J. Giant Pituitary Adenoma: Histological Types, Clinical Features and Therapeutic Approaches. Endocrine. 2018. 61(3). Р. 407-421. doi: 10.1007/s12020-018-1645-x.
Yosef L., Ekkehard K.M., Shalom M. Giant craniopharyngiomas in children: short- and long-term implications. Childs Nerv. Syst. 2016. 32(1), Р. 79-88. doi: 10.1007/s00381-015-2961-6.
Lloyd R.V., Osamura R.Y., Kloppel G., Rosai J. (eds). World Health Organization Classification of Tumors of Endocrine Organs. 4th ed. IARC Press: Lyon, 2017. 355 p.
Kalensky O., Kalensky L., Bilohash S., Garden O. Prognostic significance of Ki-67 expression in pituitary adenomas. Current Problems of Clinical and Preventive Medicine. 2015. 3(3–4). Р. 33-37.