International neurological journal Том 16, №6, 2020
Migraine complications. Migrainous infarction: case report analysis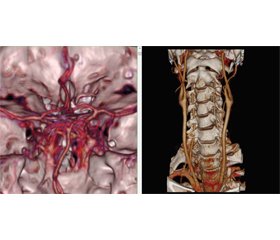 Authors:

Дубенко О.Е.(1, 4), Гаврюшин А.Ю.(1, 2), Зубков А.В.(1, 2), Екимова С.В.(3), Ковтунов О.В.(3) (1) — Харьковская медицинская академия последипломного образования, г. Харьков, Украина (2) — КНП «Городская клиническая больница № 7» ХГС, г. Харьков, Украина (3) — Лечебно-диагностический центр «ЛОРИТОМ», г. Харьков, Украина (4) — Prof. Kazimiera Milanowska College of Education and Therapy, г. Познань, Польша



Categories:

Neurology



Sections:

Specialist manual
Summary
Мігрень є найпоширенішим типом головного болю і найчастішим неврологічним захворюванням людини. Незважаючи на те, що мігрень вважається відносно доброякісним розладом, спостерігаються ускладнення мігренозного нападу. Мігренозний інфаркт є рідкісним ускладненням мігрені. Діагноз встановлюється згідно з діагностичними критеріями, запропонованими в Міжнародній класифікації головного болю 3-го перегляду 2018 року. Діагноз мігренозного інфаркту базується на раптовому розвитку неврологічного дефіциту під час нападу мігрені й інфаркту мозку в ділянці, що відповідає цим симптомам, підтвердженим при нейровізуалізації. Мігренозний інсульт може розвинутися у пацієнтів, які страждають від мігрені в анамнезі, або під час типового мігренозного нападу. Інші причини інсульту повинні бути виключені. Дослідження показують, що ризик ішемічного інсульту вищий у пацієнтів з мігренню з аурою, особливо у молодих жінок, і частіше розвивається в басейні задньої циркуляції. Менш часто мігренозний інфаркт може розвиватися при мігрені без аури. Патогенез мігренозного інфаркту не досить відомий, можливими механізмами можуть бути кортикальна деполяризація, що поширюється, артеріальний вазоспазм, гемодинамічні зміни. Ми представили 2 клінічних випадки розвитку мігренозного інфаркту у молодих пацієнтів віком 32 і 36 років, який розвинувся під час типового мігренозного нападу без аури в басейні задньої циркуляції, що були підтверджені при нейровізуалізації.
Мигрень является наиболее распространенным типом головной боли и самым частым неврологическим заболеванием человека. Несмотря на то, что мигрень считается относительно доброкачественным расстройством, наблюдаются осложнения мигренозной атаки. Мигренозный инфаркт является редким осложнением мигрени. Диагноз устанавливается согласно диагностическим критериям, предложенным в Международной классификации головной боли 3-го пересмотра 2018 года. Диагноз мигренозного инфаркта основывается на внезапном развитии неврологического дефицита во время мигренозной атаки и инфаркта мозга, в зоне, соответствующей этим симптомам, подтвержденным при нейровизуализации. Мигренозный инсульт может развиться у пациентов, страдающих мигренью в анамнезе, либо во время типичной мигренозной атаки. Другие причины инсульта должны быть исключены. Исследования показывают, что риск ишемического инсульта выше у пациентов с мигренью с аурой, особенно у молодых женщин, и чаще развивается в бассейне задней циркуляции. Менее часто мигренозный инфаркт может развиться при мигрени без ауры. Патогенез мигренозного инфаркта пока уточнен недостаточно, но возможными механизмами могут быть распространяющаяся кортикальная деполяризация, артериальный вазоспазм, гемодинамические изменения. Мы представили 2 клинических случая развития мигренозного инфаркта у молодых пациентов в возрасте 32 и 36 лет, который развился во время типичной мигренозной атаки без ауры в бассейне задней циркуляции, подтвержденных при нейровизуализации.
Migraine is the most common type of headache and neurological disorder in the human population. Migraine is gene-rally considered a relatively benign neurological condition. However, the complication of migraine attacks occurred. Migrainous infarction is a rare complication of migraine. The diagnosis should meet the diagnostic criteria proposed by the International Classification of Headache Disorders, 3rd edition, 2018. The diagnosis of migrainous infarction is based on the abrupt onset of a neurologic deficit during a migraine attack associated with the cerebral infarction on neuroimaging. The migrainous infarction can be diagnosed in a patient with an established history of migraine and develops during a typical migraine attack. Other causes of stroke must be excluded. The studies demonstrate a higher risk of ischemic stroke in patients with migraine with aura, especially in younger women and often occurs in the posterior circulation. However, migrainous infarction can also occur in those with migraine without aura, although this is less common. The pathogenesis of migrainous infarction is still unclear but possible mechanism such as cortical spreading depolarization, arterial vasospasm, hemodynamic change is suggested. We are reporting 2 cases of migrainous infarction in young patients aged 32 and 36 years, respectively, after usual attacks without aura with documented neuroimaging findings in the posterior circulation.
Keywords
ускладнення мігрені; мігренозний інфаркт; клінічний випадок
осложнения мигрени; мигренозный инфаркт; клинический случай
migraine complications; migrainous infarction; case report
For the full article you need to subscribe to the magazine.
Bibliography
1. Global Burden of Disease Study 2013 Collaborators. Global, regional, and national incidence, prevalence, and years lived with di-sability for 301 acute and chronic diseases and injuries in 188 countries, 1990–2013: a systematic analysis for the Global Burden of Disease Study 2013. Lancet. 2015. 386. 743-800.
2. Etminan M., Takkouche B., Isorna F.C., Samii A. Risk of ischaemic stroke in people with migraine: systematic review and meta-analysis of observational studies. BMJ. 2005. 330. 363.
3. Lee M.J., Lee C., Chung C.S. The migraine-stroke connection. J. Stroke. 2016. 18. 146-156.
4. Peng K.P., Chen Y.T., Fuh J.L. et al. Migraine and incidence of ischemic stroke: a nationwide population-based study. Cephalalgia. 2017. 37. 327-335.
5. The International Classification of Headache. 3rd edition. Cephalalgia. 2018. 38(1). 1-211.
6. Zhang Y., Parikh A., Qian S. Migraine and stroke. Stroke Vasc. Neurol. 2017. 2(3). 160-167. doi: 10.1136/svn-2017-000077.
7. Schürks M., Rist P.M., Bigal M.E. et al. Migraine and cardiovascular disease: systematic review and metaanalysis. BMJ. 2009 Oct 27. 339. b3914.
8. Kurth T., Chabriat H., Bousser M.G. Migraine and stroke: a complex association with clinical implications. Lancet Neurol. 2012. 11. 92-100.
9. Morozova O.G., Yaroshevskiy O.A. Migraine and Cerebral stroke: Comorbidity and the Need for Preventive Therapy. Liku Ukraine. 2011. 9(155). 72-79.
10. Sacco S., Kurth T. Migraine and the risk for stroke and cardiovascular disease. Curr. Cardiol. Rep. 2014. 16. 524.
11. Rothrock J., North J., Madden K., Lyden P., Fleck P., Dittrich H. Migraine and migrainous stroke: Risk factors and prognosis. Neurology. 1993. 43(12). 2473-2476. doi: 10.1212/WNL.43.12.2473. ISSN 0028-3878. PMID 8255442.
12. Milhaud D., Bogousslavsky J., van Melle G., Liot P. Ischemic stroke and active migraine. Neurology. 2001. 57. 1805-1811.
13. Gupta K., Rohatgi A., Handa Sh. Case Report: Migrainous Infarct without Aura. Case Rep. Neurol. 2017. 9. 241-251.
14. Ayata C., Lauritzen M. Spreading Depression, Spreading Depolarizations, and the Cerebral Vasculature. Physiol. Rev. 2015. 95. 953-993.
15. Dreier J.P., Reiffurth C., Woitzik J. et al. How spreading depolarization can be the pathophysiological correlate of both migraine aura and stroke. Acta Neurochir. 2015. 120 Suppl. 137-140. doi: 10.1159/000481281.
16. Spalice A., Del Balzo F., Papetti L. et al. Stroke and migraine is there a possible comorbidity? Ital. J. Pediatr. 2016. 42. 41. doi: 10.1186/ s13052-016-0253-8.
17. Sanin L.C., Mathew N.T. Severe diffuse intracranial vasospasm as a cause of extensive migrainous cerebral infarction. Cephalalgia Int. J. Headache. 1993. 13(4). 289-292. doi: 10.1046/j.1468-2982.1993.1304289.x
18. Tsai C.F., Chen C.C., Wang S.C. et al. Reversible vasospasm in migrainous infarction: a transcranial Doppler follow-up study. J. Ultrasound Med. 2010. 29(3). 481-484. doi: 10.7863/jum.2010.29.3.481.
19. Vinciguerra L., Cantone M., Lanza G. et al. Migrainous Infarction and Cerebral Vasospasm: Case Report. and Literature Review. Journal of Pain Research. 2019. 12. 2941-2950.
20. Viola S., Viola P., Buongarzone M.P. et al. Microvascular vasospasm of cerebral cortex in prolonged aura migraine. Neurol. Sci. 2018. 39 (Suppl. 1). 95-96. doi: 10.1007/s10072-018-3288-3.
21. Mawet J., Kurth T., Ayata C. Migraine and stroke: in search of shared mechanisms. Cephalalgia Int. J. Headache. 2015. 35(2). 165-181. doi: 10.1177/0333102414550106.
22. Meschia J.F., Malkoff M.D., Biller J. Reversible segmental cerebral arterial vasospasm and cerebral infarction: possible association with excessive use of sumatriptan and Midrin. Arch. Neurol. 1998. 55(5). 712-714. doi: 10.1001/archneur.55.5.712.
23. Laurell K., Lundstrцm E. Migrainous infarction: aspects on risk factors and therapy. Curr. Pain Headache Rep. 2012. 16. 255-260.
24. Yevtushenko S.K., Yevtushenko I.S., Savchenko Ye.A., Ivanova M.F. Migraine and Lacunar Strokes as Basic Manifestation of Cerebral Autosomal Dominant Arteriopathy with Subcortical Infarctions and Leukoencephalopathy (CADASIL-syndrome). International Neurological Journal. 2011. 8(46). 40.
25. Malik R., Winsvold B., Auffenberg E. et al. The migraine-stroke connection: a genetic perspective. Cephalalgia. 2016. 36. 658-668.
26. Plato B.M. Rare complications of migraine with aura. Headache. 2016. 56(8). 1373-1379. doi: 10.1111/head.12879.
27. Serrano F., Arauz A., Uribe R., Becerra L.C., Mantilla K., Zermeño F. Long-term follow-up of patients with migrainous infarction. Clin. Neurol. Neurosurg. 2018. 165. 7-9. doi: 10.1016/j.clineuro.2017.12.008.
28. Campagna G., Vickers A., Ponce C.M.P. et al. Homonymous hemianopsia as the presenting sign of migrainous infarction. Can. J. Ophthalmol. 2018. 53(6). e229-232. doi: 10.1016/j.jcjo.2018.01.007.
29. Bashir A., Lipton R.B., Ashina S. et al. Migraine and structural changes in the brain: a systematic review and meta-analysis. Neurology. 2013. 81. 1260-1268.
30. Gaist D., Garde E., Blaabjerg M. et al. Migraine with aura and risk of silent brain infarcts and white matter hyperintensities: an MRI study. Brain. 2016. 139. 2015-2023.
31. Monteith T., Gardener H., Rundek T. et al. Migraine, white matter hyperintensities, and subclinical brain infarction in a diverse community: the northern Manhattan study. Stroke. 2014. 45. 1830-1832.
32. Morais R., Sobral F., Cunha G. et al. Advanced MRI study of migrainous infarction presenting as cortical laminar necrosis — Case report and literature review. Clin. Neurol. Neurosurg. 2018. 167. 82-85. doi: 10.1016/j.clineuro.2018.02.016.
33. Roberto G., Raschi E., Piccinni C. et al. Adverse cardiovascular events associated with triptans and ergotamines for treatment of migraine: systematic review of observational studies. Cephalalgia. 2015. 35. 118-131.
34. Sadokha K.A., Kistsen V.V., Evstigneev V.V. Migraine: some age, gender and pathogenetic aspects, the problem of comorbidity (a review of literature and clinical observation). International Neurological Journal. 2017. 3(89). 118-124. doi: 10.22141/2224-0713.3.89.2017.104251.
35. Renard D., Nerrant E., Freitag C. Early recurrence of migrainous infarction. Acta Neurol. Belg. 2015. 115(4). 675-676. doi: 10.1007/s13760-015-0444-x.
Similar articles

Authors:
Сорокин Ю.Н. - Кафедра нервных болезней и нейрохирургии Луганского государственного медицинского университета


International neurological journal 5 (51) 2012
Date: 2013.03.21
Categories: Neurology
Sections: Clinical researches



Authors:
Евтушенко С.К., Морозова Т.М., Евтушенко И.С., Омельяненко А.А., Голубева И.Н. - Донецкий национальный медицинский университет им. М. Горького, Кафедра детской и общей неврологии ФИПО, Областная детская клиническая больница, г. Донецк


International neurological journal 5 (51) 2012
Date: 2013.03.21
Categories: Neurology
Sections: Specialist manual