"Emergency medicine" Том 16, №6, 2020
Perioperative management of scoliosis correction and application of pharmacokinetic and pharmacodynamic approaches in dosing of anaesthetic drugs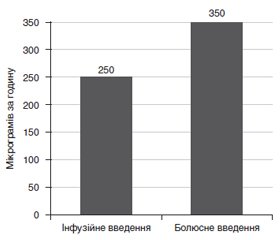 Authors:

Барса М.М.(1, 2), Семенчук К.П.(2), Підгірний Я.М.(1) (1) — Львівський національний медичний університет ім. Данила Галицького, м. Львів, Україна (2) — Рівненська обласна клінічна лікарня, м. Рівне, Україна



Categories:

Medicine of emergency



Sections:

Clinical researches
Summary
Актуальність. Анестезіологія давно стала мультидисциплінарною наукою та набуває все більше рис періопераційної медицини. Підтвердженням цього є розробка та імплементація протоколів ERAS в анестезіологію. Сучасні досягнення в розумінні принципів фармакодинаміки та фармакокінетики дозволяють точно підібрати дозу препарату для досягнення потрібної концентрації в місці дії, уникаючи занадто глибокої анестезії, та створення умов для адекватної роботи нейрофізіологічного моніторингу під час оперативного втручання. Мета дослідження: адаптувати періопераційний менеджмент сколіотичної деформації хребта до рекомендацій ERAS та запровадити фармакокінетичний та фармакодинамічний підхід при дозуванні препаратів для знеболювання та седації. Матеріали та методи. Було проведено 40 планових операційних втручань із приводу сколіотичних та інших деформацій хребта. Пацієнти були розподілені на дві групи залежно від методу дозування та введення фентанілу інтраопераційно: 1-ша група — пацієнти, яким фентаніл вводився кожні 15–20 хв у дозі 100–200 мкг, та 2-га група — пацієнти, яким фентаніл вводився інфузійно до досягнення концентрації в місці дії 3–6 нг/мл. Оцінювалась кількість введеного фентанілу за годину операційного втручання, а також фіксувався час відлучення пацієнта від апарату штучної вентиляції легень (ШВЛ). Результати. При дозуванні фентанілу за цільовою концентрацією та інфузійному введенні його кількість становила 250 ± 50 мкг за годину, що значно відрізнялося від кількості введеного препарату шляхом болюсних ін'єкцій — 350 ± 50 мкг за годину. Тривалість післяопераційної ШВЛ при введенні фентанілу інфузійно за цільовою концентрацією була в межах 14,2 ± 2,1 хв, а при болюсному введенні сягала 25,3 ± 6,8 хв. Висновки. У роботі запропоновано й обґрунтовано необхідність імплементації протоколів ERAS для корекції сколіозів та запровадження фармакокінетичного та фармакодинамічного підходу при дозуванні препаратів для анестезії.
Актуальность. Анестезиология давно стала мультидисциплинарной наукой и приобретает все больше черт периоперационной медицины. Подтверждением этого являются разработка и имплементация протоколов ERAS в анестезиологию. Современные достижения в понимании принципов фармакодинамики и фармакокинетики позволяют точно подобрать дозу для достижения нужной концентрации в месте действия, избегая слишком глубокой анестезии, и создания условий для адекватной работы нейрофизиологического мониторинга во время оперативного вмешательства. Цель исследования: адаптировать периоперационный менеджмент сколиотической деформации позвоночника к рекомендациям ERAS и ввести фармакокинетические и фармакодинамические подходы при дозировке препаратов для обезболивания и седации. Материалы и методы. Было проведено 40 плановых операционных вмешательств по поводу сколиотических и других деформаций позвоночника. Пациенты были разделены на две группы в зависимости от метода дозирования и введения фентанила интраоперационно: 1-я группа — пациенты, которым фентанил вводили каждые 15–20 мин в дозе 100–200 мкг, и 2-я группа — пациенты, которым фентанил вводили инфузионно до достижения концентрации в месте действия 3–6 нг/мл. Оценивалось количество введенного фентанила за час операционного вмешательства, а также фиксировалось время отлучения пациента от аппарата искусственной вентиляции легких (ИВЛ). Результаты. При дозировке фентанила по целевой концентрации и инфузии его количество составляло 250 ± 50 мкг в час, что значительно отличалось от количества введенного препарата путем болезненных инъекций — 350 ± 50 мкг в час. Продолжительность послеоперационной ИВЛ при введении фентанила инфузионно по целевой концентрации была в пределах 14,2 ± 2,1 мин, а при болюсном введении достигала 25,3 ± 6,8 мин. Выводы. В работе предложены и обоснованы необходимость имплементации протоколов ERAS для коррекции сколиозов и внедрение фармакокинетического и фармакодинамического подходов при дозировке препаратов для анестезии.
Background. Anesthesiology has already become multidisciplinary science and acquires more features of perioperative me­dicine. Confirmation of this is the development and implementation of Enhanced Recovery after Surgery (ERAS) protocols in various fields of medicine. In addition, current advances in understan­ding the principles of pharmacodynamics and pharmacokinetics make it possible to accurately select the dose of the drug in order to achieve the desired concentration at the site of action, avoiding too deep ane­sthesia and creating the conditions for adequate neurophysiological monitoring during surgery. The aim of our work is to adapt the perioperative management of scoliosis correction to the recommendations of ERAS, and to introduce pharmacokinetic and pharmacodynamic approaches to the dosage of drugs for analgesia and sedation. Materials and methods. Forty patients, who underwent surgery for scoliosis and other spinal deformities, were randomly divided into two groups depending on the method of dosing and administration of fentanyl intraoperatively: group 1 — those who received fentanyl every 15–20 minutes at a dose of 100–200 μg, and group 2 — patients who received fentanyl infusions to reach the concentration of 3–6 ng/ml at the site of action. The amount of fentanyl administered per hour of surgery was evaluated, and the time of weaning the patient from the ventilator was recorded. Results. When dosing fentanyl at the target concentration and during infusions, its amount was 250 ± 50 μg per hour that was significantly different from the amount of drug administered by bolus injection, which was 350 ± 50 μg per hour. The duration of postoperative ventilation with fentanyl infusion at the target concentration was within 14.2 ± 2.1 min in contrast to bolus management, where the duration of ventilation reached 25.3 ± 6.8 min. Conclusions. The study proposes and substantiates the need for the implementation of ERAS protocols for scoliosis correction and the introduction of pharmacokinetic and pharmacodynamic approaches to the dosing of anesthestic drugs.
Keywords
сколіоз; періопераційна медицина; мультимодальна анестезія; фармакокінетика; фармакодинаміка

сколиоз; периоперационная медицина; мультимодальная анестезия; фармакокинетика; фармакодинамика

scoliosis; perioperative medicine; multimodal anesthesia; pharmacokinetics; pharmacodynamics
For the full article you need to subscribe to the magazine.
Bibliography
Joseph A. Janicki, Benjamin Alman. Scoliosis: Review of diagnosis and treatment. Paediatrics & Child Health. Nov 2007. Vol. 12. Iss. 9. P. 771-776. Doi: https://doi.org/10.1093/pch/12.9.771.
Nachemson A.L., Peterson L.E. Effectiveness of treatment with a brace in girls who have adolescent idiopathic scoliosis. A prospective, controlled study based on data from the Brace Study of the Scoliosis Research Society. J. Bone Joint Surg. Am. 1995. 77. Р. 815-22.
Willers U., Normelli H., Aaro S., Svensson O., Hedlund R. Longterm results of Boston brace treatment on vertebral rotation in idiopathic scoliosis. Spine. 1993. 18. Р. 432-435.
Morrissy R.T., Weinstein S.L. Lovell and Winter's Pediatric Orthopaedics. Philadelphia: Lippincott Williams & Wilkins, 2006. Р. 693-762.
Waldemar E. Wysokinski, Robert D. McBane II. Periprocedural Bridging Management of Anticoagulation Circuletion. Jul 2012. Vol. 126. Iss. 4. 24. P. 486-490.
Di Feng, Juan Wei, Jing Luo, Yi-Yang Chen, Meng-Yi Zhu, Yu Zhang, Hua Yang. Preoperative single dose of pregabalin alleviates postoperative pain: systematic review and metaanalysis. International Journal of Clinical and Experimental Medicine. 2016. 9(6). Р. 9665-9680.
Ehab Farag. Anesthesia for Spine Surgery. 2012. Р. 25-38.
Personalized Anaesthesia. Еd. by Pedro L. Gambús. Cambridge University Press, 2019.
Hugh Hemmings, Talmage Egan. Pharmacology and Physiology for Anesthesia. Foundations and Clinical Application. 2nd ed. Elsevier, 2018.
Anthony R. Absalom, Keira P. Mason. Total Intravenous Anesthesia and Target Controlled Infusions. Springer International Publishing AG, 2017.
Mohamed Mahmoud et al. Susceptibility of Transcranial Electric Motor-evoked Potentials to Varying Targeted Blood Levels of Dexmedetomidine during Spine Surgery. Anesthesiology. 2010. 112. Р. 1364-1373.
Grassin-Delyle S. et al. Optimisation of the dosage of tranexamic acid in trauma patients with population pharmacokinetic analysis. Anaesthesia. 2018. 73. Р. 719-729.
Kushagra Verma. A Comparison of Two Different Dosing Protocols for Tranexamic Acid in Posterior Spinal Fusion for Spinal Deformity: A Prospective, Randomized Trial. International Journal of Spine Surgery. Jan 2015. 9. Р. 65.
Shafer S.L. Pharmacokinetics of fentanyl administered by computer-controlled infusion pump. Anesthesiology. 1990 Dec. 73(6). Р. 1091-102.
Eleveld D.J. Pharmacokinetic-pharmacodynamic model for propofol for broad application in anaesthesia and sedation. BJA. May 2018. Vol. 120. Iss. 5. P. 942-959.
Hannivoort L.N. Development of an Optimized Pharmacokinetic Model of Dexmedetomidine Using Target-controlled Infusion in Healthy Volunteers. Anesthesiology. 2015 Aug. 123(2). Р. 357-367.
Similar articles

Authors: Міщук В.Р.
Львівський національний медичний університет імені Данила Галицького, м. Львів, Україна
"Emergency medicine" 8 (79) 2016
Date: 2017.01.30
Categories: Medicine of emergency
Sections: Specialist manual


Authors: Дзюба Д.О., Журовська Ю.М., Лоскутов О.А.
Національна медична академія післядипломної освіти імені П.Л. Шупика, м. Київ, Україна
"Emergency medicine" 1 (80) 2017
Date: 2017.03.17
Categories: Medicine of emergency
Sections: Clinical researches