International neurological journal Том 16, №8, 2020
A clinical case of Louis-Bar syndrome with a clinical picture of cerebellar ataxia and EBV-associated lymphoproliferative syndrome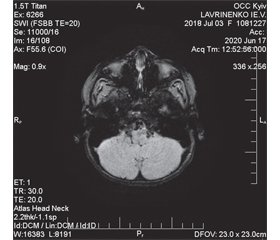 Authors:

Мальцев Д.В. Інститут експериментальної і клінічної медицини НМУ імені О.О. Богомольця, м. Київ, Україна



Categories:

Neurology



Sections:

Specialist manual
Summary
В даному описі клінічного випадку наведена історія хвороби дитини віком 2 роки і 6 місяців з картиною синдрому Луї-Бар. Відзначалися прояви прогресуючої мозочкової атаксії, бруксизму, окорухової апраксії та доброякісного лімфопроліферативного синдрому, викликаного вірусом Епштейна — Барр. Жодних ознак телеангіектазій не відзначалося, що може бути пояснено віком дитини. При імунологічному дослідженні ідентифіковані ознаки комбінованого імунодефіциту з лімфопенією, зниженням кількості Т-хелперів і цитотоксичних Т-лімфоцитів у крові, а також низькою сироватковою концентрацією IgA. Вміст альфа-фетопротеїну у сироватці крові перевищував верхню межу норми в 15 разів. Генетичний тест виявив три мутації в гені АТМ, зокрема дві відомі патогенні заміни нуклеотидів у гетерозиготному стані — с.8147Т>С (p.Val2716Ala) і c.8584+2T>C (Splice donor) та одну невідому раніше мутацію — c.3178A>G (p.fle1060Val) — невизначеного діагностичного значення в гетерозиготному стані. Проводили лікування валганцикловіром для пригнічення репродуктивної активності EBV, препаратом діалізату лейкоцитів крові та пропесом для компенсації імунодефіциту та комбінованою терапією цереброкурином і цитиколіном з приводу неврологічного дефіциту з частковим позитивним ефектом. Даний клінічний приклад яскраво демонструє потенціал нейроімунологічного підходу до ведення пацієнтів, оскільки досліджувана дитина страждала як від імунодефіциту, так і від неврологічної дисфункції, що пов'язано з плейотропними ефектами мутованого гена, який був причиною розвитку хвороби.
В данном описании клинического случая представлена история болезни ребенка в возрасте 2 лет и 6 месяцев с картиной синдрома Луи-Бар. Отмечались проявления прогрессирующей мозжечковой атаксии, бруксизма, глазодвигательной апраксии и доброкачественного лимфопролиферативного синдрома, вызванного вирусом Эпштейна — Барр. Признаков телеангиэктазий не отмечалось, что может быть объяснено возрастом ребенка. При иммунологическом исследовании идентифицированы признаки комбинированного иммунодефицита с лимфопенией, снижением количества Т-хелперов и цитотоксических Т-лимфоцитов в крови, а также низкой сывороточной концентрацией молекул IgA. Содержание альфа-фетопротеина в сыворотке крови превышало верхнюю границу нормы в 15 раз. Генетический тест выявил три мутации в гене АТМ, в частности две известные патогенные замены нуклеотидов в гетерозиготном состоянии — с.8147Т>С (p.Val2716Ala) и c.8584 + 2T> C (Splice donor) и одну неизвестную ранее мутацию — c.3178A>G (p.fle1060Val) — неопределенного диагностического значения в гетерозиготном состоянии. Проводили лечение валганцикловиром для подавления репродуктивной активности EBV, препаратом диализата лейкоцитов крови и пропесом для компенсации иммунодефицита и комбинированной терапией цереброкурином и цитиколином по поводу неврологического дефицита с частичным положительным эффектом. Данный клинический пример ярко демонстрирует потенциал нейроиммунологического подхода к ведению пациентов, поскольку исследуемый ребенок страдал как иммунодефицитом, так и неврологической дисфункцией, что связано с плейотропными эффектами мутировавшего гена, который был причиной развития болезни.
This description of the clinical case presents the medical history of the child aged 2 years and 6 months with a picture of Louis-Bar syndrome. Manifestations of progressive cerebellar ataxia, bruxism, oculomotor apraxia, and benign lymphoproliferative syndrome caused by Epstein-Barr virus have been reported. No signs of telangiectasia were noted, which may be explained by the age of the child. The immunological study identified signs of combined immunodeficiency with lymphopenia, a decrease in the number of T-helpers and cytotoxic T-lymphocytes in the blood, as well as low serum IgA concentration. The content of alpha-fetoprotein in the serum exceeded the normal upper limit by 15 times. Genetic test revealed three mutations in the ATM gene, in particular two known pathogenic nucleotide substitutions in the heterozygous state — c.8147T>C (p.Val2716Ala) and c.8584+2T>C (Splice donor), and one previously unknown mutation — c.3178A>G (p.fle1060Val) of uncertain diagnostic value in the heterozygous state. Valganciclovir was prescribed to inhibit reproductive activity of Epstein-Barr virus, leukocyte dialysate and propes — to compensate the immunodeficiency, and combination therapy with cerebrocurin and citicoline — for neurological deficits with a partial positive effect. This clinical example demonstrates the potential of a neuroimmunological approach to patient management, as the examined child suffered from both immunodeficiency and neurological dysfunction due to the pleiotropic effects of the mutated gene that caused the disease.
Keywords
первинний імунодефіцит; герпесвірусна інфекція; імунотерапія; нейрореабілітація
первичный иммунодефицит; герпесвирусная инфекция; иммунотерапия; нейрореабилитация
primary immunodeficiency; herpesvirus infection; immunotherapy; neurorehabilitation
For the full article you need to subscribe to the magazine.
Bibliography
1. Евтушенко С.К. и др. Неврология раннего детского возраста. Киев, 2016. 287 с.
2. Мальцев Д.В., Казмирчук В.Е. Иммунодефицитные болезни человека. Киев: Феникс, 2012. 596 с.
3. Мальцев Д.В. Показания к применению трансфер факторов в клинической практике. Імунологія і алергологія: наука і практика. 2019. № 2. С. 4-20.
4. Мухин А.С. Неврология детского возраста. Москва: Медицина, 2004. 764 с.
5. Abdulhag U.N., Liebster D., Eisenstein E.M., Berkun Y. Efficacy of Rituximab in Refractory Cold Agglutinin Hemolytic Anemia in a Patient with Ataxia-Telangiectasia. Isr. Med. Assoc. J. 2015. Vol. 17(7). P. 455-456.
6. Alyasin S., Esmaeilzadeh H., Ebrahimi N. et al. Clinical Presentation of Ataxia-Telangiectasia. Arch. Iran. Med. 2019. Vol. 22(12). P. 682-686.
7. Asadollahi R., Britschgi C., Joset P. et al. Severe reaction to radiotherapy provoked by hypomorphic germline mutations in ATM (ataxia-telangiectasia mutated gene). Mol. Genet. Genomic. Med. 2020. e1409.
8. Bennett J.A., Bayerl M.G. Epstein-Barr virus-associated extranodal marginal zone lymphoma of mucosa-associated lymphoid tissue (MALT Lymphoma) arising in the parotid gland of a child with ataxia telangiectasia. J. Pediatr. Hematol. Oncol. 2015. Vol. 37(2). e114-117.
9. Cipe F., Dogu F., Yildiran A., Yüksek M. An unusual clinical presentation: invasive Candida non-albicans infections in ataxia telangiectasia. J. Investig. Allergol. Clin. Immunol. 2008. Vol. 18(6). P. 488-490.
10. Dineen R.A., Raschke F., McGlashan H.L., Pszczolkowski S. et al. Multiparametric cerebellar imaging and clinical phenotype in childhood ataxia telangiectasia. Neuroimage Clin. 2020. Vol. 25. P. 102-110.
11. Khan A., Hill J.M., Loeb E., MacLellan A., Hill N.O. Mana-gement of Chédiak-Higashi syndrome with transfer factor. Am. J. Dis. Child. 1973. Vol. 126(6). P. 797-799.
12. Levin A.S., Spitler L.E., Stites D.P., Fudenberg H.H. Wiskott-Aldrich syndrome, a genetically determined cellular immunologic deficiency: clinical and laboratory responses to therapy with transfer factor. Proc. Natl. Acad. Sci. U S A. 1970. Vol. 67(2). P. 821-828.
13. Li X.L., Wang Y.L. Ataxia-telangiectasia complicated with Hodgkin's lymphoma: A case report. World. J. Clin. Cases. 2020. Vol. 8(11). P. 2387-2391.
14. Pasini A.M., Gagro A., Roić G. et al. Ataxia Telangiectasia and Juvenile Idiopathic Arthritis. Pediatrics. 2017. Vol. 139(2). e20161279.
15. Patiroglu T., Gungor H.E., Unal E. et al. Hashimoto thyroiditis associated with ataxia telangiectasia. J. Pediatr. Endocrinol. Metab. 2012. Vol. 25(3–4). P. 349-352.
16. Perez Maturo J., Gonzalez Cid M., Zavala L. et al. Novel Variants in ATM Causing Mild Ataxia-Telangiectasia: From Benchside to Bedside and Back Again. Mov. Disord. Clin. Pract. 2020. Vol. 7(6). P. Р. 727-729.
17. Pitter K.L., Casey D.L., Lu Y.C. et al. Pathogenic ATM Mutations in Cancer and a Genetic Basis for Radiotherapeutic Efficacy. J. Natl. Cancer Inst. 2020. djaa095.
18. Rubinstein J.D., Burns K., Absalon M. et al. EBV-directed viral-specific T-lymphocyte therapy for the treatment of EBV-driven lymphoma in two patients with primary immunodeficiency and DNA repair defects. Pediatr. Blood Cancer. 2020. Vol. 67(3). e28126.
19. Tatfi M., Hermine O., Suarez F. Epstein-Barr Virus (EBV)-Related Lymphoproliferative Disorders in Ataxia Telangiectasia: Does ATM Regulate EBV Life Cycle? Front. Immunol. 2019. Vol. 9. P. 3060.
Similar articles

Authors:
Боярчук О.Р.(1), Волоха А.П.(2), Бондаренко А.В.(2), Костюченко Л.В.(3, 4), Гільфанова А.М.(2) (1) — Тернопільський національний медичний університет імені І.Я. Горбачевського МОЗ України, м. Тернопіль, Україна (2) — Національна медична академія післядипломної освіти імені П.Л. Шупика, м. Київ, Україна (3) — Західноукраїнський спеціалізований дитячий медичний центр, м. Львів, Україна (4) — Львівський національний медичний університет ім. Данила Галицького, м. Львів, Україна


International neurological journal Том 16, №7, 2020
Date: 2020.12.21
Categories: Neurology
Sections: Clinical researches


Authors:
Ильченко С.И., Коренюк Е.С., Самойленко И.Г. — ГУ «Днепропетровская медицинская академия МЗ Украины»; Иванченко В.И. — ГУ «Днепропетровская детская городская клиническая больница № 2 ДОР»; Паламарчук Н.Ю. — Днепропетровский детский дом-интернат


"Child`s Health" 1 (60) 2015
Date: 2015.05.06
Categories: Pediatrics/Neonatology
Sections: Specialist manual


Authors:
Ilchenko S.I., Koreniuk Ye.S., Samoilenko I.H. - State Institution «Dnipropetrovsk Medical Academy of Ministry of Health of Ukraine»; Ivanchenko V.I. - State Institution «Dnipropetrovsk Children City Clinical Hospital № 2 of DRC»; Palamarchuk N.Yu. - Dnipropetrovsk Boarding School, Ukraine


International neurological journal 6 (76) 2015
Date: 2016.02.08
Categories: Neurology
Sections: Specialist manual


Authors:
Ilchenko S.I., Koreniuk O.S., Samoylenko I.G., Ivanchenko V.I., Palamarchuk N.U. - Dnepropetrovsk Medical Academy, Dnepropetrovsk children Hospital №2, Dnepropetrovsk orphanage


"Child`s Health" 1 (60) 2015
Date: 2015.05.07
Categories: Pediatrics/Neonatology
Sections: Specialist manual