International journal of endocrinology Том 16, №8, 2020
Autoimmune thyroiditis and multiple nutritional factors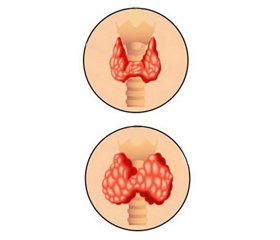 Summary
Автоімунний тиреоїдит (АІТ) вважається найпоширенішим автоімунним захворюванням. На сьогодні визнано, що генетична сприйнятливість, фактори навколишнього середовища та імунні розлади сприяють його розвитку. Щодо харчових чинників, дані свідчать про високий рівень споживання йоду, дефіцит селену та заліза з потенційною значимістю стану вітаміну D. Для з'ясування ролі факторів харчування у ризику, патогенезі та лікуванні АІТ використано джерела PubMed стосовно йоду, заліза, селену, вітаміну D, міо-інозитолу та лікування АІТ. Хронічний вплив надмірного споживання йоду індукує автоімунний тиреоїдит частково через те, що йодований тиреоглобулін (Tg) є більш імуногенним. Селенопротеїни необхідні для підтримання функціонального стану щитоподібної залози. Існують дані рандомізованих конт­рольованих досліджень, що селен/селенопротеїни можуть зменшити титри антитіл до тиреоїдної пероксидази (ТПО) у хворих на гіпотиреоз та післяпологовий тиреоїдит. У хворих на АІТ часто спостерігається дефіцит заліза, оскільки автоімунний гастрит, який погіршує всмоктування заліза, є доволі частим супутнім захворюванням. Останнім часом виникли докази, які вказують на позитивну роль вітаміну D, включаючи проліферацію та диференціацію нормальних та ракових клітин, серцево-судинну функцію та імуномодуляцію. Дефіцит вітаміну D особливо продемонстрований у хворих на АІТ. У пацієнтів з АІТ виявлено нижчий рівень вітаміну D, ніж у осіб з контрольної групи, і повідомляється про зворотну залежність вмісту сироваткового вітаміну D від титру антитіл до ТПО/Tg. Адекватне споживання селену є життєво важливим у районах дефіциту/надлишку йоду, а в регіонах із низьким споживанням селену може бути доцільним додавання 50–100 мкг/день селену. Міо-інозитол та селен здатні відновити еутиреоїдний стан, а також покращити самопочуття у хворих на АІТ із субклінічним гіпотиреозом. З огляду також на безпеку використання цих двох молекул, відсутність побічних ефектів комбінацію міо-інозитолу та селену можна вважати дуже ефективною та безпечною терапією для лікування АІТ.
Аутоиммунный тиреоидит (АИТ) считается самым распространенным аутоиммунным заболеванием. В настоящее время признано, что генетическая восприимчивость, факторы окружающей среды и иммунные расстройства способствуют его развитию. Что касается пищевых факторов, данные свидетельствуют о высоком уровне потребления йода, дефиците селена и железа с потенциальной значимостью статуса витамина D. Для выяснения роли факторов питания в риске, патогенезе и лечении АИТ использованы источники PubMed относительно йода, железа, селена, витамина D, мио-инозитола и лечения АИТ. Хроническое воздействие чрезмерного потребления йода индуцирует аутоиммунный тиреоидит отчасти потому, что йодированный тиреоглобулин (Tg) более иммуногенный. Селенопротеины необходимы для поддержания функционального состояния щитовидной железы. Существуют данные рандомизированных конт­ролируемых исследований, что селен/селенопротеины могут уменьшить титры антител к тиреоидной пероксидазе (ТПО) у больных гипотиреозом и послеродовым тиреоидитом. У больных АИТ часто наблюдается дефицит железа, поскольку аутоиммунный гастрит, который ухудшает всасывание железа, является довольно частым сопутствующим заболеванием. В последние годы возникли доказательства, указывающие на положительную роль витамина D, включая пролиферацию и дифференциацию нормальных и раковых клеток, сердечно-сосудистую функцию и иммуномодуляцию. Дефицит витамина D особенно продемонстрирован у больных АИТ. У пациентов с АИТ обнаружен более низкий уровень витамина D, чем у лиц из контрольной группы, и сообщается об обратной зависимости содержания сывороточного витамина D от титра антител к ТПО/Tg. Адекватное потребление селена является жизненно важным в районах дефицита/избытка йода, а в регионах с низким потреблением селена может быть целесо­образным добавление 50–100 мкг/день селена. Мио-инозитол и селен способны восстановить эутиреоидное состояние, а также улучшить самочувствие у больных АИТ с субклиническим гипотиреозом. Принимая во внимание также безопасность использования двух молекул, отсутствие побочных эффектов, комбинацию мио-инозитола и селена можно считать очень эффективной и безопасной терапией для лечения АИТ.
Autoimmune thyroiditis (AT) is considered to be the most common autoimmune disease. It is currently accepted that genetic susceptibility, environmental factors, and immune disorders contribute to its development. With regard to nutritional factors, evidence implicates high iodine intake and deficiencies of selenium and iron with a potential relevance of vitamin D status. To elucidate the role of nutritional factors in the risk, pathogenesis, and treatment of AT, PubMed and the Cochrane Library were searched for publications on iodine, iron, selenium, and vitamin D and risk/treatment of AT. Chronic exposure to excess iodine intake induces autoimmune thyroiditis, partly because highly iodinated thyroglobulin (Tg) is more immunogenic. Selenoproteins are essential to thyroid action. There is evidence from observational studies and randomized controlled trials that selenium/selenoproteins can reduce thyroid peroxidase (TPO)-antibody titers, hypothyroidism, and postpartum thyroiditis. AT patients are frequently iron deficient, since autoimmune gastritis, which impairs iron absorption, is a common co-morbidity. In recent years, evidence has emerged pointing to various roles for vitamin D, including, proliferation and differentiation of normal and cancer cells, cardiovascular function, and immunomodulation. Vitamin D deficiency has been especially demonstrated in AT patients. Lower vitamin D status has been found in AT patients than in controls, and inverse relationships of serum vitamin D with TPO/Tg antibodies have been reported. Adequate selenium intake is vital in areas of iodine deficiency/excess, and in regions of low selenium intake a supplement of 50–100 μg/day of selenium may be appropriate. Myo-inositol and selenium are able to restore the euthyroid state as well as improve the wellbeing of AT with subclinical hypothyroidism. Bearing in mind also the safety of these two molecules' usage, accentuated by the absence of side effects, the Myo-Ins-Se combination can be considered a very efficacious and safe therapy for AT treatment.
Keywords
автоімунний тиреоїдит; йод; залізо; селен; вітамін D; міо-інозитол
аутоиммунный тиреоидит; йод; железо; селен; витамин D; мио-инозитол
autoimmune thyroiditis; iodine; iron; selenium; vitamin D; myo-inositol
For the full article you need to subscribe to the magazine.
Bibliography
Flores-Rebollar A., Moreno-Castañeda L., Vega-Servín N.S., López-Carrasco G., Ruiz-Juvera A. Prevalence of autoimmune thyroiditis and thyroid dysfunction in healthy adult mexicans with a slightly excessive iodine intake. Nutr. Hosp. 2015. 32(2). 918-924. doi: 10.3305/nh.2015.32.2.9246.
Hu S., Rayman M.P. Multiple Nutritional Factors and the Risk of Hashimoto's Thyroiditis. Thyroid. 2017. 27(5). 597-610. doi: 10.1089/thy.2016.0635.
Rayman M.P. Multiple nutritional factors and thyroid disease, with particular reference to autoimmune thyroid disease. Proc. Nutr. Soc. 2019. 78(1). 34-44. doi: 10.1017/S0029665118001192.
Harris Rosenzweig P., Volpe S.L. Effect of iron supplementation on thyroid hormone levels and resting metabolic rate in two college female athletes: a case study. Int. J. Sport Nutr. Exerc. Metab. 2000. 10(4). 434-443. doi: 10.1123/ijsnem.10.4.434.
Zupo R., Castellana F., Panza F, Lampignano L., Murro I., Di Noia C., Triggiani V. et al. Adherence to a Mediterranean Diet and Thyroid Function in Obesity: A Cross-Sectional Apulian Survey. Nutrients. 2020, Oct 16. 12(10). 3173. doi: 10.3390/nu12103173.
Chahardoli R., Saboor-Yaraghi A.A., Amouzegar A., Khalili D., Vakili A.Z., Azizi F. Can Supplementation with Vitamin D Modify Thyroid Autoantibodies (Anti-TPO Ab, Anti-Tg Ab) and Thyroid Profile (T3, T4, TSH) in Hashimoto's Thyroiditis? A Double Blind, Randomized Clinical Trial. Horm. Metab. Res. 2019. 51(5). 296-301. doi: 10.1055/a-0856-1044.
Vieira I.H., Rodrigues D., Paiva I. Vitamin D and Autoimmune Thyroid Disease-Cause, Consequence, or a Vicious Cycle? Nutrients. 2020. 12(9). 2791. doi: 10.3390/nu12092791.
Kmieć P., Sworczak K. Vitamin D in thyroid disorders. Exp. Clin. Endocrinol. Diabetes. 2015. 123(7). 386-393. doi: 10.1055/s-0035-1554714.
Kim D. The Role of Vitamin D in Thyroid Diseases. Int. J. Mol. Sci. 2017. 18(9). 1949. doi: 10.3390/ijms18091949.
Barchetta I., Baroni M., Leonetti F., De Bernardinis M., Bertoccini L., Fontana M., Mazzei E. et al. TSH levels are associated with vitamin D status and seasonality in an adult population of euthyroid adults. Clin. Exp. Med. 2015. 15. 389-396. doi: 10.1007/s10238-014-0290-9.
Muscogiuri G., Tirabassi G., Bizzaro G., Orio F., Paschou S.A., Vryonidou A., Balercia G. et al. Vitamin D and thyroid disease: To D or not to D? Eur. J. Clin. Nutr. 2015. 69. 291-296. doi: 10.1038/ejcn.2014.265.
Thvilum M., Brandt F., Brix T.H., Hegedüs L. Month of birth is associated with the subsequent diagnosis of autoimmune hypothyroidism. A nationwide Danish register-based study. Clin. Endocrinol. (Oxf.). 2017. 87(6). 832-837. doi: 10.1111/cen.13425.
Sivalingam S., Thvilum M., Brix T.H., Hegedüs L., Brandt F. No link between season of birth and subsequent development of Graves' disease or toxic nodular goitre: a nationwide Danish register-based study. Endocr. Connect. 2018. 7(10). 1090-1095. doi: 10.1530/EC-18-0185.
Kyrgios I., Giza S., Tsinopoulou V.R., Maggana I., Haidich A.B., Galli-Tsinopoulou A. Seasonality of month of birth in children and adolescents with autoimmune thyroiditis: a continuing conundrum. J. Pediatr. Endocrinol. Metab. 2018. 31(10). 1123-1131. doi: 10.1515/jpem-2018-0051.
Kim M., Song E., Oh H.S., Park S., Kwon H., Jeon M.J., Kim W.G., Kim W.B., Shong Y.K., Kim T.Y. Vitamin D deficiency affects thyroid autoimmunity and dysfunction in iodine-replete area: Korea national health and nutrition examination survey. Endocrine. 2017. 58(2). 332-339. doi: 10.1007/s12020-017-1425-z.
Vondra K., Bílek R., Matucha P., Salátová M., Vosátková M., Stárka L., Hampl R. Vitamin D Supplementation Changed Relationships, Not Levels of Metabolic-Hormonal Parameters in Autoimmune Thyroiditis. Physiol. Res. 2017. 26. 409-417. doi: 10.33549/physiolres.933727.
Kivity S., Agmon-Levin N., Zisappl M., Shapira Y., Nagy E.V., Dankó K., Szekanecz Z. et al. Vitamin D and autoimmune thyroid diseases. Cell. Mol. Immunol. 2011. 8(3). 243-247. doi: 10.1038/cmi.2010.73.
Unal A.D., Tarcin O., Parildar H., Cigerli O., Eroglu H., Demirag N.G. Vitamin D deficiency is related to thyroid antibodies in autoimmune thyroiditis. Cent. Eur. J. Immunol. 2014. 39(4). 493-497. doi: 10.5114/ceji.2014.47735.
Wang J., Lv S., Chen G., Gao C., He J., Zhong H., Xu Y. Meta-analysis of the association between vitamin D and autoimmune thyroid disease. Nutrients. 2015. 7(4). 2485-2498. doi: 10.3390/nu7042485.
Tamer G., Arik S., Tamer I., Coksert D. Relative vitamin D insufficiency in Hashimoto's thyroiditis. Thyroid. 2011. 21(8). 891-896. doi: 10.1089/thy.2009.0200.
Muscogiuri G., Mari D., Prolo S., Fatti L.M., Cantone M.C., Garagnani P., Arosio B. et al. 25 Hydroxyvitamin D Deficiency and Its Relationship to Autoimmune Thyroid Disease in the Elderly. Int. J. Environ. Res. Public Health. 2016. 13(9). 850. doi: 10.3390/ijerph13090850.
Metwalley K.A., Farghaly H.S., Sherief T., Hussein A. Vitamin D status in children and adolescents with autoimmune thyroiditis. J. Endocrinol. Invest. 2016. 39(7). 793-797. doi: 10.1007/s40618-016-0432-x.
Demir K., Keskin M., Kör Y., Karaoğlan M., Bülbül Ö.G. Autoimmune thyroiditis in children and adolescents with type 1 diabetes mellitus is associated with elevated IgG4 but not with low vitamin D. Hormones (Athens). 2014. 13(3). 361-368. doi: 10.14310/horm.2002.1481.
Wang S., Wu Y., Zuo Z., Zhao Y., Wang K. The effect of vitamin D supplementation on thyroid autoantibody levels in the treatment of autoimmune thyroiditis: a systematic review and a meta-analysis. Endocrine. 2018. 59(3). 499-505. doi: 10.1007/s12020-018-1532-5.
Koehler V.F., Filmann N., Mann W.A. Vitamin D Status and Thyroid Autoantibodies in Autoimmune Thyroiditis. Horm. Metab. Res. 2019. 51(12). 792-797. doi: 10.1055/a-1023-4181.
Krysiak R., Kowalcze K., Okopień B. Selenomethionine potentiates the impact of vitamin D on thyroid autoimmunity in euthyroid women with Hashimoto's thyroiditis and low vitamin D status. Pharmacol. Rep. 2019. 71(2). 367-373. doi: 10.1016/j.pharep.2018.12.006.
Mirhosseini N., Brunel L., Muscogiuri G., Kimball S. Physiological serum 25-hydroxyvitamin D concentrations are associated with improved thyroid function-observations from a community-based program. Endocrine. 2017. 58(3). 563-573. doi: 10.1007/s12020-017-1450-y.
Kutateladze T. Translation of the phosphoinositide code by PI effectors. Nat. Chem. Biol. 2010. 6. 507-513. https://doi.org/10.1038/nchembio.390.
Ohye H., Sugawara M. Dual oxidase, hydrogen peroxide and thyroid diseases. Exp. Biol. Med. (Maywood). 2010. 235(4). 424-433. doi: 10.1258/ebm.2009.009241.
Nordio M., Pajalich R. Combined treatment with Myo-inositol and selenium ensures euthyroidism in subclinical hypothyroidism patients with autoimmune thyroiditis. J. Thyroid Res. 2013. 2013. 424163. doi: 10.1155/2013/424163.
Ferrari S.M., Fallahi P., Di Bari F., Vita R., Benvenga S., Antonelli A. Myo-inositol and selenium reduce the risk of developing overt hypothyroidism in patients with autoimmune thyroiditis. Eur. Rev. Med. Pharmacol. Sci. 2017. 21(2 Suppl). 36-42. PMID: 28724175.
Similar articles

Authors:
N.V. Pasyechko, V.M. Kulchinska, L.V. Naumova I. Horbachevsky Ternopil National Medical University of the Ministry of Health of Ukraine, Ternopil, Ukraine


International journal of endocrinology Том 16, №6, 2020
Date: 2020.11.18
Categories: Endocrinology
Sections: Specialist manual


Authors:
N.Ye. Barabash(1), Yе.V. Simonova(1), T.M. Tykhonova(1), O.М. Nechvohlod(2), O.V. Shvets(3) (1) — V.N. Karazin Kharkiv National University, Kharkiv, Ukraine (2) — Private Enterprise "Consultative Polyclinic", Kharkiv, Ukraine (3) — Municipal Non-Profit Enterprise "City Hospital 8" of Zaporizhzhia City Council, Zaporizhzhia, Ukraine


International journal of endocrinology Том 16, №5, 2020
Date: 2020.10.12
Categories: Endocrinology
Sections: Clinical researches


Authors:
A. Turgut(1), M. Erdogan(2), B.S. Yurekli(2), E. Sezer(3), I.Y. Simsir(2), H. Rouhrazi(3), N. Turgan(3,4) (1) — Ege University Medical School, Department of İnternal Medicine, Bornova, Izmir, Turkey (2) — Ege University Medical School, Department of Endocrinology and Metabolic Diseases, Bornova, Izmir, Turkey (3) — Ege University Medical School, Department of Medical Biochemistry, Bornova, Izmir, Turkey (4) — Medical Biochemistry Department of the Medical Faculty of Near East University in Nicosia, Cyprus


International journal of endocrinology Том 15, №5, 2019
Date: 2019.10.25
Categories: Endocrinology
Sections: Clinical researches