International journal of endocrinology Том 16, №8, 2020
Hyperandrogenism syndrome: diagnostics and treatment from the position of clinical endocrinology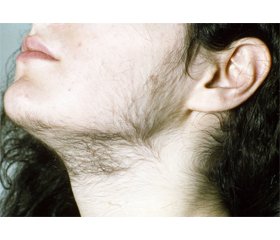 Authors:

Микитюк М.Р., Хижняк О.О. Государственное учреждение «Институт проблем эндокринной патологии им. В.Я. Данилевского НАМН Украины», г. Харьков, Украина Харьковская медицинская академия последипломного образования МЗ Украины, г. Харьков, Украина



Categories:

Endocrinology



Sections:

Specialist manual
Summary
Гіперандрогенія — патологічний стан, обумовлений дією надлишкової продукції андрогенів на органи й тканини-мішені, є одним з найпоширеніших гормональних порушень, які спостерігалися у 5–20 % жінок репродуктивного віку в популяції і у 35–41 % жінок, які страждають від безпліддя, обумовленого хронічною ановуляцією. Гіперандрогенія проявляється сукупністю ознак ураження шкіри і її придатків (себорея, акне, гірсутизм, алопеція) і визначається терміном «андрогенозалежна дермопатія». У поєднанні з іншими маніфестуючими ознаками вірилізації гіперандрогенія значною мірою посилює соціально-психологічні, міжособистісні відносини у більшості пацієнток, нерідко викликаючи тривогу, депресію, зниження якості життя. У зв'язку з цим проблема гіперандрогенії має не тільки медичне, а й соціальне значення. Актуальною проблемою, що широко вивчається як ендокринологами, так і гінекологами, є такий клінічний варіант синдрому гіперандрогенії, як синдром полікістозних яєчників. У статті подано обговорення Національного консенсусу щодо ведення хворих із гіперандрогенією (2016), внесені пропозиції і доповнення до діагностики й тактики ведення пацієнток із синдромальними формами гіперандрогенії (пубертатно-юнацький диспітуїтаризм і його еквівалент у дорослих — гіпоталамо-гіпофізарна дисфункція, некласична форма вродженої дисфункції кори надниркових залоз). Розглянуто ключові позиції, що стосуються оцінки стану вуглеводного обміну у пацієнток із синдромом полікістозних яєчників. Обговорюються схеми лікування антиандрогенними препаратами і доцільність їх застосування у хворих із полікістозом яєчників ендокринного генезу.
Гиперандрогения — патологическое состояние, обусловленное действием избыточной продукции андрогенов на органы и ткани-мишени, является одним из самых распространенных гормональных нарушений, наблюдающимся у 5–20 % женщин репродуктивного возраста в популяции и у 35–41 % женщин, страдающих бесплодием, обусловленным хронической ановуляцией. Гиперандрогения проявляется совокупностью признаков поражения кожи и ее придатков (себорея, акне, гирсутизм, алопеция) и определяется термином «андрогензависимая дермопатия». В сочетании с другими манифестированными признаками вирилизации гиперандрогения в значительной мере усугубляет социально-психологические, межличностные отношения у большинства пациенток, нередко вызывая тревогу, депрессию, снижение качества жизни. В связи с этим проблема гиперандрогении имеет не только медицинское, но и социальное значение. Актуальной проблемой, широко изучаемой как эндокринологами, так и гинекологами, является такой клинический вариант синдрома гиперандрогении, как синдром поликистозных яичников. В статье представлено обсуждение Национального консенсуса по ведению больных с гиперандрогенией (2016), внесены предложения и дополнения к диагностике и тактике ведения пациенток с синдромальными формами гиперандрогении (пубертатно-юношеский диспитуитаризм и его эквивалент у взрослых — гипоталамо-гипофизарная дисфункция, неклассическая форма врожденной дисфункции коры надпочечников). Рассмотрены ключевые позиции, касающиеся оценки состояния углеводного обмена у пациенток с синдромом поликистозных яичников. Обсуждаются схемы лечения антиандрогенными препаратами и целесообразность их применения у больных с поликистозом яичников эндокринного генеза.
Hyperandrogenism, a pathological condition caused by the effect of excess production of androgens on target organs and tissues, is one of the most common hormonal disorders observed in 5–20 % of women of reproductive age in the population and in 35–41 % of women suffering from infertility due to chronic ano­vulation. Hyperandrogenism is manifested by a combination of signs of damage to the skin and its appendages (seborrhea, acne, hirsutism, alopecia) and is defined by the term androgen-dependent dermopathy. In combination with other manifested signs of virilization, hyperandrogenism greatly aggravates socio-psychological, interpersonal relationships in most patients, often cau­sing anxiety, depression, and a decrease in the quality of life. In this regard, the problem of hyperandrogenism is not only of medical but also of social significance. An urgent problem, widely studied by both endocrinologists and gynecologists, is a clinical variant of hyperandrogenism syndrome such as polycystic ovary syndrome. The article presents a discussion of the National Consensus on the management of patients with hyperandrogenism (2016), makes proposals and additions to the diagnosis and management of patients with syndromic forms of hyperandrogenism (pubertal dyspituitarism and its equivalent in adults — hypothalamic-pituitary dysfunction, nonclassical form of congenital dysfunction of the cortex adrenal glands). The key positions concerning the assessment of the state of carbohydrate metabolism in patients with polycystic ovary syndrome are considered. The regimens of treatment with antiandrogens and the expediency of their use in patients with polycystic ovary of endocrine origin are discussed.
Keywords
гіперандрогенія; вуглеводний обмін; синдром полікістозних яєчників; діагностика; терапія
гиперандрогения; углеводный обмен; синдром поликистозных яичников; диагностика; терапия
hyperandrogenism; carbohydrate metabolism; polycystic ovary syndrome; diagnosis; therapy
For the full article you need to subscribe to the magazine.
Bibliography
Azziz R., Carmina E., Chen Z. et al. Polycystic ovary syndrome. Nat. Rev. Dis. Primers. 2016. 2. 16057. doi: 10.1038/nrdp.2016.57.
Azarchi S., Bienenfeld A., Lo Sicco K., Azarchi S. et al. Androgens in women: Hormone-modulating therapies for skin disease. J. Am. Acad. Dermatol. 2019. 80(6). 1509-1521. doi: 10.1016/j.jaad.2018.08.061.
Kaminsky V.V., Tatarchuk T.F., Dubossarskaya Y.O. National consensus on the management of patients with hyperandrogenism. Reproductive endocrinology. 2016. 4(30). 3-13 (in Ukrainian).
Matheson E., Bain J. Hirsutism in Women. Am. Fam. Physician. 2019. 100(3). 168-175.
Pfieffer M.L. Polycystic ovary syndrome: An update. Nursing. 2019. 49(8). 34-40. doi: 10.1097/01.NURSE.0000569748.65796.d1.
Raperport C., Homburg R. The Source of Polycystic Ovarian Syndrome. Clin. Med. Insights Reprod. Health. 2019. 13. 1-6. doi: 10.1177/1179558119871467.
Zeng X., Xie Y.J., Liu Y.T. et al. Polycystic ovarian syndrome: Correlation between hyperandrogenism, insulin resistance and obesity. Clin. Chim. Acta. 2020. 502. 214-221. doi: 10.1016/j.cca.2019.11.003.
Dunaif A., Givens J.R., Haseltine F. Diagnostic criteria for polycystic ovary syndrome: towards a rational approach. In: editors. Polycystic ovary syndrome. Boston: Blackwell Scientific, 1992. 377-384.
Revised 2003 consensus on diagnostic criteria and long-term health risks related to polycystic ovary syndrome (PCOS). Rotterdam ESHRE/ASRM-Sponsored PCOS consensus workshop group. Hum. Reprod. 2004. 19(1). 41-47. doi: 10.1093/humrep/deh098.
Peña A.S., Witchel S.F., Hoeger K.M., Oberfield S.E., Vogiatzi M.G., Misso M. et al. Adolescent polycystic ovary syndrome according to the international evidence-based guideline. BMC Med. 2020. 18(1). 72. doi: 10.1186/s12916-020-01516-x.
Morley L.C., Tang T., Yasmin E. et al. Insulin-sensitising drugs (metformin, rosiglitazone, pioglitazone, D-chiro-inositol) for women with polycystic ovary syndrome, oligo amenorrhoea and subfertility. Cochrane Database Syst. Rev. 2017. 11(11). CD003053. doi: 10.1002/14651858.
Role of metformin for ovulation induction in infertile patients with polycystic ovary syndrome (PCOS): a guideline. Practice Committee of the American Society for Reproductive Medicine. Fertil. Steril. 2017. 108(3). 426-441. doi: 10.1016/j.fertnstert.2017.06.026.
Broux E., Dewailly D., Catteau-Jonard S. Spironolactone as a relay for cyproterone acetate in hyperandrogenic women. Gynecol. Obstet. Fertil. Senol. 2020. 48(2). 181-186. doi: 10.1016/j.gofs.2020.01.001.
Flutamide. LiverTox: Clinical and Research Information on Drug-Induced Liver Injury. Bethesda (MD): National Institute of Diabetes and Digestive and Kidney Diseases. Режим доступу: https://www.ncbi.nlm.nih.gov/books/NBK548908/.
Wang J., Wu D., Guo H., Li M. Hyperandrogenemia and insulin resistance: The chief culprit of polycystic ovary syndrome. Life Sci. 2019. 236. 116940. doi: 10.1016/j.lfs.2019.116940.
Semenyna G.B., Pankiv V.I., Pashkovska N.V., Korutko O.O., Pankiv I.V. Ovarian factors in the pathogenesis of chronic anovulation in polycystic ovary syndrome. Problems of endocrine pathology. 2020. 1. 65-71. doi: 10.21856/j-PEP.2020.1.09.
Witchel S.F., Oberfield S.E., Peña A.S. Polycystic Ovary Syndrome: Pathophysiology, Presentation, and Treatment With Emphasis on Adolescent Girls. J. Endocr. Soc. 2019. 3(8). 1545-1573. doi: 10.1210/js.2019-00078.
Lawrence E.J. The clinical presentation of Ehlers-Danlos syndrome Advances in Neonatal Care J. 2005. 5(6). 301-314. doi: 10.1016/j.adnc.2005.09.006.
Castori M. Ehlers-Danlos Syndrome, Hypermobility Type: An Underdiagnosed Hereditary Connective Tissue Disorder with Mucocutaneous, Articular, and Systemic Manifestations ISRN Dermatology. 2012. 122. doi: 10.5402/2012/751768.
O'Connor S., Kim E.Sh., Brinza E., Moran R., Fendrikova-Mahlay N., Wolski K., Gornik H.L. Systemic connective tissue features in women with fibromuscular dysplasia. Vasc. Med. 2015. 20(5). 454-62. doi: 10.1177/1358863X15592192.
Similar articles


Authors:
Халимова З.Ю., Иргашева О.Б. Республиканский специализированный научно-практический медицинский центр эндокринологии Министерства здравоохранения Республики Узбекистан имени акад. Ё.Х. Туракулова, г. Ташкент, Республика Узбекистан


International journal of endocrinology Том 16, №4, 2020
Date: 2020.08.10
Categories: Endocrinology
Sections: Clinical researches


Authors:
Урманова Ю.М., Халимова З.Ю., Ходжаева Ф.С., Алиева Д.А., Содиков С.П., Набиева И.Ф., Савчук Д.В., Каримова М.М. Ташкентский педиатрический медицинский институт, Республиканский специализированный научно-практический медицинский центр эндокринологии МЗ РУз, г. Ташкент, Узбекистан


International journal of endocrinology 6 (78) 2016
Date: 2016.11.17
Categories: Endocrinology
Sections: Specialist manual