International journal of endocrinology Том 16, №8, 2020
Diabetic cardiomyopathy: treatment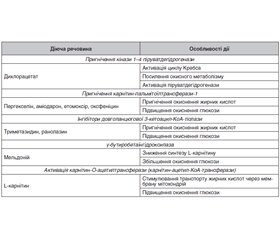 Authors:

Сергієнко О.О., Сергієнко В.О. Львівський національний медичний університет імені Данила Галицького, м. Львів, Україна



Categories:

Endocrinology



Sections:

Specialist manual
Summary
В огляді проведений аналіз літературних джерел, присвячених деяким ключовим аспектам сучасного стану проблеми лікування діабетичної кардіоміопатії. На першому плані лікування діабетичної кардіоміопатії повинні бути заходи, спрямовані на зменшення інсулінової резистентності, корекцію гіперглікемії, дисліпопротеїнемій, порушень метаболізму міокарда, запобігання та лікування тромбоутворення, симптоматичну терапію супутніх захворювань і синдромів артеріальної гіпертензії, ішемічної хвороби серця, серцевої недостатності й аритмій. У цьому напрямку необхідно проводити такі профілактично-лікувальні заходи: раціональне харчування та фізична активність, корекція ожиріння, обмеження вживання солі до 2–4 г/добу, виключення паління, вживання алкоголю, продуктів, що містять кофеїн. Зокрема, аналізуються питання, пов'язані з особливостями раціонального харчування та фізичної активності; оптимізації конт­ролю глікемії (інсулін і/або секретагоги інсуліну, аналоги глюкагоноподібного пептиду 1, інгібітори натрій-глюкозного котранспортера 2); корекції метаболічних порушень у міокарді (препарати, що покращують енергетичний стан клітин (потенційні засоби енергозабезпечення виживання ішемізованого міокарда), модулятори метаболізму (метаболічні препарати — триметазидин, пергекселин, ранолазин), L-карнітин), обмеження надходження позаклітинного іонізованого кальцію в клітини (блокатори кальцієвих каналів), використання блокаторів β-адренергічних рецепторів; модуляції оксидантного стресу (альфа-ліпоєва кислота, бенфотіамін); призначення довголанцюгових ω-3 поліненасичених жирних кислот; сульфорафану, коензиму Q10; магнію; розглянуті перспективні шляхи в лікуванні діабетичної кардіоміопатії (пептиди-міметики, мішенню для яких є L-тип Ca2+-каналів; некодуючі мікроРНК і довгі некодуючі РНК).
В обзоре проведен анализ литературных источников, посвященных некоторым ключевым аспектам со­временного состояния проблемы лечения диабетической кардиомиопатии. На первом плане лечения диабетической кардиомиопатии должны быть мероприятия, направленные на уменьшение инсулиновой резистентности, коррекцию гипергликемии, дислипопротеинемий, нарушений метаболизма миокарда, предупреждение и лечение тромбообразования; симптоматическую терапию сопутствующих заболеваний и синдромов артериальной гипертензии, ишемической болезни сердца, сердечной недостаточности и аритмий. В этом направлении необходимо проводить следующие лечебно-профилактические мероприятия: рациональное питание и физическая активность, коррекция ожирения, ограничение употребления соли до 2–4 г/сут, исключение курения, употребления алкоголя, продуктов, содержащих кофеин. В частности, анализируются вопросы, связанные с особенностями рационального питания и физической активности; оптимизации контроля гликемии (инсулин и/или секретагоги инсулина, аналоги глюкагоноподобного пептида-1, ингибиторы натрий-глюкозного котранспортера-2); коррекции метаболических нарушений в миокарде (препараты, улучшающие энергетическое состояние клеток (потенциальные средства энергообеспечения выживания ишемизированного миокарда), модуляторы метаболизма (метаболические препараты — триметазидин, пергекселин, ранолазин), L-карнитин); ограничения поступления внеклеточного ионизированного кальция в клетки (блокаторы кальциевых каналов), применения блокаторов β-адренорецепторов; модуляции оксидантного стресса (альфа-липоевая кислота, бенфотиамин); назначения длинноцепочечных ω-3 полиненасыщенных жирных кислот; сульфорафана, коэнзима Q10; магния; рассмотрены перспективные пути в лечении диабетической кардиомиопатии (пептиды-миметики, мишенью для которых является L-тип Ca2+-каналов; некодирующие микроРНК и длинные некодирующие РНК).
This article presents a review of the scientific literature on some key aspects of the current state of the problem of diabetic cardiomyopathy treatment. Measures aimed at reducing insulin resistance, correction of hyperglycemia, dyslipoproteinemia, myocardial metabolism disorders, prevention and treatment of thrombosis, symptomatic therapy of concomitant diseases and syndromes of arterial hypertension, coronary heart disease, heart failure and arrhythmias should be at the forefront of the treatment for diabetic cardiomyopathy. In this direction it is necessary to carry out the following preventive and therapeutic measures: rational nutrition and physical activity; correction of obesity; limiting salt intake to 2–4 g/day; exclusion of smoking, alcohol consumption, products containing caffeine. In particular, the issues are analyzed related to the peculiarities of rational nutrition and physical activity, optimization of glycemic control (insulin and/or insulin secretagogues, glucagon-like peptide-1 analogues, sodium-glucose cotranspor­ter-2 inhibitors); correction of metabolic disorders in the myocar­dium (drugs that improve the energy status of cells — potential means of energy supply for the survival of ischemic myocardium), metabolic modulators (metabolic drugs — trimetazidine, perhexiline, ranolazine; L-carnitine); restriction of extracellular Ca2+ entry into cells (calcium channel blockers), the use of β-adrenergic receptor blockers; modulation of oxidative stress (alpha-lipoic acid, benfotiamine); administration of long-chain ω-3 polyunsaturated fatty acids; sulforaphane, coenzyme Q10; magnesium. Also, promising ways in the treatment of diabetic cardiomyopathy (mimetic peptides for restoring L-type Ca2+ channels; noncoding microRNAs and long noncoding RNAs) are considered.
Keywords
цукровий діабет; діабетична кардіоміопатія; лікування; огляд
сахарный диабет; диабетическая кардиомиопатия; лечение; обзор
diabetes mellitus; diabetic cardiomyopathy; treatment; review
For the full article you need to subscribe to the magazine.
Bibliography
Leon B.M., Maddox T.M. Diabetes and cardiovascular disease: Epidemiology, biological mechanisms, treatment recommendations and future research. World J. Diabetes. 2015. 6(13). 1246-58. doi: 10.4239/wjd.v6.i13.1246.
Serhiyenko V.A., Serhiyenko A.A. Diabetic cardiac autonomic neuropathy. In: Saldaña J.R., ed. Diabetes Textbook: Clinical Principles, Patient Management and Public Health Issues. Basel: Springer, Cham. Springer Nature Switzerland AG, 2019. Section 53. 825-850 p. doi: 10.1007/978-3-030-11815-0.
Bashier A., Bin Hussain A., Abdelgadir E., Alawadi E., Sabbour H., Chilton R. Consensus recommendations for management of patients with type 2 diabetes mellitus and cardiovascular diseases. Diabetol. Metab. Syndr. 2019. 11(1). 80. doi: 10.1186/s13098-019-0476-0.
Lee M.M.Y., McMurray J.J.V., Lorenzo-Almoros A., Kristensen S.L., Sattar N., Jhund P.S., Petrie M.C. Diabetic cardiomyopathy. Heart. 2019. 105(4). 337-45. doi: 10.1136/heartjnl-2016-310342.
Bonaccio M., Cerletti C., Iacoviello L., de Gaetano G. Mediterranean diet and low-grade subclinical inflammation: The Moli-sani Study. Endocr. Metab. Immune Disord. Drug Targets. 2015. 15(1). 18-24. doi: 10.2174/1871530314666141020112146.
Papanicolas I., Woskie L.R., Jha A.K. Health care spending in the United States and other high-income countries. JAMA. 2018. 319(10). 1024-39. doi: 10.1001/jama.2018.1150.
Powers W.J., Rabinstein A.A., Ackerson T., Adeoye O.M., Bamkakidis N.C., Becker K., Biller J. et al. 2018 guidelines for the early management of patients with acute ischemic stroke: a guideline for healthcare professionals from the American heart Association/American stroke association. Stroke. 2018. 49(3). e46-110. doi: 10.1161/STR.0000000000000158.
Ramadass S., Basu S., Srinivasan A.R. Serum magnesium levels as an indicator of status of diabetes mellitus type 2. Diabetes Metab. Syndr. 2015. 9(1). 42-5. doi: 10.1016/j.dsx.2014.04.024.
Zhao B., Zeng L., Zhao J., Wu Q., Dong Y., Zou F., Gan L. et al. Association of magnesium intake with type 2 diabetes and total stroke: an updated systematic review and meta-analysis. BMJ Open. 2020. 10(3). e032240. doi: 10.1136/bmjopen-2019-032240.
Gröber U., Schmidt J., Kisters K. Magnesium in prevention and therapy. Nutrients. 2015. 7(9). 8199-226. doi: 10.3390/nu7095388.
Fang X., Wang K., Han D., He X., Wei J., Zhao L., Imam M.U. et al. Dietary magnesium intake and the risk of cardiovascular disease, type 2 diabetes, and all-cause mortality: a dose-response meta-analysis of prospective cohort studies. BMC Med. 2016. 14(1). 210. doi: 10.1186/s12916-016-0742-z.
American Diabetes Association. 5. Prevention or Delay of Type 2 Diabetes: Standards of Medical Care in Diabetes-2018. Diabetes Care. 2018. 41(suppl. 1). S51-4. 10.2337/dc18-S005.
Diabetes Prevention Program Research Group. Long-Term effects of lifestyle intervention or metformin on diabetes development and microvascular complications over 15-year follow-up: the diabetes prevention program outcomes study. Lancet Diabetes Endocrinol. 2015. 3(11). 866-75. doi: 10.1016/S2213-8587(15)00291-0.
Maruthappu M., Sood H., Keogh B. Radically upgrading diabetes prevention in England. Lancet Diabetes Endocrinol. 2015. 3(5). 312-3. doi: 10.1016/S2213-8587(15)00079-0.
Mann J.I., De Leeuw I., Hermansen K., Karamanos B., Karlström B., Katsilambros N., Riccardi G. et al.; Diabetes and Nutrition Study Group (DNSG) of the European Association. Evidence-based nutritional approaches to the treatment and prevention of diabetes mellitus. Nutr. Metab. Cardiovasc. Dis. 2004. 14(6). 373-94. doi: 10.1016/s0939-4753(04)80028-0.
Derosa G., Limas C.P., Macías P.C., Estrella A., Maffioli P. Dietary and nutraceutical approach to type 2 diabetes. Arch. Med. Sci. 2014. 10(2). 336-44. doi: 10.5114/aoms.2014.42587.
Calles-Escandón J., Lovato L.C., Simons-Morton D.G., Kendall D.M., Pop-Busui R., Cohen R.M., Bonds D.E. et al. Effect of intensive compared with standard glycemia treatment strategies on mortality by baseline subgroup characteristics: The Action to Control Cardiovascular Risk in Diabetes (ACCORD) trial. Diabetes Care. 2010. 33(4). 721-7. doi: 10.2337/dc09-1471.
Vincent A.M., Calabek B., Roberts L., Feldman E.L. Diabetic neuropathy: cellular mechanisms as therapeutic targets. Handbook of clinical neurology. 2013. 115(33). 591-606. doi: 10.1038/nrneurol.2011.137.
Serhiyenko V.A, Serhiyenko A.A. Diabetic cardiovascular autonomic neuropathy. Lviv: Danylo Halytsky Lviv National Medical University, 2016. 264 p. (In Ukrainian).
Tandon N., Ali M.K., Narayan K.M. Pharmacologic prevention of microvascular and macrovascular complications in diabetes mellitus: implications of the results of recent clinical trials in type 2 diabetes. Am. J. Cardiovasc. Drugs. 2012. 12(1). 7-22. doi: 10.2165/11594650-000000000-00000.
Marso S.P., Daniels G.H., Brown-Frandsen K., Kristensen P., Mann J.F., Nauck M.A., Nissen S.E. et al. LEADER Steering Committee; LEADER Trial Investigators. Liraglutide and Cardiovascular Outcomes in Type 2 Diabetes. N. Engl. J. Med. 2016. 375(4). 311-22. doi: 10.1056/NEJMoa1603827.
Zinman B., Lachin J.M., Inzucchi S.E. Empagliflozin, cardiovascular outcomes, and mortality in type 2 diabetes. N. Engl. J. Med. 2015. 373(22). 2117-28. doi: 10.1056/NEJMc1600827.
Sorokina A.G., Orlova Ya.A. A modern view on the mechanisms of diabetic cardiomyopathy development and the its modification options. Russ. J. Cardiol. 2019. 24(11). 142-7. (In Russ.). doi: 10.15829/1560-4071-2019-11-142-147.
Holman R.R., Bethel M.A., Mentz R.J., Thompson V., Lokhnygina Y., Buse J.B., Chan J.C. et al. Effects of once-weekly exenatide on cardiovascular outcomes in type 2 diabetes. N. Engl. J. Med. 2017. 377(13). 1228-39. doi: 10.1056/NEJMoa1612917.
Sato T., Aizawa Y., Yuasa S., Kishi S., Fuse K., Fujita S., Ikeda Y. et al. The effect of dapagliflozin treatment on epicardial adipose tissue volume. Cardiovasc. Diabetol. 2018. 4. 17(1). 6. doi: 10.1186/s12933-017-0658-8.
Gilca G.E., Stefanescu G., Badulescu O., Tanase D.M., Bararu I., Ciocoiu M. Diabetic cardiomyopathy: current approach and potential diagnostic and therapeutic targets. J. Diabetes Res. 2017. 2017. 1310265. doi: 10.1155/2017/1310265.
Levelt E., Gulsin G., Neubauer S., McCann G.P. Mechanisms in endocrinology: Diabetic cardiomyopathy: pathophysiology and potential metabolic interventions state of the art review. Eur. J. Endocrinol. 2018. 178(4). R127-R39. doi: 10.1530/EJE-17-0724.
Zhang L., Ding W.Y., Wang Z.H., Tang M.X., Wang F., Li Y., Zhong M. et al. Early administration of trimetazidine attenuates diabetic cardiomyopathy in rats by alleviating fibrosis, reducing apoptosis and enhancing autophagy. J. Transl. Med. 2016. 14(1). 109. doi: 10.1186/s12967-016-0849-1.
Huynh K., Bernardo B.C., Mcmullen J.R., Ritchie R.H. Diabetic cardiomyopathy: mechanisms and new treatment strategies targeting antioxidant signaling pathways. Pharmacol. Ther. 2014. 142(30). 375-415. doi: 10.1016/j. pharmthera.2014.01.003.
Liepinsh E., Skapare E., Svalbe B., Makrecka M., Cirule H., Dambrova M. Anti-diabetic effects of mildronate alone or in combination with metformin in obese Zucker rats. Eur. J. Pharmacol. 2011. 658. 277-83. doi: 10.1016/j.ejphar.2011.02.019.
Lee S.J., Jeong S.J., Lee Y.C., Lee Y.H., Lee J.E., Kim C.H. Effects of high-dose α-lipoic acid on heart rate variability of type 2 diabetes mellitus patients with cardiac autonomic neuropathy in Korea. Diabetes Metab. J. 2017. 41(4). 275-83. doi: 10.4093/dmj.2017.41.4.275.
Ziegler D., Schatz H., Conrad F., Gries F.A., Ulrich H., Reichel G. Effects of treatment with the antioxidant alpha-lipoic acid on cardiac autonomic neuropathy in NIDDM patients. A 4-month randomized controlled multicenter trial (DEKAN Study). Diabetes Care. 1997. 20(3). 369-73. doi: 10.2337/diacare.20.3.369.
Rochette L., Ghibu S., Muresan A., Vergely C. Alpha-lipoic acid: molecular mechanisms and therapeutic potential in diabetes. Can. J. Physiol. Pharmacol. 2015. 93(12). 1021-7. doi: 10.1139/cjpp-2014-0353.
Pácal L., Kuricová K., Kaňková K. Evidence for altered thiamine metabolism in diabetes: is there a potential to oppose gluco- and lipotoxicity by rational supplementation? World J. Diabetes. 2014. 15. 5(3). 288-95. doi: 10.4239/wjd.v5.i3.288.
Stirban A., Pop A., Tschoepe D. A randomized, double-blind, crossover, placebo-controlled trial of 6 weeks benfotiamine treatment on postprandial vascular function and variables of autonomic nerve function in Type 2 diabetes. Diabet. Med. 2013. 30(10). 1204-08. doi: 10.1111/dme.12240.
Raj V., Ojha S., Howarth F.C., Belur P.D., Subramanya S.B. Therapeutic potential of benfotiamine and its molecular targets. Eur. Rev. Med. Pharmacol. Sci. 2018. 22(10). 3261-73. doi: 10.26355/eurrev_201805_15089.
Bang H.O., Dyerberg J. The bleeding tendency in Greenland Eskimos. Dan. Med. Bull. 1980. 27(4). 202-5. PMID: 7438807.
Bradberry J.C., Daniel E., Hilleman D.E. Overview of omega-3 fatty acid therapies. P.T. 2013. 38(11). 681-91. PMCID: PMC3875260.
Calo L., Martino A., Tota C. The antiarrhythmic effects of n-3 PUFAs. J. Int. Cardiol. 2013. 170(suppl. 1). S21-7. doi: 10.1016/j.ijcard.2013. 06.043.
Calder P.C. Marine omega-3 fatty acids and inflammatory processes: Effects, mechanisms and clinical relevance. Biochim. Biophis. Acta. 2015. 1851(4). 469-84. doi: 10.1016/j.bbalip.2014. 08.010.
Koval S.M., Yushko К.О., Litvinova O.N., Pankiv V.I., Snihurska I.O., Starchenko T.G. et al. Relations of angiotensin-(1-7) with hemodynamic and cardiac structural and functional parameters in patients with hypertension and type 2 diabetes. Arterial hypertension. 2019. 23(3). 183-189. doi: 0.5603/AH.a2019.0012.
Chen C., Yu X., Shao S. Effects of omega-3 fatty acid supplementation on glucose control and lipid levels in type 2 diabetes: A meta-analysis. PLoS. 2015. 10(10): e0139565. doi: 10.1371/journal.pone.0139565.
Borghetti G., von Lewinski D., Eaton D.M., Sourij H., Houser S.R., Wallner M. Diabetic cardiomyopathy: Current and future therapies. Beyond Glycemic Control. Front. Physiol. 2018. 9. 1514. doi: 10.3389/fphys.2018.01514.
Velmurugan G.V., Sundaresan N.R., Gupta M.P., White C. Defective Nrf2-dependent redox signalling contributes to microvascular dysfunction in type 2 diabetes. Cardiovasc. Res. 2013. 100(1). 143-50. doi: 10.1093/cvr/cvt125.
Zhang Z., Wang S., Zhou S., Yan X., Wang Y., Chen J., Mellen N. et al. Sulforaphane prevents the development of cardiomyopathy in type 2 diabetic mice probably by reversing oxidative stress-induced inhibition of LKB1/AMPK pathway. J. Mol. Cell Cardiol. 2014. 77. 42-52. doi: 10.1016/j.yjmcc.2014.09.022.
Huynh K., Kiriazis H., Du X.J., Love J.E., Gray S.P., Jandeleit-Dahm K.A., McMullen J.R. et al. Targeting the upregulation of reactive oxygen species subsequent to hyperglycemia prevents type 1 diabetic cardiomyopathy in mice. Free Radic. Biol. Med. 2013. 60. 307-17. doi: 10.1016/j.freeradbiomed.2013.02.021.
Chew G.T., Watts G.F., Davis T.M., Stuckey B.G., Beilin L.J., Thompson P.L., Burke V. et al. Hemodynamic effects of fenofibrate and coenzyme Q10 in type 2 diabetic subjects with left ventricular diastolic dysfunction. Diabetes Care. 2008. 31(8). 1502-9. doi: 10.2337/dc08-0118.
Solati M., Ouspid E., Hosseini S., Soltani N., Keshavarz M., Dehghani M. Oral magnesium supplementation in type II diabetic patients. Med. J. Islam Repub. Iran. 2014. 28. 67. PMID: 25405132. PMCID: PMC4219896.
Liu M., Jeong E.M., Liu H., Xie A., So E.Y., Shi G., Jeong G.E. et al. Magnesium supplementation improves diabetic mitochondrial and cardiac diastolic function. JCI Insight. 2019. 4(1). e123182. doi: 10.1172/jci.insight.123182.
Simental-Mendia L.E., Sahebkar A., Rodriguez-Moran M., Guerrero-Romero F. A systematic review and meta-analysis of randomized controlled trials on the effects of magnesium supplementation on insulin sensitivity and glucose control. Pharmacol. Res. 2016. 111. 272-82. doi: 10.1016/j.phrs.2016.06.019.
Hansen K., Sakamoto K., Obrietan K. MicroRNAs: a potential interface between the circadian clock and human health. Genome Med. 2011. 3(2). 10. doi: 10.1186/gm224.
Kojima S., Shingle D.L., Green C. Post-transcriptional control of circadian rhythms. J. Cell. Sci. 2011. 124(3). 311-20. doi: 10.1242/jcs.065771.
Pan Y., Liang H., Liu H., Li D., Chen X., Li L., Zhang C.Y., Zen K. Platelet-secreted microRNA-223 promotes endothelial cell apoptosis induced by advanced glycation end products via targeting the insulin-like growth factor 1 receptor. J. Immunol. 2014. 192(1). 437-46. doi: 10.4049/jimmunol.1301790.
Pischak V.P., Riznychuk O.M. Role on мicroRNA for diabetes mellitus development. Int. J. Endocrinol. (Ukraine). 2016. 1(73). 36-8. (In Ukrainian). doi: 10.22141/2224-0721.1.73.2016.71058.
Costantino S., Paneni F., Luscher T.F., Cosentino F. MicroRNA profiling unveils hyperglycaemic memory in the diabetic heart. Eur. Heart J. 2016. 37(6). 572-6. doi: 10.1093/eurheartj/ehv599.
Katare R., Caporali A., Zentilin L., Avolio E., Sala-Newby G., Oikawa A., Cesselli D. et al. Intravenous gene therapy with PIM-1 via a cardiotropic viral vector halts the progression of diabetic cardiomyopathy through promotion of prosurvival signaling. Circ. Res. 2011. 108(10). 1238-51. doi: 10.1161/CIRCRESAHA. 110.239111.
Raut S.K., Singh G.B., Rastogi B., Saikia U.N., Mittal A., Dogra N., Singh S. et al. miR-30c and miR-181a synergistically modulate p53-p21 pathway in diabetes induced cardiac hypertrophy. Mol. Cell Biochem. 2016. 417(1-2). 191-203. doi: 10.1007/s11010-016-2729-7.
Feng B., Chen S., Gordon A.D., Chakrabarti S. miR-146a mediates inflammatory changes and fibrosis in the heart in diabetes. J. Mol. Cell. Cardiol. 2017. 105. 70-6. doi: 10.1016/j.yjmcc.2017.03.002.
Drozdovska S.B., Polischuk A.O. The participation of long noncoding RNAs in cardiac hypertrophy formation during longlasting physical exercise. Bull. Probl. Biol. Med. 2017. 4(3). 38-43. (In Ukrainian). doi: 10.29254/2077-4214-2017-4-3-141-38-43.
Raut S.K., Khullar M. The big entity of new RNA world: Long non-coding RNAs in microvascular complications of diabetes. Front. Endocrinol. (Lausanne). 2018. 4. 9. 300. doi: 10.3389/fendo.2018.00300.
Similar articles

Authors: Паньків В.І.
Український науково-практичний центр ендокринної хірургії, трансплантації ендокринних органів і тканин МОЗ України, м. Київ, Україна
International journal of endocrinology Том 15, №6, 2019
Date: 2019.12.13
Categories: Endocrinology
Sections: Specialist manual



Authors: Serhiienko V.O., Serhiienko O.O.
Lviv National Medical University named after Danylo Halytskyi, Lviv, Ukraine
"Hypertension" 1 (45) 2016
Date: 2016.03.21
Categories: Cardiology
Sections: Specialist manual