Human anatomy. Part 1. Locomotor apparatus: Study guide for the practical classes course
Kerechanyn I.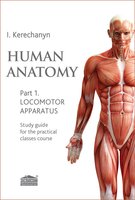 Год издания: 2018
Страниц: 88
ISBN: 978-617-632-092-0
Human anatomy is the science concerned with the structure of the human body. Knowledge of human anatomy is the base for studying clinical disciplines, which requires providing the methodical literature for medical students studying in English.
The Study Guide includes the systematic principles of the human body. This is the main structural difference in comparison with the foreign anatomical textbooks. The systematic principle distinguishes the systems of human body, and then the organs and tissues.
This book is written in English according to the current program (Syllabus) of the "Human anatomy" academic discipline approved by the Ministry of Health of Ukraine (2005), with terminological English-Latin dictionary according to the International Anatomical Nomenclature (S?o Paulo, 1997), the Ukrainian standard (2001), which allows me dical students studying in English to learn human anatomy.
Анатомія людини — це наука, що вивчає будову тіла здорової людини. Знання анатомії є фундаментом для подальшого вивчення клінічних дисциплін, що вимагає забезпечення науково-методичною літературою студентів вищих медичних навчальних закладiв англомовної форми навчання. На відміну від багатьох підручників iз дисципліни «Анатомія людини» іноземних авторів у цьому посібнику будова тіла людини вивчається за систематичним принципом, тобто з розбиттям на системи органів, а потім на органи, відділи органів та тканини.
Посібник написаний англійською мовою відповідно до чинної програми з навчальної дисципліни «Анатомія людини», затвердженої Міністерством охорони здоров'я України (2005), iз термінологічним англо-латинським словником відповідно до Міжнародної анатомічної номенклатури (Сан-Паулу, 1997), українського стандарту (Київ, 2001), що дозволяє студенту англомовної форми навчання повноцінно оволодіти знаннями з дисципліни «Анатомія людини».
Часть книги для ознакомления вы можете посмотреть здесь