Ukrainian journal of surgery 2 (21) 2013
The Latest Results of Bone Grafting of the Defect in the Alveolar Process in Patients with Cleft Lip and Palate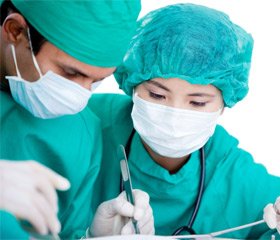 Authors:

Dusmuhamedov M.Z., Yuldashev A.A., Khasanov A.I., Murtazayev S.S., Dusmuhamedov D.M. - Tashkent Medical Academy, Tashkent, Uzbekistan



Categories:

Surgery



Sections:

Clinical researches
Summary
We surveyed 54 patients with congenital cleft lip and palate who underwent cheilo- and palatoplasty. We have carried out clinical and functional studies and revealed the need for alveoloplasty. Also higher efficiency of our method of alveoloplasty with umbilical cord use is proved.
Нами обследовано 54 больных с врожденной расщелиной верхней губы и неба, ранее перенесших операцию хейло- и уранопластики. В ходе клинико-функциональных исследований выявлена необходимость в альвеолопластике и доказана более высокая эффективность предлагаемого нами метода альвеолопластики с использованием пуповины.
Нами обстежені 54 хворі з вродженою розщелиною верхньої губи й піднебіння, які раніше перенесли операцію хейло- й уранопластики. Під час клініко-функціональних досліджень виявлена необхідність в альвеолопластиці й доведена більш висока ефективність передбачуваного нами методу альвеолопластики з використанням пуповини.
Keywords
cheilo- and palatoplasty, alveoloplasty, umbilical cord.
хейло- и уранопластика, альвеолопластика, пуповина.
хейло- й уранопластика, альвеолопластика, пуповина.
The problem of improving the functionality of the abutment teeth with congenital cleft lip and palate at the stages of prosthetics in modern dentistry insufficiently relevant (Watzekk G., 2002). In this kind of patients the most pronounced functional and anatomical abnormalities are the absence or hypoplasia of the bone vestibular fistula, lagging growth of the upper jaw, impaired growth and development of bones after surgery (Bessonov, 2005). The removal of congenital defects of the alveolar ridge is one of the important stages of surgical treatment of patients with congenital cleft lip and palate. Level of regeneration of the transplanted graft is an absolute measure of the quality of surgical treatment. Analysis of the recent literature indicates that the teeth, which are located on the edge of the defect of the alveolar process is often used to support the construction of bridges under the dentures. The results of the study show that in such kind of teeth the biomechanical performance is significantly reduced, normal chewing stresses are perceived inadequate, mobility of the tooth is arisen and this may lead to its eventual loss (Judy, 2005).
The aim of our study was — to study bone density in autotransplant area and endurance degree of periodontal front teeth before and after various methods of alveoloplasty inpatients with congenital cleft lip and palate.
Materials and Methods
Clinically 54 patients (men — 32, women — 22) at the age from 8 to 18 were examined; their mean age is 14.20 ± 0.59 years. In the main study group 18 patients were under gone bone plastic with preserved umbilical tissue. The second group (control) 18 patients with CCAB were undergone standard surgery without the use of membranes from the umbilical tissue. The third group was consisted of 18 healthy people of almost same age. In the clinical study in order to monitor activity osteoreparation before and after treatment, all patients were X-rayed on the unit X-ray (South Korea) with the computer analysis of bone density in the graft. Measurements were made by digital images on a personal computer using Image J (Wayne Rasband, National Institute of Health, USA). To assess the functionality of the supporting teeth the gnathodynamometric study was conducted. The above mentioned methods of clinical studies were performed and studied in dynamics (3–6–9–12 months). Statistical data processing was performed by the method of variation statistics using Student's t-test. Results were processed using the program Statistica.
Results and Discussion
Clinical observation of patients operated on by our proposed method in the follow up periods (3–6–9–12 months) after grafting showed that the clinical well-being as been achieved in 98.9 % of the study group against 34.8 % in conventional cases. Study of indicators of bone density according to X-ray showed that in patients of the intervention group after 6/3/12 months the statistically significant increase is performed with up to 123.4 ± 1.2 to 181.1 ± 1.1 units (P < 0.05), and the figure is almost the same with the index in healthy children (183.0 ± 0.8) (P < 0.05).
In children of the first control group, during the first 3 months a significant increase (from 12.50.4 to 102.90.8) in bone density in autotransplant area is observed (Table 1). But then a gradual decrease in bone density is occurred (from с 102.9 ± 0.8 to 63.7 ± 0.8) that we associate with the resorption of autotransplant.

Parallel with study of changes in bone density, we carried out gnathodynamometric research. We have studied the incisors and canines by gnathodynamometric indicators, they have the teeth on the edge of the cleft. During the studies a statistically significant increase was found out in major group of gnathodynamometric research in cutters with 7.0 ± 1.2 ± 1.1 to 14 kg, in canines — from 16.0 ± 1.1 and 28.0 ± 1.1 kg when compared with a group of children 2nd control group (P < 0.05), in the children of the first control group also were observed a gradual increase in performance gnathodynamometric cutters with 7.0 ± 1.4 to 10.0 ± 1.1 kg and in canines — with 16.0 ± 1.4 to 22.0 ± 1.3 kg (P < 0.05) (Table 2).

Conclusion
Thus, we conducted clinical and functional studies (­X-ray, gnathodynamometry) showed high efficiency plastic alveolar process with the umbilical cord and graft taken from the iliac bone in contrast to the traditional, which helps not only to restore the integrity of the maxilla but increase the degree of endurance periodontal teeth are on the edge of the cleft. With the proposed method we gnathodynamometric and indicators of bone density is much closer to the same indicators of healthy children, and allows us to recommend it for practical use as the most effective method alveoloplasty.
Bibliography
Пчелин И.Ю. Гнатологические основы построения окклюзионной плоскости в боковых отделах зубных рядов с учетом преимущественной стороны жевания // Сборник «Актуальные вопросы экспериментальной, клинической и профилактической стоматологии». — Волгоград, 2006. — Т. 63. — С. 235-238.
Пчелин И.Ю. Рентгенологические методы построения протетической плоскости при концевых дефектах зубных рядов // Сборник «Актуальные вопросы экспериментальной, клинической и профилактической стоматологии». — Волгоград, 2008. — Т. 65. — С. 318-322.
Пчелин И.Ю., Пузунян Г.С., Кабакова Т.В. Методики гнатодинамометрических исследований // Сборник научных работ молодых ученых стоматологического факультета ВолГМУ. — Волгоград, 2008. — С. 130-134.
Диагностические возможности компьютерной ортопантомографии / А.П. Кибкало, Д.С. Дмитриенко, Е.В. Засядкина, И.Ю. Пчелин, Е.А. Лазарева, Исхак Надира // Методические рекомендации. Утверждено ЦМК стоматологического факультета ВолГМУ. — Волгоград, 2006.
Ортопантомография и ее диагностические возможности в стоматологии / А.П. Кибкало, В.В. Шкарин, Е.А. Лазарева, И.Ю. Пчелин // Учебно-методическое пособие с грифом УМО. — Волгоград, 2010.
Watzekk G., Matejka M. Vermeidung von Misserfolgen in der Implantologie // Ketterl W. (Hrsg) Deutscher Zahnaerztekalender. — 2000. — P. 15-30.
Weiner S. Occlusal Considerations // Oral Implantology / Ed. by Kakar A. — New Delhi, 2008. — Ch. 5. — P. 121-131.
Weiss C.W., Judy K.W.M. Severe mandibular atrophy: biological considerations of routine treatment with complete subperiosteal implants // J. Oral Implant. — 2007. — Vol. 4. — P. 431-469.
Weiss C.W. A comparative analysis of fibreosteal and osteal integration and other variables that affect long term bone maintenance around dental implants. // J. Oral Implantol. — 2008. — Vol. 13, № 3. — P. 467-487.