Ukrainian journal of surgery
About the edition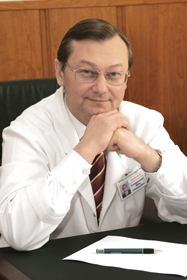 Editor-in-Chief
Kondratenko Peter
Honorary Scientist and Technician of Ukraine, MD, Professor of the Department of surgery, Donetsk national medical University, Krasny Liman.
Deputy chief editor: M. V. Konkova (Krasny Liman)
Executive Secretary: S. O. Zharikov (Krasny Liman)
Publication frequency: 4 times per year.
The journal is included in the list of scientific professional editions of Ukraine. Order of the MES from 12.05.2015 г. № 528
Registration Certificate КВ № 19629–9429ПР. Issued by the Ministry of Justice of Ukraine 11.01.2013.
Index for Subscription via Post Office (Ukraine): 68571
ISSN 1997-2938 (print)
ISSN 1999-1649 (online)