"Child`s Health" 1 (52) 2014
Features of asthma in children with concomitant gastrointestinal pathology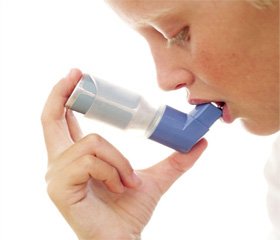 Keywords
asthma, children, pathology of the gastrointestinal tract.
The high frequency (50–100 %, according to our data – 65 %) of the association of asthma and gastroduodenal pathology is the basis for a detailed study of the problem.
Objective: To examine the influence of concomitant pathology of the upper gastrointestinal tract (GIT) on the course and control of asthma and cytokine status in children with asthma.
Materials and methods
A total of 120 children and adolescents with asthma aged from 6 to 18. The clinical endoscopy in 78 children (I group) revealed pathology of upper GIT, 42 children with asthma without upper GIT pathology were included to the II group.
The criteria of asthma control used according to GINA, 2009. To study the influence of H.pylori infection on asthma the identification of the pathogen was performed in both groups. To estimate the intensity of bronchial allergic inflammation serum levels of IFN-γ, IL-4, IL-5, IL-13 were measured by ELISA using kits made by "Diaklone" (France).
Statistical analysis of the results included variation statistics methods using parametric and non-parametric criteria.
Results and discussion
The average age in group I was 12,7 ± 0,4 years, in group II – 11,4 ± 0,5 years (p < 0,1). The average duration of asthma in children in group I was significantly higher than in children in group II (6,80 ± 0,46 years versus 3,90 ± 0,48 years, p < 0,05).
Frequency of upper GIT pathology depended on the severity of asthma. Thus, moderate and severe persistent asthma requiring long-term hormone use basic therapy occurred in 82 % of children in group I and 62 % of children in group II (OR = 2,8, RR = 1,33, χ ² = 4,88 , p = 0,027).
H.pylori infection was detected in 47 % of children with asthma and gastrointestinal disorders. In Hp-positive patients frequency of severe asthma exacerbations requiring hospitalization was increased in comparison to Hp-negative children (2,27 ± 0,13 cases per year and 1,73 ± 0,10 cases per year , respectively (p < 0,01)).
In asthmatic children with upper GIT pathology level of asthma control was worse than in children without upper GIT pathology. Fully controlled asthma observed only in 16,7 % of the children in group I versus 52,4 % of the children in group II (OR = 5,5, RR = 1,75, χ ² = 15,17, p = 0,0007). Difficulties in achieving control of asthma symptoms in group I compared with group II were occurred because of the increased frequency of daytime asthma symptoms (5,03 ± 0,27 episodes per month and 3,86 ± 0,60 (p < 0,05)), nocturnal symptoms (2,36 ± 0,17 episodes per month and 0,88 ± 0,14 episodes per month (p < 0,01)), resulting in an increased need for short-acting β2-agonists (8,87 ± 0,45 times per month and 5,29 ± 0,82 times per month (p < 0,01)).
Risk of unfavorable course of asthma, associated with the increasing frequency of hospitalization in the previous 12 months were higher in children in I group (1,21 ± 0,11, while in the Group II – 0,93 ± 0,23 (p < 0 ,01)).
Conducted immunological studies have shown that children in group I showed an increase in blood serum IFN-γ, and interleukin-4 , -5, -13, which indirectly indicates a greater intensity of allergic inflammation in children with asthma and GIT comorbidities (Table 1). Clinically, this is reflected in lower level of control of asthma symptoms in case of adequate basic treatment .
In the presence of H.pylori infection in children with asthma reduced serum IFN-γ was noted compared to Hp-negative children (8,47 ± 0,44 pg/ml and 9,69 ± 0,52 pg/ml (p < 0,05)). The presence of H.pylori-infection did not significantly influence concentrations of serum IL-4 and IL-5, while the level of IL-13 was significantly higher in the Hp-positive patients (8,74 ± 0,82 pg/ml and 7,21 ± 0,65 pg/ml (p < 0,05)). Perhaps this is due to the fact that the long-term persistence of H. pylori acts as an additional sensitizing agent.
Conclusions.
The above data suggest a high incidence of upper GIT pathology in children with asthma (65 %). With increasing severity and duration of asthma , the frequency and severity of mucosal lesions of GIT are increasing. Having GIT pathologies is accompanied by more severe and low controlled asthma which immunologically manifested by increased serum levels of IFN-γ and cytokines involved in allergic inflammation (IL-4, IL-5) in comparison with asthmatic children without pathology of the digestive system. Thus, early detection and adequate treatment of upper GIT pathology in asthmatic children may be an effective tool for the therapeutic management of asthma in children.
Similar articles

Authors:
Каличевская М.В. - ГУ «Днепропетровская медицинская академия МЗ Украины», г. Днепр, Украина


"Actual Infectology" 2 (11) 2016
Date: 2016.08.09
Categories: Infectious diseases
Sections: Medical forums



Authors:
Nedelskaya S.N., Akulova E.Y., Solodova I.V., Mazur V.I. - Zaporozhye State Medical University, Zaporozhye, Ukraine


"Child`s Health" 7 (58) 2014
Date: 2015.02.13
Categories: Pediatrics/Neonatology
Sections: Clinical researches