"Child`s Health" 4 (55) 2014
Diagnosis of the left ventricular non compaction in children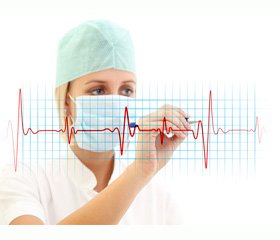 Authors:

Yershova I.B., Osypova T.F., Nesterova T.V. - SE Lugansk State Medical University, Lugansk, Ukraine; Chernova E.V., Gavrysh L.I. - Lugansk City Children''s Hospital № 3, Ukraine; Kalapala B., Matsyuh N.V., Kаrnilovich A.S. - SE Lugansk State Medical University, Lugansk, Ukraine



Categories:

Pediatrics/Neonatology



Sections:

Specialist manual
Introduction.Noncompact, or sponge, left ventricular myocardium is a rare congenital and primary cardiomyopathia in children. The disease is characterized by left ventricular hypertrophy, and its excessive trabeculation and appearance of wide intertrabecular spaces due to violation of intrauterine myocardial compaction.
Epidemiology. The prevalence of noncompact left ventricular myocardium is 0.05-0.24 % [8,9].
Genetic aspects of the disease. Isolated noncompaction of left ventricular myocardium is a genetically heterogeneous disease. Scientists marked several distinct types of left ventricular noncompaction: type 1, caused by mutations in the gene locus distrobrevin located in 18q12.1-q12.2 locus; type 2, where gene, which has not yet been detected, but mapped in locus 11p15, linked with the disease; X-linked type that develops as a result of mutations in G 4.5 (TAZ), which is located on the X chromosome in region Xq28. This gene encodes a protein taffazin [7].
Classification. Since 1995, according to WHO classification of cardiomyopathies the noncompact left ventricular myocardium was referred to the unclassified group of cardiomyopathies. According to the classification of cardiomyopathies proposed by the American Heart Association in 2006, the noncompact myocardium of the left ventricle was related to primary genetic cardiomyopathy (nonclassified cardiomyopathy). Since 2008, the European Society of Cardiology proposed classification of known and rare cardiomyopathy. There is two large groups of cardiomyopathies: family groupe and non-family cardiomyopathias in accordance with this classification [3, 7-9].
Clinical features. The main clinical symptoms of noncompaction of left ventricular myocardium are manifestatision of heart failure, arrhythmia, and thromboembolism. The severity of the patients' state is determined by degree of noncompaction of ventricular myocardium [1-3, 8, 9].
Diagnostics. The main methods for diagnosis of the left ventricular noncompaction are echocardiography, magnetic resonance imaging, computer tomography, positron emission tomography, and genetic examination.
The main echocardiographic sign of noncompaction of left ventricular is the presence of increased left ventricular trabeculation .
Criteria for the diagnosis of isolated left ventricular myocardium noncompaction were described by authors: Chin T. K., Jenni R.,. Lilje S, Stollbeger C. and Finsterer J.
Methods of magnetic resonance and computer tomography in diagnostics of isolated noncompaction of left ventricular myocardium are the most informative, especially in case of using a three-dimensional visualization [4-6, 8, 10].
Treatment. The basis of treatment strategies in patients with "spongy myocardium" is prevention and treatment of heart failure, heart rhythm disorders and trombembolic complications. Some patients need heart transplantation, implantation of a cardioverter -defibrillator [1, 2, 7 ,9].
Clinical case of noncompact left ventricular myocardium in a child 6 years old. Girl Melania B. was born from the first pregnancy on background of chronic pyelonephritis and chronic fetus intrauterine hypoxia, the first labor in term 39 weeks gestation with body weight 3700 g. The 1-st day after birth X-ray examination of the child revealed birth trauma - rotary subluxation of the first cervical vertebra C1. Echocardiography revealed abnormal additional left ventricular chord, hypertrabekular left and right ventriculars, papillary muscle overgrowth, and carditis.
Later, the child's condition gradually worsened, phenomenon of heart failure appeared, than the girl was hospitalized in the cardiological department of Lugansk children's hospital № 1 with a diagnosis: severe decompensated congenital non-rheumatic carditis, circulation insufficiency II- A degree.
At the age of 1 year 3 month old girl was examined and consulted by doctors of the Scientific and Practical medical center of pediatric cardiology and cardiac surgery in Kiev, where were diagnosed Cardiomyopathy , Non-compact myocardium of the left ventricle, marked mitral insufficiency, and high pulmonary hypertension.
During treatment the girl received Dobutamine, Lasix, Asparkam, Digoxin, Berlipril ,Pananginum, Veroshpiron. At the moment the girl's condition is compensated .
Conclusion. Presented clinical case demonstrates the difficulty of diagnostics of non-compact left ventricular myocardium due to absence of specific clinical signs. The final diagnosis was established in the Scientific and Practical medical Center of pediatric cardiology and cardiac surgery in Kiev. Echocardiography and cardiac computer tomography were decisive in the diagnosis. Clinical case of rare diseases of the heart – noncompaction of the left ventricular myocardium in the child is of interest to practitioners in the diagnosis of a rare disease and the use of advanced capabilities echocardiography, computer tomography and genetical examination for the diagnosis of noncompaction of the left ventricular myocardium .
Bibliography
1. Erokhina M.G. Nekompaktny y miokard levogo zheludochka: strukturno-funktsionalnoye sostoyaniye miokarda i osobennosti klinicheskikh proyavleniy / Avtoref. Disser. kand. med .nauk. – Moskva. – 2009 .- 103 s.
2. Shcho vіdomo pro іzolovaniy nekompaktnyy mіokard? / І.Yu. Avramenko, M.Zhuk, Kavalєts V., Gnateyko O.Z., R.Ya. Kovalskiy // Sovremennayapediatriya, 2013. - №5 (53) – S. 133 – 139.
3. Сlassification of the cardiomyopathies: a positon statement from the Eurpean Society of Cardiology Working Group on Myocardial and Pericardial Diseases / Elliot P., Andersson B., Arbustini E. et al. // Eur. Heart J. – 2008. – Vol.29. – P.270-276.
4. Echocardiographic and pathoanatomical characteristics of isolated left ventricular non-compaction: a step towards classification as a distinct cardiomyopathy / Jenni R., Oechslin E.N., Schneider J. et al. // Heart. – 2001. – Vol. 86. – H. 666 – 671.
5. Endberding R. Identification of a rare congenital anomaly of the myocardium by two-dimensional echocardiography: persistence of isolated myocardial sinusoids / R. Endberding, F. Bender // Am. J. Cardiol. – 1984. – Vol. 53. – P. 1733.
6. Goebel N. Persistende myokardiale Sinusoide / N. Goebel, R. Jenni, A.R. Gruntzig // Fortschr. Ro"ntgenstr. – 1985. – Vol. 142. – P. 692-694
7. Isolated noncompaction of the left ventricular myocardium in the adult is an autosomal dominant disorder in the majority of patients / Sasse-Klaassen S., Gerull B.,Oechslin E. et al. // Am. J. Med. Genet. – 2003. – Vol. 119 A. – P. 1806 – 1813.
8. Isolated noncompaction of left ventricular myocardium: a study of eight cases / Chin T.K., Perloff J.K., Williams R.G. et al. // Circulation. – 1990. – Vol. 82. -507-521.
9. Ritter M. Isolated non – compaction of the myocardium in adults / M. Ritter, E. Oeshlin, G. Sutch // Mayo ClinProct. - 1997.- Vol.72. – P. 26 – 31.
10. Stollberger C., Finsterer J. Left ventricular abnormal hypertrabeculation / noncompaction) // J. Am. Soc. Echocardiogr. 2004. – V.17. – P. 91 – 100
Similar articles

Authors:
Ершова И.Б., Осипова Т.Ф., Нестерова Т.В. - ГУ «Луганский государственный медицинский университет»; Чернова Е.В., Гаврыш Л.И. - Луганская городская детская многопрофильная больница № 3; Калапала Б., Мацюх Н.В., Карнилович А.С. - ГУ «Луганский государственный медицинский университет»


"Child`s Health" 4 (55) 2014
Date: 2014.08.07
Categories: Pediatrics/Neonatology
Sections: Specialist manual


Authors: Целуйко В.Й.(1), Кузнецов І.В.(1), Стеблянко І.В.(2)
(1) — Харківська медична академія післядипломної освіти, м. Харків, Україна
(2) — КЗОЗ «ОКЛ — ЦЕМД та МК», м. Харків, Україна
"Emergency medicine" 1 (80) 2017
Date: 2017.03.17
Categories: Medicine of emergency
Sections: Specialist manual


Authors:
Радченко А.Д., Сиренко Ю.Н., ГУ «ННЦ «Институт кардиологии имени акад. Н.Д. Стражеско» НАМН Украины, г. Киев, Поташев С.В., Национальная медицинская академия последипломного образования имени П.Л. Шупика, г. Киев


"Hypertension" 6 (26) 2012
Date: 2013.02.28
Categories: Family medicine/Therapy, Cardiology, Therapy
Sections: Specialist manual


Authors:
Sukhareva G.E.*, Sadovoy V.I.**, *State Institution Crimean State Medical University named after S.I. Georgievsky, Paediatrics Department with the Course of Children Infectious Diseases (head of the department: prof. Lagunova N.V.), **Crimean State Institution KTMO University Clinic.


"Child`s Health" 2 (45) 2013
Date: 2013.05.08
Categories: Cardiology, Pediatrics/Neonatology
Sections: Specialist manual