"Тrauma" Том 15, №4, 2014
Radiological diagnostics consequences of injuries of the thoracic spinal cord in the practice of medical and social expertise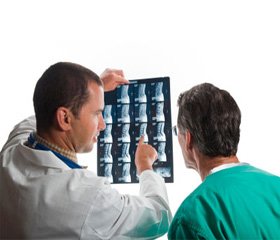 Authors:

L. Naumenko - SI "Dnipropetrovsk Medical Academy MH of Ukraine" Dnipropetrovsk, Ukraine; O. Tarasenko, L. Myronchuk - SI "Ukrainian State Research Institute of Medical and Social Problems of Disability Ministry of Health of Ukraine", Dnipropetrovsk, Ukraine



Categories:

Traumatology and orthopedics



Sections:

Clinical researches
Introduction. Vertebral and spinal injury - actual problem of modern medicine. Effects of vertebral and spinal injuries are resistant and difficult subjected rehabilitation. In 2012 in Ukraine declared disabled due to vertebral and spinal injuries 14469 persons, which is 3.8 per 10 000 adults, of whom 13576 - people of working age.
The main task of medical experts is to conduct high-quality medical and social expertise. Although the main criteria for medical examination is the degree of loss of function and disability, radiological imaging - objectification is required for morphological changes.
The aim of our study was to determine the radial features of trauma of the thoracic spinal cord in patients with presence of disability groups.
Materials and methods. The operation is the observation of 34 patients with traumas of the thoracic spinal cord, which were on the examination in Neurology and Traumatology Department of State Institution "Ukrainian State Research Institute of Medical and Social Problems of Disability Ministry of Health of Ukraine" from 2011 to 2013, the average age patients was 40 ± 5,2 years. Men were 30 (88 %), women - 4 (12 %).
Results and discussion. Among the patients examined 2 (6 %) were disabled of 14 (41%) - the second group , 15 (44 %) - the third group , 3 patients (9 % ) - with disability groups.
A distinctive feature of the work of expertise doctors is that they are dealing with the consequences of injury or disease, so our work is designed to detect just secondary changes, in this case, the injuries of the thoracic spine and spinal cord without touching the original .
In analyzing spondylohram patients with traumas of the thoracic spinal cord revealed the following features: wedge-shaped deformity of the vertebral bodies, as the effects of compression fractures, with the formation of angular kyphosis, postravmatyc fibrous bone degeneration of intervertebral discs, ossification of the anterior and posterior longitudinal relationship with formation at the level of the affected segment of "bone bridge". Wedge deformation with a reduction up to 1 /2 of the vertebral body was found in 71 % of patients who meet the II degree of compression, with a reduction in height of more than half of the body, which corresponded of III-IV degree compression - in 29 % of patients. In almost all cases showed degenerative and post-traumatic degenerative changes of the spine - and post-traumatic osteochondrosis deformans spondylarthritis in the affected and adjacent segments.
Conclusions:
1. The state for evaluation after posterior spinal fusion, kompressive vertebral fractures is axial computed tomography with 3D reconstruction.
2. Condition for evaluation after anterior spinal fusion, epidural hematomas are MRI (R - mielohrfy).
3. Thoracic spondylohrafy is a method of assessment of "metal structures" and their stability in patients with traumas of the spine and spinal cord in the thoracic region and one of the most important additions to the clinical examination in kompressive wedge fractures.
4. MRI is less sensitive method in the acute phase of spinal injury.
Bibliography
1. Babky`na T.A., Savello V.E. Vozmozhnosty` luchevyx metodov y`ssledovany`ya v dy`agnosty`ke oslozhnennyx povrezhdeny`j grudnogo y` poyasny`chnogo otdelov pozvonochny`ka u pacy`entov s sochetannoj travmoj // Medy`cy`nskaya vy`zualy`zacy`ya. - 2013. - # 4. - s.111-115.
2. Spravochny`k po medy`ko-socy`al`noj eksperty`ze y` reaby`ly`tacy`y` // M.V. Korobov, V.G. Pomny`kova / S.-Peterburg, 2010. – 1032 s.
3. Suchasni pry`ncy`py` diagnosty`ky` ta likuvannya xvory`x iz xrebetno-spy`nnomozkovoyu travmoyu: metody`chni rekomendaciyi / Polishhuk M.Ye. [ta in.]. – Ky`yiv. – 2006. – 36 S.
4. Xy`rurgy`cheskoe lecheny`e nejrokompressy`onnyx poyasny`chno-krestczovyx bolevyx sy`ndromov / [Yu.A. Zozulya, E.G. Pedachenko, E.Y`. Slyn`ko]. – K., 2006. – 348 [1] s.
5. Chernyak S.I. , Ipatov A.V., Moroz O.M. ta in. Osnovni pokazny`ky` invalidnosti ta diyal`nosti medy`ko-social`ny`x ekspertny`x komisij Ukrayiny` za 2012 rik: Anality`ko-informacijny`j dovidny`k. – Dnipropetrovs`k: Porogy`, 2013. – 147 s.
6. Promeneva diagnosty`ka: [V 2t] / Koval` G.Yu., Mechev D.S., Sy`vachenko T.P. ta in./ Za red. G.Yu. Koval` — K.: Medy`cy`na Ukrayiny`, 2009. — T.II. — 682s.: il
7. Spuzyak M.I. Rozshy`reni lekciyi z rentgenodiagnosty`ky` zaxvoryuvan` sy`stemy` opory` ta ruxu. — Xarkiv: Vy`davny`cztvo «Atos». 2009. — 296 s.
Similar articles

Authors:
Науменко Л.Ю. - ДЗ «Дніпропетровська медична академія МОЗ України»; Тарасенко О.М., Мирончук Л.В. - ДУ «Український державний НДІ медико-соціальних проблем інвалідності МОЗ України», м. Дніпропетровськ


"Тrauma" Том 15, №4, 2014
Date: 2014.12.03
Categories: Traumatology and orthopedics
Sections: Clinical researches


Authors:
Balychevtseva I.V., Visyagin V.B., Schur N.V. - Donetsk National University named after M.Gorky, Ukraine


"Child`s Health" 4 (55) 2014
Date: 2014.08.08
Categories: Pediatrics/Neonatology
Sections: Specialist manual


Authors:
Naumenko L.Yu., Khomiakov V.N., Domanskii A.N., Lіfarenko Ye.L., Mametiev A.A. - SI «Ukrainian State SRI of Medical and Social Problems of Disability of MH of Ukraine», Dnipropetrovsk, Ukraine; SI «Dnipropetrovsk Medical Academy of MH of Ukraine», Dnipropetrovsk, Ukraine


"Тrauma" Том 17, №2, 2016
Date: 2016.05.25
Categories: Traumatology and orthopedics
Sections: Specialist manual


Authors: Vinychuk S.M. (1), Fartushna O.Ye. (2)
1 - Oleksandrivska Clinical Hospital, Kyiv, Ukraine
2 - Ukrainian Military Medical Academy, Kyiv, Ukraine
International neurological journal №4 (98), 2018
Date: 2018.08.09
Categories: Neurology
Sections: Specialist manual