"Тrauma" Том 15, №4, 2014
Digital protractor-rotatometr to determine the function of the forearm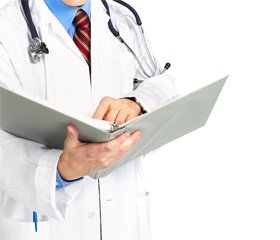 Authors:

Sukhin Y.V., Bodnia A.I., Bakkar Tarek, Danilov P.V. - Odessa National Medical University, Odessa, Ukraine; Kryvenko S.N. - SIITO Donetsk National Medical University , Donetsk, Ukraine



Categories:

Traumatology and orthopedics



Sections:

Clinical researches
Introduction. The amplitude of forearm rotation is an objective criteria for evaluation of upper extremity function recovering after fractures of the forearm, as well as operational efficiency criteria and other methods used during the treatment. Known commercially available goniometers are not accurate enough, and more over with their help it is impossible to measure the rotational motions. There are different models of rotatometers which are suggested for measurement of pronation and supination of the forearm. But they have a number of drawbacks, that limit their use in outpatient conditions.
Materials and Methods. Due to imperfection of the available goniometers to determine the function of the forearm, in our department we developed new digital protractor-rotatometer. The principle of it's operation is based on measuring the angular velocity of three axis digital gyroscope. The resulting value is integrated over time with the microcontroller program and the calculation of angles, whereby a value of the angle at which the device has been rotated. Since the sensor measures the angular velocity along three axes intera-prependicular, it is possible to measure the amount of movements in the joint in the appropriate direction. Short term pressing of the corresponding key on the device allows the screen to select the desired function for the study of the upper extremity "forearm rotation", "flexion-extension brush", "abduction-adduction brush", "flexion-extension of the elbow". The authors distinguish three degrees of limitation of motion in the wrist and elbow joints. Study of the function of one of the joints start from the zero position, which is determined by the appearance of a green light signal. Pressing device makes the patient the maximum amount of movement in the test joint. After the measurements on the LCD, screen will automatically appear in the results as a table, which presents the rotation angles of each type of motion in degrees, indicating its amplitude information is displayed at a rate or degree of limitation of function in the chosen direction.
Results and discussion. Digital protractor-rotatometr used for comparative evaluation of the functional results of treatment in the survey of two groups of patients was observed in 2013. Verum group comprised 12 patients who had been surgically treated with separate external fixation device developed by us extranecks fixation rod type. The control group consisted of 25 people comparisons, who were operated with various osteosynthesis plates. Analysis of the outcomes showed functional benefits of unilateral fixation devices with separate rod based, using a rotary contracture which retained only 1 degree to 3 weeks after surgery. When osteosynthesis was folloved with postoperative plaster bandage, 1 degree rotation contracture persisted in 20 % of cases from 3 months to 1 year.
Conclusions. New protractor-rotatometr can replace existing equipment due to more correct technology. Suggested device is portable, convenient for usage and can be handheld. Along with another set of measuring tools, as well as it is available for doctors and social assessment in everyday practice.
Similar articles

Authors:
Сухин Ю.В., Бодня А.И., Баккар Тарек, Данилов П.В. - Одесский национальный медицинский университет; Кривенко С.Н. - НИИТО Донецкого национального медицинского университета им. М. Горького


"Тrauma" Том 15, №4, 2014
Date: 2014.12.03
Categories: Traumatology and orthopedics
Sections: Specialist manual


Authors:
Fil A., Fil U., Kozopas V., Seniuk Y., Jajechnyk O. - Lvivsskyy National Medical University named after Danylo Galician


"Тrauma" Том 15, №6, 2014
Date: 2015.03.10
Categories: Traumatology and orthopedics
Sections: Clinical researches