International journal of endocrinology 8 (64) 2014
The modern statements for diagnostics and treatment of medullary thyroid carcinoma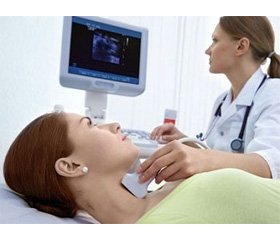 The thesis is devoted to the investigation of clinical and epidemiological aspects, gender and age characteristics of tumor growth thyroid medullary carcinoma, the elucidation of the importance of such factors as the tumor metastasis and its size to the choice of tactics and volume of surgery.
A retrospective analysis of a cohorts of patients with medullary carcinoma showed that the structure is dominated by women, its fraction with sporadic medullary carcinoma with age becomes significantly smaller. Among males more than females occurs metastatic tumors in regional lymph nodes and severe form of the disease, higher mortality and the survival rate of male patients compared with women.
Except for frequent tumor metastasis to regional lymph nodes and other specified laws not traceable to hereditary forms of medullary thyroid carcinoma. Furthermore, we show that tumor size more than 2 cm (even in the absence of proven metastasis) is an unfavorable factor that increases mortality among patients, decreases their survival, especially in sporadic tumors.
In the study the results of different nature and volume of surgery on thyroid gland and lymph collectors were found to be important for the choice of treatment strategy is the presence of metastatic tumor and its size. Given the tumor (without metastases) size is not more than 2 cm (T1-2N0M0), a sufficient amount of surgery is total thyroidectomy with central lymph node dissection. If tumors (without metastases) larger than 2 cm (T3-4N0M0) treatment protocol should include total thyroidectomy with central and lateral lymph node dissection.
It is shown that the level of calcitonin in the blood of patients with medullary carcinoma is a necessary component of the protocol preoperative examination of patients in order to diagnose possible tumor micrometastases that are not detected topical methods of diagnosis and postoperative management protocol of patients to detect disease recurrence.
Similar articles

Authors: Смоляр В.А.(1), Товкай О.А.(1), Паламарчук В.О.(1), Хоперія В.Г.(2)
1 - Український науково-практичний центр ендокринної хірургії, трансплантації ендокринних органів і тканин МОЗ України, м. Київ, Україна
2 - ННЦ «Інститут біології та медицини» Київського національного університету імені Тараса Шевченка, м. Київ, Україна
International journal of endocrinology Том 14, №8, 2018
Date: 2019.02.11
Categories: Endocrinology
Sections: Specialist manual


Authors:
Кваченюк А.М., Рейзін Д.В. – ДУ «Інститут ендокринології та обміну речовин ім. В.П. Комісаренка НАМН України», м. Київ; Київська міська клінічна лікарня № 8


International journal of endocrinology 8 (64) 2014
Date: 2015.03.04
Categories: Endocrinology
Sections: Clinical researches


Authors:
Hande Peynirci(1), Canan Ersoy(2), Pınar Sisman(3), Ozlem Saraydaroglu(4), Coskun Ozer Demirtas(5), Ozen Oz Gul(2) (1) — Health Sciences University Kanuni Sultan Suleyman Training and Research Hospital, Department of Endocrinology and Metabolism Diseases, Istanbul, Turkey (2) — Uludag University Faculty of Medicine, Department of Internal Medicine, Division of Endocrinology and Metabolism Diseases, Bursa, Turkey (3) — Private Medicana Hospital, Department of Endocrinology and Metabolism Diseases, Bursa, Turkey (4) — Uludag University Faculty of Medicine, Department of Pathology, Bursa, Turkey (5) — Marmara University Faculty of Medicine, Department of Internal Medicine, Division of Gastroenterology, Istanbul, Turkey


International journal of endocrinology Том 16, №6, 2020
Date: 2020.11.18
Categories: Endocrinology
Sections: Clinical researches