"Child`s Health" 1 (69) 2016
Assessment of Nutritional Status of Grade 1–11 Schoolchildren in Lviv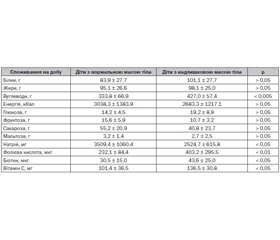 Summary
У статтi наведено результати дослiдження особливостей нутритивного статусу 90 учнiв 1–11-х класiв загальноосвiтнiх шкiл мiста Львова. Виявлено, що в бiльшостi з них щоденний харчовий рацiон був у цiлому незбалансованим, мiстив надлишок енергiї та бiлкiв на тлi нестачі мiкроелементiв i вiтамiнiв. В учнiв початкової школи з недостатньою масою тiла (10 %) були визначені дефiцит енергетичного забезпечення внаслiдок зменшеного споживання жирiв, нестача мiкронутрiєнтiв, вiтамiнiв. Натомiсть серед учнiв 5–8-х та 9–11-х класiв виявлено 20 % дiтей із надмiрною масою тiла, що асоцiювалося з дисбалансом в надходженнi важливих нутрiєнтiв на тлi споживання збiльшеної кiлькостi висококалорiйних продуктiв. Ці дослiдження доводять необхiднiсть нутритивної корекцiї та корекції способу життя школярiв для профiлактики формування метаболiчних порушень i їх наслiдкiв, покращення стану здоров'я.
В статье приведены результаты исследования особенностей нутритивного статуса 90 учеников 1–11-х классов общеобразовательных школ города Львова. Выявлено, что у большинства из них ежедневный пищевой рацион был в целом несбалансированным, содержал избыток энергии и белков на фоне недостатка микроэлементов и витаминов. У учащихся начальной школы с недостаточной массой тела (10 %) был определен дефицит энергетического обеспечения вследствие уменьшенного потребления жиров, недостаток микронутриентов, витаминов. В свою очередь, среди учащихся 5–8-х и 9–11-х классов выявлено 20 % детей с избыточной массой тела, что ассоциировалось с дисбалансом в поступлении важных нутриентов на фоне потребления увеличенного количества высококалорийных продуктов. Данные исследования доказывают необходимость нутритивной коррекции и коррекции образа жизни школьников для профилактики формирования метаболических нарушений и их последствий, улучшения состояния здоровья.
The article presents the results of studies on the features of nutritional status of 90 grade 1–11 pupils from comprehensive secondary schools in Lviv. It was found that in the majority of them, daily dietary intake was substantially unba­lanced, with excess of energy and proteins on the background of a lack of microelements and vitamins. Elementary school pupils with insufficient body weight (10 %) had energy supply deficit due to reduced consumption of fats, lack of micronutrients, vitamins. In contrast, among pupils of grades 5–8 and 9–11, 20 % of children had overweight associated with an imbalanced intake of important nutrients on the background of increased consumption of high-calorie foods. These investigations de­monstrate the need of nutritional correction and lifestyle modification in pupils to prevent metabolic disorders and their effects, improving health status.
Keywords
дiти, школярi, харчування, нутрiєнти.
дети, школьники, питание, нутриенты.
children, schoolchildren, food, nutrients.

Nutrition is an important element of child development. It is crucial to child's growth, formation of health, physical efficiency, body resistance to effects of environmental factors. Adequate and regular nutrition is of special essence for school-age children, as it should provide the growing organism with all necessary macro- and micronutrients, vitamins and minerals.
The number of researches that would summerize data on different age school children nutrition, prevalence of eating behavior disorders and lack of basic macro- and micronutrients is unsufficient in modern Ukraine.
The aim of the study was to assess the peculiarities of nutritional status of students of different age in secondary schools in Lviv, reveal deficiency of micro- and macronutrients consumption, and find eating behavior disorders.
Materials and research methods.
The study involved 90 students from secondary schools around Lviv. According to their age, students were divided into 3 groups: grades 1-4, grades 5-8, grades 9-11. Students had a predefined three-day diet (two weekdays and one weekend) made using specially designed diaries filled in by the parents of elementary school students or by middle and high school students themselves. The diary includes data on the amount of each product in the diet, determined using electronic scales for weighing food that a child consumed. Nutritional value of the diet was counted using a special computer program Dietplan 6 (UK). The following indexes were calculated: daily calorific value of intake, amount of consumed protein, fats, carbohydrates, macronutrients (calcium, phosphorus, potassium, sodium, chlorine and magnesium), essential microelements (iron, zinc, iodine, fluorine, copper, selenium, chromium, molybdenum, cobalt and manganese), vitamins A, D, E, H, C, B group and others. The results were compared with the norm (increased, decreased or normal intake) for each macro- or micronutrient.
The results obtained and their discussion
According to the results, 10.0% of the surveyed students of 1-4 grades of Lviv schools were underweight and less likely to have enough energy. Energy deficiency was associated with significantly lower consumption by the children of fat and proteins. Diet of underweight kids did not provide the organism with necessary quantity of saturated fatty acids and micronutrients, like sodium, potassium, magnesium, phosphorus, iron, copper, zinc. Saturated fatty acid deficiency can be explained by the lack of animal meat in the diet of such students, and phosphorus deficiency is associated with almost complete lack of fish dishes. They were characterized by inadequate intake of raw vegetables, fruit, milk and dairy products, which caused the deficit of zinc, calcium, magnesium, iron, sodium, potassium, copper, and vitamin A (carotene). Against the backdrop of inadequate intake of the above products, a tendency to reduce intake of such nutrients as fructose (by 1.3 times), maltose (by 0.6 times), lactose (by 1.1 times) was detected. Underweight students were identified with a likely deficit of nicotinic acid, tryptophan and vitamin C.
Among students of 5-8 grades, 6 individuals (20.0%) were overweight, which is likely to be associated with excessive consumption of carbohydrates. The analysis of their daily food menu showed that overweight people ate an average of 11.8% more food every day in comparison to their peers, and excess of carbohydrates in these individuals correlated with the consumption of large quantities of bakery products, confectionery and fast-food network meals, etc. Moreover, the group of overweight schoolchildren was detected with probable deficiency of sodium intake, and probable excess of folic acid, biotin and vitamin C by 136.5 mg/day. In addition, these individuals showed a trend towards greater flow of glucose (by 1.4 times) against less intake of fructose (by 1.5 times), sucrose (by 1.4 times), maltose (1.2 times), which results in great likelihood of metabolic disorders in these students, including obesity.
Among students of 5-8 grades there were underweight individuals (3.3%). Although likely differences in the consumption of macro- and micronutrients by these students were not found, there was, however, a tendency to shortage of energy due to lesser intake of such important food components as proteins (by 1.3 times), fats (by 1.6 times) and carbohydrates (by 1.2 times) as compared to their peers with normal weight. Comparative analysis of the results with a food diary data showed that underweight students' daily menu was characterized with insufficient consumption of animal meat, dairy products, fresh fruit and vegetables.
Among high school students (9-11 grades), 20.0% were overweight. The results showed a significantly larger energy intake, which could be associated with higher consumption of protein, compared to students with normal body weight, and significantly higher intake of starch. A comparative analysis of food menu showed that the amount of food consumed by these students was by 10-12% higher than the similar figure in students with a normal body weight. Excessive intake of starch correlated with a large amount of potato and bean products in their diet, as well as protein ingredients - along with consumption of excessive amounts of eggs. Moreover, it was found that overweight individuals received more calcium and magnesium along with insufficient intake of zinc. Consumption of a large amount of glucose on the background of the tendency towards lower consumption of fruit and dairy products is also worth attention.
Conclusions
1. In general, modern diet of school children was unbalanced and contained excess energy and protein against the background of insifficient amount of microelements and vitamins.
2. Among the examined group of students with insufficient body weight (4.4%), elementary school children made up a majority (3.3%), which is associated with deficit of energy intake related to fats, protein and a number of vital micronutrients and more.
3. Among students of 5-8 and 9-11 grades, quite a large number of overweight individuals were identified. Characteristic of them was an imbalance in the flow of important nutrients against the backdrop of consumption of excessive amounts of high-calorie products.
4. These studies have shown a disturbing tendency towards possible formation of various types of metabolic disorders and their pathological consequences in schoolchildren. Hence, it is necessary to study the basics of nutrition and eating behavior correction at elementary school level, including in the parents' environment.
Bibliography
1. Боровик Т.Э. Клиническая диетология детского возраста / Т.Э. Боровик, К.С. Ладодо. — М.: МИА, 2008. — 606 с.
2. Бухановська Т.М. Стан здоров'я сучасних школярiв, шляхи його збереження та полiпшення / Т.М. Бухановська, Л.О. Мальцева, Л.В. Андрейчин // Україна. Здоров'я нацiї. — 2012. — № 1. — С. 44-51.
3. Квашнина Л.В. Кальций и его значение для растущего организма // Doctor. — 2003. — № 2. — С. 68-70.
4. Лук'янова О.М. Медико-соцiальнi аспекти збереження здоров'я дiтей, забезпечення їхнього гармонiйного фiзичного та iнтелектуального розвитку / О.М. Лук'янова // Журнал АМН України. — 2001. — Т. 7, № 3. — С. 408-415.
5. Лук'янова О.М. Проблеми здоров'я здорової дитини та науковi аспекти профiлактики його порушень / О.М. Лук'янова // Мистецтво лiкування. — 2005. — № 2. — С. 6-15.
6. Лук'янова О.М. Стан здоров'я дiтей молодшого шкiльного вiку та шляхи його корекцiї / О.М. Лук'янова // Перинатологiя та педiатрiя. — 2004. — № 1. — С. 3-5.
7. Резнiченко Г.I. Проблеми охорони здоров'я дiтей та пiдлiткiв в Українi / Г.I. Резнiченко, Ю.Г. Резнiченко // Современная педиатрия. — 2005. — № 2. — С. 25-28.
8. Сердюк А.М. Медична екологiя i проблема здоров'я дiтей / А.М. Сердюк // Журнал АМН України. — 2001. — Т. 7, № 3. — С. 437-449.
9. Няньковский С.Л., Яцула М.С., Сенкевич Е.М., Пасичнюк И.П. Медико-социальные особенности состояния здоровья школьников в Украине // Georgian Medical News. — 2014. — 5 (230). — 60-65.
10. Яцула М.С. Фактори ризику порушення адаптації першокласників до систематичного шкільного навчання // Педіатрія, акушерство та гінекологія. — 2011. — № 4 (73). — С.169-170.
11. Яцула М.С. Стан здоров'я першокласників, їх готовність до систематичного навчання в школі // Здоровье ребенка. — 2010. — № 3 (24). — С. 55-58.
12. Спиричев В.Б. Витамины и минеральные вещества в питании и поддержании здоровья детей / В.Б. Спиричев. — М., 2007. — 22 с.
13. Шадрiн О.Г., Дюкарева-Бездєнєжних С.В. Дефiцит макро- i мiкронутрiєнтiв у харчуваннi дiтей раннього вiку та шляхи його корекцiї // Перинатология и педиатрия. — 2010. — № 4 (44). — С. 69-74.
14. Children's adaptations to a fat-reduced diet: the Dietary Intervention Study in Children (DISC) / L.Van Horn, E. Obarzanek, L. Friedman [et al.] // Pediatrics. — 2005. — Vol. 115, № 7. — P. 1723-1733.
15. Effects of fast-food consumption on energy intake and diet quality among children in a national householdsurvey / S.A. Bowman, S.L. Gortmaker, C.B. Ebbeling [et al.] // Pediatrics. — 2004. — Vol. 113, № 7. — P. 112-118.
16. Resnicow K. The relationship between breakfast habits and plasma cholesterol levels in schoolchildren / K. Resnicow // J. Sch. Health. — 2006. — № 61. — P. 81-85.
17. Role of dietary factors and food habits in the development of childhood obesity: a commentary by the ESPGHAN Committee on Nutrition / C. Agostoni, C. Braegger, T. Decsi [et al.] // JPGN. — 2011. — V. 52. — P. 662-669.
18. Szajewska H. Systematic review demonstrating that breakfast consumption influences body weight outcomes in children and adolescents in Europe / H. Szajewska, M. Ruszczynski // Crit. Rev. Food Sci. Nutr. — 2010. — № 50. — P. 113-119.
19. Trends of dietary habits in adolescents / L. Moreno, G. Rodriguez, J. Fleta [et al.] // Crit. Rev. Food Sci. Nutr. — 2010. — № 50. — P. 106-112.
10. U.S. Per Capita Food Supply Trends: More Calories, Refined Carbohydrates and Fats / J. Putnam, J. Allshouse, L. Kantor. — Washington, DC: Economic Research Service, US Department of Agriculture, 2002.
Similar articles

Authors: Няньковський С.Л., Пасiчнюк I.П.;
Львiвський нацiональний медичний унiверситет iменi Данила Галицького, м. Львів, Україна
"Child`s Health" 6 (74) 2016
Date: 2016.11.18


Authors: Barbara Pyszczuk(1), Anna Ziółkowska(2)
(1) — Warsaw University of Life Sciences, Warsaw, Poland
(2) — Central Clinic Hospital of the Ministry of Interior and Administration in Warsaw, Diabetes Centre in Internal Diseases, Endocrinology and Diabetology Clinic, Warsaw, Poland
"Kidneys" Том 6, №4, 2017
Date: 2017.11.14
Categories: Nephrology
Sections: Clinical researches



Authors: Д-р Марк Райт, MB, ChB, MD, FRCP
Нефролог-консультант, Університетська лікарня Сент-Джеймс, Лідс
Пані Елізабет Сауткотт (диплом із відзнакою)
Старший спеціаліст ренальний дієтолог, Університетська лікарня Сент-Джеймс, Лідс
Пан Стюарт Вінберг
Автор-пацієнт
"Kidneys" Том 8, №2, 2019
Date: 2019.05.27
Categories: Nephrology
Sections: Specialist manual