International journal of endocrinology 2 (74) 2016
Мonocyte Chemoattractant Protein Levels in Patients with Primary Hypothyroidism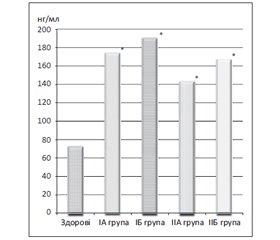 Summary
Мета дослідження — ​визначити вміст моноцитарного хемоатрактантного протеїну‑1 (МХП‑1) у сечі хворих на первинний гіпотиреоз.
Матеріали і методи. Обстежено 141 хворого з маніфестним гіпотиреозом. З числа обстежених у 71 пацієнта був післяопераційний гіпотиреоз, у 70 — ​гіпотиреоз на тлі автоімунного тиреоїдиту (АІТ). Пацієнти були розділені на ІА групу, що становили з 35 пацієнтів із гіпотиреозом на ґрунті АІТ без ожиріння; ІБ групу — ​35 хворих на АІТ із гіпотиреозом та ожирінням; ІІА групу — ​34 хворіх на післяопераційний гіпотиреоз без ожиріння; IІБ групу — ​37 хворих на післяопераційний гіпотиреоз з ожирінням.
Результати. В обстежених пацієнтів виявлено вірогідне підвищення рівнів МХП‑1 у всіх групах. При проведенні кореляційного аналізу встановлений прямий кореляційний зв'язок між рівнями МХП‑1 і тиреотропним гормоном, а також рівнем креатиніну в крові та зворотний середньої сили кореляційний зв'язок між швидкістю клубочкової фільтрації та концентрацією МХП‑1 із найбільшим ступенем вираженості при некомпенсованому гіпотиреозі на ґрунті АІТ з ожирінням.
Висновки. Виявлені зв'язки свідчать, що рівень МХП‑1 певною мірою відображає функціональний стан нирок та може бути використаний як доповнення до традиційних методів обстеження хворих.
Цель исследования — ​определить содержание моноцитарного хемоаттрактантного протеина‑1 (МХП‑1) в моче больных первичным гипотиреозом.
Материалы и методы. Обследован 141 больной с манифестным гипотиреозом. Из числа обследованных у 71 пациента был послеоперационный гипотиреоз, у 70 — ​гипотиреоз на фоне аутоиммунного тиреоидита (АИТ). Пациенты были разделены на IA группу, состоящую из 35 пациентов с гипотиреозом на почве АИТ без ожирения; ІБ группу — ​35 больных АИТ с гипотиреозом и ожирением; ІІА группу — ​34 больных послеоперационным гипотиреозом без ожирения; IІБ группу — ​37 больных послеоперационным гипотиреозом с ожирением.
Результаты. У обследованных пациентов выявлено достоверное повышение уровней МХП‑1 во всех группах. При проведении корреляционного анализа установлена прямая корреляционная связь между уровнями МХП‑1 и тиреотропного гормона, а также уровнем креатинина в крови и обратная средней силы корреляционная связь между скоростью клубочковой фильтрации и концентрацией МХП‑1 с наибольшей степенью выраженности при некомпенсированном гипотиреозе на почве АИТ с ожирением.
Выводы. Выявленные связи свидетельствуют, что уровень МХП‑1 в определенной степени отражает функциональное состояние почек и может быть использован как дополнение к традиционным методам обследования больных.
Objective of the research — ​to study the content of monocyte chemoattractant protein‑1 (MCP‑1) in the urine of patients with primary hypothyroidism.
Materials and methods. 141 patients with overt hypothyroidism have been examined. Among them, 71 patients had postoperative hypothyroidism, 70 — ​hypothyroidism on the background of autoimmune thyroiditis (AIT). Patients were divided: into I A group consisted of 35 patients with hypothyroidism following AIT without obesity; I B group — ​35 patients suffering from AIT with hypothyroidism and obesity; II A group — ​34 patients with postoperative hypothyroidism without obesity; II B group — ​patients with postoperative hypothyroidism and obesity.
Results. The surveyed patients had significant increase of MHP‑1 levels in all groups. During correlation analysis, we have established a direct correlation between levels of MHP‑1 and thyroid-stimulating hormone, as well as creatinine levels in the blood and the reverse correlation of medium strength between glomerular filtration rate and concentration of MHP‑1, with the highest severity in the uncompensated hypothyroidism on the background of AIT with obesity.
Conclusions. Identified correlations indicate that the level of MHP‑1 to a certain extent reflects renal function and can be used as a complement to traditional methods of examination of patients.
Keywords
гіпотиреоз, тиреоїдні гормони, моноцитарний хемоатрактантний протеїн‑1.
гипотиреоз, тиреоидные гормоны, моноцитарный хемоаттрактантный белок‑1.
hypothyroidism, thyroid hormones, monocyte chemoattractant protein‑1.
Backgrounds
Deficiency of thyroid hormones is accompanied by malfunction of metabolic processes followed by the development of changes with various stages of manifestation in all organs and systems, including sufficient changes in renal function. Nowadays, the issue of relation between thyroid functional state and kidneys has not been studied well and is a subject matter of numerous publications revealing various pathophysiological concepts. Changes in renal functions resulting from deficiency of thyroid hormones are characterized by decreased renal blood flow and glomerular filtration rate (GFR), abnormal concentrative function in distal canals and poor excretion of acid by kidneys. According to some authors, renal malfunction in patients with manifested hypothyroidism is caused by such nonimmune factors as high levels of total cholesterol, arterial hypertension, glomerular hypertension. Since the leading cause of the development of manifested hypothyroidism is chronic autoimmune thyroiditis (AIT), the influence of immune factors leading to renal dysfunction in patients with hypothyroidism is of great interest; however, this subject hasn't been studied to the fullest extent. Recently, the role of monocyte chemoattractant protein (MCP-1) in the development of nephropathies has been actively studied. It should be noted that increased glomerular expression of MCP-1 has been revealed in different nephropathies. Specifically, the latest investigations revealed that secretion of MCP-1 is raised in case of lupus-nephritis, various forms of glomerulonephritis and renal insufficiency. F. Chiarelli states that biosynthesis of MCP-1 in renal pathology is considerably high under the influence of proinflammatory interleukins, which in its turn causes monocyte infiltration of glomeruli. Investigation of MCP-1 in case of renal pathology proves its important role in inflammatory reactions and progress of renal malfunction, but scientific research base is limited. There are rare studies of MCP-1 concerning the evaluation of its clinical significance in patients with diabetes. As far as the influence of this mediator on the development of renal dysfunction in patients with primary hypothyroidism is concerned, such investigations are scarce in available literature and data which they represent are quite contradictory. Thus, study of MCP-1 contents in patients with different causes of primary hypothyroidism, on one hand, will enrich current knowledge of the development of pathophysiological mechanisms of this disorder, and on the other hand, it has a scientific and practical significance as it will allow to manage the treatment plan and to make prognosis of the pathological process progress.
Taking into account everything mentioned above, the aim of the article was to determine the contents of MCP-1 in the urine of patients with primary hypothyroidism.
Materials and methods
The investigation involved 141 patients with manifested hypothyroidism, registered at the endocrinology dispensary of the disease in policlinics of Ivano-Frankivsk, as well as in the endocrinology department in Ivano-Frankivsk regional clinical hospital. The average age of patients was 56 ± 8; and the duration of officially confirmed anamnesis of hypothyroidism was 2.8 (1.8; 4.9) years. The control group involved 20 people having none thyroid pathology, 9 men and 11 women among them. To achieve our goal, the presence and stage of manifestation of renal malfunction was evaluated, as well as the relation between found data and MCP-1 levels in patients with hypothyroidism in comparison to control group consisting of people without any thyroid pathology was estimated. Criteria of inclusion to the research were: previously confirmed diagnosis of hypothyroidism (primary or decompensated primary hypothyroidism) – with TSH level exceeding the uppermost margin of referent scale (4.0 mmol/L) and decreased levels of T4 (<10.3 pmol/l) and T3 (<2.3 pmol/l); patient's consent to participate in the experiment. Criteria of exclusion from the research were: disorders in cerebral circulation in anamnesis; ischemic cardiac disease (according to anamnesis and examination that included electrocardiogram, echocardiogram and revealed symptoms of circulatory insufficiency); arterial hypertension exceeding stage 1; chronic diseases of cardiovascular system with developed circulatory insufficiency that exceeds functional class II according to NYHA classification; any chronic renal disorder in anamnesis; chronic liver diseases; oncological diseases; chronic diseases with allergic component in its genesis (bronchial asthma, etc.); autoimmune disorders (except AIT); acute inflammatory and/or aggravation of chronic inflammatory disorder; pregnancy; use of hypolipidemic preparations; mental disorders; other endocrine disorders. Complex laboratory and instrumental investigation of renal function included clinical, laboratory, and instrumental examination, as well as a special method – defining the level of monocyte chemoattractant protein-1 in urine. All patients underwent complex clinical examination, their body weight index (BWI) was measured, levels of urea, creatinine and total protein were defined. Kidney damage was confirmed on the basis of disorder of glomerular filtration, i.e. presence of albuminuria and index of GFR estimated by the formula CKD-EPI. Levels of thyroid hormones (free Т4 and free Т3) and TSH were determined at immunologic laboratory in the regional clinical hospital with the use of StatFax 303 analyzer ant a set of DRG reagents (USA). Microalbuminuria was defined with the help of «Microalbumin» test strips («Cormay», Poland). MCP-1 concentration was estimated with the help of immunoenzymometric analysis by means of test system manufactured by Bender MedSystem (Austria). Ultrasonic scanning of the organs of genitourinary system was performed. To estimate renal vascular flow ultrasonic dopplerography of renal vessels was made; attention was paid to the vascular size and permeability, inner vascular changes and perivascular tissue condition. To evaluate the effect of autoimmune process in the thyroid gland as well as BWI on the stage of manifestation of renal malfunction and production of MCP-1, patients were grouped into: IA group which involved 35 patients with hypothyroidism resulting from AIT without obesity; IB group that included 35 patients suffering from AIT accompanied by hypothyroidism and obesity; IIA group that encompassed 34 patients with postoperative hypothyroidism without obesity; and IIB group involving patients with postoperative hypothyroidism accompanied by obesity, n=37.
Statistical analysis was made by means of variable-based statistical method. Analyzing the material, mean quantities (M), their standard errors (m) and confidence interval were estimated. Probability of differences was evaluated according to Student's t-criterion for dependent and independent sampling, in case of clustering nonparametric Mann-Whitney (U) and Wilkonson (W) criteria were used. Differences were considered statistically significant at р<0.05. Dependence of indices was evaluated by means of estimation of correlation coefficient according to Spearman method. Statistical study of the material was made on the ground of variable-based and descriptive statistics by means of a standard set of statistical calculations Statistica 6.0, Foxbase, Exel 6.0 on the personal computer Pentium III.
Results
According to the findings of the research MCP-1 levels in the urine of patients with manifested hypothyroidism has proved to be significantly higher. Thus, considerably increased level of this mediator in comparison to control group has been revealed in patients with hypothyroidism resulting from AIT without obesity; it has reached 174.42±4.21 pg/ml, while patients with hypothyroidism resulting from AIT accompanied by obesity have showed 190.36±3.69 pg/ml. Significantly raised levels of chemokine has also been observed in the group of patients with postoperative hypothyroidism: 143.15±2.25 pg/ml in patients without excessive weight and nearly 167.34±3.85 pg/ml in obese patients with postoperative hypothyroidism. The mid-point of given index has exceeded the uppermost margin of referent interval for normal MCP-1 levels, which is 0-139 pg/ml. Increased levels of MCP-1 has proved the presence of active inflammatory response in the group of patients with manifested hypothyroidism and activation of monocyte sector of immunity, especially in patients with AIT. Moreover, significantly higher MCP-1 levels may be caused by such factors as hypertension, proteinuria and azotemia. Our research has revealed a direct mean stable correlation between MCP-1 levels and thyroid stimulating hormone in patients' blood serum, direct correlation between blood creatinine levels and albuminuria as well as reverse mean stable correlation between glomerular filtration rate and MCP-1 concentration. Such relationships prove that the level of the latter reflects to some extent the functional state of kidney and may be applied additionally to conventional methods of patients' examination. Our findings prove the data according to which production of MCP-1 is increased in patients with noncompensated hypothyroidism. Generally, review of references has showed that data on the effects of MCP-1 in case of hypothyroidism are quite scarce and most works have rather experimental character. Thus, grounds have been given to include the examination of urinary excretion of MCP-1 to the complex of diagnostic procedures for patients with manifested hypothyroidism. It has been found that manifested hypothyroidism is characterized by chronic renal inflammation of low intensity, higher concentration of MCP-1 in urine being its marker. Quantitative measurements of monocyte chemoattractant protein-1 in urine is noninvasive indication that replacement therapy of manifested hypothyroidism is adequate.
Conclusions
Patients with manifested hypothyroidism have higher levels of monocyte chemoattractant protein-1. The relationship between hyperproduction of monocyte chemoattractant protein-1 and TSH levels, as well as renal malfunction with the highest level of manifestation in case of noncompensated hypothyroidism on the ground of autoimmune thyroiditis has been defined.
Bibliography
1. Basu G., Mohapatra A. Interactions between thyroid disorders and kidney disease // Indian J. Endocrinol. Metab. — 2012. — ​Vol. 16(2). — ​P. 204-213.
2. The monocyte chemoattractant protein‑1 / CCR 2 loop, inducible by TGF-beta, increases podocyte motility and albumin permeability / E.U. Lee, C.H. Chung, C.C. Khoury et al. // Amer. J. Physiol. Renal Physol. — 2009. — ​Vol. 297(1). — ​P. 85-94.
3. Chiarelli F., Cipollone F., Mohn A. et al. Circulating monocyte chemoattractant protein‑1 and early development of nephropathy in type 1 diabetes // Diabetes Care. — 2002. — ​Vol. 25. — ​P. 1829-1834.
4. Clinical and biochemical implications of low thyroid hormone levels (total and free forms) in euthyroid patients with chronic kidney disease / J.J. Carrero, A.R. Qureshi, J. Axelsson et al. // Journal of Internal Medicine. — 2007. — ​Vol. 262(6). — ​P. 690-701.
5. Comparison of serum concentrations of C-reactive protein, TNF-alpha, and IL6 between elderly Korean women with normal and impaired glucose tolerance / K.M. Choi, J. Lee, K.W. Lee et al. // Diabetes Res. Clin. Pract. — 2004. — ​Vol. 64. — ​P. 99-106.
6. Decrease in renal function associated with hypothyroidism / P. Stoyanov, J.A.M. Navarro, E.M. Herrero, M.J. Gutierrez Sanchez // Nephrologia. — 2010. — ​Vol. 30(3). — ​P. 378-380.
7. Eddy A.A. Progression in chronic kidney disease // Adv. Chronic Kidney Dis. — 2005. — ​Vol. 12. — ​P. 353-365.
8. Clinical Management of Thyroid Disease / Ed. by F.E. Wondisford, S. Radovick. — ​Baltimore, Maryland: John Hopkins University School of Medicine, 2009. — 860 p.
9. Giunti S., Barutta F., Perin P.C., Gruden G. Targeting the MCP‑1/CCR 2 System in diabetic kidney disease // Curr. Vasc. Pharmacol. — 2010. — ​Vol. 8(6). — ​P. 849-860.
10. Correlation between severity of thyroid dysfunction and renal function. / J.G. Den Hollander, R.W. Wulkan, M.J. Mantel, A. Berghout // Clin. Endocrinol. — 2005. — ​Vol. 62. — ​P. 423-427.
11. Vargas F., Moreno J.M., Rodriguez-Gomez I. et al. Vascular and renal function in experimental thyroid disorders // Eur. J. Endocrinol. — 2006. — ​Vol. 154. — ​P. 197-212.
12. Vernon M.A., Mylonas K.J., Hughes J. Macrophages and renal fibrosis // Semin. Nephrol. — 2010. — ​Vol. 30(3). — ​P. 302-317.
13. Meuwese C.L., Dekker F.W., Lindholm B. et al. Baseline levels and trimestral variation of triiodothyronine and thyroxine and their association with Mortality in maintenance hemodialysis patients // Clin. J. Am. Soc. Nephrol. — 2012. — ​Vol. 7. — ​P. 131-138.
14. Tesch G.H. MCP‑1/CCL2: a new diagnostic marker and therapeutic target for progressive renal injury in diabetic nephropathy // Am. J. Physiol. Renal Physiol. — 2008. — ​Vol. 294. — ​P. 697-701.
15. Thyroid function, endothelium, and inflammation in hemodialyzed patients: possible relations? / J. Malyszko, J.S. Malyszko, K. Pawlak, M. Mysliwiec // J. Ren. Nutr. — 2007. — ​Vol. 17(1). — ​P. 30-37.
16. Williams T.M., Little M.H., Ricardo S.D. Macrophages in renal development, injury, and repair // Semin. Nephrol. — 2010. — ​Vol. 30(3). — ​P. 255-267.
Similar articles

Authors:
Didushko O.M. - State Higher Educational Institution «Ivano-Frankivsk National Medical University», Ivano-Frankivsk; Pankiv V.I. - Ukrainian Scientific and Practical Centre for Endocrine Surgery, Transplantation of Endocrine Organs and Tissues of the Ministry of Healthcare of Ukraine, Kyiv, Ukraine


International journal of endocrinology 1 (73) 2016
Date: 2016.03.25
Categories: Endocrinology
Sections: Clinical researches