"Pain. Joints. Spine." 1 (21) 2016
Dynamic of bone mineral density and pain syndrome in patients with rheumatoid arthritis during the standard treatment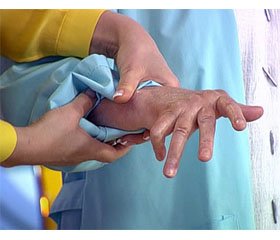 The article was published on p. 75-76
Background. In patients with rheumatoid arthritis (RA) develop both local and systemic osteoporosis due to inflammation and medications that are used in treatment of RA. Severe clinical presentation with a high level of activity, glucocorticoid treatment, low body weight, menopause period, low level of physical activity — are risk factors of osteoporosis development in patients with RA. Question of treatment of osteopenia among such patients is not still closed. According to the EULAR recommendations in that case as first medication we use combination of calcium and vitamin D, but there are more active compounds.
Objectives. To compare the effect of a combination of calcium carbonate (1000 mg) and vitamin D (800 ME) with combination of ossein (291 mg) and hydroxyapatite (444 mg) («Osteogenon» «Pierre Fabre», France) on BMD in patients with RA, evaluate the dynamic of pain syndrome.
Methods. We examined 47 patients with RA, 9 men and 38 women, mean age — 51.60 ± 5.62 years, midscore of DAS28 is 2.78 ± 0.35, randomized into 2 groups. As basic therapy 20 patients (42.55 %) received methotrexate 7,5–15 mg per week, 23 patients (48.94 %) combined methotrexate with glucocorticoids 5–10 mg per day, 4 patients (8.51 %) received leflunomide 20 mg per day. Patients of the first group (n = 23) along with basic therapy were treated with osteogenon, the second group (n = 24) — basic therapy and calcium with vitamin D. Pain syndrome was assessed according to visual analogue scale (VAS) before treatment and after 1, 3 and 6 months. BMD was determined by dual energy X-ray absorptiometry.
Results. Pain decreased by 35.4 % (p < 0.05) in the group of patients receiving osteogenon and in the group receiving combination of calcium and vitamin D to 9.1 % (p < 0.05). Bone mineral density increased in the group receiving osteogenon (+ 6.9 %, p < 0.001) after 6 months of treatment, in contrast to second group, in which was not observed reliable dynamic (+ 1.35 %, p > 0.05).
Conclusions. More significant improvement of BMD was registered in first group in comparison with a group of patients that received the combination of calcium with vitamin D at recommended doses.