"Pain. Joints. Spine."
About the edition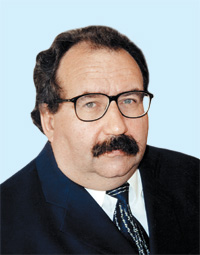 Editor-in-Chief
Povoroznyuk Vladislav
MD, Professor, Honorary Scientist and Technician of Ukraine, President of Ukrainian Association of osteoporosis, member of the Board of the world Association of osteoporosis (IOF), President of the Ukrainian Association of menopause, andropause and diseases of the musculoskeletal system, the head of the Department of clinical physiology and pathology of locomotor system, State Institution «Institute of Gerontology of NAMS of Ukraine, Director of Ukrainian Scientific and medical centre of osteoporosis problems.
Deputy chief editor:
Resch Heinrich (Vienna, Austria)
Reginster Jean-Yves (Liege, Belgium)
Grigoreva Natalia (Kiev)
Executive Secretary:
Founded: March 2011
Publication frequency: 4 times per year.
Registration Certificate КВ № 17141-5911Р. Issued by the Ministry of Justice of Ukraine 21.10.2010.
Index for Subscription via Post Office: 89698
ISSN 2224-1507 (print)
ISSN 2307-1133 (online)