"Child`s Health" 7 (75) 2016
Microaspiration Syndrome in Pediatric Practice: Modern Features and Role in Bronchial Obstruction Syndrome Formation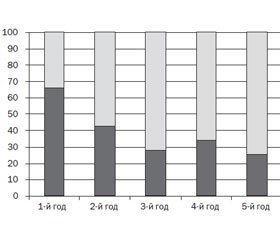 Summary
У статті наведені дані щодо дослідження поширеності синдрому мікроаспірації серед дітей раннього віку, які перебували в міському дитячому пульмонологічному відділенні з приводу затяжного перебігу обструктивного бронхіту. Була вивчена структура причин мікроаспірації у дітей раннього віку (2010–2015 рр.). Виділено найбільш значущі причини виникнення мікроаспіраційного синдрому залежно від віку дітей. Для більш ефективного збору анамнезу використовували модифікований опитувальник для батьків. У групі ризику за наявністю мікроаспіраційного синдрому в першу чергу знаходяться діти з перинатальним ураженням центральної нервової системи, народжені раніше терміну, з морфологічними і фізіологічними дефектами носоглотки, з м'язовою дистонією. Проявом мікроаспірації можуть бути часті відрижки, блювота під час кашлю, витікання їжі через ніс, зв'язок нападів кашлю з годуванням, посилення або поява кашлю в положенні лежачи, напади нічного кашлю або задухи, тривале збереження покашлювання після нападу. Педіатрам рекомендується уважно спостерігати за дітьми під час кожного годування, бо дисфагія може бути мінливою. Мікроаспіраційний синдром є складним в діагностиці і вимагає комплексного підходу, найчастіше діагностичні маніпуляції носять інвазивний характер. Своєчасна діагностика і лікування мікроаспіраційного синдрому дозволять знизити рівень респіраторної захворюваності у дітей раннього віку та зменшити тривалість перебігу обструктивних бронхітів.
В статье приведены данные по исследованию распространенности синдрома микроаспирации среди детей раннего возраста, которые находились в городском детском пульмонологическом отделении по поводу затяжного течения обструктивного бронхита. Была изучена структура причин микроаспирации у детей раннего возраста (2010–2015 гг.). Выделены наиболее значимые причины возникновения микроаспирационного синдрома в зависимости от возраста детей. Для более эффективного сбора анамнеза использовали модифицированный опросник для родителей. В группе риска по наличию микроаспирационного синдрома в первую очередь находятся дети с перинатальным поражением центральной нервной системы, рожденные раньше срока, с морфологическими и физиологическими дефектами носоглотки, с мышечной дистонией. Проявлением микроаспирации могут быть частые срыгивания, рвота во время кашля, вытекание пищи через нос, связь приступов кашля с кормлением, усиление или появление кашля в положении лежа, приступы ночного кашля или удушья, длительное сохранение покашливания после приступа. Педиатрам рекомендуется внимательно наблюдать за детьми во время каждого кормления, так как дисфагия может быть непостоянной. Микроаспирационный синдром является сложным в диагностике и требует комплексного подхода, чаще всего диагностические манипуляции носят инвазивный характер. Своевременная диагностика и лечение микроаспирационного синдрома позволят снизить уровень респираторной заболеваемости у детей раннего возраста и уменьшить продолжительность течения обструктивных бронхитов.
The paper presents the data on research of aspiration syndrome prevalence among young children treated in the City children's pulmonary department due to protracted course of obstructive bronchitis. The structure of microaspiration reasons in young children was studied (2010–2015). The most significant reasons of microaspiration syndrome development were revealed depending on children age. Modified questionnaire for the parents was used to collect anamnesis effectively. The children with perinatal impairment of nervous system, preterm children, and the children with morphological and physio­logical nasopharyngeal defects, with muscular dystonia are firstly in risk group for microaspiration syndrome. Microaspiration may manifest with frequent regurgitation, vomiting during cough, meal leaking from the nose, correlation of coughing fit with feeding, exacerbation or development of coughing in prone position, fit of night coughing and asphyxia, long-term hacking after cough attack. Pediatricians are recommended to observe attentively their patients during each feeding as dysphagy could be inconstant. Microaspiration syndrome is a challenging for diagnosis and requires complex approach, as mostly diagnostic procedures are invasive. Timely diagnosis and treatment of microaaspiration syndrome allow decrease respiratory diseases rate in young children and reduce obstructive bronchitis duration.
Keywords
мікроаспірація; бронхіт; діти
микроаспирация; бронхит; дети
microaspiration; bronchitis; children
For the full article you need to subscribe to the magazine.
Bibliography
1. Satter E.M. The feeding relationship: problems and interventions / E.M. Satter // J. of Pediatric. — 2009. — ​V. 117. — ​Р. 181-189.
2. Arvedson J.C. Pediatric Swallowing and Feeding / Joan C. Arvedson, Linda Brodsky. — ​Delmar Cengage Learning, 2015. — 528 с.
3. Luiselli J.K. Cueing, demand fading, and positive reinforcement to establish self-feeding and oral consumption in a child with chronic food refusal / J.K. Luiselli. — ​Behavior Modification, 2000. — ​Р. 348-358.
4. Katilov A.V. Clinical pulmonology of children's age / A.V. Katilov, D.V. Dmitriev, E.Y.U. Dmitriev // Vinnitsa. — 2014. — ​Р. 135-155.
5. Wallis C. Assessing the Role of Aspiration in Pediatric Lung Disease / C. Wallis, M. Ryan // Pediatric Allergy, Immunology and Pulmonology. — 2012. — ​V. 25(3). — ​P. 132-142.
6. Weir K. Oropharyngeal aspiration and silent aspiration in children / K. Weir, S. McMahon, S. Taylor // Chest. — 2011. — ​V. 140. — ​P. 589-597.
7. Jadcherla S. Physiology and pathophysiology of glottis reflexes and pulmonary aspiration: from neonates to adults / S.R. Jadcherla, W.J. Hogan // Respir. Crit. Care Med. — 2010. — ​V. 31. — ​P. 554-560.
8. Davis A.M. Empirically supported treatments for feeding difficulties in young children / A.M. Davis, A. Bruce, J. Cocjin // Curr. Gastroenterol. Rep. — 2010. — ​V. 12. — ​P. 189-194.
9. Arvedson J.C. Management of pediatric dysphagia / J.C. Arvedson // Otolaryngol. Clin. North Am. — 1998. — ​V. 31. — ​P. 453-476.
10. Miller C.K. The implications of upper airway obstruction on successful infant feeding / C.K. Miller, J.P. Willging // Semin. Speech. Lang. — 2007. — ​V. 28. — ​P. 190-203.
11. Bryksina E. Bronchopulmonary dysplasia against microaspiration of gastric contennts: course speciefics and outcomes / E. Bryksina // Fund. research. — 2014. — ​V. 7. — ​P. 23-30.
Similar articles

Authors: Ильченко С.И., Мишина Н.В., Фиалковская А.А., Жукова Л.А.
ГУ «Днепропетровская медицинская академия МЗ Украины», г. Днепр, Украина
"Child`s Health" Том 13, №8, 2018
Date: 2019.01.21
Categories: Pediatrics/Neonatology
Sections: Clinical researches