"Child`s Health" 7 (75) 2016
Immunity to Diphtheria and Tetanus in HIV-Infected Children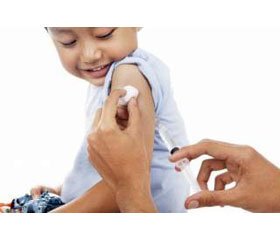 Authors:

Волоха А.П.(1), Раус І.В.(2), Донской Б.Є.(3), Чернишова Л.І.(1), Чернишов В.П.(3)
(1) — Національна медична академія післядипломної освіти імені П.Л. Шупика, м. Київ, Україна
(2) — Київський міський центр ВІЛ/СНІД, м. Київ, Україна
(3) — ДУ «НДІ педіатрії, акушерства та гінекології», м. Київ, Україна



Categories:

Pediatrics/Neonatology



Sections:

Clinical researches
Summary
За даними дослідження виявлено нижчий рівень охоплення щепленнями ВІЛ-інфікованих дітей проти дифтерії та правця (63,3 %), ніж загалом у популяції. Велика частка дітей з ВІЛ-інфекцією (79,4 %), щеплених проти цих збудників, не мала протективного рівня антитіл проти дифтерії. Захисний рівень антитіл проти правця був відсутній у 28,8 % ВІЛ-інфікованих дітей, які отримали щеплення проти правця. ВІЛ-інфіковані діти, неімунні проти дифтерії та правця, є групою ризику щодо можливого захворювання на ці інфекції. Основні предиктори наявності імунного захисту проти дифтерії й правця — ранній початок лікування ВІЛ-інфекції (у перші 2 роки життя), вищий рівень CD4+ Т-лімфоцитів на початок антиретровірусної терапії (АРТ) та проведення вакцинації на АРТ. ВІЛ-інфікованим дітям, які отримали щеплення проти дифтерії та правця до початку АРТ, рекомендоване проведення контролю рівня специфічних антитіл, за відсутності захисного рівня антитіл — додаткова ревакцинація проти цих бактеріальних інфекцій.
По данным исследования выявлен более низкий уровень охвата прививками ВИЧ-инфицированных детей против дифтерии и столбняка (63,3 %), чем в целом в популяции. Большая часть детей с ВИЧ-инфекцией (79,4 %), привитых против этих возбудителей, не имели протективного уровня антител против дифтерии. Защитный уровень антител против столбняка отсутствовал у 28,8 % ВИЧ-инфицированных детей, получивших вакцинацию против столбняка. ВИЧ-инфицированные дети, неиммунные против дифтерии и столбняка, являются группой риска по возможному заболеванию этими инфекциями. Основные предикторы наличия иммунной защиты против дифтерии и столбняка — раннее начало лечения ВИЧ-инфекции (в первые 2 года жизни), проведение вакцинации на АРТ и высокий уровень CD4+ Т-лимфоцитов на начало АРТ. ВИЧ-инфицированным детям, получившим прививки против дифтерии и столбняка до начала АРТ, рекомендовано проведение контроля уровня специфических антител, при отсутствии защитного уровня антител — дополнительную ревакцинацию против этих бактериальных инфекций.
Backgrоund. HIV infected patients are at risk for vaccine-preventable infections such as tetanus and diphtheria. It is important to know about the protection of HIV-infected children from these infections, as there is a risk even after complete immunization. The protective immunity after vaccination against diphtheria and tetanus is measured by the antibodies level against these pathogens. The aim of this study was to evaluate the persistence of immunity to tetanus and diphtheria toxoid in HIV-infected children. Materials and methods. The protective immunity against diphtheria and tetanus was studied in children with HIV infection in the Kyiv City AIDS Center. Immunization rate was evaluated in 142 HIV-infected children. Serum samples were obtained in 59 HIV-infected children (study group) vaccinated against diphtheria and tetanus toxoid during routine check-ups. The results of anti-tetanus and anti-diphtheria antibodies were compared with the data of 17 children without HIV (the control group). The mean age of HIV-infected patients was 9.2 years old (range from 1.6 to 15.5 years old). Most children (38/59, 64.4 %) had mild clinical manifestations of HIV infection (I and II clinical stage of the disease). 89.8 % (53/59) of children of the group received antiretroviral therapy. The level of CD4+ T-lymphocytes within age norms was in 88.2 % of children receiving ART. Results. The research revealed lower vaccination coverage of HIV-infected children against diphtheria and tetanus (63.3 %) than in the general population. Only 19.7 % (28/142) of HIV-infected children were fully vaccinated according to the National schedule against these bacterial infections. A large proportion of children with HIV infection (79.3 %) vaccinated against these pathogens does not have protective levels of antibodies against diphtheria. The protective level of antibodies against tetanus was absent in 28.8 % of vaccinated HIV-positive children. Mean level of tetanus antibodies in serum was significantly lower in HIV-infected children (0.28 IU/ml) compared to the children not infected with HIV (0.53 IU/ml), p < 0.001. The average serum level of antibodies against diphtheria was also significantly lower in HIV-infected children
(0.22 IU/ml) compared to the children not infected with HIV (0.43 IU/ml), p < 0001. Only 18.6 % of children in the study group were protected against both pathogens compared with 41.2 % of children in the control group. HIV-infected children are not immune to diphtheria and tetanus and are at risk of these infections. Conclusions. The main predictor of immune protection against diphtheria and tetanus is an early treatment of HIV infection (in the first 2 years of life), higher levels of CD4 + T-cells at the beginning of ART and ART vaccination after being started on ART. We recommend controlling the level of specific antibodies HIV-infected children who have received vaccination against diphtheria and tetanus before the ART beginning. In case of the absence of protective antibodies an extra booster against these bacterial infections is recommended to HIV-infected children.
Keywords
ВІЛ-інфекція; дифтерія; правець; щеплення; діти
ВИЧ-инфекция; дифтерия; столбняк; прививка; дети
HIV infection; diphtheria; tetanus; vaccination; children
For the full article you need to subscribe to the magazine.
Bibliography
1. Volokha A, Chernyshova L, Raus I. Vaktsynacia ditey z VIL-infektsieiu. Metodychni rekomendatsii; 2015. 28s.
2. Cagigi A, Cotugno N, Giaquinto C. et al. Immune reconstitution and vaccination outcome in HIV‑1 infected children. Human Vaccines & Immunotherapeutics 2012;8:12:1784-1794. doi.10.4161/hv.21827
3. Choudhury SA, Matin F. Subnormal and waning immunity to tetanus toxoid in previously vaccinated HIV-infected children and response to booster doses of the vaccine. International Journal of Infectious Diseases 2013;17: e1249-e1251. doi.10.1016/j.ijid.2013.07.008
4. Farquhar C, Wamalwa D, Selig S, et al. Immune responses to measles and tetanus vaccines among Kenyan human immunodeficiency virus type 1 (HIV‑1)-infected children pre- and post-highly active antiretroviral therapy and revaccination. Pediatr Infect Dis J 2009;28:295-9. doi:10.1097/INF.0b013e3181903ed3
5. Grabmeier-Pfistershammer K, Herknerb H, Touzeau-Roemera V, et al. Low tetanus, diphtheria and acellular pertussis (Tdap) vaccination coverage among HIV infected individuals in Austria. Vaccine 2015. doi.10.1016/j.vaccine.2015.06.056
6. Kernéis S, Launay O, Turbelin C, et al. Long-term immune responses to vaccination in HIV–Infected patients: a systematic review and meta-analysis // Clinical Infectious Diseases 2014;58(8):1130-9. doi:10.1093/cid/cit937
7. Mayers C, Posfay-Barbe KM, Aebi C, et al. Determinants of vaccine immunity in the cohort of human immunodeficiency virus-infected children living in Switzerland. Pediatr Infect Dis J 2009;28:11:996-1001. doi: 10.1097/INF.0b013e3181a78348
8. Manno EC, Bamford A, Rojo P, Volokha A, et al. Immunization practice and vaccine safety perception in centres caring for children with perinatally acquired HIV: results from the Pediatric European Network for Treatment of AIDS survey. Abstract book of 8th IAS Conference on HIV Pathogenesis, Treatment and Prevention 19–22 July 2015. P. 272
9. Menson EN, Mellado MJ, Bamford A, et al. Guidance on Vaccination of HIV–Infected Children in Europe. HIV Medicine 2012;13(6):333-336. doi:10.1111/j.1468-1293.2011.00982.x
10. Sutcliff CG, Moss WJ. Do children infected with HIV receiving HAART need to be revaccinated? Lancet Infect Dis 2010;10:630-4. doi:10.1016/S1473-3099(10)70116-X
11. Rosenblatt HM, Song LY, Nachman SA, et al. Tetanus immunity after diphtheria, tetanus toxoids, and acellular pertussis vaccination in children with clinically stable HIV infection. J Allergy Clin Immunol 2005;116:698-703. doi:10.1016/j.jaci.2005.05.016
12. Salawu L, Ndakotsu MA. Tetanus antibody in Nigerians living with HIV/AIDS: A preliminary report. Malaysian Journal of Microbiology 2010;6(2):111-114.
13. Sticchi L, Bruzzone B, Caligiuri P, et al. Seroprevalence and vaccination coverage of vaccinepreventable diseases in perinatally HIV‑1-infected patients. Human Vaccines & Immunotherapeutics 2015;11:1:263-269. doi:10.4161/hv.36162
14. Tejiokem MC, Gouandjika I, Be´niguel L. HIV–Infected children living in Central Africa have low persistence of antibodies to vaccines used in the Expanded Program on Immunization. PLoS ONE2(12): e1260. doi:10.1371/journal.pone.0001260
Similar articles

Authors: Ревенко Г.О., Маврутенков В.В.
ДЗ «Дніпропетровська медична академія МОЗ України», м. Дніпро, Україна
"Actual Infectology" Том 6, №1, 2018
Date: 2018.03.22
Categories: Infectious diseases
Sections: Specialist manual


Authors:
Чернишова Л.І., Степановський Ю.С., Національна медична академія післядипломної освіти імені П.Л. Шупика, Донськой Б.В., Чернишов В.П., ДУ «Інститут педіатрії, акушерства і гінекології НАМН України», м. Київ


"Child`s Health" 6 (41) 2012
Date: 2013.02.25
Categories: Pediatrics/Neonatology
Sections: Clinical researches