"Hypertension" 6 (50) 2016
Do We Always Prescribe Life-Saving Medicines to Our Patients, or Indications for Statin Therapy and Statin Administration in Actual Practice (Based on the СИСТЕМА Study)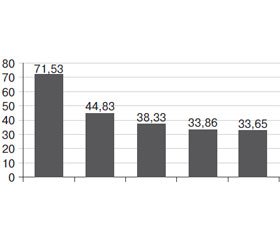 Authors:

Целуйко В.И.
Харьковская медицинская академия последипломного образования, г. Харьков, Украина



Categories:

Cardiology



Sections:

Clinical researches
Summary
У статті надано результати дослідження ­СИСТЕМА, у якому проводився аналіз призначення статинів хворим із артеріальною гіпертензією, які звернулися до лікаря-кардіолога в поліклініці. Встановлено, що в реальній клінічній практиці має місце недооцінка лікарями ризику хворого і можливості за допомогою статинів поліпшити прогноз. Найбільш часто, але рідше, ніж слід було, лікарі-кардіологи призначали статини хворим, які перенесли інфаркт міокарда. При наявності в анамнезі інсульту, цукрового діабету, хронічної хвороби нирок або високої артеріальної гіпертензії в призначеннях кардіологів статини зустрічаються менш ніж у половини пацієнтів.
В статье приведены результаты исследования СИСТЕМА, в котором проводился анализ назначений статинов больным с артериальной гипертензией, обратившихся к врачу-кардиологу в поликлинике. Установлено, что в реальной клинической практике имеет место недооценивание врачами риска больного и возможности с помощью статинов улучшить прогноз. Наиболее часто, но реже, чем следовало, врачи-кардиологи назначали статины больным, перенесшим инфаркт мио­карда. При наличии в анамнезе инсульта, сахарного диабета, хронической болезни почек или высокой артериальной гипертензии в назначениях кардиологов статины встречаются менее чем у половины пациентов.
The article presents the results of the СИСТЕМА study, which analyzed the prescriptions of statins to the patients with hypertension, who sought help from a cardiologist in the out-patient hospital. It was found that in actual clinical practice, there is an underestimation of the risk for the patient by doctors and the possibility to improve prognosis ­using statins. Most often, but less frequently than they should, cardiologists prescribe statins to the patients with myocardial infarction. In the presents of a history of stroke, diabetes mellitus, chronic kidney disease or high blood pressure, statins are being prescribed by a cardiologist in less than half of the patients.
Keywords
статини; артеріальна гіпертензія; офіс­ний АТ; гіполіпідемічна терапіястатини; артеріальна гіпертензія; офіс­ний АТ; гіполіпідемічна терапія
статины; артериальная гипертензия; офисное АД; гиполипидемическая терапия
statins; arterial hypertension; office blood pressure; lipid-lowering therapy
For the full article you need to subscribe to the magazine.
Bibliography
1. CCT Collaboration // Lancet. — 2015. — 385. — 1397-405.
2. Taylor F., Ward K., Moore T.H. et al. // Cochrane Database Syst. Rev. — 2011. — 1. — CD004816.
3. Colhoun H.M., Betteridge D.J., Durrington P.N. et al. Оn behalf of the CARDS investigators. Primary prevention of cardiovascular desease with atorvastatin in type 2 diabetes in the Collaborative Atorvastatin Diabetes Study (CARDS): multicenter randomized placebo-controlled trial // Lancet. — 2004. — 364. — 685-96.
4. Athyros V.G., Mikhailidis D.P., Papageorgiou A.A. et al. The effect of statins versus untreated dyslipidaemia on renal function in patients with coronary heart disease. A subgroup analysis of the Greek atorvastatin and coronary heart disease evaluation (GREACE) study // J. Clin. Pathol. — 2004. — 57(7). — 728-734.
5. Коваленко В.М. Проблеми здоров'я і медичної допомоги та модель покращення в сучасних умовах: Посібник. — К., 2016.
6. Лапач С.Н., Чубенко А.В., Бабич П.Н. Статистические методы в медико-биологических исследованиях с использованием Exel. — К.: Морион, 2001.
7. Stone N.J. et al. 2013 ACC/AHA Blood Cholesterol Guideline.
8. Catapano et al. 2016 ESC/EAS Guidelines for the Management of Dyslipidaemias // European Heart Journal. — 2016.
8. Стабільна ішемічна хвороба серця: Адаптована клінічна настанова, заснована на доказах. — 2016.
9. Scandinavian Simvastatin Survival Study Group. Randomized trial of cholesterol lowering in 4444 patients with coronary heart disease: the Scandinavian Simvastatin Survival Study (4S) // Lancet. — 1994. — 344. — 1383-1389.
10. American Diabetes Association. Standards of Medical Care in Diabetes — 2016 // The Journal оf Clinical аnd Applied Research аnd Education. — 2016.
11. Am. J. Kidney Dis. — 2002. — 39(2 suppl. 1). — 818.
Similar articles