"Hypertension" 6 (50) 2016
Activators of Angiogenesis and Cardiovascular Diseases. Results of Study of Blood Levels of Vascular Endothelial Growth Factor and Angiopoetin-2 in Patients with Essential Hypertension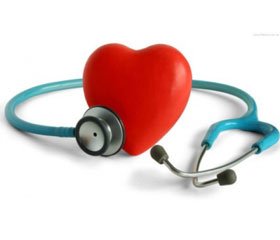 Authors:

Коваль С.М., Мисниченко О.В., Снігурська І.О., Висоцька О.В., Циганков О.І., Корнейчук І.А., Пенькова М.Ю.
ДУ «Національний інститут терапії імені Л.Т. Малої НАМН України», м. Харків, Україна



Categories:

Cardiology



Sections:

Clinical researches
Summary
Вивчені рівні в крові потужних активаторів ангіогенезу з прозапальною дією — васкулоендотеліального фактора росту та ангіопоетину-2 у хворих на гіпертонічну хворобу. Виявлено достовірне підвищення рівнів у крові вказаних факторів у хворих на гіпертонічну хворобу порівняно з практично здоровими особами. Встановлено, що рівні у крові ангіопоетину-2 достовірно зростають у хворих на гіпертонічну хворобу при підвищенні тяжкості гіпертензії та при наявності таких метаболічних порушень, як абдомінальне ожиріння, гіперглікемія натще, порушення толерантності до глюкози, гіперурикемія та комбінована дисліпопротеїнемія. Рівні в крові васкулоендотеліального фактора росту були достовірно більш високими у хворих на гіпертонічну хворобу зі стабільною стенокардією напруження порівняно з хворими без стенокардії. Отримані дані вказують на важливу роль активації ангіогенезу в розвитку гіпертонічної хвороби та її серцево-судинних ускладнень.
Изучены уровни в крови мощных активаторов ангиогенеза с провоспалительным действием — васкулоэндотелиального фактора роста и ангиопоэтина-2 у больных гипертонической болезнью. Выявлено достоверное повышение уровней в крови указанных факторов у больных гипертонической болезнью в сравнении с практически здоровыми лицами. Установлено, что уровни в крови ангиопоэтина-2 достоверно повышаются у больных гипертонической болезнью при увеличении тяжести гипертонии и при наличии таких метаболических нарушений, как абдоминальное ожирение, гипергликемия натощак, нарушение толерантности к глюкозе, гиперурикемия и комбинированная дислипопротеинемия. Уровни в крови вас­кулоэндотелиального фактора роста были достоверно более высокими у больных гипертонической болезнью со стабильной стенокардией напряжения в сравнении с больными без стенокардии. Полученные данные указывают на важную роль активации ангиогенеза в развитии гипертонической болезни и ее сердечно-сосудистых осложнений.
Blood levels of vascular endothelial growth factor and angiopoetin-2, powerful activators of angiogenesis with proinflammatory activity were studied in hypertensive patients. Significantly higher vascular endothelial growth factor and angiopoetin-2 blood levels have been determined in hypertensive patients compared to normotensive control subjects. The blood levels of angiopoetin-2 were found to be enhanced in hypertensive patients while deterioration of essential hypertensive and at presence of such metabolic disorders as abdominal obesity, fasting hyperglycemia, glucose intolerance, hyperuricemia and combined dyslipidemia. Vascular endothelial growth factor blood levels were higher in hypertensive patients with stable angina pectoris compared to the patients without angina pectoris. The data obtained indicate an important role of angiogenesis activation in the development of essential hypertension and its cardiovascular complications.
Keywords
гіпертонічна хвороба; ангіогенез; васкулоендотеліальний фактор росту; ангіо­поетин-2; запалення
гипертоническая болезнь; ангиогенез; васкулоэндотелиальный фактор роста; ангиопоэтин-2; воспаление
essential hypertension; angiogenesis; vascular endothelial growth factor; angiopoetin-2; inflammation
For the full article you need to subscribe to the magazine.
Bibliography
1. Гавриленко Т.И., Рыжкова Н.А., Пархоменко А.Н. Сосудистый эндотелиальный фактор роста в клинике внутренних заболеваний и его патогенетическое значение // Укр. кард. журнал. — 2011. — № 4. — С. 87-95.
2. Серцево-судинні захворювання. Рекомендації з діагностики, профілактики та лікування // За ред. В.М. Коваленка, М.І. Лутая. — К.: Моріон, 2011. — 400 с.
3. Borona E., Targher G., Alberiche M. et al. Homeostasis Model Assessment Closely Mirrors the Glucose Clamp Technique in the Assessment of Insulin Sensitivity // Diabet. Care. — 2000. — Vol. 23. — P. 57-64.
4. Chen C.H., Walterscheid J.P. Plaque angiogenesis versus compensatory arteriogenesis in atherosclerosis // Circ. Res. — 2006. — Vol. 99. — P. 787-789.
5. 2013 ESH/ESC Guidelines for management of arterial hypertension // J. of Hypertension. — 2013. — № 31. — Р. 1281-1357.
6. Fiedler U., Reiss Y., Scharpfenecker M. et al. Angiopoetins: a link between angiogenesis and inflammation // Trend. Immunol. — 2006. — Vol. 27. — P. 552-558.
7. Hiyama T., Tanaka T., Endo S. et al. Angiogenesis in athe–rosclerotic plaque obtained from carotid endarterectomy: association between symptomatology and plaque morphology // Neurol. Med. Chir. — 2010. — Vol. 50. — P. 1056-1061.
8. Holash J., Davis S., Papadopoulos N. VEGF-Trap: A VEGF blocker with potent antitumor effects // PNAS. — 2002. — Vol. 99, № 17. — P. 1393-1398.
9. Hughes C.C. Endothelial-stromal interaction in angioge–nesis // Curr. Opin. Hematol. — 2008. — Vol. 15. — P. 204-209.
10. Iribarren C., Phelps B.H., Darbinian J.A. et al. Circula–ting angiopoietins-1 and -2, angiopoietin receptor Tie-2 and vascular endothelial growth factor-A as a biomarkers of acute myocardial infarction: a prospective nested case-control study // BMS Cardivasc. Disord. — 2011. — Vol. 11, № 31. — Р. 11-31.
11. Korff T., Ernst E., Nobiling R. et al. Angiopoetin-1 mediates inhibition of hypertension-induces release of angiopetin-2 from endothelial cells // Cardiovascular Research. — 2012. — Vol. 94. — P. 510-518.
12. Khurana R., Simons M., Martin G. et al. Role of angiogenesis in cardiovascular disease: a critical appraisal // Circulation. — 2005. — Vol. 112. — P. 1813-1824.
13. Libby P., Ridker P.M., Hansson G.K. Progress and challenges in translating the biology of atherosclerosis // Nature. — 2011. — Vol. 473. — P. 317-332.
14. Lieb W., Safa R., Benjamin E.J., Xanthakis V. et al. Vascular endothelial growth factor, its soluble receptor, and hepatocyte growth factor: clinical and genetic correlates and association with vascular function // European Heart Journal. — 2009. — Vol. 30. — Р. 1121-1127.
15. Steeghs N., Gelderblom H., Roodt J.O. et al. Hypertension and rarefaction during treatment with telatinib, a small molecule angiogenesis inhibitor // Clin. Cancer Res. — 2008. — Vol. 14. — P. 3470-3476.
16. Struijker-Boudier H.A.J., Agabiti-Rosei E. The microcirculation and the haemodynamics of hypertension // ESH Clinical Practice Newsletters. — 2011. — P. 67-68.
17. Zachary I., Morgan R.D. Therapeutic angiogenesis for cardiovascular disease: biological context, challenges, prospects // Heart. — 2011. — Vol. 97. — P. 181-189.
18. Zhang W., Doherty M., Pascual E. et al. EULAR evidence based recommendations for gout. Part I: diagnosis. Report of a task force of the Standing Committee for International Clinical Studies Including Therapeutics (ESCISIT) // Ann. Rheum. Dis. — 2006. — Vol. 65. — P. 1301-1311.
19. Zhang J., Silva T., Yarivinsky T. et al. VEGF Blockade inhibits lymphocyte recruitment and ameliorates immune-mediated vascular remodeling // Circ. Res. — 2010. — Vol. 107. — P. 408-417.
Similar articles

Authors:
Didushko O.M. - State Higher Educational Institution «Іvano-Frankivsk National Medical University», Ivano-Frankivsk, Ukraine


International journal of endocrinology 6 (70) 2015
Date: 2016.02.02
Categories: Endocrinology
Sections: Clinical researches




Authors: С.Ю. Могілевський(1), Ю.О. Панченко(2,3), С.В. Зябліцев(4), Л.В. Натрус(4)
(1) — Національна медична академія післядипломної освіти імені П.Л. Шупика МОЗ України, м. Київ, Україна
(2) — Київська міська клінічна офтальмологічна лікарня «Центр мікрохірургії ока», м. Київ, Україна
(3) — Медичний центр «ЛАЗЕР Плюс», м. Львів, Україна
(4) — Національний медичний університет імені О.О. Богомольця МОЗ України, м. Київ, Україна
Archive Of Ukrainian Ophthalmology Том 6, №3, 2018
Date: 2019.04.24
Categories: Ophthalmology
Sections: Specialist manual