"Hypertension" 6 (50) 2016
Calcific Aortic Valve Stenosis: Current Approaches to the Diagnosis, Medical and Surgical Treatment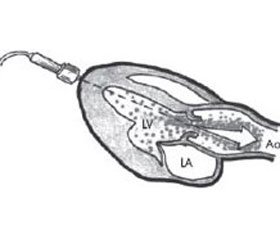 Authors:

Скибчик В.А., Мелень Ю.П.
Львівський національний медичний університет імені Данила Галицького, м. Львів, Україна



Categories:

Cardiology



Sections:

Specialist manual
Summary
В статті розкриті етіологічні і патогенетичні аспекти виникнення кальцинуючого стенозу аортального клапана. Автори детально висвітлюють сучасну класифікацію, критерії діагностики і вибору тактики лікування у даної когорти пацієнтів згідно з сучасними рекомендаціями.
В статье раскрыты этиологические и патогенетические аспекты возникновения кальцифицирующего стеноза аортального клапана. Авторы подробно освещают современную классификацию, критерии диагностики и выбора тактики лечения в данной когорте пациентов согласно современным рекомендациям.
This article describes the etiologic and pathogenic aspects of the occurrence of calcific aortic valve stenosis. The authors thoroughly consider the current classification, criteria for the diagnosis and choice of treatment in these patients according to current recommendations.
Keywords
кальцинуючий стеноз аортального клапана; аортальний стеноз; патогенез; діагностика; тактика лікування
кальцифицирующий стеноз аортального клапана; аортальный стеноз; патогенез; диагностика; тактика лечения
calcific aortic valve stenosis; aortic stenosis; pathogenesis; diagnostics; treatment strategy
For the full article you need to subscribe to the magazine.
Bibliography
1. Павлюк В.І., Жарінов О.Й., Понич Н.В. Аортальний стеноз // Кардіохірургія та інтервенційна кардіологія. — 2014. — № 2. — С. 9-16.
2. Рекомендації Асоціації кардіологів України з діагностики та лікування клапанних вад серця / В.М. Коваленко, О.Г. Несукай, Г.В. Книшов та ін. — К., 2013. — 52 с.
3. Скибчик В.А., Мелень Ю.П Дегенеративний кальциноз аортального клапана: патогенетичні механізми виникнення, перебіг, класифікація // Ліки України. — 2012. — № 6(162). — С. 33-36.
4. Baumgartner H., Hung J., Bermejo J. et al. Echocardiographic assessment of valve stenosis: EAE/ASE recommendations for clinical practice // Eur. J. Echocardiogr. — 2009. — Vol. 10. — P. 1-25.
5. Nishimura R.A., Otto C.M., Bonow R.O. et al. 2014 AHA/ACC guideline for the management of patients with valvular heart disease: executive summary: a report of the American College of Cardiology/American Heart Association Task Force on Practice Guidelines // J. Am. Coll. Cardiol. — 2014. — Vol. 63(22). — P. 2438-2488.