"Pain. Joints. Spine." 4 (24) 2016
Central and Eastern European summit on bone diseases: international experts` forum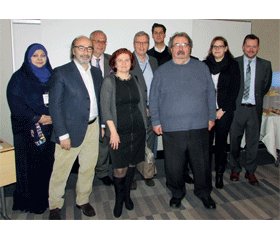 Summary
В огляді представлені ключові питання, які розглядалися під час Центрально-східноєвропейського саміту з захворювань кісткової тканини, що відбувся в грудні 2016 року в м. Відень (Австрія).
В обзоре изложены ключевые вопросы, которые рассматривались в ходе Центрально-восточноевропейского саммита по заболеваниям костной ткани, который состоялся в декабре 2016 года в г. Вена (Австрия).
Key highlights which were discussed during the Central and Eastern European summit on bone diseases, that has been held in December, 2016 in Vienna (Austria) are presented in the review.
Keywords
остеопороз; вітамін D; саркопенія, TBS; кісткова тканина; переломи
остеопороз, витамин D; саркопения; TBS; костная ткань; переломы
osteoporosis; vitamin D; sarcopenia; TBS; bone tissue; fractures
For the full article you need to subscribe to the magazine.
Similar articles

Authors:
Vasic J. - Department of Physical Medicine and Rehabilitation, Railway Healthcare Center, Belgrade, Serbia; Petranova T. - Clinic of Rheumatology, Medical University, Sofia, Bulgaria; Povoroznyuk V. - Department of Clinical Physiology and Pathology of Locomotor Apparatus, D.F. Chebotarev; Institute of Gerontology NAMS Ukraine and Ukrainian Scientific-Medical Center for the Problems of Osteoporosis, Kiev, Ukraine; Barbu C.G. - Department of Endocrinology, Carol Davila University of Medicine and Pharmacy, Bucharest, Romania; Karadzic M. - Institute for Treatment and Rehabilitation «Niska Banja», Nis, Serbia; Gojkovic F. - Department of Physical Medicine and Rehabilitation, Railway Healthcare Center, Belgrade, Serbia; Elez J. - Department of Internal Medicine, Railway Healthcare Center, Belgrade, Serbia; Winzenrieth R. - R&D Department, Med-Imaps, PTIB, Hopital Xavier Arnozan, Pessac, France; Hans D. - Bone Diseases Center, DAL, Lausanne University Hospital, Lausanne, Switzerland; CulaficVojinovic V. - Department of Internal Medicine, Railway Healthcare Center, Belgrade, Serbia; Poiana C. - Department of Endocrinology, Carol Davila University of Medicine and Pharmacy, Bucharest, Romania; Dzerovych N. - Department of Clinical Physiology and Pathology of Locomotor Apparatus, D.F. Chebotarev;Institute of Gerontology NAMS Ukraine and Ukrainian Scientific-Medical Center for the Problems of Osteoporosis, Kiev, Ukraine; Rashkov R. - Clinic of Rheumatology, Medical University, Sofia, Bulgaria; Dimic A. - Institute for Treatment and Rehabilitation «Niska Banja», Nis, Serbia


"Pain. Joints. Spine." 3 (15) 2014
Date: 2014.12.12
Categories: Rheumatology, Traumatology and orthopedics
Sections: News