"Тrauma" Том 18, №1, 2017
Medical simulators and mannequins as an element of teaching practical skills in pediatrics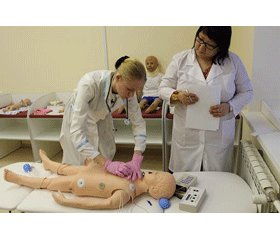 Authors:

Чернышева О.Е., Герасименко В.В., Климовицкий Ф.В., Полесова Т.Р., Самойленко И.Г., Балычевцева И.В., Хапченкова Д.С., Кривошеева В.В., Павлов Е.Н.
Донецкий национальный медицинский университет, г. Лиман, Украина


Summary
У статті наведений досвід застосування педіатричних симуляторів у симуляційному центрі на базі Донецького національного медичного університету (м. Лиман) для навчання та відпрацювання практичних навичок студентів і лікарів.
Описан опыт применения педиатрических симуляторов в симуляционном центре на базе Донецкого национального медицинского университета (г. Лиман) для обучения и отработки практических навыков студентов и врачей.
The article is devoted to the use of modern medical phantoms and simulators in the educational process in the higher school. This is due to the fact that students do not have opportunities, including the deontology approach, to practice each skill of medical manipulations, such as cardiopulmonary resuscitation, intravenous or intramuscular injections and others, directly on the patient. In order to test the effectiveness and efficiency of the use of various simulators, phantoms and models in the educational process, in the clinical departments of the Donetsk National Medical University it is analyzed the degree of practical skills mastering of students and practitioners both in groups with only theoretical study of medical procedures and in groups which have been trained in the medical simulation center on a special teaching method.In Donetsk National Medical University of Ministry of Health of Ukraine it is organized a medical simulation center, which is equipped with various simulators, mannequins and phantoms, in particular, with sets of simulators for developing practical skills in giving intravenous, intramuscular, subcutaneous, intradermal, intraosseous injections; a phantom of a newborn baby for nurses' training; a phantom model for newborn care practicing; a phantom of an infant; a computerized model of a child for auscultation, which allows to practice skills in case of cardiovascular system lesions; a pediatric simulator for life-sustaining of a child with an arrhythmia simulator; a phantom of a child for vascular therapy; an educational model for cardiopulmonary resuscitation of a newborn baby to control the efficiency of treatment; a child phantom with controllers to practice the procedures of care and resuscitation. During classes of pediatrics at the training sessions in the center, students master the following manipulations: setting a vapor tube and a cleansing enema, carrying out a primary toilet of a newborn baby, a read-out and an interpretation of ECG. They also learn administering intravenous, intramuscular, subcutaneous and intradermal injections. After watching the training video on a specific manipulation, the teacher gives instructions for working on phantoms and simulators. After that each student independently performs the manipulation under the teacher's control. One of the distinguishing characteristic of the simulation center is that the training allows simulate pathological conditions and situations of the resuscitation in real time and to practice a scheme of actions during these health states. Over the academic year of center operation more than 1500 students, 300 nurses and over 200 practitioners have been trained and passed the practical part of the exam. The training in the simulation center, according to the analysis, ensures higher digestibility of the learning material, which is more than the purely theoretical training by 25 %. Also it provides the possibility for each student and practitioner to get an objective assessment of his levels of training in connection with the changes of thinking in general. The training improves and enriches pedagogical approaches in education.
Keywords
симуляційний центр; практичні навички; педіатрія
симуляционный центр; практические навыки; педиатрия
simulation center; skills; pediatrics
For the full article you need to subscribe to the magazine.
Bibliography
1. Арасланова А.А. Интеграция науки, образования и производства: синергетический эффект / А.А. Арасланова // Философия образования. — 2011. — № 1. — С. 26-31.
2. Ехалов В.В. Принципы подготовки врачей-интернов разных специальностей по циклу «Неотложные состояния» / В.В. Ехалов, В.И. Слива, Д.М. Станин, О.В. Лященко, Е.Н. Клигуненко // Медицина неотложных состояний. — 2011. — № 4(35). — С. 126-128.
3. Сазонов Б.А. Индивидуально-ориентированная организация учебного процесса как условие модернизации высшего образования / Б.А. Сазонов // Высшее образование в России. — 2011. — № 4. — С.10-24.
4. Самоделкина Т.К. Студенческое самоуправление в профессиональном становлении будущего специалиста / Т.К. Самоделкина, Л.И. Паина, А.В. Кулешова // Материалы итоговой учебно-метод. конференции «Медицинское образование в Оренбургской области». — 2014. — С. 83.
5. Ofordeme K.G., Papa L., Brennan D.F. Botfly myiasis: a case report // CJEM. — 2007. — № 9. — Р. 380-2.
6. Clyti E., Deligny C., Nacher M., del Giudice P., Sainte-Marie D., Pradinaud R. et al. An urban epidemic of human myiasiscaused by Dermatobiahominis in French Guiana // Am. J. Trop.Med. Hyg. — 2008. — № 79. — Р. 797-8.
Similar articles


Authors: Климовицкий В.Г., Черныш В.Ю., Климовицкий Ф.В.
Донецкий национальный медицинский университет им. М. Горького
"Тrauma" Том 16, №4, 2015
Date: 2015.10.27
Categories: Traumatology and orthopedics
Sections: Specialist manual


Authors:
Старец Е.А., Котова Н.В., Лосева Е.А., Федоренко О.В. Одесский национальный медицинский университет, г. Одесса, Украина


"Child`s Health" Том 13, №4, 2018
Date: 2018.07.20
Categories: Pediatrics/Neonatology
Sections: Medical education


Authors:
Mokiia-Serbina S.A., Lytvynova T.V., Chechel V.V. - State Institution «Dnipropetrovsk Medical Academy of the Ministry of Healthcare of Ukraine», Kryvyi Rih, Ukraine


"Child`s Health" 6 (66) 2015
Date: 2016.01.27
Categories: Pediatrics/Neonatology
Sections: Specialist manual