"Тrauma" Том 18, №1, 2017
The use of interactive teaching methods in the training of pediatricians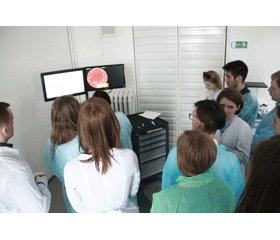 Authors:

Чернишова О.Є., Климовицький Ф.В., Полесова Т.Р., Баличевцева І.В., Самойленко І.Г., Герасименко В.В., Павлов Є.М., Крівошеєва В.В., Хапченкова Д.С.
Донецький національний медичний університет, м. Лиман, Україна



Categories:

Traumatology and orthopedics



Sections:

Medical education
Summary
Впровадження інноваційних засобів навчання при професійній підготовці майбутніх лікарів дозволяє підвищити мотивацію та посилити творчу складову навчального процесу. Володіння практичними навичками, оцінка тяжкості стану дітей знижуєть у майбутнього лікаря ризик виникнення помилок, сприяють своєчасній діагностиці й оптимальному лікуванню.
Внедрение инновационных средств обучения при профессиональной подготовке будущих врачей позволяет повысить мотивацию и усилить творческую составляющую учебного процесса. Овладение практическими навыками, оценка тяжести состояния детей снижают у будущего врача риск возникновения ошибок, способствуют своевременной диагностике и оптимальному лечению.
The introduction of innovative teaching aids into the training of future doctors improves motivation and strengthens the creative component of the educational process. Possession of practical skills and an assessment of the severity of children's condition reduce the risk of possible doctor's errors and facilitate timely medical diagnosis and optimal treatment.
Keywords
інтерактивне навчання; лікар; студент
интерактивное обучение; врач; студент
interactive teaching; doctor; student
For the full article you need to subscribe to the magazine.
Bibliography
1. Агранович Н.В. Мотивация повышения психолого-педагогических компетенций преподавателя для обеспечения инновационного подхода непрерывного медицинского образования на современном этапе / Н.В. Агранович, А.Б. Ходжаян // Современные проблемы науки и образования, 2013. — № 2 — С. 65.
2. Билибин А.Ф. Философско-деонтологический очерк о клиническом мышлении [Текст] / А.Ф. Билибин, Г.И. Царегородцев — М.: Медицина, 1973. — 98 с.
3. Бухарина Т. Внедрение инновационных технологий в педагогический процесс медицинского вуза / Т. Бухарина // Врач. — 2011. — № 10. — С. 71-73.
4. Инновационные технологии в формировании научного мышления студентов медицинского ВУЗа: Сборник научно-методических работ. — Киров, 2013. — 198 с.
5. Сакиева К.Ж. Тренинг — вид интерактивного метода обучения / К.Ж Сакиева, М.С. Сарсембаева // Медицинский журнал Западного Казахстана. — 2011. — № 1. — С. 41-43.
6. Степанов О.М. Основи психології і педагогіки: [навч. посіб.] / О.М. Степанов, М.М. Фіцула. — К.: Академвидав, 2006. — С. 520.
7. Талызина Н.Ф. Деятельностный подход к построению модели специалиста / Н.Ф. Талызина // Alma mater (Весник высшей школы). — 1986. — № 3. — С. 10-14.