"Child`s Health" Том 12, №2, 2017
Development of the immune response in pneumonia due to Staphylococcus aureus (part 1)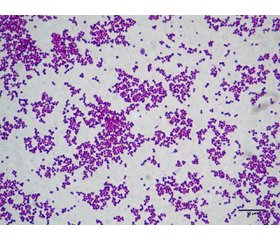 Summary
В огляді літератури викладені сучасні дані про патоген-асоційовані молекулярні структури Staphylococcus aureus та його роль у виникненні пневмонії: активації і модуляції імунної відповіді, оксидативного і метаболічного стресу, апоптозу клітин. Особливу увагу приділено факторам вірулентності збудника, які можуть індукувати запальний процес без активації образ-розпізнавальних рецепторів.
В обзоре литературы изложены современные данные о патоген-ассоциированных молекулярных структурах Staphylococcus aureus и его роли в возникновении пневмонии: активации и модулировании иммунного ответа, оксидативного и метаболического стресса, апоптозе клеток. Особое внимание уделено факторам вирулентности возбудителя, которые могут индуцировать воспалительный процесс без активации образ-распознающих рецепторов.
The literature review presents modern data on the pathogen-associated molecular structures of Staphylococcus aureus and its role in the occurrence of pneumonia: activation and modulation of the immune response, oxidative and metabolic stress, apoptosis. Particular attention is paid to the factors of virulence of the pathogen, which can induce an inflammatory process without activating the image-recognition receptors.
Keywords
пневмонія; Staphylococcus aureus; імунна відповідь; патоген-асоційовані молекулярні структури; огляд
пневмония; Staphylococcus aureus; иммунный ответ; патоген-ассоциированные молекулярные структуры; обзор
pneumonia; Staphylococcus aureus; immune response; pathogen-associated molecular patterns; review
For the full article you need to subscribe to the magazine.
Bibliography
1. Лапко А.В. Пептидные аналоги эпитопов взаимодействия протеина а с иммуноглобулинами класса g, их синтез и исследование целевых свойств / А.В. Лапко, Д.Н. Кислая, В.П. Голубович // Весці Нацыянальнай акадэміі навук Беларусі. — 2015. — № 4. — С. 56-61.
2. Лунева Е.Ю. Метициллинрезистентные штаммы Staphylococcus aureus — возбудители инфекционного процесса // Зыряновские чтения: материалы Всероссийской научно-практической конференции. — 2015. — С. 268-269.
3. Николаева И.В., Анохин В.А. Стафилококковые инфекции в педиатрии // Практическая медицина. — 2010. — № 1(40). — С. 24-27.
4. Aubert V. Induction of tumor necrosis factor alpha and interleukin-8 gene expression in bronchial epithelial cells by toxic shock syndrome toxin 1 / V. Aubert, D. Schneeberger, A. Sauty et al. // Infect. Immun. 2000 Jan; 68(1): 120-4. doi: 10.1128/IAI.68.1.120-124.2000.
5. Basbaum C. Mechanisms by which gram-positive bacteria and tobacco smoke stimulate mucin induction through the epidermal growth factor receptor (EGFR) / C. Basbaum, D. Li, E. Gensch et al. // Novartis Found Symp. 2002; 248: 171-6; discussion 176-80, 277-82. PMID: 12568494.
6. Becker R.E. Tissue-specific patterning of host innate immune responses by Staphylococcus aureus α-toxin / R.E. Becker, B.J. Berube, G.R. Sampedro et al. // J. Innate Immun. 2014; 6(5): 619-31. doi: 10.1159/000360006.
7. Berube B.J., Bubeck Wardenburg J. Staphylococcus aureus α-toxin: nearly a century of intrigue // Toxins (Basel). 2013 Jun; 5(6): 1140-66. doi: 10.3390/toxins5061140.
8. Bleier B.S. P-glycoprotein regulates Staphylococcus aureus enterotoxin B-stimulated interleukin-5 and thymic stromal lymphopoietin secretion in organotypic mucosal explants / B.S. Bleier, A. Singleton, A.L. Nocera et al. // Int. Forum Allergy Rhinol. 2016 Feb; 6(2): 169-77. doi: 10.1002/alr.21566.
9. Breshears L.M., Schlievert P.M., Peterson M.L. A disintegrin and metalloproteinase 17 (ADAM17) and epidermal growth factor receptor (EGFR) signaling drive the epithelial response to Staphylococcus aureus toxic shock syndrome toxin-1 (TSST-1) // J. Biol. Chem. 2012 Sep 21; 287(39): 32578-87. doi: 10.1074/jbc.M112.352534.
10. Clarke S.R., Foster S.J. Surface adhesins of Staphylococcus aureus // Adv. Microb. Physiol. 2006; 51: 187-224. PMID: 17010697.
11. Craven R.R Staphylococcus aureus alpha-hemolysin activates the NLRP3-inflammasome in human and mouse monocytic cells / R.R. Craven, X. Gao, I.C. Allen et al. // PLoS One. 2009 Oct 14; 4(10): e7446. doi: 10.1371/journal.pone.0007446.
12. Cretenet M., Even S., Le Loir Y. Unveiling Staphylococcus aureus enterotoxin production in dairy products: a review of recent advances to face new challenges // J. Dairy Sci. 2011; 91(2): 127-150.
13. DeLeo F.R. Community-associated meticillin-resistant Staphylococcus aureus / F.R. DeLeo, M. Otto, B.N. Kreiswirth, H.F. Chambers // Lancet. 2010 May 1; 375(9725): 1557-68. doi: 10.1016/S0140-6736(09)61999-1.
14. Desouza I.A. Role of sensory innervation in the rat pulmonary neutrophil recruitment induced by staphylococcal enterotoxins type A and B / I.A. Desouza, E.A. Camargo, N.S. Mariano et al. // Eur. J. Pharmacol. 2009 Jun 24; 613(1-3): 128-34. doi: 10.1016/j.ejphar.2009.04.010.
15. DuMont A.L. Staphylococcus aureus LukAB cytotoxin kills human neutrophils by targeting the CD11b subunit of the integrin Mac-1 / A.L. DuMont, P. Yoong, C.J. Day et al. // Proc. Natl. Acad. Sci USA. 2013 Jun 25; 110(26): 10794-9. doi: 10.1073/pnas. 1305121110.
16. Dunyach-Remy C. Staphylococcus aureus Toxins and Diabetic Foot Ulcers: Role in Pathogenesis and Interest in Diagnosis / C. Dunyach-Remy, C. Ngba Essebe, A. Sotto, J.P. Lavigne // Toxins (Basel). 2016 Jul 7; 8(7): E209. doi: 10.3390/toxins8070209.
17. Ezekwe E.A. Jr, Weng C., Duncan J.A. ADAM10 Cell Surface Expression but Not Activity Is Critical for Staphylococcus aureus α-Hemolysin-Mediated Activation of the NLRP3 Inflammasome in Human Monocytes // Toxins (Basel). 2016 Mar 30; 8(4): 95. doi: 10.3390/toxins8040095.
18. Fitzpatrick E.A. A Neonatal Murine Model of MRSA Pneumonia / E.A. Fitzpatrick, D. You, B. Shrestha et al. // PLoS One. 2017 Jan 6; 12(1): e0169273. doi: 10.1371/journal.pone.0169273.
19. Foster T.J. Adhesion, invasion and evasion: the many functions of the surface proteins of Staphylococcus aureus / T.J. Foster, J.A. Geoghegan, V.K. Ganesh, M. Höök // Nat. Rev. Microbiol. 2014 Jan; 12(1): 49-62. doi: 10.1038/nrmicro3161.
20. Fraser J.D., Proft T. The bacterial superantigen and super-antigen-like proteins // Immunol. Rev. 2008 Oct; 225: 226-43. doi: 10.1111/j.1600-065X.2008.00681.x.
21. Fujisawa N. Staphylococcal enterotoxin A-induced injury of human lung endothelial cells and IL-8 accumulation are mediated by TNF-alpha / N. Fujisawa, S. Hayashi, A. Kurdowska et al. // J. Immunol. 1998 Nov 15; 161(10): 5627-32. PMID: 9820542.
22. Ganesh V.K. Lessons from the Crystal Structure of the S. aureus Surface Protein Clumping Factor A in Complex With Tefibazumab, an Inhibiting Monoclonal Antibody / V.K. Ganesh, X. Liang, J.A. Geoghegan et al. // EBioMedicine. 2016 Nov; 13: 328-338. doi: 10.1016/j.ebiom.2016.09.027.
23. Gómez M.I. Staphylococcus aureus protein A activates TNFR1 signaling through conserved IgG binding domains / M.I. Gómez, M. O'Seaghdha, M. Magargee et al. // J. Biol. Chem. 2006 Jul 21; 281(29): 20190-6. doi: 10.1074/jbc.M601956200.
24. Gómez M.I. Staphylococcus aureus protein A induces airway epithelial inflammatory responses by activating TNFR1 / M.I. Gómez, A. Lee, B. Reddy et al. // Nat. Med. 2004 Aug; 10(8): 842-8. doi: 10.1038/nm1079.
25. Grumann D., Nübel U., Bröker B.M. Staphylococcus aureus toxins-their functions and genetics // Infect. Genet. Evol. 2014 Jan; 21: 583-92. doi: 10.1016/j.meegid.2013.03.013.
26. Holzinger D. Staphylococcus aureus Panton-Valentine leukocidin induces an inflammatory response in human phagocytes via the NLRP3 inflammasome / D. Holzinger, L. Gieldon, V. Mysore et al. // J. Leukoc. Biol. 2012 Nov; 92(5): 1069-81. doi: 10.1189/jlb.0112014.
27. Huvenne W., Hellings P.W., Bachert C. Role of staphylococcal superantigens in airway disease // Int. Arch. Allergy Immunol. 2013; 161(4): 304-14. doi: 10.1159/000350329.
28. Inoshima I. A Staphylococcus aureus pore-forming toxin subverts the activity of ADAM10 to cause lethal infection in mice / I. Inoshima, N. Inoshima, G.A. Wilke et al. // Nat. Med. 2011 Sep 18; 17(10): 1310-4. doi: 10.1038/nm.2451.
29. Iroh Tam P.Y. Blood Culture in Evaluation of Pediatric Community-Acquired Pneumonia: A Systematic Review and Meta-analysis / P.Y. Iroh Tam, E. Bernstein, X. Ma, P. Ferrieri // Hosp. Pediatr. 2015 Jun; 5(6): 324-36. doi: 10.1542/hpeds.2014-0138.
30. Kloos W.E., Smith P.B. Staphylococci / Lennette E.H., Balows A., Hausler W.J., Truant J.P. // Manual of Clinical Microbiology. Washington, DC: American Society for Microbiology; 1980. 83-87.
31. Kluytmans J., van Belkum A., Verbrugh H. Nasal carriage of Staphylococcus aureus: epidemiology, underlying mechanisms, and associated risks // Clin. Microbiol. Rev. 1997 Jul; 10(3): 505-20. PMID: 9227864.
32. Krakauer T. Stimulant-dependent modulation of cytokines and chemokines by airway epithelial cells: cross talk between pulmonary epithelial and peripheral blood mononuclear cells // Clin. Diagn. Lab. Immunol. 2002 Jan; 9(1): 126-31. doi: 10.1128/CDLI.9.1.126-131.2002.
33. Krakauer T., Pradhan K., Stiles B.G. Staphylococcal Super-antigens Spark Host-Mediated Danger Signals // Front. Immunol. 2016 Feb 2; 7: 23. doi: 10.3389/fimmu.2016.00023.
34. Krakauer T., Stiles B.G. The staphylococcal enterotoxin (SE) family: SEB and siblings // Virulence. 2013 Nov 15; 4(8): 759-73. doi: 10.4161/viru.23905.
35. Kulhankova K., King J., Salgado-Pabón W. Staphylococcal toxic shock syndrome: superantigen-mediated enhancement of endotoxin shock and adaptive immune suppression // Immunol. Res. 2014 Aug; 59(1-3): 182-7. doi: 10.1007/s12026-014-8538-8.
36. Levy R. Superantigens hyperinduce inflammatory cytokines by enhancing the B7-2/CD28 costimulatory receptor interaction / R. Levy, Z. Rotfogel, D. Hillman et al. // Proc. Natl. Acad. Sci USA. 2016 Oct 18; 113(42): E6437-E6446.
37. Liu Y. Characterization of community-associated Staphylococcus aureus from skin and soft-tissue infections: a multicenter study in China / Y. Liu, Z Xu., Z. Yang et al. // Emerg. Microbes. Infect. 2016 Dec 21; 5(12): e127. doi: 10.1038/emi.2016.128.
38. Louis-Dit-Sully C. Activation of the TCR complex by peptide-MHC and superantigens / C. Louis-Dit-Sully, B. Blumenthal, M. Duchniewicz et al. // EXS. 2014; 104: 9-23. doi: 10.1007/978-3-0348-0726-5_2.
39. Mariano N.S. Pre-exposure to Staphylococcal entero-toxin A exacerbates the pulmonary allergic eosinophil recruitment in rats / N.S. Mariano, G.C. de Mello, T. Ferreira et al. // Int. Immunopharmacol. 2010 Jan; 10(1): 43-9. doi: 10.1016/j.intimp. 2009.09.017.
40. McMullan B.J. Epidemiology and Mortality of Staphylococcus aureus Bacteremia in Australian and New Zealand Children / B.J. McMullan, A. Bowen, C.C. Blyth et al. // JAMA Pediatr. 2016 Oct 1; 170(10): 979-986. doi: 10.1001/jamapediatrics.2016. 1477.
41. Mendoza Bertelli A. Staphylococcus aureus protein A enhances osteoclastogenesis via TNFR1 and EGFR signaling / A. Mendoza Bertelli, M.V. Delpino, S. Lattar et al. // Biochim. Biophys. Acta. 2016 Oct; 1862(10): 1975-83. doi: 10.1016/j.bbadis.2016.07.016.
42. Nagarajan R., Hendrickx A.P., Ponnuraj K. The crystal structure of the ligand-binding region of serine-glutamate repeat containing protein A (SgrA) of Enterococcus faecium reveals a new protein fold: functional characterization and insights into its adhesion function // FEBS J. 2016 Aug; 283(16): 3039-55. doi: 10.1111/febs. 13792.
43. Ogston A. Micrococcus Poisoning // J. Anat. Physiol. 1882 Jul; 16(Pt 4): 526-67. PMID: 17231444.
44. Palavecino E.L. Clinical, epidemiologic, and laboratory aspects of methicillin-resistant Staphylococcus aureus infections // Methods Mol. Biol. 2014; 1085: 1-24. doi: 10.1007/978-1-62703-664-1_1.
45. Parker D. Innate Immune Signaling Activated by MDR Bacteria in the Airway / D. Parker, D. Ahn, T. Cohen, A. Prince // Physiol. Rev. 2016 Jan; 96(1): 19-53. doi: 10.1152/physrev.00009.2015.
46. Parker D., Prince A. Immunopathogenesis of Staphylococcus aureus pulmonary infection // Semin. Immunopathol. 2012 Mar; 34(2): 281-97. doi: 10.1007/s00281-011-0291-7.
47. Pinchuk I.V., Beswick E.J., Reyes V.E. Staphylococcal enterotoxins // Toxins (Basel). 2010 Aug; 2(8): 2177-97. doi: 10.3390/toxins2082177.
48. Reyes-Robles T., Torres V.J. Staphylococcus aureus Pore-Forming Toxins // Curr. Top. Microbiol. Immunol. 2016 Jul 13. doi: 10.1007/82_2016_16.
49. Sharma P., Wang N., Kranz D.M. Soluble T cell receptor Vβ domains engineered for high-affinity binding to staphylococcal or streptococcal superantigens // Toxins (Basel). 2014 Jan 28; 6(2): 556-74. doi: 10.3390/toxins6020556.
50. Shokrollahi M.R. Searching the Staphylococcal Superantigens: Enterotoxins A, B, C, and TSST1 in Synovial Fluid of Cases With Negative Culture Inflammatory Arthritis / M.R. Shokrollahi, S. Noorbakhsh, M. Aliakbari, A. Tabatabaei // Jundishapur J. Microbiol. 2014 Jul; 7(7): e11647. doi: 10.5812/jjm.11647.
51. Shrestha B. Review on Panton Valentine leukocidin toxin carriage among Staphylococcus aureus // J. Nepal. Health Res. Counc. 2013 Sep; 11(25): 305-12. PMID: 24908537.
52. Soong G. Staphylococcus aureus activation of caspase 1/calpain signaling mediates invasion through human keratinocytes / G. Soong, J. Chun, D. Parker, A. Prince // J. Infect. Dis. 2012 May 15; 205(10): 1571-9. doi: 10.1093/infdis/jis244.
53. Spaulding A.R. Staphylococcal and streptococcal superantigen exotoxins / A.R. Spaulding, W. Salgado-Pabón, P.L. Kohler et al. // Clin. Microbiol. Rev. 2013 Jul; 26(3): 422-47. doi: 10.1128/CMR.00104-12.
54. Spencer D.A., Thomas M.F. Necrotising pneumonia in children // Paediatr Respir Rev. 2014 Sep; 15(3): 240-5; quiz 245. doi: 10.1016/j.prrv.2013.10.001.
55. Stach C.S., Herrera A., Schlievert P.M. Staphylococcal superantigens interact with multiple host receptors to cause serious di-seases // Immunol. Res. 2014 Aug; 59(1-3): 177-81. doi: 10.1007/s12026-014-8539-7.
56. Stich N. Staphylococcal superantigen (TSST-1) mutant analysis reveals that t cell activation is required for biological effects in the rabbit including the cytokine storm / N. Stich, M. Waclavicek, N. Model, M.M. Eibl // Toxins (Basel). 2010 Sep; 2(9): 2272-88. doi: 10.3390/toxins2092272.
57. Tilahun A.Y. Systemic inflammatory response elicited by super-antigen destabilizes T regulatory cells, rendering them ineffective du-ring toxic shock syndrome / A.Y. Tilahun, V.R. Chowdhary, C.S. David, G. Rajagopalan // J. Immunol. 2014 Sep 15; 193(6): 2919-30. doi: 10.4049/jimmunol.1400980.
58. Uchiyama T. Staphylococcal superantigens and the diseases they cause / Alouf J.E., Popoff M.R. // The Comprehensive Sourcebook of Bacterial Protein Toxins, 3rd Edition. London, Academic Press, 2006: 830-43.
59. Wilke G.A., Bubeck Wardenburg J. Role of a disintegrin and metalloprotease 10 in Staphylococcus aureus alpha-hemolysin-mediated cellular injury // Proc. Natl. Acad. Sci USA. 2010 Jul 27; 107(30): 13473-8. doi: 10.1073/pnas.1001815107.
60. Zecconi A., Scali F. Staphylococcus aureus virulence factors in evasion from innate immune defenses in human and animal di-seases // Immunol. Lett. 2013 Feb; 150(1-2): 12-22. doi: 10.1016/j.imlet.2013.01.004.
61. Zivkovic A. TLR 2 and CD14 mediate innate immunity and lung inflammation to staphylococcal Panton-Valentine leukocidin in vivo / A. Zivkovic, O. Sharif, K. Stich et al. // J. Immunol. 2011 Feb 1; 186(3): 1608-17. doi: 10.4049/jimmunol.1001665.
Similar articles

Authors: Абатуров А.Е., Никулина А.А.
ГУ «Днепропетровская медицинская академия МЗ Украины», г. Днепр, Украина
"Child`s Health" Том 12, №4, 2017
Date: 2017.08.03
Categories: Pediatrics/Neonatology
Sections: Specialist manual


Authors: Абатуров А.Е., Никулина А.А.
ГУ «Днепропетровская медицинская академия МЗ Украины», г. Днепр, Украина
"Child`s Health" Том 12, №3, 2017
Date: 2017.06.30
Categories: Pediatrics/Neonatology
Sections: Specialist manual


Authors: Абатуров А.Е., Никулина А.А.
ГУ «Днепропетровская медицинская академия МЗ Украины», г. Днепр, Украина
"Child`s Health" Том 13, №1, 2018
Date: 2018.04.12
Categories: Pediatrics/Neonatology
Sections: Specialist manual


Authors: Абатуров А.Е., Никулина А.А.
ГУ «Днепропетровская медицинская академия МЗ Украины», г. Днепр, Украина
"Child`s Health" Том 12, №6, 2017
Date: 2017.11.15
Categories: Pediatrics/Neonatology
Sections: Specialist manual