"Pain. Joints. Spine." Том 7, №1, 2017
Combined pathology of bone tissue: osteoporosis and osteomalacia in patient with Parkinson's disease (Clinical case report)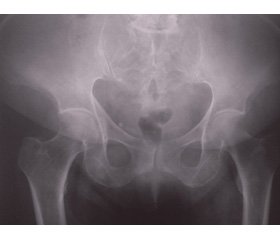 Authors:

Поворознюк В.В., Мусієнко А.С., Парахіна Т.В., Бистрицька М.А.
ДУ «Інститут геронтології імені Д.Ф. Чеботарьова НАМН України», м. Київ, Україна
Український науково-медичний центр проблем остеопорозу, м. Київ, Україна



Categories:

Rheumatology, Traumatology and orthopedics



Sections:

Specialist manual
Summary
У статті описується випадок поєднання остеопорозу та остеомаляції в пацієнтки із хворобою Паркінсона та вертебральним больовим синдромом. Остеомаляція, обумовлена дефіцитом і порушенням обміну вітаміну D, призводить до порушення мінералізації остеоїду, що значно обмежує можливості лікування остеопорозу. Терапія хвороби Паркінсона та остеотропні засоби призвели до зменшення інтенсивності больового синдрому.
В статье описывается случай сочетания остеопороза и остеомаляции у пациентки с болезнью Паркинсона и вертебральным болевым синдромом. Остеомаляция, обусловленная дефицитом и нарушением обмена витамина D, приводит к нарушению минерализации остеоида, что значительно ограничивает возможности лечения остеопороза. Терапия болезни Паркинсона и остеотропные препараты привели к уменьшению интенсивности болевого синдрома.
The article describes a case of combined osteoporosis and osteomalacia in a patient with Parkinson's disease and vertebral pain syndrome. Osteomalacia caused by deficiency and metabolic disorders of vitamin D leads to osteoid mineralization impairment that greatly limits the possibilities of osteoporosis treatment. The treatment of Parkinson's disease and osteotropic drugs contributed to decreasing intensity of the pain syndrome.
Keywords
остеомаляція; остеопороз; хвороба Паркінсона
остеомаляция; остеопороз; болезнь Паркинсона
osteomalacia; osteoporosis; Parkinson's disease
For the full article you need to subscribe to the magazine.
Bibliography
1. Valkovic P, Minar M, Singliarova H, et al. Painin–Parkinson´sDisease: A Cross-SectionalStudyofItsPrevalence, Types, and Relationship to Depression and Quality of Life. PLoSOne. 2015 Aug 26;10(8):e0136541. doi: 10.1371/journal.pone.0136541. eCollection 2015.
2. Beiske AG, Loge JH, Rønningen A, Svensson E. Pain in Parkinson's disease: Prevalence and characteristics. Pain. 2009 Jan;141(1-2):173-7. doi: 10.1016/j.pain.2008.12.004.
3. Choi SM, Kim BC, Jung HJ, et al. The Association of Musculoskeletal Pain with Bone Mineral Density in Patients with Parkinson's Disease. Eur Neurol. 2017;77(3-4):123-9. doi: 10.1159/000455009.
4. Cosman F, deBeur SJ, LeBoff MS, et al. Clinician's Guide to Prevention and Treatment of Osteoporosis. Osteoporos Int. 2014;25(10):2359-81. doi: 10.1007/s00198-014-2794-2.
5. van den Bos F, Speelman AD, Samson M, Munneke M, Bloem BR, Verhaar HJ. Parkinson's disease and osteoporosis. Age Ageing. 2013 Mar;42(2):156-62. doi: 10.1093/ageing/afs161.
6. Watts RA, Conaghan PG, Denton C, Foster H, Isaacs J, Müller-Ladner U, editors. Oxford Textbook of Rheumatology. United Kingdom: Oxford University Press; 2013. 1521 p.
7. Saghafi M, Azarian A, Hashemzadeh K, Sahebari M, Rezaieyazdi Z. Bone densitometry in patients with osteomalacia: is it valuable? Clin Cases Miner Bone Metab. 2013 Sep;10(3):180-2. PMID: 24554927.
8. Povoroznyuk VV, Balatska NI, Dzerovych NI, Muts VY, Sinenky OV. Sposib indyvidual'noi' cil'ovoi' terapii' deficytu vitaminu D u pacijentiv iz zahvorjuvannjamy kistkovo-m'jazovoi' systemy [The way of the individual target therapy of vitamin D deficiency in patients with diseases of the musculoskeletal system]. Patent UA No112357 МПК51А61К31/592 (2006.01). Bul. 25.08.2016;16:4. (In Ukrainian).