"Child`s Health" Том 12, №3, 2017
The content of antimicrobial proteins in children with respiratory tract inflammatory diseases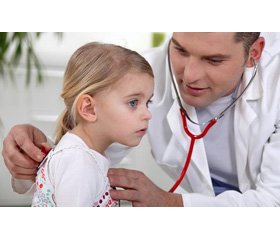 Authors:

G.A. Lezhenko(1), A.Ye. Abaturov(2), E.Ye. Pashkova(1), K.V. Gladun(1)
(1) — Zaporizhia State Medical University, Zaporizhzhia, Ukraine
(2) — State Institution "Dnipropetrovsk Medical Academy", Dnipro, Ukraine



Categories:

Pediatrics/Neonatology



Sections:

Clinical researches
Summary
У роботі проведено дослідження вмісту протимікробних пептидів у дітей із різною патологією респіраторного тракту. Установлено, що для дітей, які часто хворіють, характерні зміни показників мукозального захисту, низький вміст α-дефензинів 1–3 у секреті ротоглотки, що свідчить про напруження механізмів місцевого захисту. Установлена гіперпродукція α-дефензинів 1–3 у дітей, хворих на рецидивуючий бронхіт, на тлі порушеної рівноваги між про- і протизапальними цитокінами може бути однією з причин виникнення рецидивуючих форм перебігу інфекційного процесу респіраторного тракту.
В работе проведено исследование содержания противомикробных пептидов у детей с различной патологией респираторного тракта. Установлено, что для часто болеющих детей характерны изменения показателей мукозальной защиты, низкое содержание α-дефензинов 1–3 в ротоглоточном секрете, что свидетельствует о напряжении механизмов местной защиты. Установленная гиперпродукция α-дефензинов 1–3 у детей, больных рецидивирующим бронхитом, на фоне нарушенного равновесия между про- и противовоспалительными цитокинами может быть одной из причин возникновения рецидивирующих форм течения инфекционного процесса респираторного тракта.
The paper has investigated the content of antimicrobial peptides in children with different respiratory tract pathologies. It was found that sickly children were characterized by the changes in mucosal protection, low content of α-defensins 1–3 in oropharyngeal secretions. The revealed changes indicated the stress of the local defense mechanisms. The investigation has detected that overproduction of α-defensins 1–3 in children with recurrent bronchitis against the background of the disturbed balance between pro- and anti-inflammatory cytokines could be one of the causes of recurrent forms of the course of respiratory tract infection.
Keywords
діти, які часто хворіють; рецидивуючий бронхіт; протимікробні пептиди
часто болеющие дети; рецидивирующий бронхит; противомикробные пептиды
sickly children; recurrent bronchitis; antimicrobial peptides
For the full article you need to subscribe to the magazine.
Bibliography
1. Surkova ЕА, Bulgakova ТV, Sologub ТS, et al., compilers. Mieloperoksidaza i laktoferrin u bolnyih mukovistsidozom [Myeloperoxidase and lactoferrin in patients with cystic fibrosis]. Meditsinskaya immunologiya. 2004;1–2:67-74. (in Russian).
2. Lillard JW Jr, Boyaka PN, Chertov O, et al., compilers. Mecha-
nisms for induction of acquired host immunity by neutrophil peptide defensins. Proc Natl Acad Sci USA. 1999;96:651-656. doi: 10.1073/pnas.96.2.651.
3. Van Wetering S, Mannesse-Lazeroms SPG, Van Sterkenburg MAJA, et al., compilers. Neutrophil defensins stimulate the release of cytokines by airway epithelial cells: modulation by dexamethasone. Inflamm Res. 2002;51:8-15. doi: 10.1007/PL00000282.
4. Yount NY, Yeaman MR, compilers. Immunoconsiluum: Perspectives in Antimicrobial Peptide Mechanisms of Action and Resistance. Protein and Peptide. Letters. 2005;49-67. doi: 10.2174/0929866053405959.
5. Rinker SD, Trombley MP, Gu X, et al., compilers. Deletion of mtr C in Haemophilus ducreyi increases sensitivity to human antimicrobial peptides and activates the CpxRA regulon. Infection and immunity. 2011; 79(6):2324-2334. doi: 10.1128/IAI.01316-10.
6. Zhang L, Yu W, He T, et al., compilers. Contribution of human α-defensin 1, 2, and 3 to the antiiHIV-1 activity of CD8 antiviral factor. Science. 2002;298:995-1000. doi: 10.1126/science.1076185.
7. Abaturov АЕ, Herasimenko ON, Vysochina IL, et al., compi-lers. Defenzinyi i defenzinzavisimyie zabolevaniya [Defensins and defensindepending diseases] [bliography]. Odesa: ВМВ; 2011. 265 p. (in Russian).
8. Shramko SV, Arhipova SV, Bazhenova LG, et al., compilers. Diagnosticheskoe znachenie nekotoryih ostrofaznyih belkov pri gnoyno-vospalitelnyih zabolevaniyah pridatkov matki [Diagnostic value of some acute-phase proteins in purulent-inflammatory diseases of the uterine appendages]. Byulleten Sibirskoy meditsinyi. 2006;3:112-116. (in Russian).
9. Baynes RD, Bezwoda WR, Khan O, Mansoor N, compilers. Relationship of plasma lactoferrin content to neutrophil regeneration and bone marrow infusion. Scand J Haematol. 1986;36:79-84. doi: 10.1111/j.1600-0609.1986.tb02654.x.
10. Birgens HS, compiler. The biological significance of Lactoferrin in haematology. Scand J Haematol. 1984;33:225-230. doi: 10.1111/j.1600-0609.1984.tb02220.x.
11. Boronina LG, compiler. Mikrobiologicheskie aspektyi infektsiy, vyizvannyih Haemophilus influenzae, u detey [Microbiological aspects of infections caused by Haemophilus influenzae in children] [bibliography]. St. Petersburg; 2007. 38 p. (in Russian).
12. Bedareva TU, Poponnikova TV, Varhammeva TN, compilers. Izmeneniya tsitokinovogo statusa i urovnya antimikrobnyih peptidov pri kleschevyih neyroinfektsiyah u detey [Changes of cytokine status and the level of antimicrobial peptides in tick neuroinfections in children]. Sibirskiy meditsinskiy zhurnal. 2008;7:22-25. (in Russian).
13. Farnaud S, Evans RW, compilers. Lactoferrin — a multifunctional protein with antimicrobial properties. Mol Immunol. 2003;40(7):395-405. doi: http://doi.org/10.1016/S0161-5890(03)00152-4.
14. Naidu AS, compiler. Lactoferrin: natural, multifunctional, antimicrobial [bibliography]. CRC Press; 2000. 184 p.
15. Anderson B, Baker H, Norris G, Rice D, et al., compilers. Structure of human lactoferrin: crystallographic structure analysis and refinement at 2.8 А resolution. J Mol Biol. 1989;209:711-734. doi: https://doi.org/10.1016/0022-2836(89)90602-5.
16. Kokryakov VR, Pygarevskiy VE, Aleshyna GM, Shamova OV, compilers. Sinergicheskoe antimikrobnoe deystvie kationnyih belkov pri fagotsitoze [Synergistic antimicrobial action of cationic proteins in phagocytosis]. Sbornik nauchnyh trudov pod redakciey Mayanskogo AN. Gorkiy; 1989. 98-103. (in Russian).
17. Ellison RT, Giehl TJ, La Force F, compilers. Damage of the oute membrane of electric gramnegative bacteria by lactoferrin and transferrin. Infect and Immun. 1988;56:2774-2781.
18. Rainard P, compiler. Bacteriostatic activity of bovine milk lactoferrin against mastitic bacteria. Vet Microbiol. 1986;11:387-392. doi: https://doi.org/10.1016/0378-1135(86)90068-4.
19. Van der Strate BW, Beljaars L, Molema G, et al., compilers. Antiviral activities of lactoferrin. Antiviral Res. 2001;52(3):225-239. doi: http://doi.org/10.1016/S0166-3542(01)00195-4.
20. Fujihara T, Hayashi K, compilers. Lactoferrin inhibits herpes simplex virus type-1 (HSV-1) infection to mouse cornea. Arch Virol. 1995;140:1469-1472. doi: 10.1007/BF01322673.
21. Harmsen MC, Swart PJ, De Bethune MP, et al., compilers. Antiviral effects of plasma and milk proteins: lactoferrin shows potent activity against both human immunodeficiency virus and human cytomegalovirus replication in vitro. J Infect Dis. 1995;172:280-288. doi: https://doi.org/10.1093/infdis/172.2.380.
22. Puddu P, Borghi P, Gessani S, et al., compilers. Antiviral effect of bovine lactoferrin saturated with metal ions on early steps of human immunodeficiency virus type 1 infection. Int J Biochem Cell Biol. 1998;30(9):1055-1062. doi: http://doi.org/10.1016/S1357-2725(98)00066-1.
23. Sojar HT, Hamada N, Genco RJ, compilers. Structures involved in the interaction of Porphyromonas gingivalis fimbriae and human lactoferrin. FEBS Lett. 1998;422:205-208.
24. Nozaki A, Ikeda M, Naganuma A, et al., compilers. Identification of a lactoferrin-derived peptide possessing binding activity to hepa-titis C virus E2 envelope protein. J Biol Chem. 2003;278(12):10162-10173. doi: 10.1016/S0014-5793(98)00002-7.
25. Lehrer RI, Ganz T, compilers. Endogenous vertebrate antibiotics. Defensins, protegrins and other cysteine-rich antimicrobial peptides. Ann NY Acad Sci. 1996;797:228-239. doi: 10.1111/j.1749-6632.1996.tb52963.x.
26. Giansanti F, Rossi P, Massucci MT, et al., compilers. Antiviral activity of ovotransferrin discloses an evolutionary strategy for the defensive activities of lactoferrin. Biochem Cell Biol. 2002;80(1):125-130. doi:10.1139/o01-208.
27. Beiter K, Wartha F, Hurwitz R, et al., compilers. The Capsule Sensitizes Streptococcus pneumoniae to Defensins Human Neutrophil Proteins 1 to 3. Infect Immun. 2008;76(8):3710-3716. doi: 10.1128/IAI.01748-07.
28. Doss M, White MR, Tecle T, Hartshorn KL, compilers. Human defensins and LL-37 in mucosal immunity. J Leukoc Biol. 2010;87:79-92. doi: 10.1189/jlb.0609382.
29. Dugan AS, Maginnis MS, Jordan JA, et al., compilers. Human alpha-Defensins Inhibit BK Virus Infection by Aggregating Virions and Blocking Binding to Host Cells. J Biol Chem. 2008;283:31125-31132. doi: 10.1074/jbc.M805902200.
30. Trabattoni D, Caputo SL, Maffeis G, et al., compilers. Human alpha defensin in HIV-exposed but uninfected individuals. J Acquir Immune Defic Syndr. 2004;35:455-463. doi: 10.1097/00126334-200404150-00003.
31. Budyhina AS, Pinegin BV, compilers. Defenzinyi — multifunktsionalnyie kationnyie peptidyi cheloveka [Defensins are multifunctional human cationic peptides]. Immunopatologiya, allergologiya, infektologiya. 2008;2:31-40. (in Russian).
32. Kokryakov VN, et al., compilers. Kationnyie protivomikrobnyie peptidyi kak molekulyarnyie faktoryi immuniteta [Cationic antimicrobial peptides as molecular immunity factors]. Zhurnal mikrobio-logii, epidemiologii i immunobiologii. 2006;2:98-105. (in Russian).
33.Voglis S, Quinn K, Tullis E, et al., compilers. Human neutrophil peptides and phagocytic deficiency in bronchiectatic lungs. Am J Respir Crit Care Med. 2009;180.2:159-166. doi: 10.1164/rccm.200808-1250OC.
Similar articles

Authors:
G.O. Lezhenko1, O.E. Abaturov2, O.E. Pashkova1, L.I. Pantyushenko3, 1 Zaporizhzhya State Medical Univescity, 2 SI «Dnipropetrovsk Medical Academy», 3 Zaporizhzhya State Clinical Childrens Hospital


"Child`s Health" 2 (45) 2013
Date: 2013.05.08
Categories: Infectious diseases, Pediatrics/Neonatology, Pulmonology
Sections: Clinical researches


Authors: Леженко Г.О., Пашкова О.Є., Крайня Г.В.
Запорізький державний медичний університет, м. Запоріжжя, Україна
"Child`s Health" Том 12, №1, 2017
Date: 2017.03.28
Categories: Pediatrics/Neonatology
Sections: Clinical researches


Authors: Абатуров О.Є., Токарєва Н.М., Нікуліна А.О.
ДЗ «Дніпропетровська медична академія МОЗ України», м. Дніпро, Україна
"Child`s Health" Том 13, №6, 2018
Date: 2018.10.03
Categories: Pediatrics/Neonatology
Sections: Clinical researches