"Pain. Joints. Spine." Том 7, №2, 2017
Assessment of cholecalciferol and antihypertensive therapy concominant use in people with arterial hypertension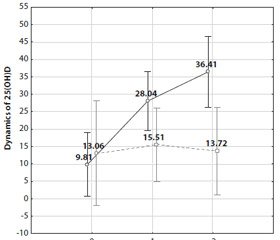 Summary
Актуальність. Метою дослідження стала оцінка впливу застосування холекальциферолу в дозі 2000 МО на добу на рівень 25(ОН)D у сироватці й артеріальний тиск на фоні антигіпертензивної терапії у хворих з артеріальною гіпертензією II стадії. Результати. Було виявлено, що прийом діуретиків (гидрохлортіазиду в дозі 12,5–25 мг або індапаміду в дозі 1,5 мг) у складі комбінованої антигіпертензивної терапії впливає на зміни 25(ОН)D у сироватці (F = 5,35; p = 0,02) і його рівень (F = 11,8; p = 0,0009). Зміни систолічного артеріального тиску були більш виражені (–27,4 ± 17,9) у групі пацієнтів, які отримували діуретик і холекальциферол, відносно групи порівняння, що відповідало рівню вірогідності p < 0,001. У тій же групі був виявлений взаємозв'язок між динамікою систолічного артеріального тиску й тривалістю прийому холекальциферолу (R = 0,42; p = 0,023). Було виявлено вірогідний вплив як холекальциферолу (F = 4,1; p = 0,046), так і діуретиків (F = 14,3; p = 0,0003). Висновки. Тіазидні або споріднені діуретики мають негативний вплив на рівень 25(OH)D у сироватці. Одночасне застосування холекальциферолу й діуретика в дозі 2000 МО на добу для лікування пацієнтів з АГ II стадії дозволяє досягти найбільшого антигіпертензивного ефекту щодо систолічного артеріального тиску без ризику надлишкової концентрації вітаміну D в організмі.
Актуальность. Целью исследования стала оценка влияния применения холекальциферола в дозе 2000 МЕ в сутки на уровень 25(ОН)D в сыворотке и артериальное давление на фоне антигипертензивной терапии у больных с артериальной гипертензией II стадии. Результаты. Было выявлено, что прием диуретиков (гидрохлортиазида в дозе 12,5–25 мг или индапамида в дозе 1,5 мг) в составе комбинированной антигипертензивной терапии оказывает влияние на изменения 25(ОН)D в сыворотке (F = 5,35; p = 0,02) и его уровень (F = 11,8; p = 0,0009). Изменения систолического артериального давления были более выражены (–27,4 ± 17,9) в группе пациентов, получавших диуретик и холекальциферол, по сравнению с группой сравнения, что соответствовало уровню достоверности p < 0,001. В той же группе была выявлена взаимосвязь между динамикой систолического артериального давления и длительностью приема холекальциферола (R = 0,42; p = 0,023). Было обнаружено достоверное влияние как холекальциферола (F = 4,1; p = 0,046), так и диуретиков (F = 14,3; p = 0,0003). Выводы. Тиазидные или тиазидоподобные диуретики оказывают отрицательное влияние на уровень 25(OH)D в сыворотке. Сочетанное применение холекальциферола и диуретика в дозе 2000 МЕ в сутки для лечения пациентов с АГ II стадии позволяет достичь наибольшего антигипертензивного эффекта в отношении систолического артериального давления без риска избыточной концентрации витамина D в организме.
Background. The purpose of the study was to assess the effect of cholecalciferol intake at a daily dose of 2,000 IU on the serum level of 25(ОН)D total and blood pressure (BP) against the background of antihypertensive therapy in people with arterial hypertension(AH) stage II. Results. It was found that intake of diuretics (hydrochlorothiazide at a dose of 12.5–25.0 mg or indapamide 1.5 mg) as part of combination antihypertensive therapy influenced the dynamics of serum 25(OH)D (F = 5.35; p = 0.02) and its level (F = 11.8; p = 0.0009). Dynamic SBP value was highest (–27.4 ± 17.9) in the group receiving a diuretic and cholecalciferol, which was significantly (p < 0.001) different from the comparison group. In the same group, we established a correlation relationship between dynamic SBP and length of cholecalciferol intake (R = 0.42; p = 0.023). A significant influence of both cholecalciferol (F = 4,1; p = 0.046), and diuretics (F = 14.3; p = 0.0003) on dynamic SBP was established. Conclusions. Thiazide/thiazide-like diuretics negatively influenced the improvement of serum 25(OH)D level. The combined use of cholecalciferol and diuretic at a dose of 2000 IU/day in the treatment of patients with AH II degree allowed to obtain the greatest hypotensive effect on SBP without the risk of vitamin D overdosing in the body.
Keywords
артеріальна гіпертензія; холекальциферол; антигіпертензивна терапія; діуретики
артериальная гипертензия; холекальциферол; антигипертензивная терапия; диуретики
arterial hypertension; cholecalciferol; antihypertensive therapy; diuretics
For the full article you need to subscribe to the magazine.
Bibliography
1. Płudowski P, et al. Practical guidelines for the supplementation of vitamin D and the treatment of deficits in Central Europe — recommended vitamin D intakes in the ge–neral population and groups at risk of vitamin D deficiency. Endokrynol Pol. 2013;64(4):319-27. PMID: 24002961.
2. Scragg R, Sowers M, Bell C. Serum 25-hydroxyvitamin D, ethnicity, and blood pressure in the Third National Health and Nutrition Examination Survey. Am J Hypertens. 2007 Jul;20(7):713-9. doi: 10.1016/j.amjhyper.2007.01.017.
3. Forouhi NG, et al. Baseline serum 25-hydroxy vitamin D is predictive of future glycemic status and insulin resistance: The Medical Research Council Ely Prospective study 1990-2000. Diabetes. 2008 Oct;57(10):2619-25. doi: 10.2337/db08-0593.
4. Smotkin-Tangorra M, et al. Prevalence of vitamin D insufficiency in obese children and adolescents. J Pediatr Endocrinol Metab. 2007;20:817-23. PMID: 17849744.
5. Gannage-Yared MH, et al. Vitamin D in relation to metabolic risk factors, insulin sensitivity and adiponectin in a young Middle-Eastern population. Eur J Endocrinol. 2009;160:965-71. doi: 10.1530/EJE-08-0952.
6. Snezhitskiy VA, Yankovskaya LV, Povorozniuk VV, et al. Vitamin D deficiency/insufficiency among residents of the Western Region of Belarus suffering from cardiovascular pathology. Standardy Medyczne. Pediatria. 2012;5:577-82.
7. Kunutsor SK, Apekey TA, Steur M. Vitamin D and risk of future hypertension: meta-analysis of 283 537 participants. Eur J Epidemiol. 2013;28(3):205-21. doi: 10.1007/s10654-013-9790-2.
8. Beveridge LA. Effect of Vitamin D Supplementation on Blood Pressure A Systematic Review and Meta-analysis Incorporating Individual Patient Data. JAMA Intern Med. 2015 May;175(5):745-54. doi: 10.1001/jamainternmed.2015.0237.
9. Sugden JA, Davies JI, Witham MD, et al. Vitamin D improves endothelial function in patients with Type 2 diabetes mellitus and low vitamin D levels. Diabet Med. 2008 May;25(3):320-5. doi: 10.1111/j.1464-5491.2007.02360.x.
10. Grassi G, Cifkova R, Laurent S, et al. Blood pressure control and cardiovascular risk profile in hypertensive patients from central and eastern European countries: results of the BP-CARE study. European Heart Journal. 2011;32:218-25. doi: 10.1093/eurheartj/ehq394.
11. Mancia G. ESH/ESC Guidelines for the management of arterial hypertension 2013. Journal of Hypertension. 2013 July;31(7):1281-1357. doi: 10.1097/01.hjh.0000431740.32696.cc.
12. Witham MD, Nadir MA, Struthers AD. Effect of vitamin D on blood pressure: a systematic review and meta-analysis. J Hypertens. 2009 Oct;27(10):1948-54. doi: 10.1097/HJH.0b013e32832f075b.
13. Kunutsor SK. Vitamin D and high blood pressure: causal association or epiphenomenon? Eur J Epidemiol. 2014;29:1-14. doi: 10.1007/s10654-013-9874-z.
14. Li Y.C. Vitamin D: a negative endocrine regulator of the reninangiotensin system and blood pressure. J Ster Biochem Molec Biol. 2004 May;89-90(1-5):387-92. doi: 10.1016/j.jsbmb.2004.03.004.
15. Kong J. Targeted vitamin D receptor expression in juxtaglomerular cells supresses rennin expression independent of parathyroid hormone and calcium. Kidney International. 2008 Dec;74(12):1577-81. doi: 10.1038/ki.2008.452.
16. Kezhun LV, Jankovskaja LV. Plasma renin activity, endothelial function, and vitamin d status in women with hypertension in premenopausal and early postmenopausal periods. Zhurnal Grodnenskogo Gosudarstvennogo Medicinskogo Universiteta. 2014;4(48):37-42.
17. Kezhun LV, Jankovskaja LV. Role of renin-angiotensin-aldosterone system and vitamin d in development of arterial hypertension in perimenopausal women. Zhurnal Grodnenskogo Gosudarstvennogo Medicinskogo Universiteta. 2013;1(41):14-7.
18. Chen WR, Liyu ZY, et al. Vitamin D and nifedipine in the treatment of Chinese patients with grades I–II essential hypertension: A randomized placebo-controlled trial. Atherosclerosis. 2014;235(1):102-9. doi: 10.1016/j.atherosclerosis.2014.04.011.
19. Forman JР. Plasma 25-hydroxy vitamin D le–vels and risk of incident hуреrtеnsiоn. Hypertension. 2007;49(5):1063-9. doi: 10.1161/HYPERTENSIONAHA.107.087288.
Similar articles

Authors:
Yankovskaya L.V., Snezhitsky V.A., Grodno State Medical University, Belarus, Povorozniuk V.V., Balatskaya N.I., Institute of Gerontology named after D.F. Chebotaryov of National Academy of Medical Sciences of Ukraine


"Pain. Joints. Spine." 2 (06) 2012
Date: 2013.01.21
Categories: Family medicine/Therapy, Traumatology and orthopedics
Sections: Specialist manual




Authors:
V.V. Povoroznyuk(1), P. Pludowski(2), M. Holick(3), N.I. Balatska(1), N.I. Dzerovych(1), T.Yu. Solonenko(1), O.S. Ivanyk (1) — D.F. Chebotarev Institute of Gerontology of the National Academy of Medical Sciences of Ukraine, Kyiv, Ukraine (2) — The Children's Memorial Health Institute, Warsaw, Poland (3) — Boston University Medical Centre, Boston, MA, United States


"Pain. Joints. Spine." Том 7, №3, 2017
Date: 2017.12.27
Categories: Rheumatology, Traumatology and orthopedics
Sections: Clinical researches